Commentary
In the Crease: Late trends to watch
Updated:
March 15, 2011, 5:30 PM ET
By
Tim Kavanagh
| Special to ESPN.com
Last week, I ran through a list of backup goalies who may see some additional time over the season's final stretch and, hence, provide some nice value over that span. So while it might be more important during this time to have guys like Jonathan Bernier, Tuukka Rask and Cory Schneider on your roster than the respective men whom they back up, there are some other under-the-radar clues in assessing which players might have an impact down the stretch as well.
[+] Enlarge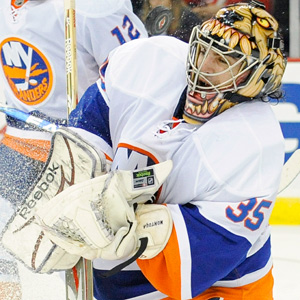 AP Photo/Bill KostrounAl Montoya keeps moving up the rankings, and he's being helped by the twin factors of the Islanders scoring more goals in recent days and facing some of the league's weakest teams.
One such tool is performing an analysis of the entire remaining schedule (for a look at the weekly schedule analysis, be sure to check out Sean Allen's Fantasy Forecaster column every Friday). Now that much of the season has been played -- and the trade deadline has passed -- the trends around the league can be trusted a bit more. Barring a major injury, teams will continue down the path that they've been skating over the past several weeks. Peering over the goals-per-game and shots-per-game figures from February and March, we can glean which teams to avoid -- and target -- when looking over the remaining schedule for rostered players (to make lineup calls) and those on the waiver wire (for pickups).
Teams that have remained in the top 10 in scoring throughout both of the months in question are, in alphabetical order, the Anaheim Ducks, Calgary Flames, Chicago Blackhawks, New York Islanders and Vancouver Canucks. Teams stuck in the bottom 10 using those same parameters have been the Carolina Hurricanes, Colorado Avalanche, Florida Panthers, New Jersey Devils and Minnesota Wild. Obviously, that first quintet should generally be avoided while the second group should get gold stars put next to their names on the docket (interestingly -- maybe just to me -- both groups feature two teams from the Northwest division). Bear in mind that it's not always as simple as statheads would like, so take a look at how respective goalies have done against those top teams or bottom-feeders before making your final decision. However, two teams have those low-scoring offenses on the schedule five times over the remaining schedule: the Tampa Bay Lightning (Dwayne Roloson) and Toronto Maple Leafs (James Reimer). Six teams play against the group four times: the Buffalo Sabres (Ryan Miller), Columbus Blue Jackets (Steve Mason), Edmonton Oilers (Devan Dubnyk and Nikolai Khabibulin), Islanders (Al Montoya), Pittsburgh Penguins (Marc-Andre Fleury) and Washington Capitals (more on them below).
Effective or impotent offenses should be avoided or targeted, respectively, as mentioned above. But what about those shots-per-game stats? You should know this already if you've made it this far, but every time a shot is placed on goal and doesn't make its way into the net, it helps a goalie's save percentage. To put it into more concrete terms, a two-goals-against outing will be viewed quite differently for our fantasy purposes if the goalie faced 18 shots (a .889 save percentage) or 38 shots (a .947 save percentage). Sometimes defensive matchups play out in different fashion than prognosticated, so a team that usually gets the puck on net 35 times a game may be limited to a dozen fewer against a certain system; however, these values (in concert with the shots per game a goalie's team allows) are a way to find some save percentage studs. Teams that have stayed in the top 10 of shots on goal per game over February and March are the Atlanta Thrashers, Blackhawks, New York Rangers, San Jose Sharks and Lightning while the teams in the bottom 10 for both months include the Dallas Stars, Oilers and Wild. Provided that a team is getting a lot of shots on goal, but isn't scoring, these are the teams that get the double gold star on the schedule. The Thrashers, Sharks and Lightning (as of late) get this designation, and the Carolina Hurricanes (Cam Ward), Ottawa Senators (Craig Anderson) and Phoenix Coyotes (Ilya Bryzgalov) reap the most benefit.
One final note, and that's a reminder that these numbers live and breathe with every additional game played. Looking at what we have thus far in March, there are massive changes, for example, for the Boston Bruins (a 3.50 goals-per-game clip in February down to 1.83 in March) and Lightning (3.36 to 2.25); conversely, teams that have hit the gas pedal for the final stretch have been the Stars (1.92 to 3.14), Nashville Predators (2.08 to 2.67) and the Rangers (2.42 to 3.00). The point is, though we can draw some pretty good conclusions from this type of analysis, past performance does not always predict future results, so this should be just one weapon in your arsenal.
Top 40 Goalies Note: Tim Kavanagh's top 40 goalies are ranked for their expected performance in ESPN Standard Leagues from this point on, not on the statistics that have already been accrued. ESPN standard stats include wins, goals-against average and save percentage. Last week's ranking is indicated in parentheses.
1. Carey Price, Mon (4)
2. Pekka Rinne, Nsh (3)
3. Henrik Lundqvist, NYR (8)
4. Tim Thomas, Bos (1)
5. Marc-Andre Fleury, Pit (5)
6. Martin Brodeur, NJ (6)
7. Ryan Miller, Buf (10)
8. Roberto Luongo, Van (2)
9. Miikka Kiprusoff, Cgy (11)
10. Corey Crawford, Chi (12)
11. Ilya Bryzgalov, Pho (13)
12. Niklas Backstrom, Min (9)
13. Jonathan Quick, LA (7)
14. Al Montoya, NYI (16)
15. Tomas Vokoun, Fla (14)
16. Craig Anderson, Ott (19)
17. Antti Niemi, SJ (17)
18. Cam Ward, Car (18)
19. Dwayne Roloson, TB (20)
20. Dan Ellis, Ana (28)
21. Jimmy Howard, Det (15)
22. James Reimer, Tor (21)
23. Jonathan Bernier, LA (34)
24. Michal Neuvirth, Was (26)
25. Kari Lehtonen, Dal (22)
26. Ondrej Pavelec, Atl (32)
27. Brian Boucher, Phi (29)
28. Jaroslav Halak, StL (27)
29. Braden Holtby, Was (NR)
30. Cory Schneider, Van (35)
31. Sergei Bobrovsky, Phi (24)
32. Semyon Varlamov, Was (25)
33. Ray Emery, Ana (39)
34. Johan Hedberg, NJ (30)
35. Steve Mason, Cls (31)
36. Tuukka Rask, Bos (33)
37. Scott Clemmensen, Fla (36)
38. Brian Elliott, Col (37)
39. Devan Dubnyk, Edm (38)
40. Chris Osgood, Det (NR)

Rising and falling
Henrik Lundqvist, New York Rangers (up five spots): Of all the players involved in the jumble at the top of my rankings this week, Lundqvist makes the biggest leap. Henrik has been playing consistently well while the team in front of him struggled (you might've missed that he had a 1.97 goals-against average and .934 save percentage in the month of January, given that his record was 5-4-1). But while his play remained at a high level recently, the Rangers have improved offensively -- their scoring has jumped from 2.42 goals per game in February to 3.00 in March. I believe these trends will continue over the final handful of games, and given that the Rangers are fighting to stay in the playoff mix, I don't see Martin Biron stealing many starts from here on out.
Roberto Luongo, Vancouver Canucks (down six spots): On the flip side, given that the Nucks are the league's first team to eclipse the 100-point mark -- siting 11 points ahead of the Detroit Red Wings -- it's possible that Luongo's workload will continue to decrease, a process that has already begun. While that's a good thing for Schneider's owners, it presents a problem for the head-to-head folks who have found themselves in the fantasy playoffs (or are soon to be in the fantasy playoffs) without their No. 1 'tender. If Schneider's available, that's the obvious pickup. Otherwise, you're going to have to do your homework; some of the players listed above could be available on your waiver wire, but keep the other understudies from last week's column in mind as well.
Jonas Hiller, Anaheim Ducks (off): The recommendation last week was that it was time to cut Hiller loose, and his ownership percentage in ESPN leagues took an 11.0 percent hit over the past seven days. With Hiller confirming over the past week that he's no closer to a return, that recommendation is strengthened. The man brought in to replace Hiller, Dan Ellis, struggled during his time with the Lightning this season, but as a Duck, he's 5-2-1 with 2.56 goals-against average and .902 save percentage. Those aren't world-beating ratios, but if you're in a pinch, he could be an option. Current No. 2 Ray Emery finally saw his first action of the season Sunday, stopping all nine shots faced after he relieved Ellis to start the third period. I'd like to see Emery get an actual start or two before recommending using a precious roster spot on him.
Jimmy Howard, Detroit Red Wings (down six spots): As with Luongo and others around the league, Howard may see some more rest down the stretch. But it's not because I expect the Red Wings to coast; rather, with veteran backup Chris Osgood recently activated from the injured list, the team may want to shake the rust off the veteran over the final baker's dozen of games in case he's needed in the playoffs. With fewer chances to start (and win, which is about the limit of Howard's fantasy value), the Detroit netminder's stock takes a hit.
Timeshares
Jonathan Quick (100.0 percent) and Jonathan Bernier (7.2 percent), Los Angeles Kings: Unlike some of the teams mentioned above that are feeling good about their playoff prospects, the Kings are battling to maintain their spot in the postseason (with 83 points, they're in fifth place, but there are six teams within six points of them). So the fact that they've been alternating the Jonathans over the past several games is not entirely because they want more rest for Quick; rather, this has been an opportunity for the promising Bernier to get some more playing time, as many of us expected was going to happen oh, four or five months ago. Better late than never, I suppose, and if Bernier is available in your league, he's definitely worth a pickup for the race to the finish, whether you're a Quick owner or not.
Sergei Bobrovsky (89.8 percent) and Brian Boucher (29.8 percent), Philadelphia Flyers: The wheels appear to have fallen off the Bobrovsky Express: Over the past eight games, he's allowed fewer than three goals only once, and it was to the Oilers, who have had their share of trouble scoring on anyone. For comparison, Boucher has had only three of his past nine starts end with more than two goals on the board for the opponent. It's remarkably clear that the stock of the two Philly goalies is headed in opposite directions; whether that will result in more starts for Boucher in the remainder of the regular season is unclear. But for right now, Bobrovsky cannot be anywhere but firmly planted on your bench, while Boucher is a decent pickup option.
Semyon Varlamov (59.6 percent), Michal Neuvirth (73.3 percent) and Braden Holtby (41.1 percent), Washington Capitals: Things got even cloudier over the past week in Washington. As noted last week, Neuvirth took a puck to the face on March 7 that dismantled and knocked off his mask. After being brought on in relief, Holtby was perfect in that game and also shut out the Oilers on Wednesday. He followed that up with wins against Carolina and Chicago to close out the week, and as a result was named the NHL's first star for the time period ending Sunday. In Holtby's 12 appearances this season, he has a 1.95 goals-against average, .931 save percentage and eight wins. The issue for those expecting that trend to continue is that the Caps have Varlamov and Neuvirth ready to return, according to reports from Yahoo! Sports and the Washington Post, respectively. As the cliche goes, a team that thinks it's got two (or three, in this case) starting goalies, actually has zero. At some point, one of these young gentlemen will need to earn the title of No. 1 'tender. Until then, keep a close watch on the news wire to find out who's starting each game. As the season winds down, the Caps have upped their scoring by a half-goal per game from February to March, giving any of the trio a chance to win every night.
Tim Kavanagh is a fantasy hockey analyst and Rumor Central contributor for ESPN.com
Fantasy and Insider
Tim Kavanagh is an associate editor for ESPN Fantasy and Insider, with specific responsibility for NHL and fantasy hockey coverage in addition to other sports.
MOST SENT STORIES ON ESPN.COM