Commentary
In the Crease: 2010-11 awards
Updated:
March 29, 2011, 5:20 PM ET
By
Tim Kavanagh
| Special to ESPN.com
"Overture, curtain, lights,
This is it, the night of nights
No more rehearsing and nursing our parts
We know every part by heart
Overture, curtain, lights
This is it, we'll hit the heights
And oh what heights we'll hit
On with the show this is it."
Thank you, Bugs and Daffy, and welcome to the 2010-11 fantasy hockey goaltending awards show! Though there are some of you out there still embroiled in the final furious days of contention, this is our week to pass out well-deserved hardware to the studs and duds from the past fantasy season. (Remember to check back with the Fantasy Forecaster for advice down the final stretch.)
Just as with the NHL's season awards, we've elected to name our trophies after real-life players. On Monday, my colleague Sean Allen used players from Season 1 "post lockout" -- 2005-06 -- for the Front Line awards. I'm going to flip the calendar back several additional seasons, to 1992-93. It was a time of change: Bill Clinton was elected president, Electronic Arts was revolutionizing NHL video games, and this also happened. Let's get to it!
Anything you can do, I can do better
The Mike Richter-John Vanbiesbrouck Timeshare Award is a multi-piece trophy shared by a group of netminders that maintained fantasy value despite none becoming the true No. 1 goalie. In 1992-93, Beezer started 48 games for the New York Rangers with Richter getting the nod in 38.
Nominees: Michal Neuvirth, Semyon Varlamov and Braden Holtby, Washington Capitals; Sergei Bobrovsky and Brian Boucher, Philadelphia Flyers.
And the winners are: Sergei Bobrovsky and Brian Boucher, Philadelphia Flyers. This season, a number of teams experimented with a timeshare for some time -- the Columbus Blue Jackets, Chicago Blackhawks, San Jose Sharks and Toronto Maple Leafs (among others) all had bouts of timeshare-itis -- but this was a two-horse race. Though the voting was closely contested, the injury woes that befell the Caps' young crew derailed its chances; you just couldn't trust that Neuvirth or Varlamov would stay on the ice. "Bob and Boosh" had some issues with inconsistency, but owning an average of the pair would've netted 22 wins in 37 starts, a .917 save percentage and a goals-against average in the 2.45 range. Note that this Serbrian Bobroucher character would've been more valuable in fantasy than highly drafted goaltenders Tomas Vokoun, Martin Brodeur and Niklas Backstrom with that season.
Frustration in spades
The Bill Ranford Frustration Medallion is placed around the neck of the star goalie who performed under expectations, and was stuck on rosters because it would be impossible to get reasonable trade value, and unthinkable to drop him. Ranford followed up two straight 27-win seasons with a 17-38-6 record in 1992-93, and the Edmonton Oilers missed the playoffs for the first time during their NHL tenure.
Nominees: Martin Brodeur, New Jersey Devils; Jaroslav Halak, St. Louis Blues; Craig Anderson, Colorado Avalanche/Ottawa Senators.
And the winner is: Jaroslav Halak, St. Louis Blues. While patience on the part of Brodeur's and Anderson's owners was rewarded (for Brodeur owners, from February onward; for Anderson owners, following the trade to Ottawa), Halak trended the opposite direction. A playoff hero a season ago, Halak posted a 1.72 goals-against average and .932 save percentage in eight October starts (six wins), but bouts of inconsistency and mediocrity befell him in the dead of winter. Meanwhile, once the slide began, there was no way to get fair value for him in trade, and the risk of dropping him was that he'd go on to recapture that previously magical level of production while playing for some other team in your league. Not fun.
Reports of my demise were greatly exaggerated
[+] Enlarge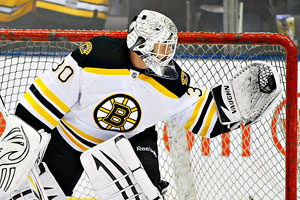 John E. Sokolowski/US PresswireTim Thomas returned to the realm of the fantasy elite in 2010-11 after a brief one-season respite.
The Grant Fuhr Comeback Scepter goes to the player who was able to provide a productive fantasy season after some believed there was nothing left. Prior to the 1991-92 season, Fuhr was part of a wave of Oilers who were traded away, and he found himself as a member of the Toronto Maple Leafs. Midway through the 1992-93 campaign, he was shipped just south of the border to the Buffalo Sabres, and he helped the Sabres get to the Adams Division finals before losing to the Montreal Canadiens. Overall, he finished that season with 24 wins and the seventh-best save percentage among qualified 'tenders.
Nominees: Tim Thomas, Boston Bruins; Miikka Kiprusoff, Calgary Flames; Dwayne Roloson, New York Islanders/Tampa Bay Lightning.
And the winner is: Tim Thomas, Boston Bruins. In a closely contested race with Kipper, Thomas wins his first award of the night. Following the 2009-10 season, when understudy Tuukka Rask stole the mantle of No. 1 goalie away from Thomas, there weren't many who expected much out of the 36-year-old Michigan native in 2010-11. Instead, Thomas only went on to be one of the league's most valuable players this season. Though Kiprusoff went on some amazing streaks this season -- including a 1.97 goals-against average and .929 save percentage in 13 February starts -- his production is less surprising, given that it's what we've come to expect from one of the league's true iron horses. And while Roloson's play solidified the defensive end for the Lightning, his ratios were actually better when he was playing for the Islanders; and overall, his play hasn't been as remarkable as Thomas'.
Just win, baby!
The Bob Essensa Winning Is Everything Trophy is a celebration of the only goaltending category that matters to some hockey folks in the real world (and certainly Charlie Sheen): winning. The player who earns this honor has high win totals, but lackluster results in the ratios. In 1992-93, Essensa backstopped the Winnipeg Jets to 33 wins, while posting a 3.53 goals-against average, second worst among all goalies with at least 20 wins that season. For our purposes, one who rosters a player of this ilk needs to surround him with complementary pieces, otherwise one risks punting two of the three categories in ESPN standard leagues. Even so, a stud in this realm can certainly be valuable as long as those W's keep piling up.
Nominees: Kari Lehtonen, Dallas Stars; Miikka Kiprusoff, Calgary Flames; Jimmy Howard, Detroit Red Wings.
And the winner is: Jimmy Howard, Detroit Red Wings. The voting for this one wasn't as close as one might think. Though Kiprusoff and Howard both have 34 wins through Monday night's action, Howard has done so in nine fewer starts. More importantly, it was a little easier on the nerves to roll out the Red Wings' starting goalie, as opposed to his counterpart on the Flames. Though the Flames had a nice run, and are still in contention for a playoff spot, you want to have more assurance if you're rostering someone just for his win potential. And let's face it, that's just about all you're getting from Howard, whose 2.77 goals-against average and .908 save percentage were major steps backward from 2009-10.
I'm not mad, I'm just disappointed
The Kelly Hrudey Disappointment Mug is bequeathed to the player who failed to live up to expectations. Though the Los Angeles Kings wound up in the Stanley Cup finals following the 1992-93 season, Hrudey's stats took a hit across the board in the regular season. This award goes to players who were drafted near the top of the board, but did not finish that way.
Nominees: Tomas Vokoun, Florida Panthers; Martin Brodeur, New Jersey Devils; Tuukka Rask, Boston Bruins.
And the winner is: Tuukka Rask, Boston Bruins. This is the flip side to Thomas' winning the Fuhr Scepter. Rask had an average draft position of 52.2 in ESPN leagues, as everyone was excited to see him continue what he'd started over the second half of the 2009-10 season. However, some struggles early on, coupled with Thomas' outstanding play, led Rask to a spot at the end of the bench. Though Rask will finish with respectable ratios -- 2.69 and .918 -- he did not provide a good return on investment for those who had grabbed him as their No. 1.
Where did that come from?
[+] Enlarge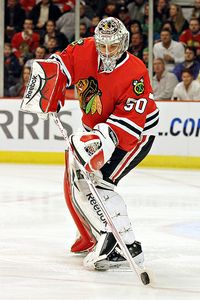 Bruce Bennett/Getty ImagesCorey Crawford finally emerged from the shadows to become the Blackhawks' main man in net.
The Daren Puppa Overachiever Chalice is handed to the goalie who sees a jump in his fantasy value from the season prior. This player was either undrafted, or drafted well below the realm of the No. 1s, yet finishes the season as a player who is a universally owned (or close), valued commodity in fantasy. The award is named after Puppa because he experienced a significant bump in all three ESPN standard categories from 1991-92 to 1992-93: 11 wins to 17, a drop in goals-against average from 3.89 to 3.23 and a rise in save percentage from .878 to .898.
Nominees: Corey Crawford, Chicago Blackhawks; Tim Thomas, Boston Bruins; Sergei Bobrovsky, Philadelphia Flyers.
And the winner is: Corey Crawford, Chicago Blackhawks. Though Thomas finishes the season first overall on the ESPN Player Rater, his 2010-11 turnaround was less of a surprise, given that he won the Vezina Trophy as the NHL's top netminder two seasons ago. Crawford had been treading water in the Blackhawks' system since 2005-06, seeing a carousel of goaltending options brought in and shipped out during his tenure. Even at the outset of this season, it was thought that free-agent signee Marty Turco would be the Blackhawks' No. 1 goalie before Crawford simply outplayed him. Crawford went largely undrafted in fantasy, yet as of this writing he's in the top 15 in the three major categories, and ninth among goalies on the ESPN Player Rater.
Welcome to the league
The Felix Potvin Rookie of the Year Award is presented to the player most valuable in fantasy terms during his rookie campaign. Potvin went 25-15-4 in his rookie campaign in 1992-93, with a 2.50 goals-against average and .910 save percentage. He did not win the Calder Trophy as the league's top rookie thanks to a player you may have heard of: Teemu Selanne. There were a number of rookie 'tenders this season, and bear in mind that this award focuses on overall fantasy value.
Nominees: Sergei Bobrovsky, Philadelphia Flyers; Corey Crawford, Chicago Blackhawks; Michal Neuvirth, Washington Capitals.
And the winner is: Corey Crawford, Chicago Blackhawks. Though 26 years old, and with a few games of NHL experience in seasons past, Crawford is still considered a rookie by NHL standards, so I'll adopt those same specifications. Of all the rookies who made splash debuts in 2010-11 -- in addition to the other nominees, James Reimer of the Toronto Maple Leafs and Al Montoya of the New York Islanders were impressive -- Crawford provided the most consistent production for his fantasy owners in the major categories. But don't feel bad for the others, they'll get some more love in next week's 2011-12 preview column.
The big kahuna
The Ed Belfour MVP Trophy, handed to the most valuable fantasy goalie of the season, is named in honor of Belfour's remarkable Vezina-winning campaign in 1992-93. In that season, Belfour was second in the league in wins (41), second in goals-against average (2.59) and third in save percentage (.906). The player who wins this award must be a major contributor in all three of the categories used for ESPN standard leagues.
Nominees: Pekka Rinne, Nashville Predators; Roberto Luongo, Vancouver Canucks; Tim Thomas, Boston Bruins.
And the winner is: Tim Thomas, Boston Bruins. In the biggest landslide of the night, Thomas adds the Belfour Trophy to his crowded shelf. The only blemish on Thomas this season was his win total (32 as of this writing), which is good only for 10th in the league; of course, he's only three wins behind the league lead, so that ranking is a little misleading. His current save percentage (.939) will be the highest in NHL history for qualified goalies if he maintains it, and he's flirting with going sub-2.00 in goals-against average. Though Thomas had a bit of a slide in February -- his ratios dipped to 2.74 and .906, respectively, in his appearances that month -- he has easily been the most valuable fantasy goalie this season.
Tim Kavanagh is a fantasy hockey analyst and Rumor Central contributor for ESPN.com
Fantasy and Insider
Tim Kavanagh is an associate editor for ESPN Fantasy and Insider, with specific responsibility for NHL and fantasy hockey coverage in addition to other sports.