Commentary
Southeast Division preview
Updated:
September 15, 2011, 7:25 PM ET
By
Sean Allen
| Special to ESPN.com

Additions: Tomas Vokoun, G (Panthers); Troy Brouwer, LW (Blackhawks); Joel Ward, RW (Predators); Jeff Halpern, C (Canadiens); Roman Hamrlik, D (Canadiens)
Subtractions:: Eric Fehr, LW (Jets); Semyon Varlamov, G (Avalanche)
Depth Chart
First line: Alex Ovechkin, Nicklas Backstrom, Mike Knuble
Second line: Troy Brouwer, Brooks Laich, Alexander Semin
Third line: Jason Chimera, Marcus Johansson, Joel Ward
Fourth line: Matt Hendricks, Jeff Halpern, Jay Beagle
First pairing: Mike Green, Roman Hamrlik
Second pairing: John Carlson, Dennis Wideman
Third pairing: Karl Alzner, Jeff Schultz
Starting goalie: Tomas Vokoun
Backup: Michal Neuvirth
Just Missed: Mathieu Perreault, C; Tom Poti, D
The Lineup and Plus/Minus Effect
[+] Enlarge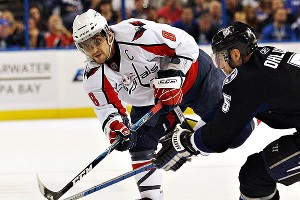 Bruce Bennett/Getty ImagesTBD by editorial
There isn't a player returning for the Washington Capitals who doesn't need to make amends for last season's poor showing. Alex Ovechkin, Nicklas Backstrom, Alexander Semin and Mike Green were all top fantasy picks who didn't perform up to expectations. The team has taken renewed vows of providing the high-flying offense it did in 2009-10 and seasons prior. Should we believe the Caps? Ovechkin had three straight seasons of triple-digit points; Backstrom has twice sniffed 70 assists in a season; Semin scored 163 points in 135 games during the two seasons before 2010-11; and Green had us remembering Paul Coffey when he potted 31 goals and 73 points in 68 games in 2008-09. Remember, this offense can be epic. If the Capitals say they are going to be more powerful on offense, believe them. … With a steady presence like Tomas Vokoun in goal, the Caps don't need to worry as much about defense (which some cite as the problem last season). Vokoun, meantime, could be a top-five fantasy goaltender with a powerhouse offense in front of him.
Power Play
One of the biggest difference-makers this season for any player's production could be the decision to use four forwards on the Washington Capitals' power play. If the team opts for the trio of Ovechkin, Backstrom and Semin up front, it opens the door for either Roman Hamrlik or John Carlson to step into big-time points. The Caps have the potential to be deadly on the power play, and whoever lines up on the point beside Green is going to reap a windfall of production.
Keep An Eye On
Troy Brouwer has untapped offensive skills that could come out if the Capitals decide to spread their top talent onto two lines. Playing with one of Ovechkin or Semin could help translate Brouwer into a fantasy asset. … The defense is capable of mixing and matching No. 1 through No. 6, so keep an eye on which players end up being paired together during training camp.

Additions: Mathieu Garon, G (Blue Jackets); Ryan Shannon, LW (Senators)
Subtractions:: Simon Gagne, LW (Kings); Mike Smith, G (Coyotes)
Depth Chart
First line: Steve Downie, Steven Stamkos, Martin St. Louis
Second line: Ryan Malone, Vincent Lecavalier, Teddy Purcell
Third line: Ryan Shannon, Dominic Moore, Adam Hall
Fourth line: Dana Tyrell, Blair Jones, Brett Connolly
First pairing: Eric Brewer, Victor Hedman
Second pairing: Mattias Ohlund, Marc-Andre Bergeron
Third pairing: Brett Clark, Pavel Kubina
Starting goalie: Dwayne Roloson
Backup: Mathieu Garon
Just Missed: Mattias Ritola, LW; James Wright, C; Bruno Gervais, D
The Lineup and Plus/Minus Effect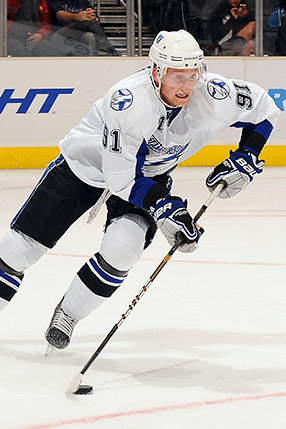 Noah Graham/NHLI/Getty ImagesSteven Stamkos has scored 96 goals and 186 points the past two seasons, playing in all 164 games.
The Lightning are bringing the same Eastern Conference-finalist team back for another run this season. The team is very top-heavy on offense (more so than others) and will provide a few great fantasy options. Martin St. Louis and Steven Stamkos are two of the best available and will play off each other to drive their numbers up. Stamkos, hopefully, has a bit more conditioning this season, as he clearly wore down during the 2010-11 campaign and into the playoffs. … Vincent Lecavalier and Steve Downie are the next-best options on the team and Teddy Purcell could vault into their echelon this season as well. However they line up, the Bolts' top six should have fantasy value for even the shallowest of leagues. … If you own Dwayne Roloson, owning Mathieu Garon is a wise move. Roloson will turn 42 just after the season starts. The magic has to start wearing off at some point. If it happens suddenly this season, Garon will have value.
Power Play
For all the firepower on offense, the Lightning have no fantasy-friendly players on defense. Marc-Andre Bergeron is the most offensive-minded of the group, but he doesn't get enough ice time to show it off. That's where he could factor in as a power-play specialist if the Bolts decide to use him in such a role.
Keep An Eye On
Just how far along Teddy Purcell has come could be the difference between being an occasional fantasy contributor and an everyday starter. Purcell was a part of the Bolts' best power-play combination and was one of the most productive forwards during their playoff run. Purcell has the talent to go beyond the 65-point barrier, but having the opportunity would mean usurping ice time from his teammates. … Steve Downie still rocked a deadly combination of points and penalty minutes, even though his season was shortened. In 57 games, Downie had 32 points and 171 PIMs. In an 82-game season that pace equals 46 points and 246 PIMs.

Additions: Tomas Kaberle, D (Bruins); Anthony Stewart, RW (Thrashers); Alexei Ponikarovsky, LW (Kings); Brian Boucher, G (Flyers); Tim Brent, C (Maple Leafs)
Subtractions:: Erik Cole, RW (Canadiens); Joe Corvo, D (Bruins); Cory Stillman, RW (free agent)
Depth Chart
First line: Jussi Jokinen, Eric Staal, Anthony Stewart
Second line: Jeff Skinner, Zac Dalpe, Tuomo Ruutu
Third line: Alexei Ponikarovsky, Brandon Sutter, Chad LaRose
Fourth line: Zach Boychuk, Tim Brent, Patrick Dwyer
First pairing: Tomas Kaberle, Joni Pitkanen
Second pairing: Tim Gleason, Jamie McBain
Third pairing: Bryan Allen, Derek Joslin
Starting goalie: Cam Ward
Backup: Brian Boucher
Just Missed: Drayson Bowman, LW; Jiri Tlusty, RW; Bobby Sanguinetti, D
The Lineup and Plus/Minus Effect
[+] Enlarge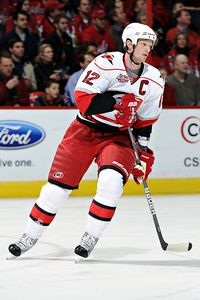 Greg Fiume/Getty ImagesEric Staal hasn't scored fewer than 29 goals or 70 points in six seasons since his rookie campaign.
There will be some different looks at the top of the Hurricanes' lineup this season. Gone is longtime Eric Staal sidekick Erik Cole; in is underperforming winger Anthony Stewart. At the top of the defensive depth chart is now Tomas Kaberle beside Joni Pitkanen. Rookie Zac Dalpe will be handed a spot on the second line. It's a new mix for the Hurricanes, but it could be better for everyone. … Stewart has underperformed his whole career, but he is still just 26 years old and has a heap of potential as a power forward, which is the role Cole fulfilled as Staal's main winger. … Kaberle may not end up partnering with Pitkanen as both players are proficient passers. Each may end up partnering with other D-men who possess strong shots, such as Jamie McBain or Derek Joslin. … Since the Hurricanes look to be in the middle of the pack again, players should sink or swim based on their own defensive abilities when it comes to plus/minus.
Power Play
Staal, Tuomo Ruutu and Jeff Skinner should remain as the team's go-to power-play unit, but the mix on the blue line will be different. Pitkanen should be a staple, but whether it's Kaberle or McBain beside him, we will have to wait and see. The Canes had a pretty dismal conversion rate though, so even seeing Kaberle and McBain take over the man-advantage wouldn't be a shock.
Keep An Eye On
If Dalpe can keep pace with Skinner and Ruutu, he could follow in Skinner's footsteps as an impact rookie. … If either Stewart or Dalpe isn't up to task in the top six, Alexei Ponikarovsky is waiting for a chance to pick up the pieces. He has been fantasy-relevant in the past and could be again playing beside a star like Staal. … While Cam Ward's numbers didn't get worse, as they did in the previous season, a 2.59 goals-against average is still far from palatable for fantasy purposes. He will need to perform much stronger to be relied upon in standard-sized leagues.

Additions: Eric Fehr, RW (Capitals)
Subtractions:: Anthony Stewart, RW (Hurricanes)
Depth Chart
First line: Andrew Ladd, Bryan Little, Blake Wheeler
Second line: Evander Kane, Nik Antropov, Eric Fehr
Third line: Patrice Cormier, Alexander Burmistov, Chris Thorburn
Fourth line: Tanner Glass, Jim Slater, Tim Stapleton
First pairing: Dustin Byfuglien, Tobias Enstrom
Second pairing: Zach Bogosian, Ron Hainsey
Third pairing: Johnny Oduya, Mark Stuart
Starting goalie: Ondrej Pavelec
Backup: Chris Mason
Just Missed: Kenndal McArdle, LW; Brett Festerling, D
The Lineup and Plus/Minus Effect
[+] Enlarge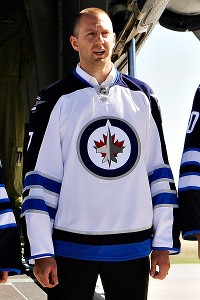 Lance Thomson/NHLI/Getty ImagesThe newly relocated Winnipeg Jets will make Eric Fehr one of the faces of the franchise.
The Winnipeg Jets will make a triumphant return to the NHL with a lineup that has a lot of potential for fantasy owners. But outside of the NHL's best fantasy defenseman, the Jets have a group of forwards who all represent a boom-or-bust pick in fantasy. Andrew Ladd, Bryan Little and Blake Wheeler now have more time to develop as a line together, but can they take their game to the next level to be considered everyday starters in fantasy? Eric Fehr emerges from the shadows with the Washington Capitals to play a consistent top-six role for the first time in his career, but can he keep up the production he managed in limited minutes for the Caps? Will Evander Kane gain some consistency as he gets a little older (he's 20 now)? Can Nik Antropov rebound from a downright terrible season? All questions fantasy owners will have to weigh in the latter stages of their draft as they consider investing in some Jets.
Power Play
Obviously, Dustin Byfuglien's presence makes this power play respectable, and with Tobias Enstrom helping set up the play on the blue line, there is no question how the Jets will operate the back end of the top power-play unit. As for the forwards, despite a terrible season offensively, Antropov still helped produce on the power play. So even if he doesn't bounce back to form, he could have mild value as a power-play specialist. … Ladd is the only other easy choice on the man-advantage, so keep an eye out on who takes the final spot on the top unit. Whoever it is should be in for a boost in numbers.
Keep An Eye On
Pavelec has the skills to be a game-changing goaltender, but health issues have kept blocking his path to consistency. If he can stay healthy, he could do big things. … The entire projected second line of Kane, Antropov and Fehr has a lot to prove. While it may be difficult to justify drafting them in most leagues, they warrant keeping an eye on in the early going.

Additions: Tomas Fleischmann, C/LW (Avalanche); Brian Campbell, D (Blackhawks); Jose Theodore, G (Wild); Kris Versteeg, LW (Flyers); Ed Jovanovski, D (Coyotes); Scottie Upshall, RW (Blue Jackets); Sean Bergenheim, LW (Lightning); Marcel Goc, C (Predators); Tomas Kopecky, LW (Blackhawks); Matt Bradley, RW (Capitals)
Subtractions:: Rostislav Olesz, LW (Blackhawks); Sergei Samsonov, RW (free agent)
Depth Chart
First line: David Booth, Stephen Weiss, Tomas Fleischmann
Second line: Kris Versteeg, Mike Santorelli, Scottie Upshall
Third line: Sean Bergenheim, Marcel Goc, Jack Skille
Fourth line: Tomas Kopecky, Shawn Matthias, Evgeny Dadonov
First pairing: Brian Campbell, Dmitry Kulikov
Second pairing: Ed Jovanovski, Jason Garrison
Third pairing: Keaton Ellerby, Erik Gudbranson
Starting goalie: Jose Theodore
Backup: Scott Clemmensen
Just Missed: Matt Bradley, RW; Ryan Carter, C
The Lineup and Plus/Minus Effect
[+] Enlarge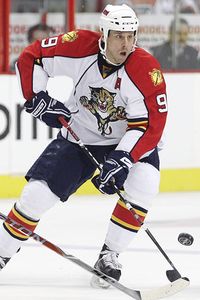 Chris Gardner/US PresswireStephen Weiss has led the Panthers in scoring the past three seasons.
All bets are off with this Panthers depth chart. Any six of 10 forwards could claim the roles on the top two lines and any two of five defensemen could be the top pairing. If a little bit of inner competition works, look for the Panthers to be working their tails off all season. … However the lines shake out, Stephen Weiss is the top-line center for the club and will end up with whomever he has the most chemistry. Chalk him up for a bounce-back season. … Tomas Fleischmann might be the most skilled forward on the team. He displayed offensive dominance in his stint with the Colorado Avalanche last season before season-ending surgery. Fleischmann is back and raring to go as an offensive catalyst for the Panthers.
Power Play
Just like the depth chart at even strength, there is a lot to be sorted out before we know what the power play will look like. On the blue line, Brian Campbell, Dmitry Kulikov and Ed Jovanovski are all proven commodities, but only two (maximum) can be on the top power-play unit. Jovo-Cop will be the wild card if he stays healthy. Whatever the combination, the Panthers have the players up front and in back to improve the NHL's worst power play from last season.
Keep An Eye On
Just when you think Jose Theodore won't get another chance to start in the NHL, he signs on as the Panthers' top choice. Scott Clemmensen has been good when called upon in the past, but there is a reason he isn't a No. 1 netminder somewhere (hint: he's a backup kind of guy). So Theodore will have his chance once again. The defense of the Panthers looks good and certainly two scoring lines can be cobbled from the offense, could Theodore have a strong season left in him? It bears watching. … Gudbranson, if ready for the NHL, is the type of defenseman who will quickly endear himself to any coach and earn a ton of minutes. If he is in the NHL, watch for him to start eating into the other defensemen's production and even to start earning his own spot in fantasy.
Sean Allen is a fantasy analyst for ESPN.com. He is the 2008 and 2009 Fantasy Sports Writers Association, Hockey Writer of the Year. You can e-mail him here.
Sean Allen is a fantasy analyst for ESPN.com. He was the 2008 and 2009 Fantasy Sports Writers Association Hockey Writer of the Year. You can tweet him
@seanard
.
SPONSORED HEADLINES
FANTASY TOP HEADLINES
MOST SENT STORIES ON ESPN.COM
2012 Hockey Draft Kit
ESPN.com's fantasy experts offer all the information you'll need to succeed in your draft this year.
Draft Kit Home
2011-12 Projections and Profiles
• All players | Sortable
• Forwards | Defensemen | Goalies
2011-12 Rankings
• Forwards | Defensemen | Goalies
Strategy and Analysis
• Eastern Conference camp report
• Western Conference camp report
• Mock Draft 1.0 • Basic guide to fantasy hockey
• Staff sleepers and busts
• How to choose your goalie
• Offseason movement synopsis
• Rookies and sophomores
• How to win PIMs without losing elsewhere

Division Previews
• Atlantic Division preview
• Central Division preview
• Northeast Division preview
• Northwest Division preview
• Pacific Division preview
• Southeast Division preview