Commentary
Forecaster: Ducks mighty once more
The Anaheim Ducks have finally kicked their offense into high gear
Updated:
November 6, 2009, 2:36 PM ET
By
Sean Allen
| Special to ESPN.com
Numbers and trends can change quickly. Checking this Forecaster only once in a while to try to gauge the ability of an offense isn't going to cut it. Not only would you get a slanted view as every Forecaster is calculated according to the latest statistics and a specific schedule, but the offensive snapshot you get of a team can still change quickly this early. It was just two weeks ago when the Anaheim Ducks had one of the worst offensive ratings for the week. Now, they have a seven for the week with a nine in one of their three games. Though the sample sizes that make the Forecaster stronger as the season progresses are growing, a couple of good weeks can change a team's fortunes quickly.
The 5-7-2 Ducks scored 16 goals in their first seven games of the season. Over their past seven games they have scored 25 goals as Bobby Ryan and Ryan Getzlaf have awaked from early slumbers. Even Joffrey Lupul and Saku Koivu have found their groove, with the latter on a four-game point streak. With average-to-strong ratings in three games this coming week against the New Jersey Devils, Columbus Blue Jackets and Detroit Red Wings, look for the Ducks to divide up 10-12 goals among them. Start all top six forwards, and look for Corey Perry to continue his hot streak.
That recommendation is night and day to what I would have said two weeks ago when Koivu and Lupul were barely being noticed and even Getzlaf was struggling. So make sure you check in weekly to see how offenses are stacking up and changing throughout the season.
Team

Mon
11/9

Tue
11/10

Wed
11/11

Thu
11/12

Fri
11/13

Sat
11/14

Sun
11/15

Games
T / H

Ducks
OFF
OFF
@NJ
O: 5
D: 5
OFF
@CLS
O: 9
D: 3
@DET
O: 7
D: 3
OFF
3 / 0
O: 7
D: 4
Thrashers
OFF
OFF
OFF
@NYR
O: 5
D: 7
LA
O: 9
D: 1
OFF
EDM
O: 7
D: 2
3 / 2
O: 7
D: 3
Bruins
OFF
PIT
O: 3
D: 5
OFF
FLA
O: 5
D: 6
OFF
@PIT
O: 1
D: 8
OFF
3 / 2
O: 2
D: 7
Sabres
OFF
OFF
EDM
O: 8
D: 8
OFF
CGY
O: 9
D: 6
@PHI
O: 4
D: 5
OFF
3 / 2
O: 7
D: 6
Flames
OFF
@MON
O: 4
D: 9
OFF
OFF
@BUF
O: 2
D: 7
@TOR
O: 6
D: 7
OFF
3 / 0
O: 4
D: 8
Hurricanes
OFF
OFF
LA
O: 6
D: 4
OFF
NYI
O: 5
D: 7
OFF
MIN
O: 3
D: 8
3 / 3
O: 5
D: 6
Blackhawks
LA
O: 5
D: 6
OFF
COL
O: 2
D: 8
OFF
TOR
O: 6
D: 6
OFF
SJ
O: 3
D: 5
4 / 4
O: 4
D: 6
Avalanche
OFF
OFF
@CHI
O: 1
D: 8
OFF
OFF
VAN
O: 5
D: 8
OFF
2 / 1
O: 2
D: 8
Blue Jackets
OFF
OFF
DET
O: 6
D: 5
OFF
ANA
O: 8
D: 5
OFF
OFF
2 / 2
O: 7
D: 5
Stars
OFF
OFF
OFF
@SJ
O: 7
D: 4
OFF
@PHO
O: 6
D: 5
OFF
2 / 0
O: 7
D: 4
Red Wings
OFF
OFF
@CLS
O: 7
D: 1
VAN
O: 4
D: 8
OFF
ANA
O: 7
D: 7
OFF
3 / 2
O: 6
D: 5
Oilers
OFF
@OTT
O: 4
D: 5
@BUF
O: 3
D: 5
OFF
OFF
OFF
@ATL
O: 5
D: 4
3 / 0
O: 4
D: 5
Panthers
OFF
OFF
OFF
@BOS
O: 1
D: 7
OFF
NYI
O: 6
D: 5
OFF
2 / 1
O: 4
D: 6
Kings
@CHI
O: 1
D: 10
OFF
@CAR
O: 3
D: 10
OFF
@ATL
O: 5
D: 7
@TB
O: 4
D: 10
OFF
4 / 0
O: 3
D: 10
Wild
OFF
@TOR
O: 4
D: 7
OFF
@TB
O: 2
D: 9
@WAS
O: 3
D: 6
OFF
@CAR
O: 1
D: 10
4 / 0
O: 2
D: 8
Canadiens
OFF
CGY
O: 6
D: 6
OFF
@PHO
O: 2
D: 4
OFF
@NSH
O: 3
D: 6
OFF
3 / 1
O: 4
D: 5
Predators
OFF
@SJ
O: 4
D: 4
OFF
@STL
O: 3
D: 7
OFF
MON
O: 2
D: 8
OFF
3 / 1
O: 3
D: 6
Devils
OFF
OFF
ANA
O: 4
D: 4
@PIT
O: 3
D: 10
OFF
WAS
O: 3
D: 3
OFF
3 / 2
O: 3
D: 6
Islanders
OFF
OFF
@WAS
O: 6
D: 1
OFF
@CAR
O: 3
D: 4
@FLA
O: 5
D: 3
OFF
3 / 0
O: 5
D: 3
Rangers
OFF
OFF
OFF
ATL
O: 8
D: 6
OFF
@OTT
O: 5
D: 5
OFF
2 / 1
O: 7
D: 5
Senators
OFF
EDM
O: 7
D: 7
OFF
@PHI
O: 6
D: 3
OFF
NYR
O: 7
D: 6
OFF
3 / 2
O: 7
D: 5
Flyers
OFF
OFF
OFF
OTT
O: 9
D: 6
OFF
BUF
O: 7
D: 6
OFF
2 / 2
O: 8
D: 6
Coyotes
OFF
OFF
OFF
MON
O: 5
D: 7
OFF
DAL
O: 5
D: 5
OFF
2 / 2
O: 5
D: 6
Penguins
OFF
@BOS
O: 3
D: 10
OFF
NJ
O: 3
D: 9
OFF
BOS
O: 2
D: 10
OFF
3 / 2
O: 2
D: 10
Blues
OFF
VAN
O: 1
D: 6
OFF
NSH
O: 1
D: 8
OFF
SJ
O: 1
D: 5
OFF
3 / 3
O: 1
D: 7
Sharks
OFF
NSH
O: 2
D: 10
OFF
DAL
O: 3
D: 8
OFF
@STL
O: 10
D: 7
@CHI
O: 10
D: 6
4 / 2
O: 8
D: 8
Lightning
OFF
OFF
OFF
MIN
O: 5
D: 10
OFF
LA
O: 8
D: 6
OFF
2 / 2
O: 6
D: 8
Maple Leafs
OFF
MIN
O: 2
D: 6
OFF
OFF
@CHI
O: 8
D: 5
CGY
O: 4
D: 4
OFF
3 / 2
O: 4
D: 5
Canucks
OFF
@STL
O: 2
D: 8
OFF
@DET
O: 3
D: 5
OFF
@COL
O: 2
D: 6
OFF
3 / 0
O: 2
D: 6
Capitals
OFF
OFF
NYI
O: 6
D: 6
OFF
MIN
O: 5
D: 7
@NJ
O: 5
D: 4
OFF
3 / 2
O: 5
D: 6
"O" (offense) and "D" (defense) matchup ratings are based upon a scale from 1 (poor matchup) to 10 (excellent matchup), and are calculated using a formula that evaluates the team's year-to-date and past 21 days' statistics, their performance in home/road games depending on where the game is to be played, as well as their opponents' numbers in those categories. The
Games T / H
column lists the team's total number of games played as well as home games (T / H), and lists the cumulative rating from 1-10 of that week's matchups.
Offensive Highlights
Sharks hunting in the Central: So what happens when the biggest run-and-gun offense in the NHL gets a four-game week against some weak offenses and weak defenses? An offensive and defensive rating of eight for the San Jose Sharks, that's what. The games against the Nashville Predators and Dallas Stars are tough on the offense but a cakewalk for the Sharks' defense, while games with the St. Louis Blues and Chicago Blackhawks will allow the offense to explode. The Sharks are the perfect team this coming week for those on weekly transaction deadlines. Definitely get Ryane Clowe active as he is skating with Joe Thornton and Dany Heatley until Devin Setoguchi returns from a leg injury. Deep leagues can consider Manny Malhotra and Benn Ferriero, as they make up the second line with Patrick Marleau and get modest power-play minutes. Consider Jason Demers for some plus/minus and modest points output, and his partner Kent Huskins could add some plus/minus points for deep league owners.
Malkin-less Penguins will struggle to score: Don't read this wrong, as the Pittsburgh Penguins could very well finish the week 3-0. But they might do it by only scoring four or five goals as a team. Two games against the Boston Bruins and one against the Devils presents a tough offensive challenge for a Penguins team that now -- without Evgeni Malkin -- looks dangerous only one line deep. Going any deeper than the first power-play unit of Sidney Crosby, Chris Kunitz, Bill Guerin, Alex Goligoski and Kris Letang, is not recommended.
Capitalize on Kaberle: If you can come to grips with the fact that Tomas Kaberle is in fact not a No. 1 fantasy defenseman and was just on an insane hot streak, now might be the time to try to flip him. The Toronto Maple Leafs have a pretty average offensive and defense rating for the week, but dig a little deeper and it doesn't look like a good week for the Leafs' power play. The man advantage has been the key to Kaberle's recent success, but games against the Minnesota Wild, Blackhawks and Calgary Flames don't bode well. All three teams are in the top half of the league for their penalty kill, with the Hawks and Wild in the top five, and all three teams are in the bottom half of the league for the number of times they have been short-handed. That's not a great combination for the Leafs or Kaberle.
Defensive Highlights
The Kings of defense: The Los Angeles Kings easily have the best four-game week defensive rating I have seen so far this season. A game against the Chicago Blackhawks is followed by a road swing through the low-scoring Southeast Division, with games against the Carolina Hurricanes, Atlanta Thrashers and Tampa Bay Lightning. Jonathan Quick has an outside shot at a 3-0 week with stellar ratios and perhaps a shutout tossed in for good measure. Davis Drewiske and Matt Greene could provide some surprise value with their plus/minus. It's not a terrific week offensively for the Kings, as all their opponents are fairly stout on defense as well, so stick to the top line and Dustin Brown when starting forwards.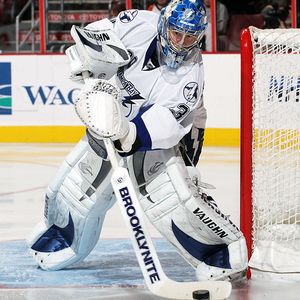 Len Redkoles/NHLI/Getty ImagesAnteor Niittymaki is 3-1 with a 1.95 goals-against average and .940 save percentage in six games this season.
Can Niitty strike twice?: The opportunity is there for Antero Niittymaki to solidify his status as the No. 1 goalie for the Lightning, thanks to some easy contests next week. The Minnesota Wild and Kings matchup favorably for the Bolts' defense, and if coach Rick Tocchet is still allowing Niitty a chance to take over, he could put the final nail in Mike Smith's coffin by starting both games. If you were thinking about picking him up, this should make the decision easy -- even if you just snatch him up, let his value build over the next week and then sell.
Squeeze a little more from Razer: Roberto Luongo is traveling with the Vancouver Canucks and is expected to make a start by the end of this Forecaster period (he's projected to be ready for Thursday's game against the Red Wings), but there is still a little more to be gained from owning his backup, Andrew Raycroft. In Luongo's absence due to cracked ribs, Raycroft has been pretty valuable, and is even the third-best goaltender on the ESPN Player Rater for the past 15 days. The Canucks begin next week with a game against the lowly St. Louis Blues offense in which Raycroft should get the start, but even if Luongo returns for Thursday's game, he may get a break on Saturday against the Colorado Avalanche as he is eased back into action. That would also be a good matchup for Raycroft given that he shut them out already this season. After this coming week though, you can send Raycroft back to the waiver wire.
Sean Allen is a fantasy analyst for ESPN.com and the 2008 Fantasy Sports Writers Association, Hockey Writer of the Year. You can e-mail him here
.
Sean Allen is a fantasy analyst for ESPN.com. He was the 2008 and 2009 Fantasy Sports Writers Association Hockey Writer of the Year. You can tweet him
@seanard
.
SPONSORED HEADLINES
FANTASY TOP HEADLINES
MOST SENT STORIES ON ESPN.COM