Commentary
NHL Forecaster: The perfect storm
Updated:
November 13, 2009, 12:54 PM ET
By
Sean Allen
| ESPN.com
Just plain brutal. Is there any other way to describe how the Carolina Hurricanes have begun their 2009-10 campaign? Injuries have certainly played a part, with Erik Cole, Eric Staal, Ray Whitney and Cam Ward -- easily the team's four best fantasy stars -- all missing time. Still, just two wins in 17 games? Really?!?
The Canes have also managed a rare combination as of Friday morning: They have the fewest goals scored in the league and the most goals scored against. As those ranks would suggest, the team has been an abyss for plus/minus. Combined, the Hurricanes' skaters are a league-worst minus-109, a full 20 points worse than the Minnesota Wild's combined plus/minus. No one on the team has scored more than four goals and no one has more than 10 points. The Hurricanes are the second-most penalized team in the NHL, and also have the league's second-worst power play. The dismal numbers just keep stacking up.
But there is still plenty of time and plenty of reason to hold out hope. I'd go as far as suggesting you go out and acquire some of the Canes' studs on the cheap. Here are some reasons why:
The Canes are 17 games into their schedule this season and Whitney has four goals and a minus-4. Last season at the 17-game pole he had four goals and a minus-6. He finished the season as the 54th-best forward on ESPN's Player Rater.
Staal finished as the fifth-best forward, but 80 percent of his points came after the calendar flipped to December (which represents less than 70 percent of the season). He had only 15 points in 25 games through the end of November last season, a number he could have easily reached if he hadn't been hurt this year for the first time in his six-year career.
Cole was useless to fantasy owners as an Edmonton Oiler last season, with just 27 points in 63 games. After the trade to the Hurricanes and the reunion with Staal, he tore off 15 points in 17 games to end the season. So far, the pair has only been healthy for one full game together this season.
In the month of November last season, Ward played 12 games with a 2.80 goals-against average and a .904 save percentage. It was a rough month, but Ward would go on to finish as the sixth-best fantasy goaltender on the Player Rater. In October of this season, Ward played 11 games with a 2.89 GAA and .905 SV%. No question it was another bad month, and he started November poorly before suffering a laceration on his leg last weekend. But he can still come back and help the Canes turn things around. In fact, he missed some time last season at the start of December with a groin strain and, coming back from injury in mid-December, he had his second-best month of the season as far as his ratios were concerned. Ward went 21-9-2 after the All-Star break last season, and the Hurricanes have a long time to get their ducks in a row before the Olympic break this year.
So, yes, things look bleak right now, and the perception is only made worse by a 13-game losing streak, but as I discussed last week in this space with regard to the Anaheim Ducks, things can turn around quickly. I wouldn't bet on the turnaround coming until a week or so into December, when the Hurricanes have both Staal and Ward back, but the coming week offers some hope on the schedule for the remaining Canes. As mentioned, the Wild have the second-worst team plus/minus in the league, and the Hurricanes get a date with them Sunday afternoon, followed next week by games against the defensively struggling Montreal Canadiens and Toronto Maple Leafs, plus a Saturday contest against the hot-and-cold Tampa Bay Lightning.
I don't know if I'd be digging deep to find Hurricanes worth starting for the week, but Jussi Jokinen, Tuomo Ruutu and Whitney shouldn't be avoided because of the current state of affairs. Owners in deeper leagues should also note whether Michael Leighton or Manny Legace will be getting starts, as it should be noted that the Bolts, Leafs and Wild are 20th or worse in goals scored this season.
Team

Mon
11/16

Tue
11/17

Wed
11/18

Thu
11/19

Fri
11/20

Sat
11/21

Sun
11/22

Games
T / H

Ducks
@PIT
O: 4
D: 7
OFF
OFF
TB
O: 7
D: 4
OFF
SJ
O: 5
D: 1
OFF
3 / 2
O: 5
D: 4
Thrashers
OFF
OFF
OFF
BOS
O: 3
D: 4
OFF
PIT
O: 6
D: 3
TB
O: 7
D: 3
3 / 3
O: 5
D: 3
Bruins
NYI
O: 3
D: 8
OFF
OFF
@ATL
O: 2
D: 9
@BUF
O: 1
D: 10
OFF
OFF
3 / 1
O: 1
D: 9
Sabres
OFF
OFF
FLA
O: 10
D: 8
OFF
BOS
O: 5
D: 9
@OTT
O: 3
D: 7
OFF
3 / 2
O: 6
D: 8
Flames
OFF
COL
O: 5
D: 7
OFF
CHI
O: 3
D: 6
OFF
@LA
O: 3
D: 8
OFF
3 / 2
O: 4
D: 7
Hurricanes
OFF
@MON
O: 6
D: 4
OFF
TOR
O: 6
D: 4
OFF
TB
O: 4
D: 6
OFF
3 / 2
O: 6
D: 5
Blackhawks
OFF
OFF
OFF
@CGY
O: 3
D: 10
OFF
@EDM
O: 4
D: 10
@VAN
O: 4
D: 10
3 / 0
O: 4
D: 10
Avalanche
OFF
@CGY
O: 1
D: 9
@EDM
O: 1
D: 9
OFF
@VAN
O: 2
D: 9
OFF
OFF
3 / 0
O: 1
D: 9
Blue Jackets
EDM
O: 4
D: 5
OFF
OFF
@DAL
O: 10
D: 1
OFF
@NSH
O: 9
D: 3
OFF
3 / 1
O: 8
D: 3
Stars
OFF
OFF
@DET
O: 7
D: 4
CLS
O: 6
D: 6
OFF
NJ
O: 2
D: 7
OFF
3 / 2
O: 5
D: 6
Red Wings
OFF
OFF
DAL
O: 5
D: 8
OFF
FLA
O: 6
D: 10
@MON
O: 5
D: 3
OFF
3 / 2
O: 5
D: 7
Oilers
@CLS
O: 8
D: 6
OFF
COL
O: 5
D: 4
OFF
OFF
CHI
O: 3
D: 3
OFF
3 / 2
O: 5
D: 4
Panthers
LA
O: 8
D: 2
OFF
@BUF
O: 2
D: 5
OFF
@DET
O: 4
D: 3
@NYR
O: 3
D: 5
OFF
4 / 1
O: 4
D: 4
Kings
@FLA
O: 5
D: 10
OFF
PHI
O: 8
D: 2
OFF
OFF
CGY
O: 6
D: 6
OFF
3 / 2
O: 6
D: 6
Wild
OFF
OFF
PHO
O: 4
D: 5
OFF
NYI
O: 5
D: 5
OFF
OFF
2 / 2
O: 5
D: 5
Canadiens
OFF
CAR
O: 4
D: 9
OFF
OFF
@WAS
O: 8
D: 1
DET
O: 5
D: 4
OFF
3 / 2
O: 5
D: 5
Predators
OFF
SJ
O: 1
D: 6
OFF
NJ
O: 1
D: 8
OFF
CLS
O: 3
D: 7
OFF
3 / 3
O: 1
D: 7
Devils
@PHI
O: 6
D: 8
OFF
OFF
@NSH
O: 4
D: 10
OFF
@DAL
O: 5
D: 10
OFF
3 / 0
O: 5
D: 10
Islanders
@BOS
O: 1
D: 4
OFF
OFF
OFF
@MIN
O: 4
D: 3
@STL
O: 1
D: 4
OFF
3 / 0
O: 2
D: 4
Rangers
OFF
WAS
O: 10
D: 3
OFF
OFF
OFF
FLA
O: 9
D: 8
OFF
2 / 2
O: 9
D: 6
Senators
OFF
TOR
O: 9
D: 4
OFF
PIT
O: 5
D: 7
OFF
BUF
O: 5
D: 6
OFF
3 / 3
O: 7
D: 6
Flyers
NJ
O: 5
D: 8
OFF
@LA
O: 6
D: 6
OFF
@SJ
O: 4
D: 5
@PHO
O: 4
D: 7
OFF
4 / 1
O: 5
D: 7
Coyotes
TB
O: 4
D: 7
OFF
@MIN
O: 6
D: 8
@STL
O: 3
D: 9
OFF
PHI
O: 5
D: 2
OFF
4 / 2
O: 5
D: 6
Penguins
ANA
O: 7
D: 6
OFF
OFF
@OTT
O: 4
D: 6
OFF
@ATL
O: 6
D: 4
OFF
3 / 1
O: 6
D: 5
Blues
OFF
OFF
OFF
PHO
O: 1
D: 8
OFF
NYI
O: 2
D: 7
OFF
2 / 2
O: 1
D: 7
Sharks
OFF
@NSH
O: 8
D: 6
OFF
OFF
PHI
O: 3
D: 7
@ANA
O: 10
D: 3
OFF
3 / 1
O: 8
D: 5
Lightning
@PHO
O: 2
D: 4
OFF
OFF
@ANA
O: 5
D: 2
OFF
@CAR
O: 2
D: 6
@ATL
O: 4
D: 2
4 / 0
O: 3
D: 3
Maple Leafs
OFF
@OTT
O: 9
D: 5
OFF
@CAR
O: 9
D: 7
OFF
WAS
O: 6
D: 1
OFF
3 / 1
O: 8
D: 4
Canucks
OFF
OFF
OFF
OFF
COL
O: 6
D: 9
OFF
CHI
O: 4
D: 8
2 / 2
O: 5
D: 8
Capitals
OFF
@NYR
O: 6
D: 3
OFF
OFF
MON
O: 7
D: 5
@TOR
O: 9
D: 2
OFF
3 / 1
O: 8
D: 4
"O" (offense) and "D" (defense) matchup ratings are based upon a scale from 1 (poor matchup) to 10 (excellent matchup), and are calculated using a formula that evaluates the team's year-to-date and past 21 days' statistics, their performance in home/road games depending on where the game is to be played, as well as their opponents' numbers in those categories. The
Games T / H
column lists the team's total number of games played as well as home games (T / H), and lists the cumulative rating from 1-10 of that week's matchups.
Offensive highlights
Only three times four: A fairly light league schedule leaves little to pick through for owners who like to maximize their games played for the week. Only the Philadelphia Flyers, Phoenix Coyotes, Florida Panthers and Lightning have four-game weeks and nine of the 12 games for those teams are on the road. Most of the offensive Flyers should be safe bets for the week, but be careful with Ray Emery as the meat of the week sandwich will see contests against two of the top two offenses in the league in the Los Angeles Kings and San Jose Sharks. For the Coyotes, look more to the defensive side of things as three of the four games are against the less-than-stellar offenses of the Lightning, Wild and St. Louis Blues. Start Ilya Bryzgalov for those contests and consider Keith Yandle as a sleeper for the week, as he is a plus-6 with four points in his past eight games. The Bolts have a mixed week that closes with contests against the punchless Hurricanes on Saturday and the high-scoring Atlanta Thrashers on Sunday. With games against the Coyotes and Ducks to start the week, pick and choose where you use Antero Niittymaki and don't go deeper than the "Big Five" on offense (Martin St. Louis, Vincent Lecavalier, Steven Stamkos, Ryan Malone and Alex Tanguay). I'll discuss the Panthers below.
[+] Enlarge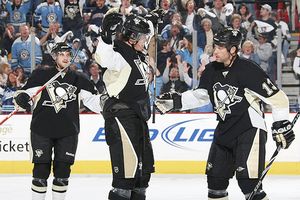 Gregory Shamus/NHLI/Getty ImagesThe Penguins have lost five of seven games and totaled 11 goals during Evgeni Malkin's absence.
Welcome back, Evgeni!
Assuming all goes well with
Evgeni Malkin
's return to the
Pittsburgh Penguins
' lineup this weekend, he'll enjoy an impressive first week back based on next week's schedule for the Pens. The Penguins' three opponents for the week -- the
Ottawa Senators
, Thrashers and Ducks -- are 24th, 25th and 26th in the league in goals allowed per game. With Malkin out of the lineup,
Sidney Crosby
,
Chris Kunitz
,
Ruslan Fedotenko
,
Bill Guerin
and
Pascal Dupuis
(who make up the rest of the Pens' top six when Malkin is healthy) have combined for a measly 11 points and a minus-26 in the team's past seven games. Hurry back, Evgeni!
Careful with Chicago despite rating: The Chicago Blackhawks pull out a defensive 10 rating for their three-game western Canadian road swing this coming week, but don't be so hasty to roll out Cristobal Huet without thinking twice. The Hawks have only played six games on the road this season, giving them a small sample size in numbers, and included in those six road games were two matchups with the Nashville Predators and one with the Panthers. That makes the 12 goals they've allowed on the road in six games a little less impressive. You've likely been using Huet as a No. 2 goaltender this season anyway, so don't start him unless you need his numbers in head-to-head leagues and consider only using him for the game with the Vancouver Canucks (the least potent of the three) in Rotisserie formats.
Defensive highlights
A minus for the Panthers: There are 10 offenses pacing at better than three goals per game, and the Florida Panthers happen to get three of them in a four-game week. The Kings, Detroit Red Wings and New York Rangers get to pick on Tomas Vokoun and the Panthers (along with a mid-week game against the Buffalo Sabres). Naturally, you want to avoid Vokoun, but also players like Dmitry Kulikov and Stephen Weiss, whose poor plus/minus is only likely to get worse.
Tear down that 'Bulin Wall: A heads up for those fantasy owners enjoying Nikolai Khabibulin as a solid, if unspectacular, No. 2 fantasy goaltender: You might want to find someone else this week. In a three-game week, the Edmonton Oilers are up against three offenses in the top 15 in scoring. Khabibulin has already played four games this season against the Columbus Blue Jackets, Colorado Avalanche (twice) and Blackhawks, and he allowed 13 goals for a 3.28 goals-against average in those. He did win two of those games, but the question is whether or not you can afford the GAA hit.
Sean Allen is a fantasy analyst for ESPN.com and the 2008 Fantasy Sports Writers Association, Hockey Writer of the Year. You can e-mail him here.
Sean Allen is a fantasy analyst for ESPN.com. He was the 2008 and 2009 Fantasy Sports Writers Association Hockey Writer of the Year. You can tweet him
@seanard
.
MOST SENT STORIES ON ESPN.COM