Commentary
NHL Forecaster: Big 'D' in desert
Updated:
December 4, 2009, 4:28 PM ET
By
Sean Allen
| ESPN.com
I've noticed a trend in the Forecaster, and I'm wondering how long it will hold up. Ilya Bryzgalov's owners should be quite curious about what I'm looking at.
It's not unusual to see a low offensive rating and high defensive rating on occasion on the Forecaster. All it means is that the formula is calling for a low-scoring affair. When that defensive number creeps up toward eight or nine, it's a little more unusual, as it seems to be calling for a near-shutout. Again, that's not incredibly strange as shutouts happen quite frequently.
[+] Enlarge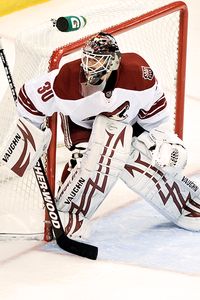 Kevin Coloton/Icon SMIIlya Bryzgalov ranks among the league's top 10 in wins, goals-against average, save percentage and shutouts.
But when it seems almost every game played by the
Phoenix Coyotes
gets forecasted as a low offensive output and strong defensive numbers, you have to start wondering when the bubble will burst.
Sure enough, Bryzgalov has been the difference-maker, allowing two or fewer goals in 16 of his 24 starts. That's a huge statistic, and when you consider that he hasn't allowed more than four goals in any start this season, you can see why his numbers are so gaudy. Can Bryzgalov and the Coyotes keep on winning with such weak offensive output, though? Is he going to be there to save the day every time?
Winning teams tend to have a goals-for average that trumps their goals-against average by a wide margin. The Coyotes' goals-for average this season is the sixth-worst in the league (2.40), but so long as their goals-against average (2.33 as a team, 2.08 for Bryzgalov) remains lower, things are looking good.
Can they keep it up? I look at the fact Bryzgalov's numbers are still propped up by an amazing October and worry whether the time to sell is nigh. Bryzgalov was an average goaltender in November with a GAA of 2.42 and save percentage of .910. On the Player Rater during the past 30 days he ranks 13th among goalies. That's good -- a No. 2 goalie for sure -- but not great. If I were a Bryzgalov owner, I'd be looking to get out of the market now while the getting is good.
Team

Mon
12/7

Tue
12/8

Wed
12/9

Thu
12/10

Fri
12/11

Sat
12/12

Sun
12/13

Games
T / H

Ducks
OFF
DAL
O: 7
D: 5
OFF
OFF
@DET
O: 4
D: 5
@CLS
O: 7
D: 4
OFF
3 / 1
O: 6
D: 5
Thrashers
@TOR
O: 8
D: 7
OFF
@CGY
O: 6
D: 8
@VAN
O: 8
D: 6
OFF
MON
O: 4
D: 7
OFF
4 / 1
O: 6
D: 7
Bruins
OFF
OFF
OFF
TOR
O: 5
D: 7
OFF
@NYI
O: 4
D: 9
OFF
2 / 1
O: 4
D: 8
Sabres
NJ
O: 6
D: 7
OFF
WAS
O: 6
D: 7
OFF
CHI
O: 6
D: 6
@NYR
O: 3
D: 9
OFF
4 / 3
O: 5
D: 8
Flames
@LA
O: 4
D: 10
OFF
ATL
O: 5
D: 3
OFF
MIN
O: 5
D: 3
OFF
@COL
O: 5
D: 10
4 / 2
O: 5
D: 7
Hurricanes
@PIT
O: 4
D: 3
OFF
@NJ
O: 3
D: 4
OFF
@WAS
O: 3
D: 4
@OTT
O: 3
D: 4
OFF
4 / 0
O: 3
D: 4
Blackhawks
OFF
OFF
NYR
O: 4
D: 8
OFF
@BUF
O: 4
D: 8
OFF
TB
O: 4
D: 8
3 / 2
O: 4
D: 8
Avalanche
@STL
O: 5
D: 7
OFF
MIN
O: 8
D: 3
OFF
TB
O: 8
D: 4
OFF
CGY
O: 7
D: 3
4 / 3
O: 7
D: 4
Blue Jackets
OFF
OFF
FLA
O: 7
D: 6
@NSH
O: 8
D: 4
OFF
ANA
O: 6
D: 5
OFF
3 / 2
O: 7
D: 5
Stars
OFF
@ANA
O: 6
D: 6
OFF
OFF
@SJ
O: 6
D: 5
@LA
O: 5
D: 7
OFF
3 / 0
O: 6
D: 6
Red Wings
OFF
OFF
STL
O: 3
D: 10
OFF
ANA
O: 4
D: 8
@NSH
O: 6
D: 5
OFF
3 / 2
O: 4
D: 8
Oilers
@FLA
O: 8
D: 5
OFF
@TB
O: 6
D: 5
OFF
@STL
O: 5
D: 6
OFF
OFF
3 / 0
O: 6
D: 6
Panthers
EDM
O: 10
D: 2
OFF
@CLS
O: 6
D: 4
OFF
@NJ
O: 4
D: 4
@PIT
O: 6
D: 4
OFF
4 / 1
O: 7
D: 4
Kings
CGY
O: 5
D: 5
OFF
@SJ
O: 4
D: 6
PHO
O: 4
D: 7
OFF
DAL
O: 5
D: 5
OFF
4 / 3
O: 5
D: 6
Wild
@PHO
O: 1
D: 8
OFF
@COL
O: 4
D: 6
OFF
@CGY
O: 3
D: 6
@VAN
O: 5
D: 4
OFF
4 / 0
O: 3
D: 6
Canadiens
PHI
O: 3
D: 6
@OTT
O: 4
D: 5
OFF
PIT
O: 5
D: 4
OFF
@ATL
O: 4
D: 5
OFF
4 / 2
O: 4
D: 5
Predators
OFF
VAN
O: 5
D: 6
OFF
CLS
O: 5
D: 7
OFF
DET
O: 2
D: 8
OFF
3 / 3
O: 4
D: 7
Devils
@BUF
O: 4
D: 7
OFF
CAR
O: 5
D: 7
OFF
FLA
O: 6
D: 6
PHI
O: 3
D: 7
OFF
4 / 3
O: 4
D: 7
Islanders
OFF
@PHI
O: 3
D: 4
@TOR
O: 7
D: 3
OFF
OFF
BOS
O: 2
D: 8
OFF
3 / 1
O: 4
D: 5
Rangers
OFF
OFF
@CHI
O: 5
D: 3
OFF
OFF
BUF
O: 7
D: 5
OFF
2 / 1
O: 6
D: 4
Senators
OFF
MON
O: 6
D: 9
OFF
@PHI
O: 3
D: 6
OFF
CAR
O: 7
D: 8
OFF
3 / 2
O: 5
D: 8
Flyers
@MON
O: 3
D: 8
NYI
O: 6
D: 7
OFF
OTT
O: 7
D: 6
OFF
@NJ
O: 4
D: 5
OFF
4 / 2
O: 5
D: 7
Coyotes
MIN
O: 4
D: 8
OFF
OFF
@LA
O: 3
D: 9
OFF
SJ
O: 3
D: 7
OFF
3 / 2
O: 3
D: 8
Penguins
CAR
O: 7
D: 9
OFF
OFF
@MON
O: 3
D: 9
OFF
FLA
O: 8
D: 8
OFF
3 / 2
O: 6
D: 9
Blues
COL
O: 3
D: 7
OFF
@DET
O: 4
D: 8
OFF
EDM
O: 3
D: 7
OFF
OFF
3 / 2
O: 3
D: 7
Sharks
OFF
OFF
LA
O: 5
D: 7
OFF
DAL
O: 5
D: 7
@PHO
O: 7
D: 6
OFF
3 / 2
O: 5
D: 7
Lightning
WAS
O: 5
D: 6
OFF
EDM
O: 7
D: 6
OFF
@COL
O: 5
D: 3
OFF
@CHI
O: 4
D: 1
4 / 2
O: 5
D: 4
Maple Leafs
ATL
O: 3
D: 5
OFF
NYI
O: 3
D: 6
@BOS
O: 8
D: 5
OFF
WAS
O: 3
D: 4
OFF
4 / 3
O: 4
D: 5
Canucks
OFF
@NSH
O: 3
D: 6
OFF
ATL
O: 6
D: 8
OFF
MIN
O: 6
D: 8
OFF
3 / 2
O: 5
D: 7
Capitals
@TB
O: 5
D: 6
OFF
@BUF
O: 4
D: 5
OFF
CAR
O: 7
D: 9
@TOR
O: 7
D: 4
OFF
4 / 1
O: 6
D: 6
"O" (offense) and "D" (defense) matchup ratings are based upon a scale from 1 (poor matchup) to 10 (excellent matchup), and are calculated using a formula that evaluates the team's year-to-date and past 21 days' statistics, their performance in home/road games depending on where the game is to be played, as well as their opponents' numbers in those categories. The
Games T / H
column lists the team's total number of games played as well as home games (T / H), and lists the cumulative rating from 1-10 of that week's matchups.
Offensive highlights
Thrashers' offense should reignite: A 4-1 loss to the New York Islanders was surely a bit humbling for an Atlanta Thrashers offense that has been quick to dominate any opponent this season, but a couple of good matchups this week should have them back on their horse in no time. The game against the Toronto Maple Leafs on Monday looks positively perfect for all three top lines, while games against the Calgary Flames and Vancouver Canucks are also above-average. The Thrashers even have a Saturday game against the Montreal Canadiens (that doesn't forecast as positively as the other three), for those in weekly lineups to get four games in. Maxim Afinogenov and Rich Peverley are just as hot as they have been for most of the season and are still available in a minuscule amount of leagues, while sleeper value should come in the form of Evander Kane.
An Avalanche of goals: In the latest brief absence by an injured Milan Hejduk, coach Joe Sacco tried a combination we hadn't seen yet this season as his top line: Paul Stastny, Matt Duchene and Chris Stewart. The result was a cascade of points for all three players -- seven in their past five games. There is no question they will get some more time to explore their chemistry, and the nice part is that Duchene and Stewart are both free agents in most leagues. For the week, the Colorado Avalanche catch the St. Louis Blues, Minnesota Wild, Tampa Bay Lightning and Calgary Flames. Only the game against the Blues rates as average for the Avalanche offense, while the other three should provide plenty of opportunity for goals. Now, hopefully the key Avalanche players I'm recommending won't immediately tear their ACLs and be out for six months (David Jones).
Forget the Canadiens and Rangers: This goes doubly true in weekly leagues, as both the New York Rangers and the Montreal Canadiens have unfavorable weeks ahead. For the Rangers, it's partly due to the two-game schedule they have that includes a date with Ryan Miller. For the Habs, they have a four-game schedule, but the Philadelphia Flyers, Pittsburgh Penguins and Thrashers are not opponents anyone wants to run into for plus/minus purposes, and as we'll learn a bit later on, the Ottawa Senators are not a team you want to run into while on the road.
Defensive highlights
Elliott phone home: While Pascal Leclaire heals up his cheekbone, Brian Elliott has looked somewhat shaky as a replacement for the Ottawa Senators, making many who have held on to him until Leclaire was inevitably hurt wonder about their investment. Look a little closer though, and you'll see Elliott has been a rock at home. He's undefeated in regulation at Scotiabank Place, with a 2.18 goals-against average and .925 save percentage. In fact, the Sens are perhaps the best home team in the NHL this season. Their 53 goals in 16 home games are more than anybody else has managed. The Sens welcome the Montreal Canadiens on Tuesday and the Carolina Hurricanes on Saturday, so make sure to have Elliott starting both contests.
Split Kipper: I know, Miikka Kiprusoff has been a terrific asset so far this season, despite all indicators pointing the other way. So, you might choose to ignore this advice, but I'll stress it anyway: Do not blindly start Kipper at home. He has been a monster on the road this season with a 1.81 goals-against average, but at home that balloons to 2.83. While 10 of his 12 November starts were above-average, those two below-average starts came amongst his four starts at home. I might be alone on this, but I still don't trust him at home.
Quick hits
If the Forecaster didn't rate them all as such bad matchups, I'd say the Hurricanes' four games would be a good chance to try out Matt Cullen, Tuomo Ruutu or Jussi Jokinen, if available. With the Penguins, New Jersey Devils, Washington Capitals and Sens-at-home making up the opponents, I guess I'll side with the Forecaster. ... Alex Ovechkin will be back on the ice with Alexander Semin for the first time since Nov. 14, when his suspension ends on Monday. It'll be a four-game week for the two Alexanders to become reacquainted. Look for the easier matchups with the Canes and Leafs late in the week for them to really get going. ... The Dallas Stars might not be the best selection next week, with a three-game Pacific Coast road swing, but the way Brenden Morrow and Brad Richards make other players better means Jamie Benn and James Neal are never bad deep-league starters. ... Remember to make sure you roll out Antero Niittymaki early in the week for the two home games, then bench him while the Tampa Bay Lightning head out on the road. Niitty's splits aren't terrible, but as a team the Bolts aren't great away from home. ... Joey MacDonald and Vesa Toskala can only hold things together for so long in Toronto. Look out for plummeting plus/minuses beginning as early as next week's slate of games. Don't go any deeper than Phil Kessel, Alexei Ponikarovsky, Matt Stajan and Tomas Kaberle.
Sean Allen is a fantasy analyst for ESPN.com and the 2008 Fantasy Sports Writers Association Hockey Writer of the Year. You can e-mail him here.
Sean Allen is a fantasy analyst for ESPN.com. He was the 2008 and 2009 Fantasy Sports Writers Association Hockey Writer of the Year. You can tweet him
@seanard
.
SPONSORED HEADLINES
FANTASY TOP HEADLINES
MOST SENT STORIES ON ESPN.COM