Commentary
Fantasy Forecaster: Looking for a fight
Updated:
October 22, 2010, 4:21 PM ET
By
Sean Allen
| Special to ESPN.com
While we wait for the Forecaster to collect enough data from this season to be a much stronger indicator of the week ahead, I figured I'd take some time to explain another function of this scheduling tool.
Penalty minute statistics have been changing since they were first used for the fantasy game. Their relevance to fantasy hockey is a debate unto itself, but I want to focus on how to deal with the fact that penalty minutes are being used.
[+] Enlarge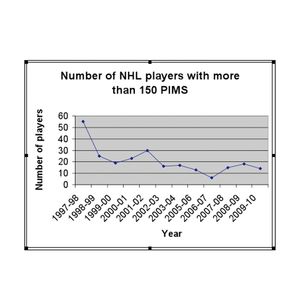 Here's the graph showing the number of players in the league who finished with 150 penalty minutes or more, starting in 1997-98. As you can see, while you used to be able to count on almost every team employing at least one enforcer, that's no longer the case. So where are fantasy players to find those precious PIMs?
While holding on to point-producing tough guys like Sean Avery, David Backes, Alexandre Burrows and Steve Downie is a great plan, there are only so many such players to go around. If you want to gain some ground in the category, you're going to occasionally need to put a pugilist into the lineup and hope he gets into a scrap.
The problem is that guessing when the gloves will be dropped is not an exact science by any means. The top fighters in the league square off in only one of every four games. Having a fighter in your lineup during a week in which he doesn't drop the gloves is a waste of a roster spot. So how does one pick one's spots?
It's not precise, but hockey fans should be comfortable with the notion that games become a lot more heated in the traditional rivalries and divisional matchups. Not only do players end up seeing divisional opponents a lot more, but the crowds certainly can whip up more of a frenzy when the Philadelphia Flyers play the Pittsburgh Penguins, as opposed to a Flyers-Phoenix Coyotes battle.
Colton Orr played in all 82 games last season for the Toronto Maple Leafs, fighting in 22 of them. Not knowing when those fights would be last season, you would have had a 27 percent chance of picking a game in which he would drop the gloves. But if you had concentrated on division rivalries, you would have had a 33 percent chance of picking up some games because Orr fought in eight of 24 Northeast Division games.
Yes, there are players who will show you the complete opposite when it comes to percentages, and there definitely is guess work involved. Numbers do tend to trend back toward you having no better than a 25 percent chance of guessing a fight when using rivalries as the criteria. Using only players with two or more fights this season, 10 of 40 fights (25 percent) have been in a rivalry game.
Still, it's worth the time it takes to look at the next week's schedule for games that might feature some fisticuffs. Looking at this week's Forecaster, Flyers brawler Jody Shelley has my attention. Not only does he have a rematch with the Penguins (Shelley fought Michael Rupp on Saturday), but the four-game week also includes a game against the New York Islanders and defending NHL fight champion Zenon Konopka. Even though Shelley would eat up a roster spot for the week, there is potential for 15 or more PIMs out of him, which paces out to a 300 penalty-minute season.
If you play in a daily league, you can make even better use of pugilists. Steve MacIntyre has suited up just twice for the Edmonton Oilers this season. Both have been games against the Calgary Flames. MacIntyre will no doubt be in uniform Tuesday when the teams meet again.
As we get to the Forecaster chart, let me remind you that the sample size for the ratings is still small and it will be another couple of weeks before we can start churning out some insightful numbers. That doesn't stop me from making some comments on the schedule below.
Team

Mon
39014

Tue
39015

Wed
39016

Thu
39017

Fri
39018

Sat
39019

Sun
39020

Games
T / H

Ducks
OFF
@DAL
O: 9
D: 4
OFF
OFF
NJ
O: 7
D: 5
@SJ
O: 5
D: 2
OFF
3 / 1
O: 7
D: 4
Thrashers
OFF
OFF
@NYR
O: 7
D: 5
OFF
BUF
O: 5
D: 3
@STL
O: 6
D: 4
OFF
3 / 1
O: 6
D: 4
Bruins
OFF
OFF
OFF
TOR
O: 7
D: 8
OFF
@OTT
O: 3
D: 10
OFF
2 / 1
O: 3
D: 6
Sabres
OFF
@PHI
O: 4
D: 6
OFF
OFF
@ATL
O: 6
D: 6
@DAL
O: 8
D: 6
OFF
3 / 0
O: 6
D: 6
Flames
OFF
EDM
O: 6
D: 7
OFF
COL
O: 4
D: 6
OFF
WAS
O: 3
D: 4
OFF
3 / 3
O: 4
D: 6
Hurricanes
OFF
OFF
WAS
O: 5
D: 2
OFF
@NYR
O: 6
D: 4
PIT
O: 6
D: 3
OFF
3 / 2
O: 6
D: 3
Blackhawks
OFF
OFF
LA
O: 5
D: 8
OFF
EDM
O: 9
D: 8
@MIN
O: 9
D: 4
OFF
3 / 2
O: 8
D: 7
Avalanche
OFF
@VAN
O: 6
D: 3
OFF
@CGY
O: 5
D: 6
OFF
CLS
O: 7
D: 6
OFF
3 / 1
O: 6
D: 5
Blue Jackets
PHI
O: 3
D: 6
OFF
OFF
EDM
O: 6
D: 6
OFF
@COL
O: 6
D: 4
OFF
3 / 2
O: 5
D: 6
Stars
OFF
ANA
O: 6
D: 3
OFF
LA
O: 4
D: 4
OFF
BUF
O: 3
D: 4
OFF
3 / 3
O: 4
D: 3
Red Wings
OFF
OFF
OFF
PHO
O: 4
D: 9
OFF
NSH
O: 7
D: 8
OFF
2 / 2
O: 4
D: 6
Oilers
OFF
@CGY
O: 3
D: 5
OFF
@CLS
O: 5
D: 4
@CHI
O: 4
D: 1
OFF
OFF
3 / 0
O: 4
D: 4
Panthers
OFF
@TOR
O: 3
D: 8
OFF
@OTT
O: 1
D: 9
OFF
@MON
O: 1
D: 8
OFF
3 / 0
O: 2
D: 9
Kings
@MIN
O: 6
D: 5
OFF
@CHI
O: 4
D: 6
@DAL
O: 9
D: 8
OFF
NJ
O: 2
D: 7
OFF
4 / 1
O: 7
D: 9
Wild
LA
O: 7
D: 7
OFF
OFF
WAS
O: 8
D: 4
OFF
CHI
O: 7
D: 4
OFF
3 / 3
O: 8
D: 5
Canadiens
PHO
O: 2
D: 7
OFF
NYI
O: 6
D: 5
OFF
@NYI
O: 8
D: 7
FLA
O: 3
D: 8
OFF
4 / 3
O: 7
D: 9
Predators
OFF
OFF
OFF
STL
O: 4
D: 5
OFF
@DET
O: 4
D: 3
OFF
2 / 1
O: 3
D: 3
Devils
OFF
OFF
@SJ
O: 4
D: 5
OFF
@ANA
O: 5
D: 7
@LA
O: 4
D: 8
OFF
3 / 0
O: 5
D: 7
Islanders
OFF
OFF
@MON
O: 4
D: 5
OFF
MON
O: 4
D: 6
@PHI
O: 4
D: 4
OFF
3 / 1
O: 4
D: 5
Rangers
OFF
OFF
ATL
O: 8
D: 4
OFF
CAR
O: 8
D: 5
@TOR
O: 6
D: 6
OFF
3 / 2
O: 8
D: 5
Senators
OFF
PHO
O: 3
D: 7
OFF
FLA
O: 4
D: 7
OFF
BOS
O: 3
D: 5
OFF
3 / 3
O: 4
D: 7
Flyers
@CLS
O: 6
D: 8
BUF
O: 4
D: 7
OFF
OFF
@PIT
O: 6
D: 6
NYI
O: 8
D: 6
OFF
4 / 2
O: 8
D: 9
Coyotes
@MON
O: 3
D: 8
@OTT
O: 3
D: 9
OFF
@DET
O: 3
D: 7
OFF
TB
O: 4
D: 5
OFF
4 / 1
O: 5
D: 10
Penguins
OFF
OFF
@TB
O: 6
D: 5
OFF
PHI
O: 5
D: 6
@CAR
O: 7
D: 7
OFF
3 / 1
O: 6
D: 6
Blues
OFF
OFF
OFF
@NSH
O: 6
D: 8
OFF
ATL
O: 6
D: 6
OFF
2 / 1
O: 4
D: 5
Sharks
OFF
OFF
NJ
O: 5
D: 7
OFF
OFF
ANA
O: 8
D: 6
OFF
2 / 2
O: 5
D: 4
Lightning
OFF
OFF
PIT
O: 7
D: 4
OFF
OFF
@PHO
O: 5
D: 6
OFF
2 / 1
O: 4
D: 4
Maple Leafs
OFF
FLA
O: 3
D: 8
OFF
@BOS
O: 3
D: 4
OFF
NYR
O: 4
D: 6
OFF
3 / 2
O: 3
D: 6
Canucks
OFF
COL
O: 8
D: 6
OFF
OFF
OFF
OFF
OFF
1 / 1
O: 3
D: 2
Capitals
OFF
OFF
@CAR
O: 10
D: 6
@MIN
O: 9
D: 3
OFF
@CGY
O: 7
D: 7
OFF
3 / 0
O: 9
D: 5
"O" (offense) and "D" (defense) matchup ratings are based upon a scale from 1 (poor matchup) to 10 (excellent matchup), and are calculated using a formula that evaluates the team's year-to-date and past 21 days' statistics, their performance in home/road games depending on where the game is to be played, as well as their opponents' numbers in those categories. The
Games T / H
column lists the team's total number of games played as well as home games (T / H), and lists the cumulative rating from 1-10 of that week's matchups.
A day of rest: There are no NHL games scheduled for Sunday, Oct. 31. That means a two-game week won't be as bright a red light because six teams play two games, four teams play four games and 19 others have a three-game week. With such a strong mean, leaning toward or away from the outliers doesn't matter as much. Put your best player forward in most cases.
A day of action: The glowing exception to the above rule this week is the Vancouver Canucks. The Canucks play Tuesday against the Colorado Avalanche. Period. That's it. With only one game on the schedule, even Daniel and Henrik Sedin become somewhat questionable in weekly leagues. Is Daniel Sedin going to score more points in one game than Ville Leino of the Philadelphia Flyers will in four? That's a tall order for Daniel.
Coyotes howl on road: I know I said it was early and that the ratings don't mean as much as they could because of the sample size, but that doesn't mean we can't look at the Phoenix Coyotes' D-10 for the week and make sure Ilya Bryzgalov gets the nod. It might even be a good week to try Oliver Ekman-Larsson on for size. The rookie defender might just need the confidence of some good games to get his offense flowing.
Flyers rate strongly: On both defense and offense rating in the Forecaster, the Flyers are near the top. Add to that the fact that they play a four-game week, and things certainly look positive for a few players who have had issue tickling the twine. Chris Pronger, Kimmo Timonen and Braydon Coburn have zero points among them despite being, on paper, one of the best offensive-defensive groups in the league. On offense, consider using Nikolay Zherdev, as his ownership numbers have been plummeting in the opening weeks after a strong preseason. James van Riemsdyk also is widely available and has three points so far.
Lesser known Caps: The Washington Capitals have the strongest offensive rating for the week with games on the road against the Carolina Hurricanes, Minnesota Wild and Calgary Flames. To snag some cheap points, you can gamble on Eric Fehr, Tom Poti or Marcus Johansson. Everyone else is probably owned in your league.
Quick Hits
Mark Letestu deserves to be one of the most-snagged players over the past week. A strong showing to begin the season earned him a promotion to Evgeni Malkin's wing this week. Letestu responded with a goal and assist against the Ottawa Senators. In the meantime, downgrade Eric Tangradi from sleeper to irrelevant. … He already is owned in most leagues, but for the 6 percent of leagues in which he is available, a promotion to the top line alongside Eric Staal is a good sign for Jussi Jokinen. … Victoria Matiash mentioned it in this week's Thin Blue Line, but it bears repeating: Keep an eye on Colorado Avalanche defenseman Jonas Holos. He is playing alongside John-Michael Liles on the power play. … The Minnesota Wild finally put Martin Havlat and Guillaume Latendresse back on the same line. After the success they had last season, it's a wonder they weren't together to start the year. Matt Cullen is the third member of the unit, and beyond the ridiculous value all Wild members have from the power play, this trio could be a formidable even-strength line as well.
Sean Allen is a fantasy analyst for ESPN.com. He is the 2008 and 2009 Fantasy Sports Writers Association Hockey Writer of the Year. You can e-mail him here
.
Sean Allen is a fantasy analyst for ESPN.com. He was the 2008 and 2009 Fantasy Sports Writers Association Hockey Writer of the Year. You can tweet him
@seanard
.
SPONSORED HEADLINES
FANTASY TOP HEADLINES
MOST SENT STORIES ON ESPN.COM