Commentary
Forecaster: Big week for goalies
Updated:
November 6, 2010, 9:52 AM ET
By
Sean Allen
| Special to ESPN.com
If only the Forecaster had the incredible foresight required to determine which goaltenders would start each game a week ahead of time. Unfortunately, that kind of technology does not exist, and even the best trend-recognizing software in the world still wouldn't be able to read a coach's mind.
In the meantime, fantasy owners are left playing the goalie game. Between one and three owners in any fantasy hockey league are satisfied enough with their goaltending to relax and let nature take its course. There just aren't enough predictable stud and sleeper goaltenders to go around to make everyone happy.
As much as we wish the Forecaster could look at the week ahead and say, "Jonathan Bernier will start on Saturday against the New York Islanders," it's just not possible to make that kind of prediction. I can take the time, look at the fact that the Los Angeles Kings have only two games this coming week, determine that Jonathan Quick bested the Dallas Stars last week and likely will draw them again Thursday, realize that coach Terry Murray probably wants to help build Bernier's confidence, note that Saturday's matchup against the fledgling Islanders offense probably would do just that … then suggest, "Bernier will start Saturday against the Isles," but it is still just a guess.
I often argue that the most wasted stats in any fantasy sport come from backup goaltenders in hockey, but in reality, there isn't much anyone can do about it.
The trend I prefer watching -- because the work usually pays off for a longer period of time -- is the theft of the starting goaltender role by a current backup. It's always happening somewhere in the league, and even though you might be aware of the developments, the long-term implications might not be so obvious.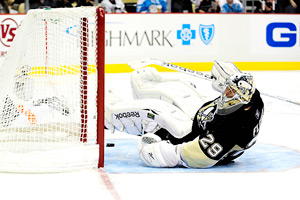 Icon SMIMarc-Andre Fleury has struggled with just one win, a 3.35 goals-against average and an 8.63 save percentage in six starts.
Take Brent Johnson with the Pittsburgh Penguins. The collective opinion of this guy is that he is riding a hot start and eventually will cede the job back to Marc-Andre Fleury. Even though Johnson is fourth on the ESPN Player Rater and Fleury is fourth-to-last (60th), you would be hard-pressed to find a fantasy owner to give you Fleury for Johnson in a trade. But don't be so fast to write off a guy such as Johnson. What if I reminded you that the only time he had a clear-cut chance to be the No. 1 goaltender for his team (and the only time he started more than 50 percent of his team's games) he finished eighth in the NHL with a 2.18 goals-against average and fifth in wins with 34 (2001-02 St. Louis Blues) as a 23-year-old. The next season, the Blues traded for Chris Osgood, and Johnson would get the chance to start regularly only for the defensively inept Washington Capitals in the years after the lockout.
The point I am trying to make is that you should not be so sure Johnson can't be a No. 1 goaltender. He's 33 years old, but so what? You didn't hear of Tim Thomas until he was that ripe age.
This is the week that will separate the backups from the starters for the Penguins. They face the No. 2, No. 3 and No. 4 offense in goals per game this season (Tampa Bay Lightning, Boston Bruins and Atlanta Thrashers). If Johnson emerges with his stats unscathed, it's time to start buying into the idea that he could be around a while.
How about Anders Lindback with the Nashville Predators. Pekka Rinne is a quality goaltender, but he is far from having his seniority etched in stone. In games when Rinne has been in net the whole time, the Preds have earned four of a possible 12 points. For Lindback, the success has been seven out of a possible eight points. Even though the peripheral stats are close to being a wash, the bigger picture for an NHL club is always the points in the standings. Rinne has lost three straight ahead of a weekend doubleheader. Success on the weekend in the game that no doubt will be handed to Lindback could mean more starts in the week ahead.
Let's also look at Sergei Bobrovsky of the Philadelphia Flyers. The team sits atop the Atlantic Division standings, and Bobrovsky has been in net for 14 of the 17 points the team has earned. For some reason, reports of Michael Leighton's return seem to spell imminent doom for Bobrovsky, and that has been enough to keep his ownership at 65 percent in ESPN leagues. But can someone remind me exactly when Leighton became a no-brainer as a starting goaltender? Since when did he pose any more of a threat to Bobrosvky's starting gig than Brian Boucher does now? In my mind, Bobrovsky has to lose the job before Leighton, Boucher or anyone else can take it. With games against the Carolina Hurricanes and Florida Panthers this week, get Bobrosvky now and ride him going forward.
Then there is Mathieu Garon with the Columbus Blue Jackets. Is it just me, or is Steve Mason getting a lot of distance out of two really good months early in his career? His 2.09 and 1.41 goals-against average in the months of November and December in 2008 are the only evidence of above-average goaltending he has on his résumé. In 10 months since then in which he has started at least five games, he maintained a sub-2.50 GAA only twice, and, in six of those 10 months, his GAA has been worse than 3.00. Sound like an irreplaceable starter to you? Not that Garon has been a model citizen in the stats department, but when two goaltenders on the same team have a goals-against average almost 2.00 points apart and a save percentage with almost .100 points difference, something is wrong. Coming off the third rough performance by Mason this season, in which he finally was pulled for Garon, the understudy managed a shutout of the Canadiens followed by a shutout of the Thrashers. A telltale game for the battle will be on Friday, when the league's top offense (Colorado Avalanche) is in town. If Garon gets the start in that one, trouble is officially brewing for Mason.
Team

Mon
11/8

Tue
11/9

Wed
11/10

Thu
11/11

Fri
11/12

Sat
11/13

Sun
11/14

Games
T / H

Ducks
OFF
@SJ
O: 5
D: 2
NYI
O: 10
D: 4
OFF
DAL
O: 10
D: 4
OFF
@CHI
O: 4
D: 3
4 / 2
O: 10
D: 4
Thrashers
OFF
@OTT
O: 6
D: 5
OFF
MIN
O: 6
D: 3
OFF
PIT
O: 6
D: 3
@WAS
O: 7
D: 2
4 / 2
O: 9
D: 4
Bruins
OFF
OFF
@PIT
O: 3
D: 9
MON
O: 4
D: 9
OFF
OTT
O: 5
D: 8
OFF
3 / 2
O: 4
D: 9
Sabres
OFF
OFF
@NJ
O: 4
D: 6
@NYR
O: 5
D: 4
OFF
WAS
O: 6
D: 3
OFF
3 / 1
O: 5
D: 4
Flames
OFF
@COL
O: 7
D: 5
OFF
OFF
@PHO
O: 4
D: 8
@SJ
O: 4
D: 4
OFF
3 / 0
O: 5
D: 6
Hurricanes
OFF
OFF
OFF
PHI
O: 5
D: 3
OFF
@MON
O: 4
D: 5
OFF
2 / 1
O: 3
D: 3
Blackhawks
OFF
OFF
PHO
O: 5
D: 8
OFF
OFF
@NSH
O: 8
D: 8
ANA
O: 7
D: 6
3 / 2
O: 7
D: 8
Avalanche
OFF
CGY
O: 6
D: 5
OFF
OFF
@CLS
O: 7
D: 5
@DET
O: 6
D: 3
OFF
3 / 1
O: 6
D: 4
Blue Jackets
OFF
OFF
STL
O: 2
D: 7
OFF
COL
O: 6
D: 5
OFF
OFF
2 / 2
O: 3
D: 4
Stars
OFF
OFF
OFF
@LA
O: 5
D: 3
@ANA
O: 7
D: 3
OFF
OFF
2 / 0
O: 4
D: 2
Red Wings
PHO
O: 5
D: 9
OFF
OFF
EDM
O: 10
D: 8
OFF
COL
O: 8
D: 7
OFF
3 / 3
O: 8
D: 8
Oilers
OFF
OFF
OFF
@DET
O: 4
D: 1
@NJ
O: 4
D: 4
OFF
@NYR
O: 5
D: 2
3 / 0
O: 5
D: 2
Panthers
OFF
OFF
TOR
O: 6
D: 5
OFF
MIN
O: 4
D: 4
@PHI
O: 3
D: 4
OFF
3 / 2
O: 5
D: 5
Kings
OFF
OFF
OFF
DAL
O: 7
D: 6
OFF
NYI
O: 6
D: 7
OFF
2 / 2
O: 5
D: 4
Wild
OFF
OFF
OFF
@ATL
O: 6
D: 5
@FLA
O: 5
D: 7
OFF
@TB
O: 5
D: 5
3 / 0
O: 5
D: 6
Canadiens
OFF
VAN
O: 3
D: 4
OFF
@BOS
O: 3
D: 7
OFF
CAR
O: 5
D: 6
OFF
3 / 2
O: 4
D: 6
Predators
OFF
OFF
OFF
@STL
O: 3
D: 5
OFF
CHI
O: 3
D: 4
OFF
2 / 1
O: 2
D: 3
Devils
OFF
OFF
BUF
O: 5
D: 6
OFF
EDM
O: 8
D: 7
OFF
OFF
2 / 2
O: 4
D: 4
Islanders
OFF
OFF
@ANA
O: 8
D: 2
@SJ
O: 6
D: 1
OFF
@LA
O: 6
D: 3
OFF
3 / 0
O: 6
D: 2
Rangers
OFF
WAS
O: 7
D: 2
OFF
BUF
O: 6
D: 5
OFF
OFF
EDM
O: 10
D: 5
3 / 3
O: 8
D: 4
Senators
OFF
ATL
O: 7
D: 5
OFF
VAN
O: 5
D: 4
OFF
@BOS
O: 4
D: 5
OFF
3 / 2
O: 6
D: 5
Flyers
OFF
OFF
OFF
@CAR
O: 7
D: 8
OFF
FLA
O: 7
D: 7
OFF
2 / 1
O: 5
D: 5
Coyotes
@DET
O: 4
D: 6
OFF
@CHI
O: 3
D: 5
OFF
CGY
O: 4
D: 7
STL
O: 3
D: 6
OFF
4 / 2
O: 5
D: 8
Penguins
OFF
OFF
BOS
O: 4
D: 5
OFF
TB
O: 6
D: 5
@ATL
O: 6
D: 6
OFF
3 / 2
O: 6
D: 6
Blues
OFF
OFF
@CLS
O: 4
D: 9
NSH
O: 4
D: 8
OFF
@PHO
O: 3
D: 9
OFF
3 / 1
O: 4
D: 9
Sharks
OFF
ANA
O: 9
D: 5
OFF
NYI
O: 8
D: 7
OFF
CGY
O: 7
D: 7
OFF
3 / 3
O: 8
D: 6
Lightning
OFF
TOR
O: 8
D: 7
OFF
@WAS
O: 7
D: 2
@PIT
O: 6
D: 5
OFF
MIN
O: 5
D: 6
4 / 2
O: 9
D: 7
Maple Leafs
OFF
@TB
O: 5
D: 2
@FLA
O: 5
D: 4
OFF
OFF
VAN
O: 3
D: 3
OFF
3 / 1
O: 5
D: 3
Canucks
OFF
@MON
O: 5
D: 5
OFF
@OTT
O: 6
D: 4
OFF
@TOR
O: 8
D: 6
OFF
3 / 0
O: 7
D: 5
Capitals
OFF
@NYR
O: 9
D: 5
OFF
TB
O: 9
D: 5
OFF
@BUF
O: 9
D: 5
ATL
O: 10
D: 5
4 / 2
O: 10
D: 7
"O" (offense) and "D" (defense) matchup ratings are based upon a scale from 1 (poor matchup) to 10 (excellent matchup) and are calculated using a formula that evaluates the team's year-to-date and past 21 days' statistics, their performance in home/road games depending on where the game is to be played, as well as their opponents' numbers in those categories. The
Games T / H
column lists the team's total number of games played as well as home games (T / H), and lists the cumulative rating from 1 to 10 of that week's matchups.
Red Wings fly high at home: The Detroit Red Wings have highly rated games at home against the Edmonton Oilers and the Avalanche, plus a well-rated game defensively against the Phoenix Coyotes. All in all, you should see some solid plus/minus ratings and good point totals for your Red Wings this week. Remember that Jiri Hudler is in the doghouse and Justin Abdelkader is starting on the third line in his stead. Brad Stuart and Ruslan Salei might be options if you need defenders.
All out on Capitals: Once again, Washington has one of the highest-rated weeks, and once again there aren't many ways to take advantage of it from a fantasy perspective. Most of the players who can have an impact are owned in 100 percent of ESPN leagues. Mike Knuble and Tomas Fleischmann would be the exception as they are available in 57 percent and 15 percent of leagues, respectively. In a week with four games all rated a nine or 10 on offense, everyone is going to score.
Ride some Lightning: Tampa Bay also is high on the list with a nine on offense for the week. Look to Vincent Lecavalier's linemates as a place for bonus scoring. Although a combination still hasn't been settled on in Simon Gagne's absence, Sean Bergenheim and Ryan Malone have been getting the most time lately, with Teddy Purcell in and out. All three are available in most leagues, but I'd lean toward using Bergenheim or Malone as Purcell has been playing with Lecavalier most of the season and done little with the opportunity.
Four-game week makes Thrashers an option: Atlanta is full of fantasy goodness thanks to a spread-out offense and a high-scoring attitude. The week ahead is a great option not because of the quality of games facing the team but because of the quantity. Niclas Bergfors is on a charge for 100 percent ownership in ESPN leagues but, lucky for you, is only 68 percent of the way there. He and linemate Rich Peverley have been connecting lately. Andrew Ladd completes the first line, but he is owned in 100 percent of leagues now. On line No. 2, you can have a look at Nik Antropov, Anthony Stewart and Evander Kane as options for the week ahead.
Rough road for Isles: Not that they have been impressing anyone lately, but anyone still riding the early-season success of the Islanders should continue to back off for a three-game road swing down the West Coast next week. The Isles' two most-owned players in fantasy (James Wisniewski and John Tavares) have combined for one assist and a minus-14 over the past four games. Things will get better again, but the Kings, San Jose Sharks and Anaheim Ducks are not going to be helpful to the Isles' offense next week.
Sean Allen is a fantasy analyst for ESPN.com. He is the Fantasy Sports Writers Association's 2008 and 2009 Hockey Writer of the Year. You can e-mail him here.
Sean Allen is a fantasy analyst for ESPN.com. He was the 2008 and 2009 Fantasy Sports Writers Association Hockey Writer of the Year. You can tweet him
@seanard
.
SPONSORED HEADLINES
FANTASY TOP HEADLINES
MOST SENT STORIES ON ESPN.COM