Commentary
Forecaster: Sabres rattling
Updated:
December 10, 2010, 6:28 PM ET
By
Sean Allen
| Special to ESPN.com
The Buffalo Sabres are showing a little swagger of late. Thanks in large part to the performance of goaltender Ryan Miller, the offense has begun to wake up from a slumber that lasted the better part of the season's opening two months.
For a team that averaged 10 points in the standings for the first two months of the season, the Sabres already have seven of a possible eight points in December, even though we are only 10 days in. The team has averaged 2.5 goals per game this season but 3.5 goals per game during the four December contests.
I could list other stats but I think this one might be the kicker to beat all kickers: If you had asked me what Tyler Myers plus/minus was on Monday, I would have said minus-10. He was minus-3 on Thursday morning after going plus-7 during the past two games.
The cream of the crop for the team is producing, too. Derek Roy has been fairly consistent all season, but it's Thomas Vanek who has turned on the afterburners lately. Since Nov. 10, exactly one month ago, Vanek has scored nine of his 13 goals and potted eight of his 11 assists in 14 games. So with 17 points in his past 14 games, Vanek has been a different player than the one who tallied seven points in the first 15 games of the season.
I don't think it's accurate to slap all the blame on Drew Stafford, even though Vanek's season really started picking up after Stafford suffered an injury in early November. Stafford played on a line with Vanek and Roy until he was hurt. It seems like a failed argument because in the one game in December that Stafford returned for before re-injuring himself, he and Vanek hooked up on two goals.
No, it simply seems as though Vanek responded to new linemates and has been re-energized of late. Tyler Ennis was given the original assignment on the top line after Stafford went down, but despite some signs or promise he has since been demoted. Ennis has points in one of his past 10 games (although it was a three-point night), and he doesn't need to be owned as anything more than a reserve in deep leagues.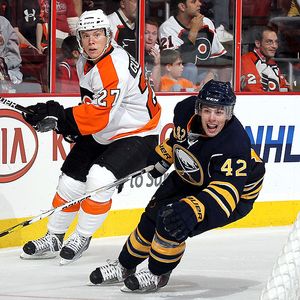 Jim McIsaac/Getty ImagesNathan Gerbe must rely on his speed and agility to make up for the size he gives up to almost every other player on the ice.
For now, the very talented but very short Nathan Gerbe is occupying the wing opposite Vanek. At 5-foot-6, Gerbe makes diminutive forwards Martin St. Louis and Brian Gionta look positively towering. Despite his stature, Gerbe is a dynamic offensive hockey player who garnered the AHL rookie of the year award in 2008-09. If he is going to translate his skill from the AHL to the more physical NHL game, Gerbe is in the perfect situation right now. With Vanek almost qualifying as a power forward with his gritty edge and Roy as a consummate playmaker, Gerbe should have some freedom from too much defensive pressure. So far he has played on the top line for about half a dozen games, and the first time he cracked the score sheet as a first-line player was Thursday night against the San Jose Sharks. Still, with between 15 and 20 minutes of ice time as a first-line player, Gerbe should start getting his fair share. Ask St. Louis or Gionta; a short guy can get his points in the NHL if he works hard enough.
And what about the names I haven't mentioned yet? Well, Tim Connolly is still sidelined with a groin injury, and we all know how long he can take to heal from ailments. For now he is bench fodder in medium-to-deep leagues and a drop candidate in shallow leagues. Then there is Jason Pominville. Actually without Connolly and despite being shut out as a top-line forward, Pominville is playing his best hockey of the season. For a guy who only has eight points this season, it is promising that four of them have come in the past six games. Playing with role-player Luke Adam and AHL standout Mark Mancari of late, Pominville is still a first power-play unit guy for the Sabres. While I wouldn't be running out to pick him up in the 50 percent of leagues in which he is available, there is hope for Pominville yet.
The Sabres take on the Boston Bruins at home then take a two-game road swing into the state of Florida next week. While the Forecaster doesn't make the games pop out, know that the Sabres offense has been better than the math will suggest lately.
To end on an interesting side note: Have a look at some of the Sabres plus/minuses. Steve Montador is plus-16 while his defensive partner Jordan Leopold is plus-5. Roy is plus-4 while Vanek is minus-5, despite playing almost 85 percent of their minutes together. Montador is a full plus-12 better than any other member of the Sabres. The extremes in the ratings are quite comical, and I can't offer a solid explanation for some of them. One thing I can say after looking at the numbers is that Montador's rating is going to come down fast or plateau. Which is to say he has already been milked for about as much value as he will offer and should be offloaded in trade if you can.
Team

Mon
12/13

Tue
12/14

Wed
12/15

Thu
12/16

Fri
12/17

Sat
12/18

Sun
12/19

Games
T / H

Ducks
OFF
OFF
@WAS
O: 5
D: 1
@NYI
O: 6
D: 7
OFF
@CAR
O: 6
D: 4
OFF
3 / 0
O: 6
D: 4
Thrashers
@OTT
O: 9
D: 7
OFF
@TB
O: 10
D: 3
CAR
O: 6
D: 7
OFF
NJ
O: 5
D: 9
OFF
4 / 2
O: 10
D: 9
Bruins
OFF
OFF
@BUF
O: 4
D: 9
@MON
O: 3
D: 7
OFF
WAS
O: 5
D: 3
OFF
3 / 1
O: 4
D: 6
Sabres
OFF
OFF
BOS
O: 2
D: 7
OFF
@FLA
O: 4
D: 8
@TB
O: 5
D: 4
OFF
3 / 1
O: 4
D: 6
Flames
CLS
O: 6
D: 6
OFF
OFF
TOR
O: 7
D: 6
OFF
MIN
O: 6
D: 5
OFF
3 / 3
O: 6
D: 5
Hurricanes
OFF
OFF
@FLA
O: 6
D: 6
@ATL
O: 7
D: 1
OFF
ANA
O: 5
D: 6
OFF
3 / 1
O: 6
D: 4
Blackhawks
@COL
O: 10
D: 2
OFF
COL
O: 9
D: 3
OFF
DET
O: 8
D: 3
OFF
LA
O: 6
D: 7
4 / 3
O: 10
D: 4
Avalanche
CHI
O: 10
D: 1
OFF
@CHI
O: 10
D: 2
OFF
OTT
O: 9
D: 3
OFF
MON
O: 7
D: 1
4 / 3
O: 10
D: 2
Blue Jackets
@CGY
O: 8
D: 6
OFF
@VAN
O: 7
D: 3
@EDM
O: 10
D: 6
OFF
DAL
O: 3
D: 6
OFF
4 / 1
O: 9
D: 7
Stars
@SJ
O: 4
D: 2
OFF
OFF
SJ
O: 10
D: 3
OFF
@CLS
O: 3
D: 6
@DET
O: 3
D: 2
4 / 1
O: 7
D: 5
Red Wings
LA
O: 7
D: 8
OFF
STL
O: 8
D: 8
OFF
@CHI
O: 10
D: 3
OFF
DAL
O: 9
D: 7
4 / 3
O: 10
D: 8
Oilers
OFF
TOR
O: 5
D: 4
OFF
CLS
O: 4
D: 4
OFF
OFF
OFF
2 / 2
O: 3
D: 3
Panthers
OFF
OFF
CAR
O: 3
D: 4
OFF
BUF
O: 2
D: 4
OFF
OFF
2 / 2
O: 2
D: 2
Kings
@DET
O: 5
D: 5
OFF
OFF
@STL
O: 5
D: 7
OFF
@NSH
O: 3
D: 5
@CHI
O: 7
D: 5
4 / 0
O: 6
D: 6
Wild
OFF
OFF
OFF
OTT
O: 5
D: 5
OFF
@CGY
O: 8
D: 5
OFF
2 / 1
O: 4
D: 3
Canadiens
OFF
OFF
PHI
O: 6
D: 1
BOS
O: 4
D: 2
OFF
OFF
@COL
O: 6
D: 7
3 / 2
O: 5
D: 3
Predators
NYI
O: 5
D: 10
OFF
SJ
O: 5
D: 6
OFF
@NJ
O: 2
D: 10
LA
O: 3
D: 10
OFF
4 / 3
O: 5
D: 10
Devils
OFF
OFF
PHO
O: 3
D: 5
OFF
NSH
O: 1
D: 8
@ATL
O: 2
D: 3
OFF
3 / 2
O: 2
D: 5
Islanders
@NSH
O: 1
D: 8
OFF
OFF
ANA
O: 5
D: 4
OFF
PHO
O: 4
D: 3
OFF
3 / 2
O: 3
D: 5
Rangers
OFF
OFF
@PIT
O: 5
D: 5
PHO
O: 4
D: 5
OFF
@PHI
O: 7
D: 6
OFF
3 / 1
O: 5
D: 5
Senators
ATL
O: 3
D: 2
OFF
OFF
@MIN
O: 5
D: 6
@COL
O: 7
D: 2
OFF
WAS
O: 3
D: 2
4 / 2
O: 6
D: 4
Flyers
OFF
PIT
O: 5
D: 3
@MON
O: 3
D: 6
OFF
OFF
NYR
O: 6
D: 5
OFF
3 / 2
O: 4
D: 5
Coyotes
OFF
OFF
@NJ
O: 4
D: 9
@NYR
O: 5
D: 6
OFF
@NYI
O: 6
D: 9
OFF
3 / 0
O: 5
D: 7
Penguins
OFF
@PHI
O: 7
D: 9
NYR
O: 4
D: 5
OFF
OFF
OFF
OFF
2 / 1
O: 4
D: 4
Blues
OFF
OFF
@DET
O: 4
D: 2
LA
O: 2
D: 8
OFF
SJ
O: 4
D: 4
OFF
3 / 2
O: 3
D: 5
Sharks
DAL
O: 9
D: 5
OFF
@NSH
O: 5
D: 8
@DAL
O: 8
D: 7
OFF
@STL
O: 7
D: 8
OFF
4 / 1
O: 9
D: 9
Lightning
OFF
OFF
ATL
O: 10
D: 1
OFF
OFF
BUF
O: 8
D: 5
OFF
2 / 2
O: 6
D: 2
Maple Leafs
OFF
@EDM
O: 7
D: 3
OFF
@CGY
O: 4
D: 3
OFF
@VAN
O: 3
D: 1
OFF
3 / 0
O: 5
D: 1
Canucks
OFF
OFF
CLS
O: 7
D: 8
OFF
OFF
TOR
O: 8
D: 9
OFF
2 / 2
O: 5
D: 5
Capitals
OFF
OFF
ANA
O: 10
D: 6
OFF
OFF
@BOS
O: 6
D: 6
@OTT
O: 8
D: 8
3 / 1
O: 8
D: 6
"O" (offense) and "D" (defense) matchup ratings are based upon a scale from 1 (poor matchup) to 10 (excellent matchup), and are calculated using a formula that evaluates the team's year-to-date and past 21 days' statistics, their performance in home/road games depending on where the game is to be played, as well as their opponents' numbers in those categories. The
Games T / H
column lists the team's total number of games played as well as home games (T / H), and lists the cumulative rating from 1-10 of that week's matchups.
Avs vs. Blackhawks: The series between the Colorado Avalanche and the Chicago Blackhawks is being pegged by the Forecaster as a high-flying affair. Both teams in both games rate all tens on offense, and no team has a defensive rating greater than three in either game. Whew, this could be a fantasy owners dream. Fortunately both teams offenses are going through a transition because of injuries and new players, so there are some available pickups to take advantage of. Tomas Fleischmann, I still believe, is a solid play now that he is rolling as a top-six forward with the Avalanche. Slotted on a line with the team's two hottest players, Matt Duchene and Milan Hejduk, he has a chance to do some serious damage. David Jones is still available in many leagues and has been a decent contributor in the top six. Kevin Porter is the long shot for deep leagues, as he is playing with Jones and Paul Stastny. On the Hawks, Jack Skille is taking first-line shifts in place of the injured Patrick Kane, and Jeremy Morin is on the second line in place of the injured Marian Hossa, but it's the third line that has been impressing with the injuries. Dave Bolland, Bryan Bickell and Troy Brouwer have upped their games. Bolland and Bickell have seven points in the past two games, while Brouwer is playing on the first power-play unit.
The Blue Jackets assault Canada: Garnering on of the better overall ratings for the week are the Columbus Blue Jackets and bolstering that solid offensive forecast is a tight road schedule at the start of next week that will see stops against the Calgary Flames, Vancouver Canucks and Edmonton Oilers in a matter of four days. The Blue Jackets have a fourth game on the week at home against the Dallas Stars that doesn't rate as well. Although the team hasn't exactly stood out as a road warrior this season, that is what the Forecaster bears out for the coming week. The first place to look for a bonus is the new top-line centerman. Antoine Vermette replaced Derick Brassard as coach Scott Arniel was looking for a shakeup. Between Rick Nash and Jakub Voracek, if the Jackets do score a lot in Western Canada you can bet Vermette will be in on it. Although the stats haven't borne it out yet, Kris Russell is playing an elevated game in recent weeks. The young defenseman has taken a long time to develop, if he hasn't reached a peak already (hopefully not, the guy was a WHL star), but all five of his points this season have come in the past eight games. Desperate for a D-man next week? Why not look to Russell. Finally, no matter what the rating on the Forecaster, I wouldn't start either Mathieu Garon or Steve Mason. The Blue Jackets have allowed four goals per game in December no matter who is in net.
Lindback front and center: Pekka Rinne who? Anders Lindback has stopped 97 of 104 shots and won two of three games since Rinne had minor knee surgery. When he isn't using his 6-foot-6 frame to block the entire net, Lindback is making the necessary saves down low, and the Nashville Predators strong defense helps keep good chances to a minimum. The Forecaster gives the Preds a 10 rating on defense in games against the New York Islanders, New Jersey Devils and Los Angeles Kings next week (with a not-so-good rating against the Sharks in the middle). This is the time to add Lindback and take advantage while he is a starting goaltender. While Rinne might have his work cut out for him when he returns, there will at least be a rotation. Right now Lindback will get every game.
Quick Hits
He might not be up long and he hasn't made a case to keep him by scoring yet, but the Dallas Stars are letting Danish prospect Philip Larsen run their power-play lately. If you need a shot-in-the-dark defenseman, he makes a calculated pickup. … With Shawn Horcoff and Ales Hemsky out, it's time for the Edmonton Oilers to load up the top line with the best players they have instead of try to spread the offense out to thin. That means you need to keep an eye on Sam Gagner, Jordan Eberle and the recently-scoring Taylor Hall. … Mikael Samuelsson's concussion will buy Jeff Tambellini even more time to cement his position as a top-six forward for the Vancouver Canucks. If he continues to score, this might be your last chance to get in on the ground floor. … Marc Savard scored his first point of the season in his fourth game back from post-concussion syndrome. He is playing on the Boston Bruins third line for the time being and should probably be firmly warming your bench for now. … Mathieu Perreault had two goals in his debut as a Washington Capitals top-six forward, replacing the departed Fleischmann. Playing with Alexander Semin and Brooks Laich, he was shut out in his second game. Still, the debut was promising.
Sean Allen is a fantasy analyst for ESPN.com. He is the 2008 and 2009 Fantasy Sports Writers Association, Hockey Writer of the Year. You can e-mail him here.
Sean Allen is a fantasy analyst for ESPN.com. He was the 2008 and 2009 Fantasy Sports Writers Association Hockey Writer of the Year. You can tweet him
@seanard
.
SPONSORED HEADLINES
FANTASY TOP HEADLINES
MOST SENT STORIES ON ESPN.COM