Commentary
Forecaster: Will Lemaire help Devils?
Updated:
December 24, 2010, 12:23 PM ET
By
Sean Allen
| Special to ESPN.com
With the fewest points in the NHL and fewest goals scored in the NHL, it's really no surprise the New Jersey Devils canned coach John MacLean. It's also not a complete shock they brought back Jacques Lemaire, the coach that took the same crew of players, for the most part, to first place in the division last season.
So what does the coaching change mean for the most disappointing group of fantasy assets?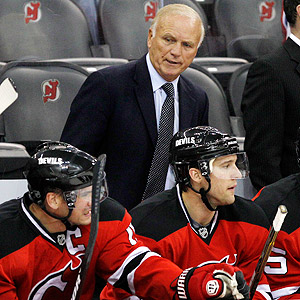 AP Photo/Julio CortezFantasy owners can only hope that Jacques Lemaire injects new life back into the struggling Devils players.
It means hope. To be honest, fantasy owners sitting on a first- or second-round pick with Ilya Kovalchuk have to be salivating at the idea that his horrific season could be turned around. Kovalchuk scored 27 points in 27 games with the Lemaire-coached Devils last season after being traded from the Atlanta Thrashers. There is almost no word for the low level of play produced by Kovalchuk, Travis Zajac, Jamie Langenbrunner, Patrik Elias, Jason Arnott and the rest of the Devils team. Chew on these numbers for a minute: Zajac is on pace for seven goals; Kovalchuk is a minus-25; no player has double-digit goals; only two players have more than 10 assists; Elias has the most points with 24, the same as Teddy Purcell from the Tampa Bay Lightning and rookie Jeff Skinner from the Carolina Hurricanes.
The picture painted is not pretty, but a silver lining exists for this dark cloud. Even after his first game behind the bench on Thursday (in which the Devils got blown out by the New York Islanders), Lemaire said he saw the lack of effort and knew what to work on with the team. Even with Zach Parise on the sidelines, this team is nowhere near this bad on paper.
Making a move on the tainted Devils players is not a move for the weak at heart. Fantasy owners lucky enough to avoid the pitfall this season might be more content to continue to operate their roster Devils-free. But for the troubled or ambitious fantasy owner, the coaching change back to something familiar provides a solid opportunity.
You know what to do, don't you?
Even though the best advice at this point is to hang on to your Devils, especially Kovalchuk, not everyone looks for the best advice. First things first: Try to swing a deal for Kovalchuk. Superstar is as superstar does. Kovalchuk will get back on track with his scoring. He is already depositing power-play points at an accelerated pace in recent weeks. Given some time with Lemaire, the goals will come at even-strength. The main reason I am saying that these moves are not for the timid is that despite playing like a beer-leaguer Kovalchuk still demands top dollar in trade. You heard me: A player with eight goals and a minus-25 will cost you a contributing asset in trade. So make sure you truly believe Kovalchuk can become a point-per-game player under Lemaire before you buy into this plan.
Here's my surprise for you, as I go the complete opposite way with the Devils' only other universally owned forward. Elias is not a trade target. With 24 points in 33 games, Elias is already on pace for an average Elias season. With Lemaire behind the bench last season, the Devils' power play converted about 18 percent of opportunities. This season, it's about 16 percent. That is not much room for improvement on the man advantage, and Elias has half of his points on the power play. While Elias' plus-minus may head back in the right direction under Lemaire, the rest of his numbers may not change much.
How to view other Devils in light of the coaching change:
[+] Enlarge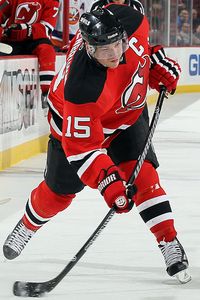 Jim McIsaac/Getty ImagesJamie Langenbrunner could be one of the biggest fantasy winners with the Devils coaching change.
Jamie Langenbrunner: All-in on Langenbrunner. Lemaire loved using the veteran forward in the most crucial situations last season. He was a staple of the team's four-forward power plays and a consistent member of the top six. A free agent in almost half of ESPN leagues, Langenbrunner could be picked off the waiver wire.
Jason Arnott: Arnott and Lemaire did cross paths with the Devils back in the late 1990s, during Lemaire's first stint with the club. Arnott has been one of the Devils' stronger players this season, and Lemaire likes hard-working veterans on his clubs. Watch the center's ice time closely, as Arnott has averaged closer to 15 minutes this season instead of the 20 he is used to. A boost in ice time always means a boost in numbers with savvy vets.
Andy Greene: While MacLean favored a few different options, Lemaire simply marched out Greene to quarterback the power play, for better or worse. While Greene's 37 points last season don't scream fantasy star, they do say fantasy role player. As a No. 3 or 4 defenseman, he can be a great addition to your roster. Thanks to his minus-23 rating, Greene is widely available.
Travis Zajac: If we are predicting an improvement for Kovalchuk, it is only fair to do so for Zajac. But it's only a half-hearted endorsement until February, when Zajac's partner in crime returns. Parise is expected to be ready to return from knee surgery as early as six weeks from now. If you want to buy in on Zajac now, I'd forecast another slow month into my evaluation of the trade. It's the Parise-Zajac combination that the Devils really miss.
If you take one thing away from this, it's that this Devils team cannot possibly be this bad. This is the same team, for all intents and purposes, Lemaire led to 103 points and a second-place seeding in the Eastern Conference last season. With the veteran coach stepping back behind the bench, surely the Devils can start to make good on what was expected of them this season.
Team

Mon
12/27

Tue
12/28

Wed
12/29

Thu
12/30

Fri
12/31

Sat
1/1

Sun
1/2

Games
T / H

Ducks
OFF
@PHO
O: 5
D: 5
OFF
OFF
PHI
O: 5
D: 3
OFF
CHI
O: 7
D: 2
3 / 2
O: 5
D: 3
Thrashers
OFF
@PIT
O: 6
D: 3
OFF
BOS
O: 3
D: 6
@NJ
O: 6
D: 6
OFF
@MON
O: 6
D: 4
4 / 1
O: 6
D: 5
Bruins
@FLA
O: 5
D: 9
@TB
O: 7
D: 5
OFF
@ATL
O: 7
D: 6
OFF
@BUF
O: 6
D: 8
OFF
4 / 0
O: 7
D: 8
Sabres
@CGY
O: 5
D: 5
@EDM
O: 7
D: 6
OFF
OFF
OFF
BOS
O: 4
D: 5
OFF
3 / 1
O: 5
D: 5
Flames
BUF
O: 6
D: 5
OFF
OFF
OFF
COL
O: 8
D: 3
@EDM
O: 6
D: 6
OFF
3 / 2
O: 6
D: 4
Hurricanes
OFF
@TOR
O: 6
D: 4
@OTT
O: 5
D: 4
OFF
OFF
NJ
O: 3
D: 7
OFF
3 / 1
O: 4
D: 4
Blackhawks
OFF
@STL
O: 7
D: 5
OFF
SJ
O: 8
D: 4
OFF
OFF
@ANA
O: 9
D: 4
3 / 1
O: 7
D: 4
Avalanche
DET
O: 9
D: 1
OFF
OFF
@EDM
O: 10
D: 6
@CGY
O: 9
D: 6
OFF
VAN
O: 9
D: 1
4 / 2
O: 10
D: 2
Blue Jackets
MIN
O: 4
D: 5
OFF
OFF
@TOR
O: 8
D: 5
OTT
O: 4
D: 6
OFF
@NSH
O: 6
D: 6
4 / 2
O: 6
D: 6
Stars
OFF
@NSH
O: 3
D: 7
DET
O: 8
D: 5
OFF
VAN
O: 8
D: 4
OFF
@STL
O: 4
D: 6
4 / 2
O: 7
D: 6
Red Wings
@COL
O: 9
D: 3
OFF
@DAL
O: 6
D: 6
OFF
NYI
O: 10
D: 7
OFF
PHI
O: 8
D: 4
4 / 2
O: 10
D: 6
Oilers
OFF
BUF
O: 5
D: 3
OFF
COL
O: 7
D: 1
OFF
CGY
O: 5
D: 4
OFF
3 / 3
O: 5
D: 2
Panthers
BOS
O: 2
D: 4
OFF
OFF
OFF
MON
O: 2
D: 4
OFF
NYR
O: 4
D: 4
3 / 3
O: 2
D: 3
Kings
@SJ
O: 6
D: 1
OFF
@PHO
O: 6
D: 1
PHI
O: 3
D: 9
OFF
SJ
O: 4
D: 8
OFF
4 / 2
O: 6
D: 5
Wild
@CLS
O: 6
D: 7
OFF
SJ
O: 5
D: 4
OFF
NSH
O: 4
D: 6
OFF
PHO
O: 5
D: 5
4 / 3
O: 6
D: 6
Canadiens
OFF
@WAS
O: 4
D: 8
OFF
@TB
O: 6
D: 6
@FLA
O: 4
D: 10
OFF
ATL
O: 7
D: 3
4 / 1
O: 6
D: 8
Predators
OFF
DAL
O: 4
D: 8
OFF
OFF
@MIN
O: 4
D: 6
OFF
CLS
O: 4
D: 9
3 / 2
O: 3
D: 7
Devils
OFF
OFF
NYR
O: 5
D: 6
OFF
ATL
O: 5
D: 5
@CAR
O: 5
D: 7
OFF
3 / 2
O: 4
D: 5
Islanders
@NYR
O: 3
D: 5
OFF
PIT
O: 4
D: 3
OFF
@DET
O: 3
D: 3
OFF
OFF
3 / 1
O: 3
D: 3
Rangers
NYI
O: 5
D: 7
OFF
@NJ
O: 5
D: 8
OFF
OFF
@TB
O: 7
D: 4
@FLA
O: 5
D: 7
4 / 1
O: 7
D: 8
Senators
OFF
OFF
CAR
O: 5
D: 6
OFF
@CLS
O: 6
D: 7
TOR
O: 5
D: 6
OFF
3 / 2
O: 5
D: 6
Flyers
OFF
@VAN
O: 6
D: 5
OFF
@LA
O: 5
D: 7
@ANA
O: 7
D: 7
OFF
@DET
O: 6
D: 6
4 / 0
O: 7
D: 8
Coyotes
OFF
ANA
O: 6
D: 5
LA
O: 4
D: 5
OFF
@STL
O: 5
D: 5
OFF
@MIN
O: 6
D: 4
4 / 2
O: 6
D: 5
Penguins
OFF
ATL
O: 6
D: 5
@NYI
O: 8
D: 10
OFF
OFF
WAS
O: 4
D: 6
OFF
3 / 2
O: 5
D: 6
Blues
OFF
CHI
O: 7
D: 4
OFF
OFF
PHO
O: 5
D: 7
OFF
DAL
O: 5
D: 7
3 / 3
O: 5
D: 5
Sharks
LA
O: 5
D: 5
OFF
@MIN
O: 7
D: 6
@CHI
O: 8
D: 4
OFF
@LA
O: 5
D: 6
OFF
4 / 1
O: 7
D: 6
Lightning
OFF
BOS
O: 6
D: 6
OFF
MON
O: 6
D: 6
OFF
NYR
O: 8
D: 7
OFF
3 / 3
O: 6
D: 6
Maple Leafs
OFF
CAR
O: 7
D: 6
OFF
CLS
O: 6
D: 7
OFF
@OTT
O: 5
D: 4
OFF
3 / 2
O: 5
D: 5
Canucks
OFF
PHI
O: 6
D: 5
OFF
OFF
@DAL
O: 9
D: 7
OFF
@COL
O: 10
D: 4
3 / 1
O: 8
D: 5
Capitals
OFF
MON
O: 5
D: 5
OFF
OFF
OFF
@PIT
O: 4
D: 5
OFF
2 / 1
O: 3
D: 3
"O" (offense) and "D" (defense) matchup ratings are based upon a scale from 1 (poor matchup) to 10 (excellent matchup) and are calculated using a formula that evaluates the team's year-to-date and past 21 days' statistics; their performance in home/road games depending on where the game is to be played; and their opponents' numbers in those categories. The
Games T / H
column lists the team's total number of games played as well as home games (T / H) and lists the cumulative rating from 1-10 of that week's matchups.
Winter Classic alert: Anticlimactically enough, the big game between the Washington Capitals and Pittsburgh Penguins is fairly ho-hum on the Forecaster. With below average offensive ratings for both teams and average defensive numbers, it sounds like another 3-2 contest between the clubs. Not that there is anything outstanding about the game to point out here, but as a Capitals owner in fantasy leagues you are certainly hoping a big win outdoors can pull the team out of its funk. While coach Bruce Boudreau can certainly express it more colorfully than I, the team has been awful lately. I wouldn't go so far as to dare you to bench Alex Ovechkin or Nicklas Backstrom, but I certainly wouldn't fault anyone for making that decision. The team only has two contests next week, and Ovechkin and Backstrom have a combined seven points in the past eight games. Combined. Alexander Semin has only one point in his past five games. Mike Green has just one point in six games. I know it's not the most exciting idea to bench your star players in a big spectacle contest, but if you have better options that might be the best decision to make.
Red Wings lose an engine: They have one of the best schedules on the Forecaster for next week, but the Detroit Red Wings will venture into 2011 without star centerman Pavel Datsyuk, who broke his wrist and will miss the next four weeks, leaving a gaping hole at the top of the team's depth chart. The good news is that just as Datsyuk went down, Henrik Zetterberg stepped up, potting three points Wednesday against the Vancouver Canucks while skating on a line with Tomas Holmstrom and Johan Franzen. It's not a situation one can exploit on the free-agent pile, but Franzen or Holmstrom owners should be happy to see them step up their games in Datsyuk's absence and become must-start players.
Coming down the mountain: The Colorado Avalanche continue to avalanche the Forecaster with fantastic offensive ratings. They top the week again with four games against the Red Wings, Edmonton Oilers, Calgary Flames and Canucks. Despite a recent cold streak in terms of scoring, expect the team to break out of its spell. That means using the regulars like Matt Duchene, Paul Stastny and possibly even Milan Hejduk (day-to-day with groin injury), but also some recent revelations such as Tomas Fleischmann and Kevin Porter. The defensive rating for the Avs is just as bad as the offensive rating is good, so stay away from Craig Anderson if you can.
Quick Hits
Stephen Weiss is striking up a positive relationship with rookie Evgeni Dadonov. With seven points in his past five games, Dadonov is getting along just fine with the Florida Panthers' best player. For his part, Weiss has seven points in those five games. Christopher Higgins, the third member of the top line, is also picking up points. … Just like his brother, Chris, last season, Anthony Stewart is making a name for himself among fantasy owners. A recent hot streak brought the older Stewart brother to 23 points in 37 games this season. He's still available in 85 percent of ESPN leagues. … Scott Gomez has broken his early-season funk. With points in his past five games (eight points total), Gomez looks like his old playmaking self on the ice with Brian Gionta and Max Pacioretty. He might have been dropped in your league.
Sean Allen is a fantasy analyst for ESPN.com. He is the 2008 and 2009 Fantasy Sports Writers Association, Hockey Writer of the Year. You can e-mail him here.
Sean Allen is a fantasy analyst for ESPN.com. He was the 2008 and 2009 Fantasy Sports Writers Association Hockey Writer of the Year. You can tweet him
@seanard
.
SPONSORED HEADLINES
FANTASY TOP HEADLINES
MOST SENT STORIES ON ESPN.COM