Commentary
Fantasy Forecaster: Week of Jan. 31
Updated:
January 28, 2011, 5:21 PM ET
By
Sean Allen
| Special to ESPN.com
Most of the big stars are in Raleigh, N.C., this weekend for the All-Star Game (or were at least named to the squad initially). However, a number of big names from a fantasy perspective won't be there. So which "snubs" would be All-Stars if the invitations were based purely on fantasy production? Let's take a look at the ESPN Player Rater, which assigns a value to each player in the fantasy universe based on their actual production this season in the ESPN standard league categories, sort by each position and the find players who rank among the top 24 forwards, 12 defensemen and six goalies that aren't already All-Star bound.
Forwards
Henrik Zetterberg, Detroit Red Wings (ranked No. 10 among forwards): No question Hank deserves a spot on the All-Star team, but his lofty ranking on the Player Rater may be somewhat diminished in the weeks ahead. While his point totals aren't way out of whack, Zetterberg has scored in 88 percent of games while Pavel Datsyuk has been injured, but only in 61 percent of games when Datsyuk was present. Datsyuk is due back after the All-Star break.
[+] Enlarge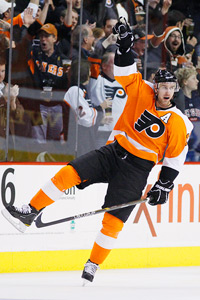 (AP Photo/Matt SlocumJeff Carter may not be an All-Star, but he's been one of the best fantasy forwards this season.
Jeff Carter, Philadelphia Flyers (ranked No. 12 among forwards): Carter doesn't get the fantasy love he deserves. Did you know he was rated higher on the Player Rater than both Danny Briere and Mike Richards? Across-the-board production really gets things done in the ESPN standard game and Carter has it all (except penalty minutes). He is pacing Briere in most categories, but then blows him out of the water in shots on goal. Carter may be a third-line center in the minds of many, but he is a first-line center in fantasy.
Nicklas Backstrom, Washington Capitals (ranked No. 15 among forwards): Backstrom may not be on pace for last season's stellar numbers, but perhaps we were all a bit too rosy on his production last season. Playmakers like Scott Gomez, Joe Thornton and Marc Savard have all had those spiked-goals season that make us fall in love with their numbers, but then settle back down to their 20-goal ways. Not that there is anything wrong with 20 goals when you have 60 assists, but those triple-digit years for playmakers are not the norm. But even though he's on pace for just 19 goals, Backstrom is still a top-15 forward.
Mike Richards, Philadelphia Flyers (ranked No. 16 among forwards): So, Richards is the third Flyers centerman among the top 16 forwards. Not bad. No wonder they pace the Eastern Conference. For those keeping score at home, Richards looks to be on pace for a season much like his 2008-09 career season, making last year's dip in production the outlier.
Dany Heatley, San Jose Sharks (ranked No. 17 among forwards): On pace for probably his worst full season since his rookie campaign, Heatley still comes in as a top-20 guy. Looks like he had a lot of wiggle room as a top fantasy pick. The inflated power-play numbers go a long way to keeping his value up and since the strong Sharks power play isn't going anywhere, it might not be a bad time to buy low (relatively speaking). It can only get better from here for Heatley.
Scott Hartnell, Philadelphia Flyers (ranked No. 19 among forwards): Let's not kid ourselves; Hartnell isn't here for his scoring prowess. No, he is here for the combination of his scoring prowess and physical play. On pace for an incredible 56 points, plus-26 and 169 penalty minutes, Hartnell does a great job of balancing low-PIM players in your fantasy lineup. Many folks underrate the value of penalty minute producers who also contribute elsewhere, so it never hurts to see if another owner considers him more of a top-50 guy than the top-20 he has been.
Justin Williams, Los Angeles Kings (ranked No. 21 among forwards): The key with Williams is that we have to whisper very quietly about his amazing season lest we jinx his health. So let's just say that if you are looking for the cheapest top-25 forward you can find, Williams' injury history discounts him significantly in trade talks.
Tomas Plekanec, Montreal Canadiens (ranked No. 23 among forwards): The best quality Plekanec has shown this season is his perseverance. Despite his linemates (Andrei Kostitsyn and Mike Cammalleri) disappearing for stretches this season, Plekanec has continued to keep a good fantasy pace. On pace to match or top his career-highs in goals, plus/minus and shots, you can put as much faith in Plekanec's game as you need to.
Bobby Ryan, Anaheim Ducks (ranked No. 24 among forwards): There is some concern with Ryan for the days ahead. With Ryan Getzlaf on the shelf, Ryan boosted his scoring production with 11 points in 11 games in January after a very down December (6 points in 15 games). The difference was partly the power play. Ryan scored zero power-play points in December as a healthy Getzlaf, Teemu Selanne and Corey Perry pushed him to the second unit.
Defensemen
[+] Enlarge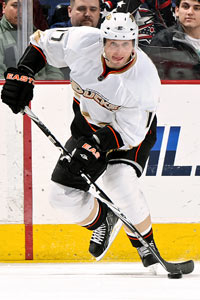 Jamie Sabau/NHLI/Getty ImagesLubomir Visnovsky heads into the All-Star break second in points among defensemen.
Lubomir Visnovsky, Anaheim Ducks (ranked No. 5 among defensemen): Visnovsky was a big miss for the All-Star celebrations as only Keith Yandle has more points at the break (and Yandle was a late injury replacement or he would be on this list, too). Visnovsky gets to quarterback what is essentially an All-Star power play, so he should keep this up and have a career year.
Alexander Edler, Vancouver Canucks (ranked No. 8 among defensemen): Oops. Edler is done for the year for fantasy purposes. His back surgery will keep him out until late March. The Canucks get him back for the postseason, but that won't help your roster. Move on.
Christian Ehrhoff, Vancouver Canucks (ranked No. 9 among defensemen): He doesn't have a ton of goals or assists, his penalty minutes are almost nonexistent and his plus/minus doesn't knock you over or anything, so why is Ehrhoff way up here in the rankings? His power-play points and shots on goal do most of the work. Those are the only two stats in which he is top 10 among defensemen on the Player Rater. Since those statistics are fairly reliable as constants, consider a buy-low offer for him. His numbers could even go up with Edler gone.
John-Michael Liles, Colorado Avalanche (ranked No. 12 among defensemen): He may still be hanging on as No. 12 on the Player Rater, but Liles has disappeared since the end of November. After notching 23 points in the first 24 games of the season, Liles has 12 points in the 26 games since then. During the past 30 days, he ranks No. 69 among defensemen. That would be above Adam Pardy and just below Eric Brewer. No thanks!
Goalies
Pekka Rinne, Nashville Predators (ranked No. 3 among goalies): Despite missing some time this season and even slipping into an almost time-share, Rinne has rebounded with fantastic numbers in January. The 1.71 goals-against average during an 11-game run is a bit over his head, but he is better than the 2.41 and 2.32 GAAs he posted in October and November. While he may not finish as a top-three goaltender, Rinne is definitely top-10 material. That is to say, as much as he is setting the league on fire at the moment, he may be a sell-high candidate if you need help elsewhere on your team.
Roberto Luongo, Vancouver Canucks (ranked No. 4 among goalies): Wins don't make a great fantasy goaltender, but they certainly can help. While Luongo isn't in the top five for ratios, his wins buoy him into the top five fantasy netminders. Since the Canucks will surely have no shortage of wins for the remainder of the season, it is safe to say that Luongo will continue to make his case as a top pick. It's also notable that his ratios have both improved with each passing month of the season.
Jonathan Quick, Los Angeles Kings (ranked No. 5 among goalies): The trick to Quick's season is actually the defense in front of him. Only the New Jersey Devils have allowed fewer shots on goal this season. Quick won't have a sparkling save percentage, but his GAA skyrockets him into the top three. I don't usually like goaltenders who rely heavily on the team in front of them, but let's face it; hockey is a team sport. With no disturbing trend of the shots going up, Quick should continue his pace.
Team

Mon
1/31

Tue
2/1

Wed
2/2

Thu
2/3

Fri
2/4

Sat
2/5

Sun
2/6

Games
T / H

Ducks
OFF
OFF
SJ
O: 7
D: 5
OFF
OFF
@COL
O: 9
D: 3
OFF
2 / 1
O: 5
D: 3
Thrashers
OFF
NYI
O: 6
D: 4
OFF
CGY
O: 6
D: 3
OFF
@CAR
O: 10
D: 1
OFF
3 / 2
O: 7
D: 2
Bruins
OFF
@CAR
O: 8
D: 5
OFF
DAL
O: 6
D: 7
OFF
SJ
O: 4
D: 6
OFF
3 / 2
O: 6
D: 6
Sabres
OFF
OFF
OFF
OFF
@PIT
O: 3
D: 5
TOR
O: 8
D: 6
OFF
2 / 1
O: 4
D: 4
Flames
OFF
@NSH
O: 3
D: 8
OFF
@ATL
O: 6
D: 7
OFF
LA
O: 6
D: 7
OFF
3 / 1
O: 5
D: 7
Hurricanes
OFF
BOS
O: 7
D: 3
OFF
@TOR
O: 7
D: 5
OFF
ATL
O: 10
D: 4
OFF
3 / 2
O: 8
D: 4
Blackhawks
OFF
@CLS
O: 9
D: 7
OFF
OFF
@VAN
O: 6
D: 5
OFF
OFF
2 / 0
O: 5
D: 4
Avalanche
OFF
@STL
O: 8
D: 6
OFF
MIN
O: 7
D: 1
OFF
ANA
O: 7
D: 1
OFF
3 / 2
O: 8
D: 1
Blue Jackets
OFF
CHI
O: 5
D: 2
OFF
OFF
@DET
O: 7
D: 2
EDM
O: 7
D: 7
OFF
3 / 2
O: 6
D: 4
Stars
OFF
VAN
O: 6
D: 4
OFF
@BOS
O: 5
D: 4
OFF
@PHI
O: 5
D: 3
OFF
3 / 1
O: 5
D: 4
Red Wings
OFF
OFF
@OTT
O: 8
D: 8
OFF
CLS
O: 9
D: 5
@NSH
O: 6
D: 8
OFF
3 / 1
O: 8
D: 7
Oilers
OFF
OFF
LA
O: 2
D: 4
OFF
@STL
O: 5
D: 4
@CLS
O: 6
D: 3
OFF
3 / 1
O: 4
D: 4
Panthers
OFF
@TOR
O: 4
D: 8
@MON
O: 3
D: 6
OFF
@NJ
O: 4
D: 8
OFF
OFF
3 / 0
O: 4
D: 7
Kings
OFF
@MIN
O: 5
D: 5
@EDM
O: 7
D: 7
OFF
OFF
@CGY
O: 5
D: 5
OFF
3 / 0
O: 6
D: 6
Wild
OFF
LA
O: 3
D: 6
OFF
@COL
O: 8
D: 6
OFF
@PHO
O: 6
D: 7
OFF
3 / 1
O: 6
D: 6
Canadiens
OFF
@WAS
O: 3
D: 8
FLA
O: 5
D: 5
OFF
OFF
NYR
O: 4
D: 5
NJ
O: 7
D: 6
4 / 3
O: 6
D: 8
Predators
OFF
CGY
O: 3
D: 7
OFF
@PHI
O: 3
D: 5
OFF
DET
O: 4
D: 6
OFF
3 / 2
O: 3
D: 6
Devils
OFF
OTT
O: 3
D: 9
OFF
@NYR
O: 1
D: 7
FLA
O: 2
D: 8
OFF
@MON
O: 3
D: 5
4 / 2
O: 3
D: 10
Islanders
OFF
@ATL
O: 8
D: 5
@PIT
O: 3
D: 5
OFF
OFF
OTT
O: 6
D: 6
OFF
3 / 1
O: 5
D: 5
Rangers
OFF
PIT
O: 1
D: 7
OFF
NJ
O: 5
D: 9
OFF
@MON
O: 4
D: 6
OFF
3 / 2
O: 3
D: 7
Senators
OFF
@NJ
O: 6
D: 6
DET
O: 3
D: 2
OFF
OFF
@NYI
O: 6
D: 5
OFF
3 / 1
O: 5
D: 4
Flyers
OFF
@TB
O: 7
D: 7
OFF
NSH
O: 6
D: 8
OFF
DAL
O: 8
D: 6
OFF
3 / 2
O: 7
D: 7
Coyotes
OFF
@SJ
O: 4
D: 4
VAN
O: 4
D: 4
OFF
OFF
MIN
O: 5
D: 5
OFF
3 / 2
O: 5
D: 4
Penguins
OFF
@NYR
O: 4
D: 10
NYI
O: 6
D: 7
OFF
BUF
O: 6
D: 5
OFF
@WAS
O: 4
D: 10
4 / 2
O: 7
D: 10
Blues
OFF
COL
O: 7
D: 5
OFF
OFF
EDM
O: 7
D: 8
OFF
@TB
O: 4
D: 2
3 / 2
O: 6
D: 5
Sharks
OFF
PHO
O: 6
D: 5
@ANA
O: 6
D: 5
OFF
OFF
@BOS
O: 5
D: 6
OFF
3 / 1
O: 6
D: 6
Lightning
OFF
PHI
O: 6
D: 5
OFF
OFF
WAS
O: 4
D: 8
OFF
STL
O: 7
D: 9
3 / 3
O: 6
D: 8
Maple Leafs
OFF
FLA
O: 4
D: 6
OFF
CAR
O: 7
D: 4
OFF
@BUF
O: 6
D: 1
OFF
3 / 2
O: 5
D: 4
Canucks
OFF
@DAL
O: 9
D: 5
@PHO
O: 9
D: 6
OFF
CHI
O: 7
D: 4
OFF
OFF
3 / 1
O: 8
D: 5
Capitals
OFF
MON
O: 5
D: 6
OFF
OFF
@TB
O: 3
D: 7
OFF
PIT
O: 2
D: 7
3 / 2
O: 3
D: 7
"O" (offense) and "D" (defense) matchup ratings are based upon a scale from 1 (poor matchup) to 10 (excellent matchup), and are calculated using a formula that evaluates the team's year-to-date and past 21 days' statistics, their performance in home/road games depending on where the game is to be played, as well as their opponents' numbers in those categories. The
Games T / H
column lists the team's total number of games played as well as home games (T / H), and lists the cumulative rating from 1-10 of that week's matchups.
Canes carry momentum: After hosting the All-Star Game, the Carolina Hurricanes appear poised to ride that high into February. With an 8 rating on offense and several players riding hot streaks, there is plenty to take advantage of. First on the list is the widely available Brandon Sutter. With four goals in his past four games, Sutter has clicked with Jiri Tlusty as a linemate. Yes, Tlusty has played just four games since coming back from an injury, tallying two assists and sporting a plus-6 rating. Also look to Zach Boychuk, who has spent the past two games on a line with Eric Staal and Erik Cole. He has a goal, an assist and a plus-4 to show for it.
Devils solid on D: Martin Brodeur is among the top 10 goaltenders when you look at just the past two weeks on the Player Rater. Yes, that means the Devils are finally playing coach Jacques Lemaire's brand of hockey. The team has a 10 rating on defense for the week, making Brodeur a no-brainer for the first time in a long time (though you've likely been stuck starting him anyway). You may also want to trust in some Devils up front. Patrik Elias, Brian Rolston and Dainius Zubrus haven't had a minus rating in a game since Jan. 6.
Avs trending to extremes: While the Colorado Avalanche appear to have a positive rating on the Forecaster, caution is still necessary. The Avs' defensive rating is dropping so poorly that the plus/minus is starting to hurt players' value significantly. The five Avalanche skaters owned in 100 percent of ESPN leagues (Paul Stastny, Milan Hejduk, Matt Duchene, Chris Stewart and John-Michael Liles) are a collective minus-25 during the past two weeks. On the positive side, Ryan Stoa has goals in two straight games on a line with Stastny.
Quick Hits
• Pavel Datsyuk, Daniel Cleary, Jordan Eberle, Marco Sturm, Ryan Callahan, Vaclav Prospal, Jason Spezza, Andy McDonald and Alexander Semin make up the list of injured players who are expected to return shortly after the All-Star break. Make sure you check their status and your lineup before next week.
• Apparently it is time for Lee Stempniak's second annual late-season charge to the finish. There was no reason to own Stempniak this season after he notched 18 points in his first 44 games. But with 11 points in his past seven games, that has changed quickly. Don't forget he was dominant down the stretch last season for the Coyotes with 18 points in 18 games.
• Since pairing Nathan Gerbe and Tyler Ennis on the same line, the Buffalo Sabres have been getting the best out of both players. Gerbe has seven points in eight games and Ennis has nine.
• I may have put it too subtly when I promoted Derick Brassard and Jakub Voracek in this week's Front Line. So let me stress the point: These two look amazing when they are sharing a line with Rick Nash. The trio has 23 points in the past six games.
• A couple of rookies decided to streak into the All-Star break. Taylor Hall has eight points in eight games and may be settling into a line with Shawn Horcoff and Dustin Penner. Meanwhile, Michael Grabner has nine points in eight games, thanks in part to Kyle Okposo, who has played just five games this season after recovering from a shoulder injury. However, Okposo has played all five with Grabner, who has scored six points in that time.
• As a final thought I want to reinforce a feeling I've promoted strongly in recent weeks: The New York Rangers are on the verge of a fantastic offense. If your fantasy team is struggling greatly on offense, I would go out right now and pick up Vaclav Prospal, Wojtek Wolski, Mats Zuccarello or Derek Stepan, in that order. Maybe even grab a couple if you can. It's more of a gut call than anything else, but I think with Prospal and Ryan Callahan back after the break, and then Brandon Dubinsky back not long after, this team looks terrific on paper. Wolski, Zuccarello and Stepan are fitting together perfectly. Marian Gaborik will reunite with Prospal and continue working with Artem Anisimov. Dubinsky and Callahan are a good fit, while Brian Boyle and Brandon Prust have been deadly as a checking unit. Slide in Sean Avery and Chris Drury with either unit. If I am wrong, I'm wrong. It is, after all, an educated guess. But if you can afford a roster spot for one of the aforementioned Rangers, I think it's worth the risk.
Sean Allen is a fantasy analyst for ESPN.com. He is the 2008 and 2009 Fantasy Sports Writers Association, Hockey Writer of the Year. You can e-mail him here.
Sean Allen is a fantasy analyst for ESPN.com. He was the 2008 and 2009 Fantasy Sports Writers Association Hockey Writer of the Year. You can tweet him
@seanard
.