Commentary
Fantasy Forecaster: Week of Feb. 14
Updated:
February 11, 2011, 8:55 PM ET
By
Sean Allen
| Special to ESPN.com
Several NHL teams got a head start on the Feb. 28 trade deadline by making deals this week. Joffrey Lupul goes from being the seventh man with the Anaheim Ducks to being a top offensive threat with the Toronto Maple Leafs. Talented youngsters Jack Skille and Michael Frolik swapped places. Mike Fisher has gone country, and Al Montoya has a starting gig with the New York Islanders. Let's look at the fantasy impact of the deals. I've listed the players in order of fantasy relevance.
[+] Enlarge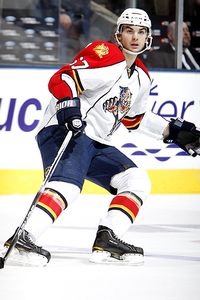 Abelimages/Getty ImagesMichael Frolik still has the potential to record his third consecutive 20-goal season after joining the defending Stanley Cup champs.
Michael Frolik, Chicago Blackhawks: He has the most potential to find fantasy stardom over the final two months of the season. Already a two-time 20-goal scorer with the Florida Panthers in his rookie and sophomore seasons, Frolik certainly is qualified to join the Blackhawks' top six. That means he will be playing with at least one, and possibly two, of Jonathan Toews, Patrick Kane, Patrick Sharp and Marian Hossa. No disrespect to Stephen Weiss or David Booth, but the Hawks' group of forwards offers more potential for Frolik to develop some chemistry and excel. When Frolik is alive and kicking, which has not been the case this season, he is a worthy fantasy asset. Given the likelihood of his playing with strong linemates, he definitely is worth a grab.
Mike Fisher, Nashville Predators: Fisher is close to having the same impact as Frolik, but I don't think his ceiling is quite as high. Fisher steps in as the likely top-line center for the Preds, but determining the top line is a bit difficult. It would be safe to assume Fisher will land either between Patric Hornqvist and Steve Sullivan or between Sergei Kostitsyn and Martin Erat. I would bet on the former, as Kostitsyn and Erat have been doing well with Marcel Goc (dealing with an upper-body injury) or Nick Spaling as a linemate. Hornqvist has just two points in eight games while Sullivan has nothing in three games since returning from a groin injury. Fisher's numbers are down this season, similar to his pace in 2008-09, but in four of the past five seasons, he has approached 50 points. With his decent shots-on-goal totals and the ability to score on the power play, Fisher does generate value in ESPN fantasy leagues and is owned in almost 60 percent of leagues, even though that number is probably too high. He certainly is worth a look in medium-sized formats, and even shallow-league owners looking for an offensive boost should consider scooping him up.
Phil Kessel, Toronto Maple Leafs: What's that, you say? Kessel wasn't the one traded? It was Joffrey Lupul? Yeah, I know. But I'm highlighting Kessel because while Lupul has a slight increase in value because of his arrival in Toronto, Kessel has a huge increase. During the past two games -- one before the trade, one after -- Kessel was placed on a new top line with Mikhail Grabovski and Nikolai Kulemin. The day before the new line was formed, I wrote this about Kessel's plummeting value: "In hindsight, we should have spotted this when the other potential offensive catalysts on the team, Mikhail Grabovski and Nikolai Kulemin, clicked on a line with Clarke MacArthur, with Kessel left holding the bag." Not to imply that coach Ron Wilson reads my fantasy columns, but I wanted to point out that the exact thing that needed to happen to resurrect Kessel's season has happened. He has two assists in two games with the new line, both assists coming on Kulemin goals. Lupul helps this only because he gives the Maple Leafs' offense the sixth member of the top six and more reason to leave Kessel on the top unit. MacArthur will take a big value hit if Wilson leaves the new combinations in place. With Lupul and Tyler Bozak joining MacArthur on the third line, the trio has some talent but is not on a level to contribute fantasy-wise.
Al Montoya, New York Islanders: Rick DiPietro: hurt. Dwayne Roloson: traded. Evgeni Nabokov: suspended. Nathan Lawson: hurt. Kevin Poulin: hurt. The door is wide open for Montoya to breathe some life into a once-promising career. A steel trap in college at Michigan, Montoya was drafted sixth overall by the New York Rangers in 2004 with high hopes for his future as a starter. Most recently, he found himself buried fourth on the Phoenix Coyotes' depth chart as the lesser of two goaltenders for the team's AHL affiliate. As the Islanders continue to lose goaltenders, Montoya quickly becomes the most experienced and talented of the lot from which they have to choose. He will be called up to the big club sooner than later and, all things considered, should start a majority of the remaining games. Montoya's numbers aren't great this season, but he has shown promise before. I'm not saying he is a must-grab, but many fantasy hockey leagues have value that can be derived from any goaltender who is starting. Montoya will most certainly do that and, given his upside, could perform admirably.
Francois Beauchemin, Anaheim Ducks: His name might translate as "beautiful road," but adding Beauchemin to your fantasy roster and expecting greats things is not the path to chose. Sure, the last time Beauchemin had a semblance of fantasy value was when he was in a Ducks uniform. However, that was in 2006-07, and I will stress the fact that it was merely a "semblance" of fantasy value. There are exactly 100 defensemen in the NHL who rank better than Beauchemin on the ESPN Player Rater this season. I wouldn't forecast that to change too much, although he might be a source of the occasional power-play assist in deep leagues. Basically, if you aren't already starting someone like Kevin Klein in your fantasy pool, your league isn't deep enough for Beauchemin to matter.
Some of the other minor fallout from these deals … Christopher Higgins will move up in the pecking order when it comes to power-play time for the Panthers. … While some ice time opened up for the Ottawa Senators with the departure of Fisher, there does not seem to be anybody ready to step into the role and take advantage. Bobby Butler is the only name of slight interest, but even he would need someone to skate with to start producing. … As for Lupul himself, he could be a speculative pickup for deep-league players. It's not like Wilson will be married to any particular line combination if someone isn't producing. Lupul also could find himself in the mix for first power-play unit duties. … Skille still has huge upside for a future in the NHL, but it's doubtful a slight bump in ice time with the Panthers will be the difference this season. He's still a project for later.
Team

Mon
2/14

Tue
2/15

Wed
2/16

Thu
2/17

Fri
2/18

Sat
2/19

Sun
2/20

Games
T / H

Ducks
OFF
OFF
WAS
O: 4
D: 5
OFF
@MIN
O: 5
D: 4
@STL
O: 7
D: 4
OFF
3 / 1
O: 5
D: 5
Thrashers
OFF
OFF
OFF
@PHO
O: 7
D: 1
OFF
@EDM
O: 10
D: 4
OFF
2 / 0
O: 5
D: 2
Bruins
OFF
TOR
O: 7
D: 6
OFF
@NYI
O: 6
D: 6
@OTT
O: 8
D: 7
OFF
OFF
3 / 1
O: 7
D: 6
Sabres
OFF
@MON
O: 6
D: 5
TOR
O: 9
D: 6
OFF
STL
O: 8
D: 6
OFF
WAS
O: 5
D: 6
4 / 3
O: 9
D: 8
Flames
@COL
O: 5
D: 8
OFF
DAL
O: 8
D: 8
OFF
OFF
OFF
MON
O: 7
D: 6
3 / 2
O: 7
D: 7
Hurricanes
OFF
OFF
@NJ
O: 6
D: 6
OFF
PHI
O: 6
D: 4
NJ
O: 8
D: 7
OFF
3 / 2
O: 6
D: 5
Blackhawks
OFF
OFF
MIN
O: 6
D: 6
OFF
CLS
O: 9
D: 5
OFF
PIT
O: 4
D: 5
3 / 3
O: 6
D: 5
Avalanche
CGY
O: 6
D: 1
OFF
PIT
O: 3
D: 1
OFF
OFF
@SJ
O: 7
D: 3
OFF
3 / 2
O: 5
D: 1
Blue Jackets
OFF
OFF
LA
O: 2
D: 5
OFF
@CHI
O: 7
D: 2
OFF
OFF
2 / 1
O: 3
D: 3
Stars
OFF
@EDM
O: 7
D: 6
@CGY
O: 5
D: 2
OFF
OFF
@VAN
O: 4
D: 1
OFF
3 / 0
O: 5
D: 2
Red Wings
OFF
OFF
OFF
@TB
O: 8
D: 3
@FLA
O: 6
D: 6
OFF
@MIN
O: 6
D: 6
3 / 0
O: 7
D: 5
Oilers
OFF
DAL
O: 4
D: 5
OFF
MON
O: 3
D: 3
OFF
ATL
O: 4
D: 4
OFF
3 / 3
O: 4
D: 4
Panthers
OFF
OFF
PHI
O: 5
D: 4
OFF
DET
O: 6
D: 5
@TB
O: 5
D: 5
OFF
3 / 2
O: 5
D: 4
Kings
OFF
OFF
@CLS
O: 7
D: 6
@NYR
O: 3
D: 7
OFF
@NYI
O: 5
D: 7
OFF
3 / 0
O: 5
D: 6
Wild
OFF
VAN
O: 3
D: 2
@CHI
O: 6
D: 5
OFF
ANA
O: 6
D: 4
OFF
DET
O: 4
D: 5
4 / 3
O: 6
D: 5
Canadiens
OFF
BUF
O: 8
D: 2
OFF
@EDM
O: 8
D: 8
OFF
OFF
@CGY
O: 6
D: 5
3 / 1
O: 7
D: 5
Predators
OFF
SJ
O: 4
D: 6
OFF
VAN
O: 3
D: 4
OFF
PHO
O: 4
D: 8
OFF
3 / 3
O: 3
D: 6
Devils
OFF
OFF
CAR
O: 3
D: 6
OFF
NYR
O: 1
D: 7
@CAR
O: 3
D: 6
OFF
3 / 2
O: 2
D: 6
Islanders
OFF
@OTT
O: 8
D: 7
OFF
BOS
O: 6
D: 4
OFF
LA
O: 4
D: 5
OFF
3 / 2
O: 5
D: 5
Rangers
OFF
OFF
OFF
LA
O: 3
D: 8
@NJ
O: 4
D: 9
OFF
PHI
O: 4
D: 6
3 / 2
O: 4
D: 7
Senators
OFF
NYI
O: 5
D: 3
OFF
OFF
BOS
O: 5
D: 1
@TOR
O: 8
D: 4
OFF
3 / 2
O: 6
D: 3
Flyers
OFF
@TB
O: 7
D: 5
@FLA
O: 5
D: 8
OFF
@CAR
O: 7
D: 7
OFF
@NYR
O: 4
D: 8
4 / 0
O: 7
D: 9
Coyotes
WAS
O: 3
D: 7
OFF
OFF
ATL
O: 7
D: 7
OFF
@NSH
O: 3
D: 7
OFF
3 / 2
O: 5
D: 7
Penguins
OFF
OFF
@COL
O: 7
D: 10
OFF
OFF
OFF
@CHI
O: 6
D: 8
2 / 0
O: 4
D: 6
Blues
VAN
O: 4
D: 2
OFF
OFF
OFF
@BUF
O: 6
D: 1
ANA
O: 7
D: 4
OFF
3 / 2
O: 6
D: 2
Sharks
OFF
@NSH
O: 3
D: 8
OFF
WAS
O: 3
D: 6
OFF
COL
O: 7
D: 5
OFF
3 / 2
O: 4
D: 6
Lightning
OFF
PHI
O: 6
D: 5
OFF
DET
O: 8
D: 6
OFF
FLA
O: 6
D: 7
OFF
3 / 3
O: 7
D: 6
Maple Leafs
OFF
@BOS
O: 5
D: 1
@BUF
O: 7
D: 1
OFF
OFF
OTT
O: 8
D: 6
OFF
3 / 1
O: 6
D: 2
Canucks
@STL
O: 10
D: 9
@MIN
O: 8
D: 9
OFF
@NSH
O: 6
D: 9
OFF
DAL
O: 8
D: 10
OFF
4 / 1
O: 10
D: 10
Capitals
@PHO
O: 3
D: 8
OFF
@ANA
O: 5
D: 7
@SJ
O: 4
D: 7
OFF
OFF
@BUF
O: 5
D: 6
4 / 0
O: 5
D: 9
O (offense) and D (defense) matchup ratings are based on a scale from 1 (poor matchup) to 10 (excellent matchup), and are calculated using a formula that evaluates the team's year-to-date and past 21 days' statistics, its performance in home/road games depending on where the game is to be played, as well as its opponents' numbers in those categories. The
Games T / H
column lists the team's total number of games played as well as home games (T / H) and lists the cumulative rating from 1 to 10 of that week's matchups.
Sharpening Sabres: It's not often the Buffalo Sabres are near the top of the pack for offensive ratings in the Forecaster, but a few big games have them on a goal-scoring binge. Chiefly, this should serve as a wake-up call to get your hands on Drew Stafford. Potting his third hat trick of the season Tuesday following a two-goal game on the weekend should serve as a stark reminder that he has been a goal-scoring machine when in the lineup. Stafford is on pace for more than 30 goals this season, which means he has at least 10 more to contribute to your totals. You can't say that about too many players in the league. Stafford is sharing the ice with talented playmaker Tim Connolly and earning power-play time with the same. Nice setups by Connolly easily can end in goals with Stafford hanging around the net. Both Stafford and Connolly are available in many leagues, and would make strategic starts for next week. If you play in a deeper league, consider Jochen Hecht. His points have been minimal, but the potential is there with Thomas Vanek and Jason Pominville as his linemates.
Not singing the Blues: No, the St. Louis Blues are singing a more upbeat tune these days as the offense builds toward full strength. David Perron is still missed dearly, but the returns of T.J. Oshie and Andy McDonald are bolstering the team. Both players are paired with the Blues' elite offensive catalysts: McDonald with David Backes, and Oshie with Alexander Steen. While the game against the Vancouver Canucks to start the week is not rated well, the contests against the Sabres and Anaheim Ducks later in the week are above average. Use the half-decent rating as an excuse to get McDonald and Oshie off the free-agent pile and back onto your roster.
Flames on fire: No team has scored more goals in the past three weeks than the Calgary Flames. During an in-depth look at the forwards a few weeks back, I highlighted Brendan Morrison as a solid option. He has 11 points in nine games during three-week boom. I also was down on Olli Jokinen's prospects for the season, but even he has nine points in nine games. Curtis Glencross, seven points in nine games, is the third option when looking at the waiver wire. All three players are still available in many leagues, and all three seem to have solidified spots in the top six going forward.
Capital gains in net: I loathe using the Forecaster to predict goaltender starts, because to find value off the free-agent wire, you have to gamble. Last week, I was right about the San Jose Sharks having a great week for goaltending (two shutouts), but I guessed Antero Niittymaki (who hurt himself again) instead of Antti Niemi. Nonetheless, here I am. The Capitals have an above-average week for defensive rating, and Michal Neuvirth has strung together two solid performances. With Semyon Varlamov already owned in your league (97 percent of leagues, anyway), Neuvirth is the only choice for a waiver-wire selection, as he remains available in more than 60 percent of ESPN leagues. If you need a goaltender this week, Neuvirth is the choice, but look no further than last week's Niitty fiasco to recognize this comes with a grain of salt.
Quick Hits
• The Pittsburgh Penguins lost yet another center to injury Thursday when Dustin Jeffrey got hurt against the Los Angeles Kings. My best fantasy advice? Work on your faceoffs and go knock on the door of the Consol Energy Center to see whether they could use a hand.
• Speaking of the Penguins and injuries, the quotes have been a bit more ominous from Sidney Crosby & Co. regarding his status. Any talk about "hoping" to return at some point this season is gloomy for fantasy owners. What originally sounded like a lost week or two is looking to be much more significant. Stay tuned, but start musing on potential backup plans for your fantasy roster.
• I'll keep saying it until people start listening: Max Pacioretty is a top-six forward with a good club and good linemates. It's been about 10 games since Pacioretty joined the top six, and he has 10 points in that span. Quick math: That is, in fact, a point per game.
• He has been ablaze since Jan. 11 and won the fastest skater competition at the All-Star Game, so how can Michael Grabner still be available in more than 50 percent of ESPN fantasy leagues? Grabner has a point in 11 of his past 13 games with 15 points and 10 goals in that span. Pick him up already.
Sean Allen is a fantasy analyst for ESPN.com. He is the 2008 and 2009 Fantasy Sports Writers Association Hockey Writer of the Year. You can e-mail him here.
Sean Allen is a fantasy analyst for ESPN.com. He was the 2008 and 2009 Fantasy Sports Writers Association Hockey Writer of the Year. You can tweet him
@seanard
.
SPONSORED HEADLINES
FANTASY TOP HEADLINES
MOST SENT STORIES ON ESPN.COM