Commentary
Fantasy Forecaster: Week of March 7
Updated:
March 4, 2011, 5:26 PM ET
By
Sean Allen
| Special to ESPN.com
We made sure to spin the fantasy-relevant fallout from the trade-deadline deals, and those preceding it, in a series of columns during the past few weeks here at ESPN Fantasy. So that is that, right? We can wipe our hands ceremoniously and walk away.
Wrong.
See, we were prognosticating what might happen based on the announcements of the trades. Now we have actual examples, providing us the benefit of at least one game for most of the traded players (and those left behind), so let's take proper stock of that player movement to see how the new homes are working out for each player, from a fantasy perspective.
Chris Stewart and Kevin Shattenkirk, St. Louis Blues: Stewart's six goals and eight points in eight games with his new club certainly takes the cake for fantasy impact. That is the kind of pace the fantasy realm expected from him this season. As a member of the top line and top power-play unit, he should continue to produce at a more Stewart-esque pace down the stretch and he is owned in 100 percent of leagues again. One concern will be his plus/minus, but frankly that was a concern when he was with the Avalanche, too.
Meanwhile, the small snapshot of just eight games with the Blues has proved to be a microcosm of the problem that has plagued Shattenkirk all season: inconsistency. He managed three points (two on the power play) in his first four games, but has zero since. Shattenkirk should be less prone to a funk thanks to his assignment; he's seemingly sewn to the hip of Alex Pietrangelo on and off the power play. Still, he doesn't pop off the page as a strong fantasy asset down the stretch.
Jason Arnott and Dennis Wideman, Washington Capitals: Two games, two points, a plus-2 and seven shots. Yeah, I think Arnott is going to fit in just fine with the Capitals. OK, so I exaggerated when I said his value would go up tenfold … it actually goes up sevenfold, as you have to look back 14 games with the New Jersey Devils prior to his trade to find two points. Arnott is anchoring a line with Alexander Semin and Brooks Laich and is on the power play with Alex Ovechkin and Nicklas Backstrom. Need I say more?
As for Wideman, colleague Victoria Matiash addressed him in this week's Thin Blue Line. Similar to Arnott, there isn't much to say. Wideman is the man on the Caps point until Mike Green returns (which could be a while). The door has almost closed on acquiring Wideman, but Arnott is still available in just more than 30 percent of ESPN leagues.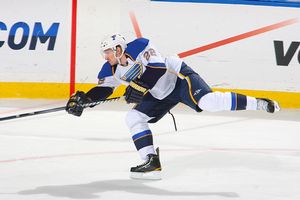 Rick Stewart/Getty ImagesEx-Blue Brad Boyes has been fitting in nicely with the Sabres since being traded.
Brad Boyes, Buffalo Sabres: Boyes could not have a better line assignment with the Sabres. Drawing veteran playmaker Tim Connolly and feisty rookie Tyler Ennis makes for a great combination on the ice. Lo and behold, Boyes has two goals in his first two games with the Sabres. Available in more than 60 percent of leagues, the time to act on Boyes is now.
Craig Anderson, Ottawa Senators: Colleague Tim Kavanagh touched on Anderson in this week's In the Crease. I think I can paraphrase him by saying it is time to go bonkers. Since putting on a Sens uniform, Anderson has won four of six games and allowed more than a single goal in just one contest. That's a 1.16 goals-against average, with a .966 save percentage, for those keeping score at home. Still available in almost 30 percent of ESPN leagues, Anderson is the best answer for those struggling with goaltending down the stretch.
Erik Johnson, Colorado Avalanche: Johnson's season with the Blues consisted of 54 games played with just five goals and 13 assists. He was a minus-10 with the club. In seven games with the Avalanche, Johnson has two goals, three assists and a plus-3. That would be more than 20 percent of his point production this season in 10 percent of his games played. So yeah, we'd say the trade is working out. He is still available in 10 percent of ESPN leagues, but that gap is closing fast.
Blake Wheeler, Atlanta Thrashers: The biggest thing you notice when looking at Blake Wheeler's numbers since moving to the Thrashers are the shots on goal. Whereas the shots column would normally show anywhere from zero to two shots in a typical game with the Boston Bruins, he now shows a minimum of four and has taken as many as seven shots in a game for the Thrashers. In fact, in six games with the Thrashers, he has taken as many shots as in his last 18 games with the Bruins. Having a top-line assignment with Andrew Ladd and Bryan Little isn't hurting, and neither is power-play duty with Evander Kane and Rob Schremp. Wheeler has only three points with his new club, but if he keeps playing at the same effort level that number will improve dramatically. He is available in more than half of fantasy leagues.
Cory Stillman, Carolina Hurricanes: Stillman is partying like it's 2005 to 2007. Playing with the same line he had previous success with for the Canes, Stillman is looking good after four games with his new/old club. Two goals and one assist and a plus-4 rating certainly outshine any production he provided with the Florida Panthers this season. Eric Staal and Erik Cole both seem to have welcomed Stillman. As I suggested in last week's Forecaster, Stillman will have fantasy value in such a role. You can possibly afford to give him another game or two to see if it's worthwhile, though, because Stillman is owned in less than 1 percent of ESPN leagues.
Alex Goligoski, Dallas Stars: A plus-4 and three points in five games is not a bad start for Goligoski with the Stars. It is only par for the course for his season, though. As expected, he is a top-pairing defenseman, and he's eating up every second of power-play time on the point. Plus, you can still expect things to get a lot better for Goligoski (and the rest of the Stars) when Brad Richards returns as early as Friday.
Dustin Penner, Los Angeles Kings: We have just one game to look at for Penner, but as hoped he played with Anze Kopitar and allowed coach Terry Murray to reunite the Justin Williams-Ryan Smyth-Jarret Stoll line. What was unexpected was the use of Wayne Simmonds alongside Penner and Kopitar. Dustin Brown played third-line duties. Though unexpected, this could open up a door for Simmonds to gain some fantasy value down the stretch. It could, however, hurt Brown's value. Still, it is just one game for the new-look Kings, and we'll have to wait and see if Murray assembles the Penner-Kopitar-Brown line we all want to see.
Al Montoya, New York Islanders: Since joining the Islanders in mid-February, Montoya has played just one game that could be considered an outright stinker and only one other game that wasn't fantasy-friendly. That is only two bad apples in a batch of seven (counting his two walk-on appearances as one) and since they came against the Capitals and Philadelphia Flyers, you probably could have seen them coming. If you play smart with Montoya, he can provide solid goaltending stats down the stretch.
Tomas Kaberle, Boston Bruins: It appears as though Kaberle doesn't take well to being the Sous Chef. In six games with the Bruins, he has just one assist and two shots on goal. Let me repeat that last part: Just two shots on goal! Playing with Adam McQuaid at even strength and a mix of Zdeno Chara and Dennis Seidenberg on the power play, Kaberle just doesn't look as good playing second fiddle. Maybe he's still making adjustments and getting used to his new teammates, but for now it looks like fantasy owners lost an asset in this deal. I wouldn't overreact just yet, but I'd certainly be hedging my bets with another defenseman at this point.
Dan Ellis, Anaheim Ducks: I wasn't a big fan of Ellis as a fantasy asset with the Tampa Bay Lightning, but he certainly looks useful so far as a Duck. He has two wins in three starts, including a victory against the Detroit Red Wings. Still, as Tim Kavanagh pointed out in his In The Crease column, Ray Emery could be the answer in net the Ducks are looking for. If you need goaltending help and Anderson and Montoya are both unavailable, I would look to either Ellis or Emery.
Mike Fisher, Nashville Predators: Fisher's stats during nine games with the Preds actually prorate to exactly what he was already doing with the Senators this season, almost to the decimal point. Since what he was doing with the Sens had no place on a fantasy roster, the same argument could be made for his four points and minus-4 rating with the Predators.
Alexei Kovalev and James Neal, Pittsburgh Penguins: Between the two wingers, they have a combined seven games in a Penguins uniform and one goal by Kovalev to show for it. I said it when the deals happened, and I'll say it again: This does not work without Sidney Crosby in the equation. No Crosby equals no value for these players. Mark Letestu is a fine up-and-coming center, but he is no Crosby. Unless we hear about a Crosby return, I don't think you want any part of these Penguins.
Team

Mon
3/7

Tue
3/8

Wed
3/9

Thu
3/10

Fri
3/11

Sat
3/12

Sun
3/13

Games
T / H

Ducks
OFF
OFF
NYR
O: 6
D: 5
OFF
@COL
O: 8
D: 3
OFF
PHO
O: 9
D: 5
3 / 2
O: 7
D: 4
Thrashers
OFF
OFF
@CAR
O: 8
D: 4
OFF
NJ
O: 3
D: 8
@PHI
O: 7
D: 3
OFF
3 / 1
O: 5
D: 4
Bruins
OFF
@MON
O: 5
D: 7
OFF
BUF
O: 6
D: 5
@NYI
O: 7
D: 7
OFF
OFF
3 / 1
O: 5
D: 6
Sabres
OFF
@PIT
O: 4
D: 6
OFF
@BOS
O: 5
D: 5
OFF
@TOR
O: 6
D: 6
OTT
O: 5
D: 6
4 / 1
O: 6
D: 7
Flames
OFF
OFF
@DAL
O: 5
D: 7
@PHO
O: 7
D: 6
OFF
VAN
O: 5
D: 4
OFF
3 / 1
O: 5
D: 5
Hurricanes
OFF
OFF
ATL
O: 6
D: 6
OFF
@WAS
O: 3
D: 5
CLS
O: 6
D: 6
OFF
3 / 2
O: 5
D: 5
Blackhawks
OFF
@FLA
O: 6
D: 7
@TB
O: 9
D: 4
OFF
OFF
OFF
@WAS
O: 7
D: 6
3 / 0
O: 7
D: 5
Avalanche
OFF
@MIN
O: 6
D: 4
OFF
OFF
ANA
O: 9
D: 1
@NSH
O: 5
D: 5
OFF
3 / 1
O: 6
D: 2
Blue Jackets
@STL
O: 6
D: 5
OFF
STL
O: 5
D: 6
OFF
LA
O: 3
D: 7
@CAR
O: 6
D: 6
OFF
4 / 2
O: 6
D: 7
Stars
@LA
O: 3
D: 5
OFF
CGY
O: 8
D: 3
OFF
MIN
O: 6
D: 5
OFF
LA
O: 5
D: 5
4 / 3
O: 7
D: 6
Red Wings
OFF
OFF
LA
O: 6
D: 5
OFF
EDM
O: 8
D: 7
@STL
O: 9
D: 5
OFF
3 / 2
O: 7
D: 5
Oilers
OFF
@PHI
O: 4
D: 4
@WAS
O: 3
D: 5
OFF
@DET
O: 5
D: 1
OFF
@PIT
O: 4
D: 4
4 / 0
O: 5
D: 4
Panthers
OFF
CHI
O: 7
D: 3
OFF
OTT
O: 5
D: 7
OFF
TB
O: 5
D: 5
OFF
3 / 3
O: 5
D: 4
Kings
DAL
O: 6
D: 8
OFF
@DET
O: 6
D: 4
OFF
@CLS
O: 5
D: 6
OFF
@DAL
O: 5
D: 8
4 / 1
O: 7
D: 8
Wild
OFF
COL
O: 7
D: 6
OFF
@NSH
O: 4
D: 8
@DAL
O: 6
D: 7
OFF
OFF
3 / 1
O: 5
D: 6
Canadiens
OFF
BOS
O: 5
D: 5
OFF
@STL
O: 6
D: 6
OFF
@PIT
O: 4
D: 7
OFF
3 / 1
O: 5
D: 5
Predators
OFF
@SJ
O: 4
D: 5
OFF
MIN
O: 4
D: 8
OFF
COL
O: 7
D: 8
OFF
3 / 2
O: 4
D: 6
Devils
OFF
OTT
O: 2
D: 9
OFF
OFF
@ATL
O: 3
D: 8
NYI
O: 3
D: 8
OFF
3 / 2
O: 2
D: 8
Islanders
OFF
TOR
O: 7
D: 5
OFF
OFF
BOS
O: 5
D: 4
@NJ
O: 4
D: 8
OFF
3 / 2
O: 5
D: 5
Rangers
OFF
OFF
@ANA
O: 6
D: 7
OFF
OFF
@SJ
O: 5
D: 5
OFF
2 / 0
O: 3
D: 4
Senators
OFF
@NJ
O: 2
D: 9
OFF
@FLA
O: 2
D: 8
@TB
O: 5
D: 5
OFF
@BUF
O: 5
D: 6
4 / 0
O: 4
D: 9
Flyers
OFF
EDM
O: 7
D: 8
OFF
@TOR
O: 6
D: 7
OFF
ATL
O: 7
D: 6
OFF
3 / 2
O: 6
D: 7
Coyotes
OFF
VAN
O: 4
D: 2
OFF
CGY
O: 7
D: 2
OFF
OFF
@ANA
O: 7
D: 3
3 / 2
O: 5
D: 2
Penguins
OFF
BUF
O: 6
D: 6
OFF
OFF
OFF
MON
O: 5
D: 6
EDM
O: 7
D: 8
3 / 3
O: 5
D: 6
Blues
CLS
O: 7
D: 6
OFF
@CLS
O: 6
D: 5
MON
O: 6
D: 6
OFF
DET
O: 7
D: 4
OFF
4 / 3
O: 8
D: 6
Sharks
OFF
NSH
O: 4
D: 7
OFF
VAN
O: 4
D: 3
OFF
NYR
O: 6
D: 5
OFF
3 / 3
O: 4
D: 5
Lightning
WAS
O: 6
D: 7
OFF
CHI
O: 9
D: 3
OFF
OTT
O: 7
D: 7
@FLA
O: 4
D: 7
OFF
4 / 3
O: 8
D: 7
Maple Leafs
OFF
@NYI
O: 6
D: 3
OFF
PHI
O: 3
D: 6
OFF
BUF
O: 5
D: 6
OFF
3 / 2
O: 4
D: 4
Canucks
OFF
@PHO
O: 10
D: 7
OFF
@SJ
O: 8
D: 5
OFF
@CGY
O: 10
D: 5
OFF
3 / 0
O: 9
D: 5
Capitals
@TB
O: 5
D: 5
OFF
EDM
O: 6
D: 8
OFF
WAS
O: 3
D: 7
OFF
CHI
O: 7
D: 3
4 / 3
O: 7
D: 7
"O" (offense) and "D" (defense) matchup ratings are based upon a scale from 1 (poor matchup) to 10 (excellent matchup), and are calculated using a formula that evaluates the team's year-to-date and past 21 days' statistics, their performance in home/road games depending on where the game is to be played, as well as their opponents' numbers in those categories. The
Games T / H
column lists the team's total number of games played as well as home games (T / H), and lists the cumulative rating from 1-10 of that week's matchups.
Flyers flying high: Kris Versteeg could have been included in the trade discussion earlier in this column; instead, I'll mention him here. Since coming to the Flyers, Versteeg has found a groove with Mike Richards. While the pair hasn't been scoring at a torrid pace, strong play has resulted in a consistent plus/minus. In eight games, Versteeg has a plus-4 rating, with three goals and an assist. With Jeff Carter out because of the flu, the onus fell on Richards and Versteeg on Thursday night, and they responded with a pair of goals. The week ahead looks solid with games against the Edmonton Oilers, Toronto Maple Leafs and Thrashers. You should definitely consider Versteeg as an option.
Got the Blues: It might not be the best docket in this week's Forecaster, but the Blues open up the week with a pair of contests against the Columbus Blue Jackets, which should be fantasy-friendly for both teams. While I probably wouldn't recommend leaving your Blues in for games against the Montreal Canadiens and Red Wings later in the week, the Blue Jackets games could help you have a fast start to the week. Andy McDonald and Patrik Berglund are two Blues who aren't owned in most fantasy leagues and can have the most impact. And as I've been saying for a few weeks now, you might like them so much that you keep them.
Not so Quick: What was the biggest criticism of Jonathan Quick in the offseason? That he wore down toward the end of last season and fizzled out in the playoffs. What does he appear to be doing now after allowing three goals or more in five of nine February starts? It sure looks like he's wearing down to me. Enter Jonathan Bernier who, after a shutout of the rival Phoenix Coyotes on Thursday, is being talked about to start the Kings' next contest, as well. Bernier hasn't had a bad start since early January. The Kings have a busy week ahead, and this should be a good indicator of whether or not Bernier can steal some value from Quick down the stretch.
Oil on the road: Injuries to Ales Hemsky and Taylor Hall, as well as the trade of Dustin Penner, have left the Oilers with limited options on offense. That means Jordan Eberle, Shawn Horcoff and Sam Gagner will be leaned on to produce more in the weeks ahead. All three players have five points in the past eight games. On the docket is a road trip to play the Flyers, Capitals, Red Wings and Penguins.
Quick hits
• A nice side effect of the stabilizing effect Jason Arnott is having on the Capitals could be the resurgence of Mike Knuble. With a solid second line of Arnott, Semin and Laich, Knuble is free to settle in with Ovechkin and Backstrom on the top unit. Knuble's numbers are down thanks to him bouncing around from line to line for much of the season, but keep an eye on him during the next few games to see if he is worth some time on your squad.
• I know I've mentioned him a couple of times during recent weeks, but Pierre-Marc Bouchard is still killing it for the Minnesota Wild right now. He has eight points in his past eight games and is owned in only 3 percent of ESPN leagues.
• Ah, the enigma that is Andrei Kostitsyn. He can't string together solid stats while playing on the top line, but a demotion to the third line with Lars Eller and Travis Moen seems to have lit a fire under him. With seven points in five games, it might be worth rolling him out there while he is hot. He is available in 17 percent of ESPN leagues after being dropped by many owners in recent weeks.
Sean Allen is a fantasy analyst for ESPN.com. He is the 2008 and 2009 Fantasy Sports Writers Association, Hockey Writer of the Year. You can e-mail him here.
Sean Allen is a fantasy analyst for ESPN.com. He was the 2008 and 2009 Fantasy Sports Writers Association Hockey Writer of the Year. You can tweet him
@seanard
.
SPONSORED HEADLINES
FANTASY TOP HEADLINES
MOST SENT STORIES ON ESPN.COM