Commentary
Fantasy Forecaster: Week of March 14
Updated:
March 11, 2011, 2:33 PM ET
By
Sean Allen
| Special to ESPN.com
I have extensive notes this week for the Quick Hits section, so I'll take this opportunity to spread a few words of encouragement as we hit the home stretch for the fantasy hockey season. There is one month remaining on the schedule, and whether you play in a rotisserie or head-to-head format it is time to start planning ahead for that final push. I offer you these tips to get your affairs in order now and have a head start on your competition.
Back up with backup goaltenders: The Vancouver Canucks are the only shining example at this point, but as you can begin to identify other NHL teams that are locking down a playoff position you can apply the same logic. Roberto Luongo has played a lot of hockey this season and the playoffs offer another several weeks of gruelling hockey. I won't suggest the Canucks will begin coasting, but they will certainly be more comfortable playing Cory Schneider toward the end of the schedule. Schneider has been lights out when he has the opportunity to play. Whether you pick him up as a handcuff for Luongo or simply to exploit what will be good performances, it will be worth your while to also take him off the books from other owners. Other goaltenders who should see more time should their teams start to settle into a playoff position include Tuukka Rask, Chris Osgood (almost back from injury), Marty Turco and Jason LaBarbera.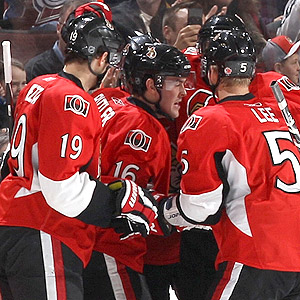 Jana Chytilova/NHLI/Getty Images Bobby Butler, who has 6 goals and 4 assists in his past 12 games, is averaging more than 16 minutes of ice time per game since the All-Star break.
Try out some tryouts: The teams without a ghost of a chance at the postseason may begin expanding the ice time of younger players to have a look at what they can do next season. Bobby Butler has certainly been building his stock with the Ottawa Senators and Matt Calvert is another example with the Columbus Blue Jackets. As golf season quickly approaches, the organizations will likely want to see what some of their prospects can do with more responsibility. Erik Condra, Magnus Paajarvi, Kevin Porter, Linus Omark, Alexandre Giroux, Niclas Bergfors and Keaton Ellerby come to mind as other potential late-season beneficiaries of their teams' ineptitude..
Forecast the Forecaster: Not that you need to base your pickups now on the final week, but it doesn't hurt to have the advanced knowledge of where the advantage lies. With that in mind, I took a peek at what the Forecaster might look like based on the final week of matchups.
The first thing that stands out for me is that the Dallas Stars have a very fantasy-friendly schedule. They play the Columbus Blue Jackets, the Colorado Avalanche twice and the Minnesota Wild. Jamie Benn is hot now and could be a key in the final week. All the more reason to consider adding him now. The Los Angeles Kings, Chicago Blackhawks and San Jose Sharks round out the best ratings for the week. The Colorado Avalanche are also forecasted for a very strong offensive showing in the final week (not so much defensively).
The Boston Bruins show the most solid defensive rating for the week, lending more incentive to consider Rask for the stretch run. Conversely, the Phoenix Coyotes rate terribly defensively for the final week. If Ilya Bryzgalov is a mainstay in the crease for you, I'd start making backup plans.
Finally, the Calgary Flames are the only team in the NHL that won't plate at least three games that week. While all Flames appear to be solid candidates to help carry you to the penultimate week of the season, two games in the final week (one of them against the Vancouver Canucks) doesn't bode well.
It's never too early to have your end game in mind.
Team

Mon
3/14

Tue
3/15

Wed
3/16

Thu
3/17

Fri
3/18

Sat
3/19

Sun
3/20

Games
T / H

Ducks
OFF
OFF
STL
O: 7
D: 4
OFF
OFF
@LA
O: 4
D: 4
CGY
O: 7
D: 3
3 / 2
O: 6
D: 3
Thrashers
OFF
@NJ
O: 6
D: 4
OFF
PHI
O: 4
D: 5
OFF
@BUF
O: 8
D: 3
OFF
3 / 1
O: 6
D: 4
Bruins
OFF
@CLS
O: 6
D: 7
OFF
@NSH
O: 3
D: 9
OFF
@TOR
O: 6
D: 8
OFF
3 / 0
O: 5
D: 7
Sabres
OFF
CAR
O: 6
D: 6
OFF
OFF
OFF
ATL
O: 6
D: 5
NSH
O: 4
D: 7
3 / 3
O: 5
D: 5
Flames
OFF
PHO
O: 10
D: 7
OFF
COL
O: 10
D: 7
OFF
OFF
@ANA
O: 7
D: 6
3 / 2
O: 8
D: 6
Hurricanes
OFF
@BUF
O: 5
D: 4
TOR
O: 7
D: 6
OFF
NYI
O: 7
D: 5
OFF
OFF
3 / 2
O: 6
D: 5
Blackhawks
SJ
O: 7
D: 3
OFF
OFF
@DAL
O: 8
D: 7
OFF
OFF
@PHO
O: 9
D: 7
3 / 1
O: 8
D: 5
Avalanche
OFF
OFF
@VAN
O: 4
D: 2
@CGY
O: 7
D: 2
OFF
@EDM
O: 8
D: 5
OFF
3 / 0
O: 6
D: 3
Blue Jackets
OFF
BOS
O: 4
D: 6
OFF
DET
O: 5
D: 4
OFF
@MIN
O: 6
D: 4
NJ
O: 3
D: 7
4 / 3
O: 6
D: 6
Stars
OFF
SJ
O: 7
D: 4
OFF
CHI
O: 8
D: 3
OFF
PHI
O: 6
D: 5
OFF
3 / 3
O: 6
D: 4
Red Wings
OFF
OFF
WAS
O: 5
D: 5
@CLS
O: 10
D: 6
OFF
@NSH
O: 7
D: 8
OFF
3 / 1
O: 7
D: 6
Oilers
OFF
OFF
OFF
PHO
O: 6
D: 5
OFF
COL
O: 7
D: 5
OFF
2 / 2
O: 4
D: 3
Panthers
OFF
PHI
O: 4
D: 6
OFF
TOR
O: 6
D: 7
OFF
NYI
O: 6
D: 6
OFF
3 / 3
O: 5
D: 6
Kings
OFF
@NSH
O: 4
D: 8
OFF
STL
O: 6
D: 6
OFF
ANA
O: 6
D: 7
OFF
3 / 2
O: 5
D: 7
Wild
@VAN
O: 3
D: 5
OFF
OFF
@SJ
O: 6
D: 5
OFF
CLS
O: 6
D: 5
MON
O: 5
D: 4
4 / 2
O: 6
D: 6
Canadiens
OFF
WAS
O: 5
D: 6
OFF
TB
O: 7
D: 5
@NYR
O: 6
D: 6
OFF
@MIN
O: 5
D: 7
4 / 2
O: 7
D: 7
Predators
OFF
LA
O: 3
D: 7
OFF
BOS
O: 3
D: 8
OFF
DET
O: 4
D: 5
@BUF
O: 5
D: 6
4 / 3
O: 5
D: 8
Devils
OFF
ATL
O: 4
D: 8
OFF
@OTT
O: 2
D: 9
WAS
O: 1
D: 8
OFF
@CLS
O: 4
D: 8
4 / 2
O: 3
D: 10
Islanders
OFF
@NYR
O: 4
D: 6
OFF
OFF
@CAR
O: 5
D: 7
@FLA
O: 3
D: 8
OFF
3 / 0
O: 4
D: 6
Rangers
OFF
NYI
O: 7
D: 6
OFF
OFF
MON
O: 6
D: 4
OFF
@PIT
O: 3
D: 8
3 / 2
O: 5
D: 6
Senators
OFF
PIT
O: 2
D: 7
OFF
NJ
O: 2
D: 8
OFF
TB
O: 4
D: 5
OFF
3 / 3
O: 2
D: 6
Flyers
OFF
@FLA
O: 5
D: 7
OFF
@ATL
O: 7
D: 5
OFF
@DAL
O: 7
D: 5
OFF
3 / 0
O: 6
D: 5
Coyotes
OFF
@CGY
O: 6
D: 1
OFF
@EDM
O: 8
D: 4
@VAN
O: 4
D: 1
OFF
CHI
O: 7
D: 1
4 / 1
O: 8
D: 2
Penguins
OFF
@OTT
O: 5
D: 8
OFF
OFF
OFF
OFF
NYR
O: 4
D: 6
2 / 1
O: 3
D: 4
Blues
OFF
OFF
@ANA
O: 8
D: 4
@LA
O: 5
D: 5
OFF
@SJ
O: 7
D: 3
OFF
3 / 0
O: 6
D: 4
Sharks
@CHI
O: 7
D: 4
@DAL
O: 6
D: 7
OFF
MIN
O: 5
D: 5
OFF
STL
O: 7
D: 4
OFF
4 / 2
O: 8
D: 6
Lightning
@TOR
O: 7
D: 6
OFF
OFF
@MON
O: 5
D: 4
OFF
@OTT
O: 5
D: 7
OFF
3 / 0
O: 5
D: 5
Maple Leafs
TB
O: 5
D: 5
OFF
@CAR
O: 5
D: 4
@FLA
O: 3
D: 5
OFF
BOS
O: 3
D: 6
OFF
4 / 2
O: 5
D: 6
Canucks
MIN
O: 5
D: 9
OFF
COL
O: 9
D: 9
OFF
PHO
O: 8
D: 9
OFF
OFF
3 / 3
O: 7
D: 8
Capitals
OFF
@MON
O: 4
D: 6
@DET
O: 4
D: 5
OFF
@NJ
O: 2
D: 9
OFF
OFF
3 / 0
O: 3
D: 6
"O" (offense) and "D" (defense) matchup ratings are based upon a scale from 1 (poor matchup) to 10 (excellent matchup), and are calculated using a formula that evaluates the team's year-to-date and past 21 days' statistics, their performance in home/road games depending on where the game is to be played, as well as their opponents' numbers in those categories. The
Games T / H
column lists the team's total number of games played as well as home games (T / H), and lists the cumulative rating from 1-10 of that week's matchups.
Flames remain hot: Exactly how a general manager stepping aside trickles down to make the players pick up their game is a mystery, but the Calgary Flames have been a different team since Darryl Sutter stepped down at the end of December. While a lot of the players are getting the fantasy respect they've commanded during the past couple months, some are not. Maybe you are among the 70 percent of ESPN owners not willing to give Curtis Glencross a chance or the 55 percent who don't seem to think Anton Babchuk is worth a roster spot. I'm guilty of this, too, but I've got news for you (us): These guys have sustained value better than at least half of the players you are starting in your fantasy lineup. And there doesn't seem to be an end in sight. You want the breakdown? Glencross, in 31 games since the calendar flipped to 2011, has 26 points and a plus-8. Babchuk has an equally impressive (for a defenseman) 18 points and a plus-17. Those numbers are spectacular. In case you need some context, Glencross is tied for seventh in the NHL for points since the All-Star break and Babchuk is tied for seventh amongst defensemen. The Flames start the three-game week with a pair of offensive 10s on the Forecaster.
Coyotes to howl: The Phoenix Coyotes may be on the receiving end of one of the Calgary Flames' 10s on the Forecaster, but they will be dishing it right back out next week on a solid four-game schedule. With a forecasted offensive rating of eight for the week, the Coyotes have lots of options for your fantasy week ahead. We've touched on Mikkel Boedker and Radim Vrbata in recent weeks. Vrbata, though cold for the past week, has picked up his play as the season has worn on. He scored six goals in February and the week ahead could help kick start what has been a slow March. Boedker has been aflame since the leash was taken off and he was assigned more than 10 minutes of ice time a game. He has eight points in his past nine games. But we can go a little deeper here. Kyle Turris and Brett MacLean have impressed since their latest AHL call up. Turris has five points in seven games since being brought up and has managed a plus-4 in his past six games. MacLean has two points in three games since a call up. The two young talents are playing together and, with Ray Whitney and Martin Hanzal day to day, they have an open door.
Brodeur back in the saddle: It hasn't been a sparkling season for Martin Brodeur by any means, but like the rest of the New Jersey Devils he seems keen on finishing strong. Brodeur has only allowed seven goals in his past five games (1.36 goals-against average) as the Devils won four of the contests. (I was going to write a sentence here about how you can't benefit because he is owned in every league, but he is actually available in 1.7 percent of ESPN leagues, so have a look). Obviously, not many of you can pick up Brodeur to benefit, but consider the plus/minus potential for his teammates during a week in which the Forecaster calls for dominating defense for the Devils. Barely owned defensive partners Henrik Tallinder and Mark Fayne are each plus-9 during the past month (Fayne even has a modest five points). Both players could offer a cheap boost to the one category next week.
Quick Hits
• Braden Holtby has notched back-to-back shutouts for the Washington Capitals while Michael Neuvirth is hurt. The Caps face the Montreal Canadiens, a slumping Detroit Red Wings offense and the Devils who, while winning, are not scoring a whole lot. Not a bad week to work Holtby into your rotation.
• The New York Rangers have only an average week ahead on the Forecaster, but Vaclav Prospal, Ryan Callahan and Erik Christensen are available to some extent in ESPN leagues and have all been trending positively in recent weeks.
• It was Tom Wandell, not Jamie Benn, who played alongside Brad Richards and Loui Eriksson in Richards' return from a concussion. Wandell filled the departed James Neal's role on the first line. Wandell doesn't offer much for fantasy owners, but it is notable that Benn seems to be doing just fine as part of the second line with Brenden Morrow and Mike Ribeiro. If Wandell doesn't help pick up Richards and Eriksson soon, expect an opportunity for Jamie Langenbrunner to open up on the top line. Now that might be interesting for fantasy.
• I wish Max Pacioretty the best, but we won't be seeing him again this fantasy season for the Montreal Canadiens. Benoit Pouliot stepped up to claim the spot on a line with Scott Gomez and Brian Gionta. It's an opportunity for Pouliot, who does have a scorer's mentality.
• Eric Fehr returned to the Capitals lineup and potted a pair of goals in his first game back. The underrated forward skated on the third line with Brooks Laich. In related news, Marco Sturm joined Jason Arnott and Alexander Semin on the top unit.
• With Dave Bolland potentially out for a while with a concussion, Michael Frolik finally gets his chance with the Chicago Blackhawks. He'll skate on the second line with Marian Hossa and Bryan Bickell.
• Andrei Kostitsyn's inspired play on the Habs third line is starting to rub off. Lars Eller, the talented prospect the team gave up Jaroslav Halak for, is worth a look.
• They are not the easiest group on your plus/minus, but there is no question who the top line for the Minnesota Wild is with Mikko Koivu still on the sidelines. Kyle Brodziak, Pierre-Marc Bouchard and Martin Havlat have a combined 19 points in the past seven games (and a combined minus-7). Note, however, that Koivu could return as early as this weekend (he's available in 30 percent of ESPN leagues).
• This note for deep league owners only: Trade deadline acquisitions Sergei Samsonov and Niclas Bergfors could do worse than to be skating with Stephen Weiss for the Florida Panthers. If (and that is a big "if") this team gets on a hot streak, I expect most of the offense to flow through that line.
• If you feel having a ringer around for the final seven games of the season would be worth a roster spot now, this is probably one of the last chances to sneak Zach Parise on your roster. Now that he is skating with the team, the positive news reports will only heighten your leaguemates awareness of him between now and a possible late-March return.
• I still find it troubling that a plus-26 defenseman is available in almost 65 percent of ESPN leagues. Dan Hamhuis is a first-pairing defenseman that gets second power-play unit time, too. See if he isn't a better option than your fourth or fifth defenseman.
Sean Allen is a fantasy analyst for ESPN.com. He is the 2008 and 2009 Fantasy Sports Writers Association, Hockey Writer of the Year. You can e-mail him here.
Sean Allen is a fantasy analyst for ESPN.com. He was the 2008 and 2009 Fantasy Sports Writers Association Hockey Writer of the Year. You can tweet him
@seanard
.
SPONSORED HEADLINES
FANTASY TOP HEADLINES
MOST SENT STORIES ON ESPN.COM