Commentary
Fantasy Forecaster: Week of April 4
Updated:
April 1, 2011, 12:38 PM ET
By
Sean Allen
| Special to ESPN.com
This is it folks. The final Forecaster of the season sets out the final week as you battle for your league championship. Whether you are putting in your final week of a head-to-head league for the final or attempting to eek out a couple extra points in your rotisserie league, you have about 10 days of effort left to put in. This Forecaster takes a look at the final seven days and maps out where you might find some last-minute help.
Rather than pick out a few highlights from the week to discuss, I am going all in for this final Forecaster of the season and will focus on each of the 30 NHL teams. Along the way we will identify some sits, starts and pickups for this final leg of a long journey that began in October.
Team

Mon
4/4

Tue
4/5

Wed
4/6

Thu
4/7

Fri
4/8

Sat
4/9

Sun
4/10

Games
T / H

Ducks
OFF
OFF
SJ
O: 9
D: 2
OFF
LA
O: 5
D: 6
@LA
O: 4
D: 5
OFF
3 / 2
O: 6
D: 4
Thrashers
OFF
@NSH
O: 7
D: 3
OFF
@NYR
O: 7
D: 2
CAR
O: 6
D: 4
OFF
PIT
O: 3
D: 6
4 / 2
O: 7
D: 5
Bruins
@NYR
O: 5
D: 7
OFF
NYI
O: 6
D: 8
OFF
OFF
OTT
O: 4
D: 8
@NJ
O: 3
D: 10
4 / 2
O: 6
D: 10
Sabres
OFF
TB
O: 7
D: 5
OFF
OFF
PHI
O: 6
D: 6
@CLS
O: 6
D: 9
OFF
3 / 2
O: 6
D: 6
Flames
OFF
OFF
EDM
O: 9
D: 7
OFF
OFF
VAN
O: 7
D: 1
OFF
2 / 2
O: 5
D: 2
Hurricanes
OFF
OFF
DET
O: 6
D: 2
OFF
@ATL
O: 6
D: 5
TB
O: 6
D: 3
OFF
3 / 2
O: 6
D: 3
Blackhawks
OFF
@MON
O: 7
D: 7
STL
O: 9
D: 3
OFF
@DET
O: 8
D: 3
OFF
DET
O: 8
D: 1
4 / 2
O: 10
D: 4
Avalanche
OFF
@STL
O: 8
D: 2
OFF
@DAL
O: 7
D: 4
DAL
O: 7
D: 1
OFF
EDM
O: 8
D: 3
4 / 2
O: 9
D: 3
Blue Jackets
OFF
@DAL
O: 5
D: 4
OFF
OFF
@NSH
O: 4
D: 5
BUF
O: 3
D: 4
OFF
3 / 1
O: 4
D: 4
Stars
OFF
CLS
O: 7
D: 7
OFF
COL
O: 10
D: 5
@COL
O: 8
D: 5
OFF
@MIN
O: 5
D: 6
4 / 2
O: 9
D: 7
Red Wings
OFF
OFF
@CAR
O: 10
D: 6
OFF
CHI
O: 8
D: 2
OFF
@CHI
O: 10
D: 4
3 / 1
O: 9
D: 4
Oilers
OFF
VAN
O: 2
D: 1
@CGY
O: 6
D: 2
OFF
MIN
O: 3
D: 5
OFF
@COL
O: 7
D: 3
4 / 2
O: 6
D: 3
Panthers
OFF
OFF
@WAS
O: 1
D: 7
OFF
@TB
O: 3
D: 5
WAS
O: 2
D: 6
OFF
3 / 1
O: 2
D: 6
Kings
@SJ
O: 6
D: 5
OFF
PHO
O: 5
D: 9
OFF
@ANA
O: 5
D: 6
ANA
O: 5
D: 7
OFF
4 / 2
O: 7
D: 8
Wild
OFF
OFF
OFF
@VAN
O: 4
D: 2
@EDM
O: 7
D: 7
OFF
DAL
O: 6
D: 4
3 / 1
O: 5
D: 4
Canadiens
OFF
CHI
O: 5
D: 3
OFF
@OTT
O: 5
D: 7
OFF
@TOR
O: 8
D: 7
OFF
3 / 1
O: 5
D: 5
Predators
OFF
ATL
O: 6
D: 7
OFF
OFF
CLS
O: 4
D: 9
@STL
O: 5
D: 5
OFF
3 / 2
O: 5
D: 6
Devils
OFF
@PIT
O: 1
D: 9
TOR
O: 4
D: 9
OFF
OFF
@NYR
O: 2
D: 7
BOS
O: 1
D: 7
4 / 2
O: 3
D: 10
Islanders
OFF
OFF
@BOS
O: 4
D: 4
OFF
PIT
O: 4
D: 5
@PHI
O: 5
D: 4
OFF
3 / 1
O: 4
D: 4
Rangers
BOS
O: 4
D: 5
OFF
OFF
ATL
O: 7
D: 7
OFF
NJ
O: 3
D: 9
OFF
3 / 3
O: 5
D: 6
Senators
OFF
PHI
O: 4
D: 5
OFF
MON
O: 4
D: 6
OFF
@BOS
O: 3
D: 6
OFF
3 / 2
O: 3
D: 5
Flyers
OFF
@OTT
O: 5
D: 7
OFF
OFF
@BUF
O: 5
D: 5
NYI
O: 7
D: 7
OFF
3 / 1
O: 5
D: 6
Coyotes
OFF
OFF
@LA
O: 2
D: 5
OFF
SJ
O: 6
D: 2
@SJ
O: 6
D: 1
OFF
3 / 1
O: 4
D: 3
Penguins
OFF
NJ
O: 1
D: 10
OFF
OFF
@NYI
O: 6
D: 8
OFF
@ATL
O: 7
D: 8
3 / 1
O: 4
D: 8
Blues
OFF
COL
O: 9
D: 6
@CHI
O: 5
D: 3
OFF
OFF
NSH
O: 6
D: 7
OFF
3 / 2
O: 6
D: 5
Sharks
LA
O: 6
D: 5
OFF
@ANA
O: 9
D: 4
OFF
@PHO
O: 8
D: 6
PHO
O: 9
D: 5
OFF
4 / 2
O: 10
D: 6
Lightning
OFF
@BUF
O: 6
D: 4
OFF
OFF
FLA
O: 6
D: 7
@CAR
O: 8
D: 6
OFF
3 / 1
O: 6
D: 5
Maple Leafs
OFF
WAS
O: 2
D: 5
@NJ
O: 3
D: 5
OFF
OFF
MON
O: 4
D: 5
OFF
3 / 2
O: 3
D: 4
Canucks
OFF
@EDM
O: 10
D: 10
OFF
MIN
O: 6
D: 9
OFF
@CGY
O: 10
D: 6
OFF
3 / 1
O: 8
D: 8
Capitals
OFF
@TOR
O: 6
D: 9
FLA
O: 3
D: 9
OFF
OFF
@FLA
O: 3
D: 10
OFF
3 / 1
O: 4
D: 8
"O" (offense) and "D" (defense) matchup ratings are based upon a scale from 1 (poor matchup) to 10 (excellent matchup), and are calculated using a formula that evaluates the team's year-to-date and past 21 days' statistics, their performance in home/road games depending on where the game is to be played, as well as their opponents' numbers in those categories. The
Games T / H
column lists the team's total number of games played as well as home games (T / H), and lists the cumulative rating from 1-10 of that week's matchups.
Anaheim Ducks: The Ducks close the season within their division, facing the San Jose Sharks and then a home-and-home with the Los Angeles Kings. The Ducks will likely be fighting for a playoff spot or playoff seeding in the Western Conference during this final three-game week. The Ducks have been hot on offense lately, but are top heavy in offense with most of the scoring generated by players universally owned in fantasy. Cam Fowler would be the exception to the rule as he remains available in more than 50 percent of ESPN leagues and has managed eight points in the past nine games. [e] Ray Emery could also be a fantasy hero in the final week the way he has seized the goaltending duties for the Ducks as Jonas Hiller still ails from symptoms of vertigo. Emery is perfect between the pipes with six wins in six starts and a 1.90 goals-against average. He is also available in more than 50 percent of leagues.
Atlanta Thrashers: The Thrashers close the season with a four-game week that averages a decent rating of seven on the Forecaster for offense. The first three games against the Nashville Predators, New York Rangers and Carolina Hurricanes rate much better than the season finale against the Pittsburgh Penguins. The team has been slumping somewhat on offense and defense. Blake Wheeler is likely the only candidate from this team off the free-agent wire for the final week, but even his case is pretty weak given result results.
Boston Bruins: The Bruins close with one of the best defensive ratings on the Forecaster for the final week, which is a four-game affair for the club. As the Bruins set their sights on improving their playoff seeding, the club's two-way players have been stepping back into the limelight. The line of Patrice Begeron, Mark Recchi and Brad Marchand has made some noise after being quiet for much of the month of March. Recchi and Marchand could make nice options for next week if they continue scoring through the weekend.
Buffalo Sabres: Jhonas Enroth may be the one handling the Sabres netminding duties as they play out a favorable final week on the Forecaster. Filling in after Ryan Miller suffered an upper-body injury Wednesday night, Enroth notched a shutout. The talented prospect would be due for a strong week with games against the Tampa Bay Lightning, Philadelphia Flyers and Columbus Blue Jackets if Miller were unable to suit up. [e] On offense for the Sabres, the play of Nathan Gerbe makes him a plausible add, and Andrej Sekera's recent plus/minus exploits stand out.
Calgary Flames: The Flames light final week has only the Edmonton Oilers and Vancouver Canucks on tap. The game against the Oilers looks like a gem on the Forecaster, the Canucks contest not so much. If you play in a league that locks rosters for the week, I would advise staying away from all Flames except maybe Jarome Iginla and Mark Giordano. If you have daily rosters you can probably enjoy one more game out of Rene Bourque or Alex Tanguay against the Oilers.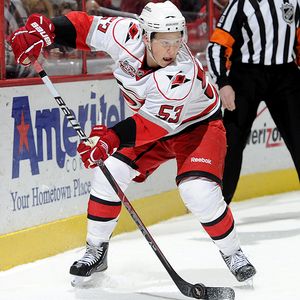 Greg Fiume/NHLI/Getty ImagesJeff Skinner is looking for his 30th goal and 30th assists -- and 60th points -- of his rookie campaign.
Carolina Hurricanes: The Hurricanes close with games against the Detroit Red Wings, Thrashers and Lightning. Not completely out of the playoff race, the Canes offense has been playing well in recent weeks. The top line has been buzzing, making Cory Stillman an option off the waiver wire. He has five points in the past four games. Jeff Skinner's hot play is helping on the second line as well. The widely available Tuomo Ruutu and Jussi Jokinen are each plus-4 in the past four games.
Chicago Blackhawks: The Hawks have one of the best offensive ratings for the final week of play. With games against the Montreal Canadiens, St. Louis Blues and then a two-game set with the Red Wings, the Hawks have a 10 on offense for the Forecaster. Fighting for a playoff spot, the Blackhawks will have to take advantage of the strong rating and score some points. They have not been performing in recent games, but Troy Brouwer and Michael Frolik will need to pull their wait as long as Patrick Sharp is out of the lineup (which could be until the end of the regular season). Given the lousy track record, Brouwer and Frolik are gambles, but given the strong Forecaster rating, the odds aren't terrible.
Colorado Avalanche: The Avs get to finish a crummy season on a possible high note with a very good offensive Forecast during a four-game week. The Avalanche will take on the Blues, the Dallas Stars twice and then fellow cellar-dwelling Oilers to close the books on 2010-11. Matt Duchene is pushing hard to make his sophomore season one to remember with a sustained hot streak during the past 10 games. Now featured on a top line with Paul Stastny and Milan Hejduk, he should help make the Avs top three players useful for the final week. Erik Johnson would join that group as the team's top defenseman, too. Hejduk is the most available of the group with ownership at just 71 percent of ESPN leagues.
Columbus Blue Jackets: Rick Nash sat out Thursday with an undisclosed injury, which almost erases any interest any fantasy owner had in this lineup. The Blue Jackets plays the Stars, Nashville Predators and Sabres to finish the season. But if the Blue Jackets offense is in the middle of a forest with no Nash around, can it score? R.J. Umberger will probably earn his keep with Jakub Voracek and Derick Brassard on the top line, but since we don't know what is ailing Nash he could also return soon. The real bottom line here is that no one on the team not named Nash or Umberger has more than three points during the past seven games. Look elsewhere for the final week of play if you need free agents.
Dallas Stars: The Stars have a great offensive and defensive rating on the Forecaster with four games during the final week. The team takes on the Blue Jackets, Avalanche twice and closes the season against the Minnesota Wild. Jamie Benn's availability is down to just 12 percent of ESPN leagues, but it's worth a look to see if he is there. The other option, which could also provide some penalty minutes, is Steve Ott. Ott is providing top line duties with Brad Richards and Loui Eriksson.
Detroit Red Wings: The Wings have a decent offensive Forecast as well, with a game against the Hurricanes followed by the two-game set with the Blackhawks. Pavel Datsyuk is expected back in the lineup by next week, which means Daniel Cleary is a possible option on the free-agent pile. Cleary has been a solid asset whenever Datsyuk is in the lineup with him. Valtteri Filppula has also looked solid on a line with Johan Franzen and Todd Bertuzzi. [e] And remember: If you are desperate for a power-play specialist, Mike Modano remains on the first unit and does get enough power-play points to be used to pad your stats in that category.
Edmonton Oilers: With a pile of injuries and a lack of offense, the Oilers haven't been very useful in recent weeks. Don't sweat them too much when setting your lineup. The team does have four games to offer, but with a poor Forecaster rating in three of them, the Oilers aren't likely worth your time. I would keep an eye on that final game of the season against the Avalanche, which could be a duel for the league's worst record. Such dubious events tend to bring out the offense.
Florida Panthers: The Panthers likely have the worst three-game schedule in the final week with two contests against the Washington Capitals sandwiched around a game with the Lightning. If you are truly clinging for some kind of offering here, it is good to see Evgeni Dadonov back with the club. He has four goals in seven games.
Los Angeles Kings: The ankle break heard round the world will have a negative impact on many fantasy lineups in the final week, but also on the Kings lineup as they struggle without Anze Kopitar. Looking at the lines that failed to generate much offense against the Canucks on Thursday, Oscar Moller is of interest playing with Dustin Penner and Michal Handzus. It does not look as promising for Dustin Brown and Ryan Smyth, however, as they are playing with Trevor Lewis. The Kings finish the year with games against the Sharks, Phoenix Coyotes and a pair of games against the Ducks. I wouldn't be too excited for their potential in this key timeframe.
Minnesota Wild: The Wild close the books on the season with games against the Canucks, Oilers and Stars, but with only one player showing off fantasy relevance lately the news is not all that enticing. Mikko Koivu has six points in the past six games; no one else has more than three.
Montreal Canadiens: The Habs will try to solidify their playoff standing with contests against the Blackhawks, Ottawa Senators and Toronto Maple Leafs. The Canadiens' top scorers during the past two weeks have actually been defensemen P.K Subban and James Wisniewski, which doesn't leave a lot of confidence for the offense. After being shutout three games in a row, the team still has not regained it's footing up front. There doesn't appear to be any great options off the waiver wire here.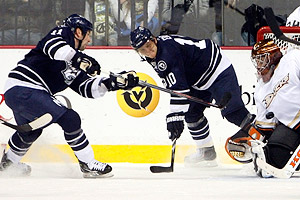 AP Photo/Mark HumphreyDavid Legwand and Martin Erat each scored 15 points in 15 March contests.
Nashville Predators: The Preds have a couple key players heating up as the season winds down. Since David Legwand and Martin Erat have kicked things into high gear as a duo on the second line (could be considered the first line), Mike Fisher, Patric Hornqvist and Sergei Kostitsyn have started finding the twine as well. Kostitsyn has an eight-game point streak that has helped fuel some offense for both Fisher and Hornqvist as well. The Predators get the Thrashers, Blue Jackets and Blues in the final week and while the Forecaster rating isn't all that great the recent play of these forwards is reason enough to consider them for your roster.
New Jersey Devils: The Devils may be out of playoff contention by the time next week rolls around and the failed playoff run is starting to show on offense. With just four team goals in the past four games, no one has been especially valuable of late. The final week provides one of the worst Forecaster ratings on offense despite the fact that Devils have four games. Playing the Penguins, Maple Leafs, New York Rangers and Bruins may not provide opportunities for a tone of fantasy value. [e] There is one silver lining though, as Zach Parise is expected back in action this weekend. He could provide a jolt for linemate Travis Zajac and provide some offense himself.
New York Islanders: The Isles don't have an easy final week with the Bruins, Penguins and Phildelphia Flyers on tap. Still, with Michael Grabner expected back in the lineup this weekend, his line is always a threat. Though Grabner and Kyle Okposo may have to deal without Frans Nielsen, who left Thursday's game after being boarded. Blake Comeau and P.A. Parenteau are also options during the final week thanks to their continued presence with John Tavares.
New York Rangers: The Rangers have a poor offensive Forecast for games against the Bruins, Thrashers and Devils during the final week. The team will be fighting for a playoff spot though, so expect some of the players to push extra hard. Derek Stepan has the envious role of playing on a line with Marian Gaborik and Vaclav Prospal for the time being, making him a fantasy option. [e] Keep an eye on Henrik Lundqvist's health as well. Chad Johnson, the current backup, isn't a fantasy option if King Henrik's knee needs rest, but you will need to look somewhere for help if Lundqvist misses time.
Ottawa Senators: The Senators yawn their way out of the season with a weak Forecast against the Flyers, Canadiens and Bruins. Though Jason Spezza and Craig Anderson remain useable, the list gets pretty short from there. Erik Condra has used the playing time afforded him to manage five points in seven games, but on a line with Ryan Shannon and Milan Michalek does not guarantee continued success. The same can be said for Marek Svatos, who managed a pair of multi-point games in his past three. Svatos does sniff the power play on the second unit, but is buried on the fourth line at even strength.
Philadelphia Flyers: The final week of the season brings the Senators, Sabres and Islanders for the Eastern Conference leading Flyers. It's an average week on the Forecaster, but with all cylinders firing again, most Flyers are owned and used in your fantasy league. One puzzle piece not being fully exploited would be the plus/minus of Andrej Meszaros. If that is your one need for a final push, he is your man.
Phoenix Coyotes: The Coyotes catch the Kings and then a pair of games against the Sharks in the final week. It's a very poor Forecaster rating for the week and given the slow play of the offense during the past five games, the Coyotes may not be the team of choice. Mikkel Boedker may be the exception as he has managed three points and a plus-4 during those five games. One the backend, David Schlemko is providing moderate value of the wire for a defenseman.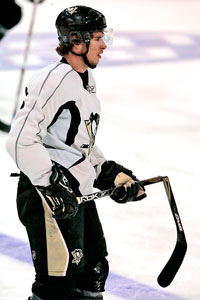 AP Photo/Gene J. PuskarSidney Crosby will be as useful as a broken stick in the final week of the season.
Pittsburgh Penguins: It's too bad it doesn't sound like Sidney Crosby will come back for the final week. Especially since the Penguins haven't managed more than two goals in their past five games. Chris Kunitz, Jordan Staal and Tyler Kennedy lost the chemistry they had and it's Alexei Kovalev, of all people, providing the offense. Kovalev has points in three straight and has looked solid since Mark Letestu returned to center him. The Pens defensive rating remains strong for the final three games against the Devils, Islanders and Thrashers, so have no fear in starting Marc-Andre Fleury.
St. Louis Blues: Although it doesn't look like their late season push will get them into the playoffs, the Blues do have a promising final week. Games against the Avalanche, Blackhawks and Predators give one more opportunity for Andy McDonald and David Backes to stake their claim as top offensive weapons for next year. Matt D'Agostini continues to benefit from lining up with both players at even strength. Chris Stewart is also piling in more goals as Patrik Berglund has stepped up his play as a linemate of Stewart both on and off the power play. Kevin Shattenkirk is also on another hot streak to end the season. The Blues are full of fantasy options for the final week, despite the lacklustre Forecaster rating.
San Jose Sharks: If you have to pick one offensive player for the final week, see if you are in one of the 33 percent of ESPN leagues with Devin Setoguchi still available. The Sharks have a four-game final week with a 10 on Forecaster for offense. Games against the Kings, Ducks and a pair against the Coyotes should allow Setoguchi, to continue his torrent second half right to the final bell.
Tampa Bay Lightning: The Bolts close with games against the Sabres, Panthers and Hurricanes in three matchups that might be against all non-playoff teams. Simon Gagne appears intent on ending the season on fire and has seven points in four games and 13 points in his past eight. He is available in 40 percent of ESPN leagues and ranks just behind Devin Setoguchi and with Jamie Benn as one of the top free agents in the final week.
Toronto Maple Leafs: The Maple Leafs might still be hanging on to slim playoff hopes next week in games against the Capitals, Devils and Canadiens. Joffrey Lupul is the key pickup here as Phil Kessel's continued hot play has finally started rubbing off on the linemate that sparked him in the first place. Lupul has six points in the past five games and is widely available in ESPN leagues. [e] Nazem Kadri is the other Leaf to keep an eye on as his confidence continues to build. His shootout winner on Thursday could fuel a late season charge to establish his role in the NHL for next season. Kadri does have five points in the past six games.
Vancouver Canucks: No one can catch the Canucks anymore, so don't be surprised to see them take the foot off the pedal just a bit. Cory Schneider may get more than one of the team's three games in the final week as Roberto Luongo rests for the playoffs. The Canucks have superb Forecaster ratings for the week, so expect Schneider to do very well when he does start. He is a sneaky final week addition for those needing a goaltending boost. [e] Also keep an eye on Mikael Samuelsson's health. If he continues to miss time, Christopher Higgins will perform admirably in his place as they are both of the same mould.
Washington Capitals: Jason Arnott is back in the lineup and scored a goal on Thursday night while skating with Alexander Semin and Marco Sturm. Semin has been somewhat hot lately and that should rub off on the two veterans sharing the ice with him. The Caps final week schedule boasts a below-average Forecast for offense though, so do be wary. The game against the Maple Leafs rates fine, but for some reason the Caps don't stack up in a two-game series with the Panthers to close the season. This may be a situation to shrug aside the Forecaster and trust your instincts that the Caps are likely a safe start against the troubled Panthers.
That's it folks. Best of luck in your league. Check back next week for the preliminary top forward, defenseman and goaltender rankings for 2011-12 and be sure to sign up for the new ESPN.com Hockey Playoff Challenge.
Sean Allen is a fantasy analyst for ESPN.com. He is the 2008 and 2009 Fantasy Sports Writers Association, Hockey Writer of the Year. You can e-mail him here.
Sean Allen is a fantasy analyst for ESPN.com. He was the 2008 and 2009 Fantasy Sports Writers Association Hockey Writer of the Year. You can tweet him
@seanard
.
SPONSORED HEADLINES
FANTASY TOP HEADLINES
MOST SENT STORIES ON ESPN.COM