Commentary
Fantasy Forecaster: Week 2
If Sidney Crosby returns to action soon, many Penguins players could thrive
Updated:
October 17, 2011, 3:20 AM ET
By
Sean Allen
| Special to ESPN.com
If you bet sooner instead of later on Sidney Crosby's return to the Pittsburgh Penguins' lineup, good on you. Crosby has been cleared for contact in practice and, unless he runs into a setback, could return within a couple weeks. That may be speaking optimistically, but there is no reason not to be optimistic at this point. Crosby has been practicing hard, despite no contact, since training camp, and once he proves he can handle contact there will be no barriers left to his return to the lineup.
Now, this news may not help much if you only focus on the main point. Crosby was drafted in every league and probably in the first round. No one is going to trade him now. But if we look a little deeper, owners may not be so protective of other Penguins commodities and some may even be available to you on the free-agent list.
[+] Enlarge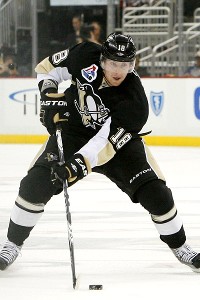 Charles LeClaire\US PresswireJames Neal is poised to put up big numbers for the Penguins, no matter which superstar he'll be skating with.
James Neal: While talented in his own right, Neal is the model scoring winger for a talented centerman. He proved it with the Dallas Stars as one of Brad Richards' go-to linemates for several seasons. Though he fell a little short, Neal showed 30-goal potential with the Stars. With the Penguins, Neal will be the finisher that Crosby has missed so much the past several seasons. Pascal Dupuis, Matt Cooke and even Chris Kunitz don't have Neal's scoring acumen. So far this season, Neal has been paired with Steve Sullivan and Evgeni Malkin. However, we won't know which line assignment will belong to Crosby and which to Malkin yet. The best part is that it doesn't really matter. If Neal is with Crosby, he is with the best player in the game. If Neal is with Malkin, he is with one of the best players in the game with opposing teams stuck focusing on a different line. Besides, Neal will get power-play time with Crosby either way. With an average draft position around 94th in ESPN leagues, it is clear Neal isn't being considered a 40-goal threat by many leagues and will be a great trade target in lieu of Crosby himself.
Steve Sullivan: A healthy Sullivan represents a speedy, shifty player with the ability to be a playmaker or goal scorer depending on his team's needs. On a line with Neal and either Crosby or Malkin, Sullivan will have the opportunity to do exactly that. While Sullivan does come with concerns over his durability, he could join your team at minimal cost. Sullivan's average draft position is 198th and he is still available in 27 percent of ESPN leagues. Whether you just pick him up or trade for him, Sullivan could be had on the cheap. If he ends up skating with Crosby, a point-per-game pace is not out of the question. After all, Sullivan managed a point-per-game pace as recently as 2006-07 and he was the main cog of the Nashville Predators' offense that season.
Tyler Kennedy: If Crosby isn't playing with Neal and Sullivan, he will be playing on a line with Kunitz and Kennedy. Currently available in 97 percent of ESPN leagues, Kennedy is the cheap and easy target for you to attempt to reap some of the fantasy windfall from Crosby's return. Kennedy doesn't have the scoring prowess of a Neal or Sullivan, but he is no slouch, either. Rarely playing a top-six role with the Pens until last season, Kennedy made good on the extra ice time he was afforded with injuries to Crosby and Malkin. Scoring 21 goals and 24 assists, Kennedy showed he can put up some points when asked to. With a scoring-line role and a Crosby or Malkin as his centerman, the ceiling is much higher than the 45 points he scored last season.
Evgeni Malkin: Some of the hype surrounding a big bounce-back season from Malkin stemmed from the idea that he would be the Penguins No. 1 center for a couple months (or longer) while we waited for Crosby to recover. Surely a few Malkin owners had that idea in their heads when they took him early in drafts. With news Crosby will be returning imminently, that Malkin owner may be feeling a bit down on his or her top draft choice this season. Quick reminder: In 2008-09 Malkin potted 113 points to win the Art Ross Trophy, but that was not the season that Crosby was injured and missed 30 games (that was the previous season). No, in 2008-09 Crosby scored 103 points. There is plenty to go around for these two superstars, and the presence of both only makes the team better. Malkin is still primed for a big bounce-back season, and Crosby's return only bolsters the feeling. But it wouldn't hurt to test the Malkin owner in your league to see if he or she feels otherwise.
Paul Martin and Matt Niskanen: With Crosby in the fold, the Penguins offense gets more productive from top to bottom. That includes the second power-play unit where Martin and Niskanen patrol the blue line. A vast majority of the blue-line production will come from Kris Letang on this team, but there will be table scraps left for others. Martin is the better puck mover of the two, but Niskanen will protect your plus-minus and has a better shot. Both players should move toward becoming fantasy relevant once the trickle down from Crosby's return sets in.
Team

Mon
10/17

Tue
10/18

Wed
10/19

Thu
10/20

Fri
10/21

Sat
10/22

Sun
10/23

Games
T / H

Ducks
@SJ
O: 9
D: 1
OFF
OFF
OFF
DAL
O: 6
D: 6
OFF
PHO
O: 7
D: 5
3 / 2
O: 9
D: 2
Bruins
OFF
CAR
O: 4
D: 7
OFF
TOR
O: 7
D: 7
OFF
SJ
O: 8
D: 1
OFF
3 / 3
O: 7
D: 5
Sabres
OFF
@MTL
O: 5
D: 7
OFF
@FLA
O: 5
D: 7
OFF
@TB
O: 7
D: 4
OFF
3 / 0
O: 5
D: 6
Flames
OFF
EDM
O: 8
D: 7
OFF
NYR
O: 6
D: 7
OFF
NSH
O: 7
D: 4
OFF
3 / 3
O: 9
D: 6
Hurricanes
OFF
@BOS
O: 4
D: 4
OFF
OFF
@STL
O: 7
D: 4
@WPG
O: 8
D: 4
OFF
3 / 0
O: 6
D: 4
Blackhawks
OFF
@PHO
O: 7
D: 6
OFF
@COL
O: 7
D: 6
OFF
COL
O: 7
D: 4
OFF
3 / 1
O: 9
D: 6
Avalanche
@TOR
O: 8
D: 5
OFF
OFF
CHI
O: 6
D: 2
OFF
@CHI
O: 6
D: 5
OFF
3 / 1
O: 7
D: 3
Blue Jackets
OFF
DAL
O: 4
D: 5
OFF
OFF
@DET
O: 6
D: 3
@OTT
O: 7
D: 3
OFF
3 / 1
O: 5
D: 3
Stars
OFF
@CLS
O: 5
D: 7
OFF
OFF
@ANA
O: 4
D: 6
@LA
O: 2
D: 5
OFF
3 / 0
O: 3
D: 6
Red Wings
OFF
OFF
OFF
OFF
CLS
O: 6
D: 7
@WSH
O: 6
D: 6
OFF
2 / 1
O: 3
D: 4
Oilers
NSH
O: 2
D: 5
@CGY
O: 3
D: 4
OFF
MIN
O: 2
D: 6
OFF
NYR
O: 1
D: 8
OFF
4 / 3
O: 1
D: 7
Panthers
@TB
O: 4
D: 4
@WSH
O: 1
D: 6
OFF
BUF
O: 6
D: 4
OFF
NYI
O: 5
D: 7
OFF
4 / 2
O: 5
D: 7
Kings
OFF
STL
O: 7
D: 7
OFF
@PHO
O: 6
D: 7
OFF
DAL
O: 6
D: 8
OFF
3 / 2
O: 6
D: 7
Wild
OFF
PIT
O: 4
D: 4
OFF
@EDM
O: 5
D: 8
OFF
@VAN
O: 2
D: 3
OFF
3 / 1
O: 3
D: 5
Canadiens
OFF
BUF
O: 6
D: 3
OFF
@PIT
O: 5
D: 6
OFF
TOR
O: 8
D: 7
OFF
3 / 2
O: 5
D: 5
Predators
@EDM
O: 6
D: 8
OFF
OFF
@VAN
O: 2
D: 4
OFF
@CGY
O: 6
D: 6
OFF
3 / 0
O: 4
D: 6
Devils
OFF
OFF
OFF
OFF
SJ
O: 7
D: 2
@PIT
O: 3
D: 6
OFF
2 / 1
O: 2
D: 1
Islanders
OFF
OFF
OFF
@TB
O: 6
D: 4
OFF
@FLA
O: 3
D: 8
OFF
2 / 0
O: 2
D: 3
Rangers
OFF
@VAN
O: 2
D: 4
OFF
@CGY
O: 4
D: 6
OFF
@EDM
O: 4
D: 9
OFF
3 / 0
O: 3
D: 6
Senators
OFF
PHI
O: 8
D: 1
OFF
WPG
O: 7
D: 4
OFF
CLS
O: 9
D: 4
OFF
3 / 3
O: 10
D: 2
Flyers
OFF
@OTT
O: 7
D: 6
OFF
WSH
O: 4
D: 6
OFF
STL
O: 7
D: 6
OFF
3 / 2
O: 6
D: 6
Coyotes
OFF
CHI
O: 6
D: 3
OFF
LA
O: 4
D: 4
OFF
OFF
@ANA
O: 6
D: 4
3 / 2
O: 5
D: 4
Penguins
@WPG
O: 9
D: 8
@MIN
O: 7
D: 8
OFF
MTL
O: 3
D: 8
OFF
NJ
O: 3
D: 10
OFF
4 / 2
O: 9
D: 10
Blues
OFF
@LA
O: 3
D: 4
OFF
OFF
CAR
O: 6
D: 5
@PHI
O: 5
D: 3
OFF
3 / 1
O: 4
D: 4
Sharks
ANA
O: 9
D: 5
OFF
OFF
OFF
@NJ
O: 6
D: 7
@BOS
O: 7
D: 5
OFF
3 / 1
O: 9
D: 6
Lightning
FLA
O: 7
D: 7
OFF
OFF
NYI
O: 8
D: 6
OFF
BUF
O: 7
D: 4
OFF
3 / 3
O: 9
D: 6
Maple Leafs
COL
O: 7
D: 5
OFF
WPG
O: 7
D: 4
@BOS
O: 3
D: 2
OFF
@MTL
O: 3
D: 3
OFF
4 / 2
O: 8
D: 5
Canucks
OFF
NYR
O: 6
D: 8
OFF
NSH
O: 6
D: 8
OFF
MIN
O: 8
D: 8
OFF
3 / 3
O: 7
D: 7
Capitals
OFF
FLA
O: 5
D: 9
OFF
@PHI
O: 4
D: 7
OFF
DET
O: 6
D: 5
OFF
3 / 2
O: 5
D: 7
Jets
PIT
O: 2
D: 4
OFF
@TOR
O: 8
D: 4
@OTT
O: 8
D: 4
OFF
CAR
O: 5
D: 4
OFF
4 / 2
O: 10
D: 5
"O" (offense) and "D" (defense) matchup ratings are based upon a scale from 1 (poor matchup) to 10 (excellent matchup), and are calculated using a formula that evaluates the team's year-to-date and past 21 days' statistics, their performance in home/road games depending on where the game is to be played, as well as their opponents' numbers in those categories. The
Games T / H
column lists the team's total number of games played as well as home games (T / H), and lists the cumulative rating from 1-10 of that week's matchups.
Offensive Highlights
Ottawa Senators The plus-minus rating of Senators players is not a surprise, but the fairly consistent offense through four games is a bit of a shocker. The Sens have an O:10 rating for next week's Forecaster with games against the Philadelphia Flyers, Winnipeg Jets and Columbus Blue Jackets. Of all the Senators not considered fantasy relevant coming into this season, Milan Michalek is off to the best start. With three goals and two assists, Michalek is generating points through his work on the power play. Separated from Jason Spezza at even strength, Michalek and Daniel Alfredsson are being reunited with Spezza for work on the Sens' power play. Four of Michalek's five points have come on the man advantage. If you can swallow the unsavory plus-minus rating, Michalek is a great pickup for ESPN leagues right now. He is still available in more than half of them, too.
[+] Enlarge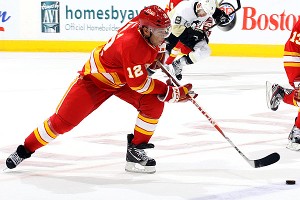 Brad Watson/NHLI/Getty ImagesJarome Iginla is waiting to get going on offense after a slow start.
Calgary Flames: With one goal from Jarome Iginla through three games, it certainly feels like he isn't producing yet, especially when compared to teammate Rene Bourque's three goals. However, next week should go a long way to solidifying Iginla's presence this season. The Flames rate an O:9 rating on the Forecaster for offense with games against Edmonton Oilers, New York Rangers and Nashville Predators next week. Iginla is still skating with Alex Tanguay (and David Moss) on the top line, and Tanguay has four assists in three games. The offense will start coming to the top Flames soon, and next week might be the kick start they need. The Flames are currently rolling with two equal-opportunity power plays, and the second unit consists of players that are readily available in ESPN leagues. Niklas Hagman, Olli Jokinen and Bourque have been productive as a unit with Jay Bouwmeester and Chris Butler on the point. Both Hagman and Butler have a pair of points already, although they have a long way to go to be considered for fantasy purposes, so just take that as an FYI for now.
Anaheim Ducks: They have scored just two goals in the first two games of the season, so Ducks fantasy owners are awaiting an explosion of offense. Next week looks promising with an O:9 rating on the Forecaster in three games. Corey Perry, Bobby Ryan and Ryan Getzlaf may have zeros across the board, but that will change quickly. A note for Ryan owners: The Ducks' first power-play unit has consisted of Getzlaf, Perry and Teemu Selanne so far. That is not the best of news for Ryan, who could use the extra power-play minutes if he wants to improve his goal total beyond 35. It is good news for Lubomir Visnovsky and Cam Fowler owners, who don't have to worry about the Ducks choosing a favorite for the first power play by going with four forwards.
Offensive Lowlights
Edmonton Oilers: Prepare to be shocked: Ales Hemsky was hurt in the second game of the season. OK, not so shocking. The Oilers are another team that still feels unproductive, having scored just two goals in two games. The team has an O:1 on the Forecaster despite having four games in the upcoming week. With such a poor rating and the loss of Hemsky, there are likely better places to find your offense. Make sure you keep an eye on how Ryan Nugent-Hopkins and Taylor Hall are lined up now that Hemsky is out. The team might be able to find the right combination for the budding superstars.
New York Islanders: John Tavares started the season in explosive fashion, but only two games and an O:2 rating don't promise such a spectacular second week of the season. Tavares, Matt Moulson and P.A. Parenteau lit up the Tampa Bay Lightning on Thursday night and have combined for 10 points in the past two games. Parenteau, who was the most questionable member of the trio coming into the season, has four points and looks to have solidified his role for at least the next little while. Next week might not be the most opportune time to use him, given the schedule, but keep his name handy. He remains available in 99 percent of ESPN leagues.
Defensive Highlights
Pittsburgh Penguins: The Penguins have the best overall Forecaster rating and pull a D:10 for a four-game week. Make sure you have Marc-Andre Fleury handy, but also consider having Brent Johnson stashed on your bench. Fleury has the flu and missed Thursday's game because of it. The Pens have had a busy schedule to start the season, and Johnson could be in for a start or two next week due to Fleury's flu and fatigue.
Los Angeles Kings: The Kings rate well at home and have two games there in the coming week. Jonathan Quick is having another hot start, while Jonathan Bernier had a poor outing in his one chance so far this season. Next week could go a long way to determining how much has changed for Bernier. If he is given one of the starts, it means the Kings intend to work him into a regular rotation. If Quick gets all three, it means Bernier is once again the goaltender of the future instead of the goaltender of now.
Defensive Lowlights:
New Jersey Devils: The Devils have an awful schedule with only two games that fall back-to-back against solid offenses. It's no surprise that games against the San Jose Sharks and Penguins rate as a D:1 on the Forecaster. Consider skipping your defensive Devils, such as Martin Brodeur, and the defensemen completely. For that matter, consider benching your forwards over plus-minus concerns.
Who's Hot/Not
Rk

Team

G/Gm

Rk

Team

GA/Gm

Rk

Team

Shots
/Gm

Rk

Team

Opp.
Shots
/Gm

1
SJ
4.17
1
FLA
4.13
1
SJ
38.2
1
CGY
36.0
2
DAL
3.40
2
OTT
3.64
2
DET
33.0
2
PHO
35.2
3
NSH
3.33
3
MTL
3.50
3
WPG
32.8
3
DAL
33.8
It's hard to consider the San Jose Sharks purely a "hot" team since they have only played one regular-season game as of this writing. It was a 6-3 romp of the Phoenix Coyotes, but it was a good indicator as far as this offense is concerned. But fantasy owners who picked some Sharks surely feel like they are being underserved. This weekend should go a long way to quell those fears and set up a good week ahead for the Sharks. Next week, the Sharks battle the Ducks, Devils and Boston Bruins. The Sharks may be an all-or-nothing team (quite literally, with players are owned in 100 percent of ESPN leagues or fewer than 2 percent), but Tommy Wingels (filling in for Martin Havlat on second line) or Andrew Desjardins (two goals in only nine minutes in his NHL debut) could be worth a look in deeper leagues.
The Florida Panthers have a D:7 on the Forecaster, but in this chart we see they have allowed the most goals per game so far this season (with some preseason stats mixed into the formula, too). So while the team looks good on the chart above, down here we see Jose Theodore is to be avoided like the plague next week.
With the Calgary Flames allowing the most shots on goal so far this year, it will be interesting to track Miikka Kiprusoff's performance. Kipper's numbers have shown little correlation with his total shots against over the years, but he has shown wild swings in his save percentage. Kiprusoff's usefulness as a No. 2 goalie changes a lot when he has a .920 save percentage versus a .902 save percentage. If Kipper can keep his save percentage up, he may prove to be much more valuable than he was last season. With so many shots heading his way early this season, it is now up to Kipper to make those saves.
Hockey Challenge
Now into the regular one-week schedules for Hockey Challenge, it will be key to look at leaning on teams with four-game weeks instead of two-game weeks. Three is definitely the average for the number of games in any given week, but there are always a few teams with four games and a few teams with two games. Once in a while you get a rare five- or one-game week, but it's pretty rare.
While it would be easy to suggest you dump all your players who aren't playing a four-game week for players that are, remember that each player's salary changes on a weekly basis. If you can lock in a sleeper now at a low price, selling him when he has a two-game week will reset his value and cause you to purchase him back at a higher price. Is it worth ditching a player during a two-game week to lose the discount you have on him? Who is to say ditching a player with a two-game week will even pay dividends? John Tavares got all four of his points so far this season in one game.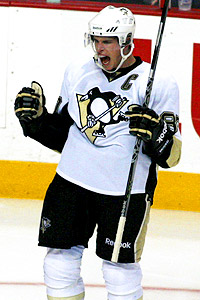 AP Photo/H. Rumph, Jr.Sidney Crosby could be a solid value right now, provided he returns in due time.
Still, the base logic is there. Who will score more points in a week, Malkin with four games or Pavel Datsyuk with two games? You will find the Forecaster very helpful for making decisions with this Hockey Challenge.
Best bets: For the second week in a row to start the season, the Pittsburgh Penguins offer the best bang for your buck. With four games on the week, an O:9 and a D:10 rating, the Pens should clean house for another week. Keep Malkin ($8.7M), Letang ($7.5M) and Fleury ($12.2M) in your lineup and definitely look to add Neal ($7.2M) to the fold. Sullivan ($6M) and Jordan Staal ($5.2M) make decent sleepers as well. This one might throw you for a loop though: Consider adding Crosby. That's right. With an $8.8 million salary in the game right now, he will never be cheaper. Market demand, and eventually scoring prowess, will drive up his price as the season progresses. This current price is the basement for his value. If you think you can make other smart lineup decisions to eat an unproductive roster spot for at least a couple weeks, make the move on Crosby now.
Weekly bargain: With the Senators' offense looking solid to start the season and an O:10 rating for the team in the coming week, now might be the time to scoop up Erik Karlsson. Currently ranking as one of the cheaper No. 1 defensemen at $6.4 million, Karlsson is tied with Letang as the most productive of the D-men. Remember that plus/minus doesn't count in this game, so while Craig Anderson is unlikely to help Karlsson earn the bonus shutout points, those are a crapshoot to begin with. What really matters in this game is scoring, and Karlsson will do plenty of that this season.
Rentals: The Toronto Maple Leafs have a solid four-game schedule ahead on offense, and borrowing Phil Kessel ($7.7M) for a week is a solid idea, but Joffrey Lupul ($5.5M) might be the better bang for your buck. … The Winnipeg Jets also have a strong week ahead, according to the Forecaster. With no one on the offense really clicking yet, Dustin Byfuglien ($7.5M) might be the only safe rental to use.
Sean Allen is a fantasy analyst for ESPN.com. He was the 2008 and 2009 Fantasy Sports Writers Association Hockey Writer of the Year. You can tweet him
@seanard
.
SPONSORED HEADLINES
FANTASY TOP HEADLINES
MOST SENT STORIES ON ESPN.COM