Commentary
Fantasy Forecaster: Week of Oct. 31
Rookies reach crucial point between staying in NHL and returning to juniors
Updated:
October 28, 2011, 12:43 PM ET
By
Sean Allen
| Special to ESPN.com
Quietly and with very little fanfare, some NHL rookies have established themselves to stick in the big leagues this season despite being eligible for another season of junior hockey. Some still face a decision during the next few days.
[+] Enlarge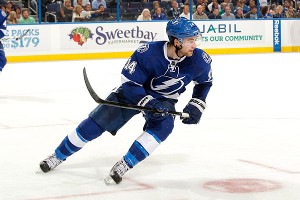 Scott Audette/Getty ImagesBrett Connolly seems poised to stick in the NHL given that he's on such a great line with Martin St. Louis and Vincent Lecavalier.
Sean Couturier and Brett Connolly both played their 10th game of the season on Thursday, kick-starting their three-year entry level contract. Connolly is the one to watch out of this pair. He is getting ice time on the Tampa Bay Lightning's top line with Martin St. Louis and Vincent Lecavalier. The points haven't poured in yet, but since he is staying in the NHL, he has a chance to establish his game and start scoring. Couturier is a bit of a surprise given the Philadelphia Flyers' trio of rookies looking to earn minutes: Couturier, Matt Read and Brayden Schenn. Couturier has four points in 10 games, but with a depth chart jam packed with talent in front of him, third-line duty is the best he can hope for this season.
That official 10th game hasn't happened for Gabriel Landeskog or Ryan Nugent-Hopkins yet, but it will. Landeskog has six points in nine games on the third line for the Colorado Avalanche, while Nugent-Hopkins leads all rookies with nine points in nine games on the Edmonton Oilers' top line. Both players will surely earn their ticket to a full season of NHL competition when they play each other on Friday night. Both players are deserving of ownership in every ESPN league.
Mika Zibanejad was sent packing on Thursday by the Ottawa Senators. During his nine-game trial, Zibanejad had just one assist, even though he was getting some top-six minutes for the team. He'll head back to the Swedish Elitserien for a season and be back in a Sens jersey next October.
The Columbus Blue Jackets face a similar tough decision with their top prospect soon, with Ryan Johansen creeping up to the seven-game mark. Johansen has displayed top-six ability since earning a promotion to the second line with Antoine Vermette and R.J. Umberger. He has three points in three games in that role. One problem is that Johansen is the sixth man in the top six and Jeff Carter will be coming back from a broken foot soon. Johansen's continued presence with the Blue Jackets may well depend on how he performs in games No. 8 and No. 9 during the next week. If Johansen sticks in the NHL, his talent level means he will surely have streaks of value during the season.
Though Adam Larsson has zero points in eight games, he has logged more ice time than any other rookie. The New Jersey Devils are clearly content with him from a defensive perspective and will keep him for that reason. Fantasy owners will likely have to wait on his offensive game to develop. However, it is possible that Larsson is playing overly cautious in order not to make "rookie mistakes" and be sent back to Sweden. We could see his offensive game start to emerge after he gains the confidence of knowing he is a member of the team for the whole season.
Team

Mon
11/1

Tue
11/2

Wed
11/3

Thu
11/4

Fri
11/5

Sat
11/6

Sun
11/7

Games
T / H

Ducks
OFF
@WSH
O: 5
D: 4
OFF
@NYR
O: 4
D: 6
OFF
@DET
O: 7
D: 3
OFF
3 / 0
O: 6
D: 5
Bruins
OFF
OTT
O: 6
D: 6
OFF
OFF
OFF
@TOR
O: 9
D: 8
OFF
2 / 1
O: 5
D: 5
Sabres
OFF
OFF
PHI
O: 7
D: 5
OFF
CGY
O: 6
D: 6
@OTT
O: 7
D: 6
OFF
3 / 2
O: 6
D: 7
Flames
OFF
VAN
O: 5
D: 2
OFF
@DET
O: 6
D: 4
@BUF
O: 5
D: 4
OFF
@COL
O: 8
D: 4
4 / 1
O: 7
D: 6
Hurricanes
OFF
TB
O: 5
D: 3
OFF
OFF
WSH
O: 3
D: 5
OFF
DAL
O: 6
D: 5
3 / 3
O: 5
D: 5
Blackhawks
NSH
O: 5
D: 6
OFF
OFF
@FLA
O: 7
D: 7
@TB
O: 8
D: 4
OFF
VAN
O: 5
D: 1
4 / 2
O: 7
D: 7
Avalanche
OFF
OFF
PHO
O: 7
D: 2
OFF
@DAL
O: 6
D: 5
OFF
CGY
O: 7
D: 1
3 / 2
O: 6
D: 2
Blue Jackets
OFF
OFF
OFF
TOR
O: 6
D: 6
OFF
@PHI
O: 6
D: 1
OFF
2 / 1
O: 3
D: 1
Stars
OFF
OFF
OFF
OFF
COL
O: 8
D: 4
OFF
@CAR
O: 5
D: 6
2 / 1
O: 5
D: 3
Red Wings
OFF
MIN
O: 7
D: 6
OFF
CGY
O: 6
D: 4
OFF
ANA
O: 6
D: 4
OFF
3 / 3
O: 6
D: 5
Oilers
OFF
OFF
OFF
@LA
O: 2
D: 5
OFF
@PHO
O: 5
D: 4
OFF
2 / 0
O: 1
D: 3
Panthers
WPG
O: 6
D: 6
OFF
OFF
CHI
O: 5
D: 4
OFF
OFF
TB
O: 3
D: 5
3 / 3
O: 5
D: 6
Kings
OFF
OFF
OFF
EDM
O: 5
D: 9
OFF
PIT
O: 2
D: 7
OFF
2 / 2
O: 1
D: 6
Wild
OFF
@DET
O: 5
D: 4
OFF
VAN
O: 1
D: 2
OFF
STL
O: 5
D: 5
OFF
3 / 2
O: 4
D: 3
Canadiens
OFF
OFF
OFF
OFF
@OTT
O: 7
D: 6
@NYR
O: 4
D: 8
OFF
2 / 0
O: 3
D: 5
Predators
@CHI
O: 5
D: 4
OFF
OFF
@PHO
O: 5
D: 6
OFF
@SJ
O: 5
D: 4
OFF
3 / 0
O: 5
D: 5
Devils
OFF
OFF
TOR
O: 4
D: 9
@PHI
O: 4
D: 5
OFF
WPG
O: 5
D: 7
OFF
3 / 2
O: 4
D: 8
Islanders
OFF
OFF
OFF
WPG
O: 9
D: 4
OFF
WSH
O: 3
D: 4
OFF
2 / 2
O: 3
D: 2
Rangers
SJ
O: 6
D: 4
OFF
OFF
ANA
O: 5
D: 6
OFF
MTL
O: 4
D: 7
WPG
O: 9
D: 7
4 / 4
O: 7
D: 9
Senators
OFF
@BOS
O: 5
D: 4
OFF
OFF
MTL
O: 6
D: 3
BUF
O: 6
D: 2
OFF
3 / 2
O: 6
D: 3
Flyers
OFF
OFF
@BUF
O: 7
D: 4
NJ
O: 6
D: 7
OFF
CLS
O: 9
D: 7
OFF
3 / 2
O: 7
D: 7
Coyotes
OFF
OFF
@COL
O: 9
D: 3
NSH
O: 4
D: 6
OFF
EDM
O: 6
D: 7
OFF
3 / 2
O: 6
D: 6
Penguins
OFF
OFF
OFF
@SJ
O: 7
D: 6
OFF
@LA
O: 4
D: 8
OFF
2 / 0
O: 3
D: 6
Blues
OFF
OFF
OFF
OFF
VAN
O: 3
D: 3
@MIN
O: 5
D: 5
OFF
2 / 1
O: 2
D: 2
Sharks
@NYR
O: 5
D: 7
OFF
OFF
PIT
O: 6
D: 5
OFF
NSH
O: 6
D: 7
OFF
3 / 2
O: 6
D: 7
Lightning
OFF
@CAR
O: 8
D: 6
OFF
OFF
CHI
O: 8
D: 3
OFF
@FLA
O: 6
D: 9
3 / 1
O: 7
D: 7
Maple Leafs
OFF
OFF
@NJ
O: 3
D: 5
@CLS
O: 6
D: 4
OFF
BOS
O: 2
D: 4
OFF
3 / 1
O: 4
D: 5
Canucks
OFF
@CGY
O: 10
D: 7
OFF
@MIN
O: 10
D: 9
@STL
O: 10
D: 7
OFF
@CHI
O: 10
D: 5
4 / 0
O: 10
D: 10
Capitals
OFF
ANA
O: 7
D: 6
OFF
OFF
@CAR
O: 5
D: 9
@NYI
O: 6
D: 9
OFF
3 / 1
O: 6
D: 8
Jets
@FLA
O: 6
D: 4
OFF
OFF
@NYI
O: 8
D: 2
OFF
@NJ
O: 5
D: 5
@NYR
O: 5
D: 2
4 / 0
O: 7
D: 6
"O" (offense) and "D" (defense) matchup ratings are based upon a scale from 1 (poor matchup) to 10 (excellent matchup), and are calculated using a formula that evaluates the team's year-to-date and past 21 days' statistics, their performance in home/road games depending on where the game is to be played, as well as their opponents' numbers in those categories. The
Games T / H
column lists the team's total number of games played as well as home games (T / H), and lists the cumulative rating from 1-10 of that week's matchups.
Offensive Highlights
Vancouver Canucks: The first two games for the Canucks with David Booth in tow are not great for judging his potential influence with the team. In a 3-2 loss to the Edmonton Oilers, the Ryan Kesler-Booth-Christopher Higgins line was skunked, but most every line that has faced Nikolai Khabibulin this season has had that same result. In a 3-0 loss to the St. Louis Blues, the second line all finished minus-2 after losing the battles against the Blues' top line of Alex Steen, Jason Arnott and Jamie Langenbrunner. It's this week ahead that will determine if Booth has the fantasy value that he appears to have on paper. The Canucks get an O:10 (and a D:10 for that matter) for a superior Forecaster rating to any other team next week. On a road swing against the Calgary Flames, Minnesota Wild, St. Louis Blues and Chicago Blackhawks, expect big numbers from the offense. For the time being, there are still fantasy-relevant Canucks forwards that can actually be added to your roster. Booth (available in 31 percent of ESPN leagues) and Higgins (available in 97 percent of ESPN leagues) should both be on your list of potential starters for next week.
[+] Enlarge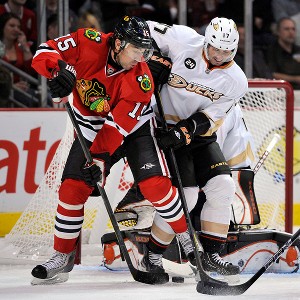 Rob Grabowski/US PresswireAndrew Brunette has yet to really take advantage of playing on a strong line.
Chicago Blackhawks: It's tougher to use the term "lines" for the Blackhawks because saying top offensive "duos" actually applies more to the team. Patrick Kane and Marian Hossa have started off strong offensively, but Jonathan Toews and Patrick Sharp are right behind them. It's completing that "line" with a third member for each pairing that hasn't been as successful. Andrew Brunette has started with four points and a minus-2 in eight games as the linemate for Toews and Sharp. While the Hawks probably aren't expecting offense from him, Daniel Carcillo has acted as the third member of the Kane and Hossa line. He has two points and a plus-5 in six games. While the numbers from Brunette and Carcillo don't demand to be employed by fantasy hockey owners, when the Hawks have a four-game week with an O:7 on the schedule, both players become viable options. Carcillo should only be paid heed in leagues with penalty minutes, but Brunette is in a position to get some points every night the Hawks play.
Winnipeg Jets: There is no debating the issue anymore. While there was supposed to be another trio to claim the title of No. 1 line for the Jets, it's Nik Antropov, Alexander Burmistrov and Evander Kane who have earned it through nine games of the season. While Kane is lagging in points, Burmistrov (available in 65 percent of ESPN leagues) and Antropov (available in 85 percent of ESPN leagues) deserve a pickup in almost every league. Both players have been key on the power play, where they spend time on the ice with Kyle Wellwood instead of Kane. Burmistrov, who turned 20 last week, is proving with every game that he has the speed and playmaking skills to be a force in the NHL. As you consider Antropov and Burmistrov for your lineup, know that there is a potential bump in the road. Just like fantasy owners were caught by surprise by this duo, opposing defenses also were. There is a good chance the production slows down when opposing teams start cracking down on the pair. For now, though, a four-game week with an O:7 on the Forecaster looks like a great time to try out some Jets.
Offensive Lowlights
Columbus Blue Jackets: While the debut of James Wisniewski this week from his season-opening suspension and the potential return of Jeff Carter from a broken foot next week are exciting prospects for the team's scoring, a two-game week with an O:3 should throw some cold water on things. While the Jackets may be back up to full strength next week, it might be best to save their deployment for another time. Your healthy suspects, like Rick Nash and Vaclav Prospal, are safe starts but don't dig too much deeper.
Los Angeles Kings: The Kings run into a couple of stone walls next week and may not be much use offensively for their fantasy owners. With only two games on tap, the Kings play them against the red-hot Nikolai Khabibulin of the Edmonton Oilers and the defensively-sound Pittsburgh Penguins. The 'Bulin Wall has been exactly that this season, allowing more than one goal in only one of six starts (and it was just two goals). He has a 6-0-2 record, having not lost in regulation to date. Marc-Andre Fleury has also had a blistering start with a 7-2-0 record behind the league's best penalty kill (97.3 percent). Maybe leave most of your Kings out of the planning for next week unless you are talking about Anze Kopitar.
Defensive Highlights
San Jose Sharks: The Sharks have a D:7 on the Forecaster for games against the New York Rangers, Penguins and Nashville Predators. Antti Niemi has just four games under his belt, but thanks to the Sharks' lockdown defense, he's faced less than 20 shots in three of those games. Remember that with great team defense comes the possibility of weaker save percentage. If Niemi is only facing 20 shots a game and allows only two goals, he might win the game but that would be a sub-par save percentage of .900. At the very least, the offense of the Penguins should help keep Niemi's shots against in the average range next week, so he remains a good start.
[+] Enlarge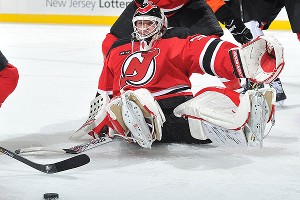 Christopher Pasatieri/Getty ImagesMartin Brodeur has played just two games this season thanks to a shoulder injury.
New Jersey Devils: The Devils have a D:8 on the Forecaster just in time for Martin Brodeur to return from a shoulder injury. While he's expected to play against the Toronto Maple Leafs on Tuesday or Philadelphia Flyers on Wednesday, it could be a risky play. Despite the scoring prowess of the Leafs this season (more like scoring prowess of Phil Kessel), the Forecaster loves the matchup for the Devils defensively. If you are one of the owners of Brodeur who picked up Johan Hedberg, be prepared to watch for word leading up to Tuesday's game as to which goaltender to start. If it looks like Brodeur's return will be the Wednesday game against the Flyers, it might be safer to stay your hand. After all, the Flyers scored eight goals on Thursday night in a losing effort.
Defensive Lowlights
New York Islanders: The Isles have just two games against the bottom of the alphabet: the Winnipeg Jets and Washington Capitals. That schedule combines for a D:2 on the Forecaster. It's interesting that the Isles have given Evgeni Nabokov three straight starts to compile three straight loses. His numbers aren't bad this season, but Al Montoya's are better. Then there is the fact that Rick DiPietro has inserted himself back into the mix. DiPietro handled the shootout in Thursday's loss to the Penguins because Nabokov had a lower-body injury and may get his first start of the season on the weekend. Given the volatile goalie situation and the weak schedule, stay away from the Islanders netminders for at least a week.
Who's Hot/Not
Rk

Team

G/Gm

Rk

Team

GA/Gm

Rk

Team

Shots
/Gm

Rk

Team

Opp.
Shots
/Gm

1
WSH
3.88
1
OTT
3.90
1
SJ
38.4
1
NSH
33.9
2
PHI
3.60
2
WPG
3.89
2
DET
36.1
2
FLA
33.6
3
CHI
3.38
3
PHI
3.50
3
BOS
34.0
3
CAR
32.8
3
TB
3.50
One bad game (OK, really bad game) skewed the numbers significantly, but it's notable that the Philadelphia Flyers are second for goals-for and third for goals-against. Does it mean that Ilya Bryzgalov isn't going to be quite as reliable for fantasy owners as suspected? His save percentage of .870 is pretty rough and it was only .884 before his role in Thursday's spectacle against the Jets. Could it be the injury to Chris Pronger that is taking so much away from the defense? Before Pronger was hurt, Bryzgalov's save percentage was .895. One thing is for sure, if the Flyers continue to average 3.50 goals per game allowed, Bryzgalov will have no place on fantasy rosters. He will get games against the Buffalo Sabres, Devils and Blue Jackets next week to try and recapture his form from his 3-0 start to the season.
Hockey Challenge
Another factor came into play in Hockey Challenge this week with the first market adjustments to prices. Based on performance and demand, some players fluctuated as much as $0.4 million up or down in price. Now you need to start thinking about buying low and whether it is worth keeping a player in what you think might be a down week, in order to maintain his price tag. For example, my current roster is worth $102 million on the market, but because I bought and am keeping players before their prices went up, I get to bleed over the limit by $2 million. If your players dropped in value, you have the option of clicking to "renegotiate salaries" in order to realize those savings in the menu at the top.
Remember: You lose the advantage of being ahead of the market when you drop a player, even for one week. I have Jason Spezza locked down at $7.3 million, though his market value went up to $7.7 million. Even though the Ottawa Senators don't have the best week ahead on the Forecaster, I feel that $0.4 million in savings is worth stashing Spezza over what I might be able to upgrade to by switching him out. You will have to make similar decisions with your team of players. Now you have to weigh their market value in the balance with all the other roster decisions in Hockey Challenge.
[+] Enlarge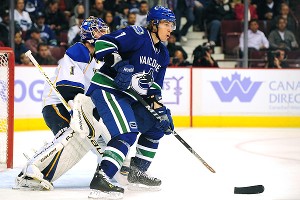 Anne-Marie Sorvin/US PresswireDavid Booth is a relative bargain this week as he looks to finally make an impact with the Canucks.
Best Bets: The Vancouver Canucks, on paper, have the strongest week ahead yet again. If you swapped in the Sedin twins last week, keep them locked in. If you didn't last week, they will cost you a little more this week. Daniel Sedin went up to $9.4 million and Henrik Sedin's salary increased to $9.1 million. … For those looking to save a buck, David Booth should have his breakout week with the Canucks at the low price of $6 million. … Sami Salo ($5.4M) is also a no-brainer in the lineup when the Canucks have the best Forecaster rating.
Weekly Bargains: Only Marc-Andre Bergeron ($6.5M) has more points in Hockey Challenge among defensemen than Dion Phaneuf ($6.9M). Both players have salaries trending well below the top-priced defensemen in the game like Zdeno Chara ($7.8M) and Lubomir Visnovsky ($7.8M). The Tampa Bay Lightning are solid on the Forecaster, and Phaneuf has been scoring no matter whom the Leafs play. Using Bergeron and Phaneuf to fill out the top of your defense this week should earn you more points and save you two to three million dollars in salary in the process.
Rentals: Kimmo Timonen ($6.5M) has six assists and a plus-5 rating the past three games. It's no coincidence that Pronger was injured at the start of the first of those three games, freeing up the power play for Timonen alone. … The Winnipeg Jets won't always have a good Forecaster rating, but next week looks positive for the Jets offense. Nik Antropov is a bargain at $6.3 million, considering he has a point per game and is leading the charge for the team with linemate Alexander Burmistrov ($6.4M).
My roster for next week:
Roberto Luongo, G ($13.6M): I think he starts putting it together this week.
Henrik Lundqvist, G ($13.4M / $13.8M on market)
Marc-Andre Bergeron, D ($6.1M / $6.5M on market)
Erik Karlsson, D ($6.4M / $6.7M on market)
Dion Phaneuf, D ($6.9M)
Sami Salo, D ($5.2M / $5.4M on market)
Daniel Sedin, F ($9.0M / $9.4M on market)
David Booth, F ($6.0M)
Sidney Crosby, F ($8.8M): I'm trying to stay ahead of market increase.
Phil Kessel, F ($7.7M / $8.1 on market)
Henrik Sedin, F ($8.9M / $9.1 on market)
Jason Spezza, F ($7.3M / $7.7 on market)

Sean Allen is a fantasy analyst for ESPN.com. He is the 2008 and 2009 Fantasy Sports Writers Association, Hockey Writer of the Year. You can send him a note here or tweet him @seanard with the hashtag #FantasyHockey for a timelier response.
Sean Allen is a fantasy analyst for ESPN.com. He was the 2008 and 2009 Fantasy Sports Writers Association Hockey Writer of the Year. You can tweet him
@seanard
.
MOST SENT STORIES ON ESPN.COM