Commentary
Fantasy Forecaster: Week of Nov. 14
Updated:
November 11, 2011, 6:16 PM ET
By
Sean Allen
| Special to ESPN.com
From time to time it is valuable to use the research plus/minus tab that ESPN provides for its fantasy hockey game. No, not the plus/minus that is tabulated to show how often a player is on the ice when goals go in for or against their team. The plus/minus tab under research shows you the percentage change in ownership for individual players in ESPN leagues. (You can also get to it by hitting the Added/Dropped link from the subnav above). Collective opinion is a funny thing. Sometimes you see strange trends in the list, but more often than not the collective wisdom of the ESPN fantasy owner universe is exactly that, wisdom.
There is good reason that the Nashville Predator's Patric Hornqvist is the most added player in the ESPN universe right now. When a former 30-goal scorer tallies seven goals in seven games, it is worth paying attention. When a player gets three power-play points in two games for the Vancouver Canucks there is no question he should be picked up. Which is why Dan Hamhuis is the second-most added player. The combined knowledge of the masses rarely fails to spot a trend.
But this week I am looking at players where the consensus is to cut them loose. Drop them. Kick them to the curb. Let's have a closer look at some of the folks with the largest negative change in ownership amongst ESPN users.
[+] Enlarge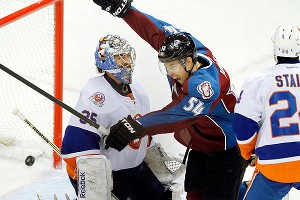 AP Photo/Barry GutierrezDavid Jones doesn't monkey around the net, averaging better than a goal every three games going back to the 2009-10 season.
David Jones, Colorado Avalanche (ownership down 27 percent, available in 62 percent of leagues): Jones finished with 27 goals last season after earning time in the Avalanche's top six and the expectation was that he would continue to score in that same role this season. Owners are getting bummed out that he hasn't scored in eight games and they are cutting ties. Well, guess what? He is on pace for 27 goals this season. Exactly the same total as last year. It's easy to get discouraged by Jones because he doesn't get many assists and seems like he is putting up goose eggs for games on end. The reason he is worth something in fantasy is for those 27 goals though. Remember that if those are spread out through the season that there are 55 games he scoring in. Jones will live up to the same low-tier fantasy winger value he had last season and isn't worth giving up on completely.
Steve Ott, Dallas Stars (ownership down 27 percent, available in 28 percent of leagues): Abandoning the same player that put up eight points, a plus-4 and 25 penalty minutes in 11 games? For shame. Ott will be back in the Stars lineup as early as next week and skating again with catalyst Jamie Benn. Don't let a missed week separate you from a player that stuffs the hard-to-fill categories while still scoring points.
Vaclav Prospal, Columbus Blue Jackets (ownership down 13 percent, available in 13 percent of leagues): The collective wisdom of dropping a player with 13 points in 15 games does need to be questioned. Sure, Prospal hasn't had the prettiest of plus/minus ratings lately, but you can't have expected a better one given his situation. Prospal has five points in the past six games, so it can't just be his recent production that is bothering everybody. Jeff Carter will return to the Blue Jackets lineup as early as next week and vastly improve the top line. This one doesn't make sense, Prospal has earned ownership in fantasy hockey leagues.
Jussi Jokinen, Carolina Hurricanes (ownership down 13 percent, available in 44 percent of leagues): Poor Jokinen. No love. A fantasy player that has finished the past two seasons at better than 0.75 points per game and started this season with nine in points in 12 games and a plus-4, has been dropped in almost half of ESPN leagues. Jokinen might be back on the ice as early as Friday night and will be reunited with Jeff Skinner, with whom he kicked the season off in such strong fashion. No doubt Jokinen can contribute to your fantasy team, you just have to let him.
Tim Connolly, Toronto Maple Leafs (ownership down 39 percent, available in 58 percent of leagues): This comes as absolutely no surprise and another upper-body injury that will keep Connolly out two weeks is reason enough to drop him. Tyler Bozak did have two points in Thursday's game as Connolly's stunt double on the top line, but remember that Connolly will be reunited with Phil Kessel when he is healthy. And when he is healthy he will be worth owning. Watch the wire 10 days from now to see if you can scoop him up just before his return.
Team

#VALUE!

#VALUE!

#VALUE!

#VALUE!

#VALUE!

#VALUE!

#VALUE!

Games
T / H

Ducks
OFF
OFF
@LA
O: 5
D: 5
LA
O: 5
D: 6
OFF
OFF
DET
O: 7
D: 4
3 / 2
O: 5
D: 5
Bruins
OFF
NJ
O: 5
D: 7
OFF
CLS
O: 8
D: 7
OFF
@NYI
O: 7
D: 7
OFF
3 / 2
O: 6
D: 7
Sabres
@MTL
O: 5
D: 6
OFF
NJ
O: 5
D: 8
OFF
@CAR
O: 6
D: 7
PHO
O: 7
D: 7
OFF
4 / 2
O: 7
D: 10
Flames
OFF
OTT
O: 8
D: 4
OFF
OFF
CHI
O: 7
D: 4
OFF
OFF
2 / 2
O: 5
D: 1
Hurricanes
PHI
O: 6
D: 4
OFF
@MTL
O: 4
D: 4
OFF
BUF
O: 4
D: 4
OFF
TOR
O: 8
D: 6
4 / 3
O: 7
D: 7
Blackhawks
OFF
OFF
@VAN
O: 5
D: 2
OFF
@CGY
O: 7
D: 7
@EDM
O: 7
D: 8
OFF
3 / 0
O: 6
D: 6
Avalanche
OFF
@PIT
O: 5
D: 3
OFF
@MIN
O: 6
D: 5
DAL
O: 6
D: 1
OFF
SJ
O: 7
D: 1
4 / 2
O: 7
D: 1
Blue Jackets
OFF
MIN
O: 4
D: 6
OFF
@BOS
O: 5
D: 2
OFF
@NSH
O: 4
D: 4
OFF
3 / 1
O: 3
D: 4
Stars
OFF
FLA
O: 6
D: 7
OFF
OFF
@COL
O: 7
D: 6
SJ
O: 7
D: 4
OFF
3 / 2
O: 6
D: 6
Red Wings
OFF
@STL
O: 9
D: 5
OFF
@SJ
O: 10
D: 4
OFF
@LA
O: 6
D: 6
@ANA
O: 8
D: 5
4 / 0
O: 10
D: 7
Oilers
OFF
OFF
OFF
OTT
O: 4
D: 5
OFF
CHI
O: 3
D: 5
OFF
2 / 2
O: 1
D: 2
Panthers
OFF
@DAL
O: 3
D: 5
OFF
@STL
O: 4
D: 4
OFF
PIT
O: 3
D: 4
OFF
3 / 1
O: 2
D: 5
Kings
OFF
OFF
ANA
O: 4
D: 7
@ANA
O: 4
D: 7
OFF
DET
O: 4
D: 6
OFF
3 / 2
O: 4
D: 7
Wild
OFF
@CLS
O: 5
D: 7
OFF
COL
O: 7
D: 5
OFF
STL
O: 4
D: 5
OFF
3 / 2
O: 5
D: 6
Canadiens
BUF
O: 4
D: 5
OFF
CAR
O: 5
D: 7
@NYI
O: 6
D: 7
OFF
NYR
O: 4
D: 6
OFF
4 / 3
O: 6
D: 9
Predators
OFF
WSH
O: 2
D: 8
OFF
TOR
O: 7
D: 9
OFF
CLS
O: 7
D: 8
OFF
3 / 3
O: 5
D: 9
Devils
OFF
@BOS
O: 4
D: 5
@BUF
O: 4
D: 5
OFF
OFF
@TB
O: 2
D: 5
OFF
3 / 0
O: 2
D: 5
Islanders
OFF
NYR
O: 5
D: 4
OFF
MTL
O: 6
D: 3
OFF
BOS
O: 6
D: 3
OFF
3 / 3
O: 6
D: 2
Rangers
OFF
@NYI
O: 5
D: 7
OFF
OFF
OFF
@MTL
O: 4
D: 6
OFF
2 / 0
O: 2
D: 4
Senators
OFF
@CGY
O: 6
D: 6
OFF
@EDM
O: 7
D: 7
OFF
OFF
@VAN
O: 1
D: 2
3 / 0
O: 3
D: 5
Flyers
@CAR
O: 7
D: 6
OFF
OFF
PHO
O: 8
D: 5
OFF
@WPG
O: 10
D: 6
OFF
3 / 1
O: 8
D: 6
Coyotes
OFF
@TOR
O: 8
D: 5
OFF
@PHI
O: 5
D: 4
OFF
@BUF
O: 4
D: 4
OFF
3 / 0
O: 5
D: 4
Penguins
OFF
COL
O: 7
D: 8
OFF
@TB
O: 6
D: 6
OFF
@FLA
O: 6
D: 9
OFF
3 / 1
O: 6
D: 8
Blues
OFF
DET
O: 5
D: 5
OFF
FLA
O: 6
D: 8
OFF
@MIN
O: 5
D: 6
OFF
3 / 2
O: 5
D: 7
Sharks
OFF
OFF
OFF
DET
O: 7
D: 4
OFF
@DAL
O: 6
D: 6
@COL
O: 9
D: 5
3 / 1
O: 7
D: 5
Lightning
@WPG
O: 10
D: 6
OFF
OFF
PIT
O: 5
D: 6
OFF
NJ
O: 6
D: 9
OFF
3 / 2
O: 7
D: 7
Maple Leafs
OFF
PHO
O: 5
D: 5
OFF
@NSH
O: 2
D: 4
OFF
WSH
O: 1
D: 4
@CAR
O: 6
D: 3
4 / 2
O: 4
D: 5
Canucks
OFF
OFF
CHI
O: 9
D: 6
OFF
OFF
OFF
OTT
O: 9
D: 10
2 / 2
O: 6
D: 5
Capitals
OFF
@NSH
O: 2
D: 10
OFF
@WPG
O: 8
D: 8
OFF
@TOR
O: 7
D: 9
OFF
3 / 0
O: 6
D: 10
Jets
TB
O: 4
D: 2
OFF
OFF
WSH
O: 2
D: 3
OFF
PHI
O: 4
D: 2
OFF
3 / 3
O: 2
D: 1
"O" (offense) and "D" (defense) matchup ratings are based upon a scale from 1 (poor matchup) to 10 (excellent matchup), and are calculated using a formula that evaluates the team's year-to-date and past 21 days' statistics, their performance in home/road games depending on where the game is to be played, as well as their opponents' numbers in those categories. The
Games T / H
column lists the team's total number of games played as well as home games (T / H), and lists the cumulative rating from 1-10 of that week's matchups.
Offensive Highlights
I told you that I would warn you if the Vancouver Canucks or Chicago Blackhawks, which were both pitching O:10s on the Forecaster consistently, dropped below that level. Consider this a fair warning. Both the Canucks and Hawks are an O:6 on the week ahead. That's not terrible, but it's not great either.
Carolina Hurricanes: The Canes have a four-game schedule with three home games that rate well on the Forecaster. The average of games against the Philadelphia Flyers, Montreal Canadiens, Buffalo Sabres and Toronto Maple Leafs is an O:7 on the Forecaster, which is easily the best rating for the Hurricanes so far this season. Though on the whole Eric Staal has done more damage to fantasy teams with his plus/minus than he has helped them with his points, the Hurricanes look to be trying to re-energize their captain. Staal played Tuesday's contest against the Devils on a line with Jeff Skinner for the whole game. Skinner, as discussed in last week's Frontline, is the new offensive catalyst for the team. Staal will be useful in fantasy leagues next week if the Canes keep skating him with Skinner. ... The team also has rookie Zac Dalpe back from injury. He earned only 10 shifts on Tuesday in his first game back, but has the offensive skills to climb the depth chart. Watch for his name on the scoresheet this weekend and consider him as a late lineup addition for next week if he finds his groove.
Colorado Avalanche: The Avalanche earn an O:7 on the Forecaster for the week ahead with contests against the Pittsburgh Penguins, Minnesota Wild, Dallas Stars and San Jose Sharks. The Avs are still mixing and matching the top six. The team marched out it's "super" line for the third straight game with Matt Duchene, Paul Stastny and Milan Hejduk on the same unit against the Detroit Red Wings on Tuesday, but when they weren't scoring goals by the third period, Duchene was back with Joakim Lindstrom and David Jones. By Thursday's overtime win against the New York Islanders, the lines had Lindstrom with Hejduk and Stastny, while T. J. Galiardi suited up to skate with Duchene and Jones. These line combinations are enough to make your head spin. At the end of the day, the third line might be the best place to look for some consistency in value. Gabriel Landeskog, Daniel Winnik and Ryan O'Reilly are cemented as a combination. Winnik and O'Reilly have three and four points respectively in the past seven games. If you want to gamble with Avalanche forwards, these two are your safest bets.
Detroit Red Wings: The Red Wings are just the right kind of hot heading into an O:10 week on the Forecaster for their four games next week against the St. Louis Blues, San Jose Sharks, Los Angeles Kings and Anaheim Ducks. Johan Franzen has six points in the past two games and linemate Valtteri Filppula (available in 76 percent of ESPN leagues) has three points in the past two. Ian White, who is almost universally owned, may be on your bench because of a slow start; by has three points, including two power-play markers, in the past three games. White, as he does at even strength, is on an improving Red Wings power play alongside Nicklas Lidstrom. Danny Clearly's ownership (available in 66 percent of ESPN leagues) has plummeted since the start of the season, but with a good Forecaster rating he may be a good start for the week ahead, too. Cleary is still playing alongside Pavel Datsyuk and has 17 shots and two goals in the past three games.
Offensive Lowlights
Winnipeg Jets: With a lowly O:2 on the Forecaster, those who have been piling on Evander Kane during the past week may want to cool their jets. Kane's recent outburst of points found him on many new fantasy teams last week, but the Jets rate very poorly in games against the Tampa Bay Lightning, Washington Capitals and Philadelphia Flyers next week. Consider stashing not only Kane, but any other Jets you have been using consistently outside of perhaps Dustin Byfuglien (though that might not be an extensive list at this point). If you insist on watching one thing next week, it's the fact that Tim Stapleton has assumed the role of Tobias Enstrom on the first power-play unit during the past four games. Stapleton plays such little ice time on the whole he is damaging to average ice time in ESPN standard leagues, but the situation is worth watching. He has power-play points in two straight games.
Defensive Highlights
[+] Enlarge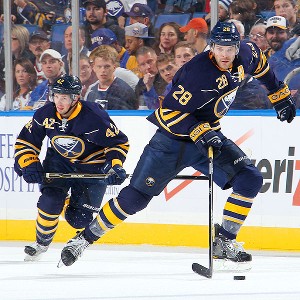 Bill Wippert/Getty ImagesPaul Gaustad, Nathan Gerbe and Brad Boyes (unseen) have combined for 21 points and a plus-17 in 14 games.
Buffalo Sabres: If you want to take advantage of the Sabres D:10 on the Forecaster you need to look at the line of Nathan Gerbe, Paul Gaustad and Brad Boyes. Gerbe and Gaustad, in particular, have managed a plus-4 with four and three points respectively in the past six games. In a week with four games and such a strong rating, a solid plus/minus from this checking line can be expected with a few points to chip in as well (the Sabres are an O:7). & While recommending Ryan Miller would be the obvious advice given the Forecaster rating, the sneaky pick might be Jhonas Enroth. Miller has struggled since Oct. 25, allowing 15 goals in four starts with just one win. Enroth, during that same timeframe, has managed to win three of four games allowing just five goals. And that one game he didn't win was because Miller lost the game in the first six minutes and Enroth came in and pitched a shutout the remainder of it. Miller is more entrenched than most other goaltenders in the NHL and I am not openly suggesting Enroth is threatening him long-term, but for next week Enroth makes a decent gamble.
Montreal Canadiens: Carey Price is on fire and the Forecaster thinks that will continue into next week with a D:9 on the Forecaster. With seven straight starts as of Friday, don't expect Price to get all four starts next week though. Peter Budaj will surely relieve him against either the Carolina Hurricanes on Wednesday or the New York Islanders on Thursday.
Defensive Lowlights
Calgary Flames: If Miikka Kiprusoff is one of the goaltenders you lean on for your fantasy team, you might want to make other arrangements for next week (see Enroth, Jhonas). The Flames rate as a D:1 on the Forecaster with contests against the Ottawa Senators and Chicago Blackhawks. The Sens are second in goals per game during the past three weeks and the Hawks are second in shots per game. That is not a good combination for Kipper.
Who's Hot/Not
Rk

Team

G/Gm

Rk

Team

GA/Gm

Rk

Team

Shots
/Gm

Rk

Team

Opp.
Shots
/Gm

1
WSH
4.40
1
PHI
4.00
1
BOS
36.2
1
PHO
34.0
2
OTT
3.71
2
TOR
3.57
2
CHI
34.3
2
FLA
33.7
3
VAN
3.67
3
NJ
3.50
3
VAN
34.2
3
NSH
32.7
3
WPG
3.50
Without James Reimer, the Toronto Maple Leafs have been sinking in the goals-per-game department. It's been about three weeks since Reimer suffered an upper-body injury and over that span the Leafs are second in the league in goals allowed per game. Jonas Gustavsson was starting to string some solid performances together but after the team gave Ben Scrivens a couple starts, Gustavsson seemingly lost the roll he was on. Neither Gustavsson nor Scrivens, have given back-to-back outings that you could consider impressive. This really might be a goaltending situation where fantasy owners just have to stay away. Scrivens has given a pair of above-average performances against the Columbus Blue Jackets and St. Louis Blues, but was so bad in parts of games against the Boston Bruins and Florida Panthers in between that it erased any benefit. No, the number of goals going into the Leafs net is no coincidence. There is little hope to glean fantasy benefit while Reimer is hurt.
Hockey Challenge
It's beginning to get difficult deciding between long-term value and short-term performance. Making the decision to drop Jason Spezza when the Sens have a weak offensive schedule becomes less evident when you are saving $0.7 million by having locked him weeks ago. It's those kind of decisions that you will have to weigh in your own mind. The Vancouver Canucks don't have a solid offensive schedule for next week, but you may be saving up to $1.4 million by having the Sedin twins locked in. Is it worth cutting them for someone with a slightly better outlook next week? That decision is for each individual to make, but I am keeping them.
Best bets: The Detroit Red Wings are the team with the best outlook for the coming week. Not only does the team come in hot, but the Wings play four times during the week. Johan Franzen, the hottest of the Wings players, may be somewhat expensive at $8.4 million but should return positively on the investment. Looking ahead, the Red Wings don't have a two-game week (except when everyone does for the All-Star break) for the remainder of the season. That means Franzen might be an investment you keep for the long term (if the Mule can finally stay healthy).
Weekly bargains: It doesn't get any cheaper than Marc-Andre Gragnani ($4.4M) on the blue line, but the power-play specialist has two points in the past three games. With a decent outlook on offense for the Buffalo Sabres and an especially strong defensive forecast, Gragnani might make a good gamble to save some bucks in your lineup.
Rentals: Going back to the Red Wings for a great rental in Valtteri Filppula. Playing on a line with the red-hot Franzen, Filppula ($6.3M) is a much cheaper alternative and should be just a little behind Franzen for production. & For the top end rentals consider Jeff Skinner ($8.0M) since the Hurricanes have a good schedule. For that matter, Jussi Jokinen ($6.6M) has nine points in 12 games this season before he hurt is leg and could be back this weekend.
My roster for next week:
Carey Price, G ($13.5M)
Pekka Rinne, G ($14.1)
Nicklas Lidstrom, D ($8.2)
Erik Karlsson, D ($6.4M / $7.0M on market)
Ian White, D ($5.9)
Marc-Andre Gragnani, D ($4.4M)
Daniel Sedin, F ($9.0M / $9.6M on market)
Johan Franzen, F ($8.4M)
Brad Boyes, F ($7.0M
Phil Kessel, F ($7.7M / $8.6 on market)
Henrik Sedin, F ($8.9M / $9.7 on market)
Valtteri Filppula, F ($6.3)

Sean Allen is a fantasy analyst for ESPN.com. He is the 2008 and 2009 Fantasy Sports Writers Association, Hockey Writer of the Year. You can send him a note here or tweet him @seanard with the hashtag #FantasyHockey for a timelier response.
Sean Allen is a fantasy analyst for ESPN.com. He was the 2008 and 2009 Fantasy Sports Writers Association Hockey Writer of the Year. You can tweet him
@seanard
.
MOST SENT STORIES ON ESPN.COM