Commentary
Fantasy Forecaster: Week of Nov. 28
Updated:
November 26, 2011, 9:34 PM ET
By
Sean Allen
| Special to ESPN.com
Sidney Crosby certainly had a comeback to remember. His return to the ice from concussion symptoms to score two goals and four points was worthy of the man considered by many to be the best player in the NHL. However, Sid the Kid isn't the only player in the league to have only recently strapped on his skates. There are a few other players who have played only a handful of games this season who might be worth your fantasy attention.
Jochen Hecht, Buffalo Sabres: Hecht made his season debut Wednesday night, and what a debut it was. No, he didn't score any points. But Hecht skated on the top line with Thomas Vanek and Jason Pominville. You don't need to be told the kind of season Vanek and Pominville have been having and what it did for rookie Luke Adam while he was playing with them. Hecht isn't a purely offensive player, but he brings a two-way presence to the line and will get points through simple association with Vanek and Pominville. Adam was worth starting in all leagues while he was on the top line, and Hecht should approach that value, as well. It should be noted that Hecht is available in 100 percent of ESPN leagues.
Mikael Backlund, Calgary Flames: Backlund's return hasn't been pretty yet, but there is potential in this Swedish star. He returned from a broken finger to immediately be handed the role of top-line center for the Flames. Playing between Jarome Iginla and Alex Tanguay has been good only in theory so far, though. Backlund has no points and a minus-5 in six games. The trio was fairly hot toward the end of last season, so there is precedent for chemistry. Backlund has a window of about another week before the team will be forced to demote him from the top line, but it is hard to believe his talent won't win out in the end. Given the total lack of production, it is probably safe to watch the situation from a distance for now.
[+] Enlarge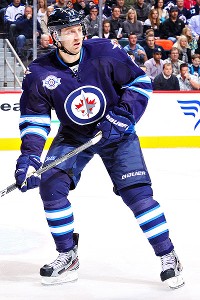 Jonathan Kozub/NHLI/Getty Images Eric Fehr flashed his scoring potential in 2009-10 with the Capitals, potting 21 goals in 69 games on a 14.5 shooting percentage.
Eric Fehr, Winnipeg Jets: Fehr was scraped from the bottom of the Washington Capitals' depth chart by the Jets in the offseason with big expectations for his performance. Fehr had put in a couple of seasons of elevated scoring, considering his role and ice time with the Caps. A shoulder injury has kept him off the ice until this week. In two games so far, he has played less than 10 minutes per game and on the third and fourth lines. He was acquired by the Jets to be an offensive force and surely will work his way into that role in the coming weeks. Fehr has the size and scoring acumen to be a power forward worthy of fantasy attention, so consider this the chance to get in on the ground floor. Still, it's obvious his growth into the role from his shoulder issues will be slow, and there is time to wait on him until he starts playing more minutes.
Nino Niederreiter, New York Islanders: It's curious that the Isles would sit Niederreiter after only three games this season. After his recovery from a preseason groin injury, Niederreiter made his debut last week and played in three games before becoming a healthy scratch for the past two. The 2010 first-round pick played with John Tavares and Matt Moulson with some success in the preseason, but he hasn't cracked the top six since getting healthy. It likely will be a waiting game with Niederreiter this season, as all indications point to the Islanders' taking nothing but baby steps with him. Still, he has the skill set of a fantasy regular and will warrant attention as long as he remains in the NHL.
Travis Zajac, New Jersey Devils: We will end with a player who hasn't played a single game in the NHL this season. Zajac has clearance to begin practice with the Devils in short order and is on track to be playing with the team in less than a month. In all likelihood, Zajac will push Adam Henrique out of the top six and begin his season centering Zach Parise and Ilya Kovalchuk. Combine the sheer talent of the wingers with Zajac's experience as a top-line centerman and the result is fantasy gold. Available in 64 percent of ESPN leagues, Zajac will be started in 100 percent of leagues within a few weeks of his return to the ice. Consider investing now to be ahead of the curve.
Team

Mon
11/28

Tue
11/29

Wed
11/30

Thu
12/1

Fri
12/2

Sat
12/3

Sun
12/4

Games
T / H

Ducks
OFF
OFF
MTL
O: 5
D: 5
OFF
PHI
O: 8
D: 5
OFF
MIN
O: 7
D: 6
3 / 3
O: 7
D: 5
Bruins
OFF
OFF
@TOR
O: 9
D: 8
OFF
OFF
TOR
O: 8
D: 7
OFF
2 / 1
O: 6
D: 5
Sabres
OFF
NYI
O: 7
D: 7
OFF
OFF
DET
O: 8
D: 3
@NSH
O: 6
D: 6
OFF
3 / 2
O: 8
D: 5
Flames
OFF
NSH
O: 6
D: 6
OFF
CLS
O: 8
D: 6
OFF
@EDM
O: 7
D: 6
@VAN
O: 3
D: 2
4 / 2
O: 9
D: 7
Hurricanes
OFF
FLA
O: 5
D: 5
OFF
NYR
O: 5
D: 5
OFF
PIT
O: 5
D: 4
OFF
3 / 3
O: 5
D: 5
Blackhawks
OFF
PHO
O: 8
D: 3
OFF
OFF
NYI
O: 9
D: 3
@STL
O: 8
D: 4
OFF
3 / 2
O: 9
D: 3
Avalanche
DAL
O: 7
D: 1
OFF
NJ
O: 5
D: 3
OFF
STL
O: 6
D: 1
OFF
DET
O: 8
D: 1
4 / 4
O: 10
D: 1
Blue Jackets
OFF
@VAN
O: 1
D: 1
OFF
@CGY
O: 6
D: 4
@EDM
O: 8
D: 5
OFF
OFF
3 / 0
O: 5
D: 3
Stars
@COL
O: 8
D: 4
OFF
OFF
OTT
O: 7
D: 6
OFF
NYI
O: 8
D: 6
OFF
3 / 2
O: 8
D: 5
Red Wings
OFF
OFF
TB
O: 8
D: 3
OFF
@BUF
O: 8
D: 5
OFF
@COL
O: 10
D: 6
3 / 1
O: 10
D: 5
Oilers
NSH
O: 3
D: 5
OFF
MIN
O: 4
D: 5
OFF
CLS
O: 5
D: 5
CGY
O: 5
D: 4
OFF
4 / 4
O: 6
D: 7
Panthers
OFF
@CAR
O: 3
D: 7
OFF
@LA
O: 2
D: 7
OFF
@SJ
O: 4
D: 4
OFF
3 / 0
O: 3
D: 7
Kings
SJ
O: 5
D: 5
OFF
OFF
FLA
O: 4
D: 8
OFF
MTL
O: 3
D: 7
OFF
3 / 3
O: 4
D: 6
Wild
TB
O: 4
D: 3
OFF
@EDM
O: 6
D: 7
OFF
NJ
O: 3
D: 8
OFF
@ANA
O: 3
D: 6
4 / 2
O: 5
D: 9
Canadiens
OFF
OFF
@ANA
O: 5
D: 8
@SJ
O: 6
D: 6
OFF
@LA
O: 4
D: 9
OFF
3 / 0
O: 5
D: 8
Predators
@EDM
O: 6
D: 7
@CGY
O: 4
D: 6
OFF
@VAN
O: 1
D: 4
OFF
BUF
O: 5
D: 5
OFF
4 / 1
O: 5
D: 8
Devils
OFF
OFF
@COL
O: 6
D: 7
OFF
@MIN
O: 3
D: 8
@WPG
O: 6
D: 7
OFF
3 / 0
O: 5
D: 8
Islanders
OFF
@BUF
O: 6
D: 3
OFF
OFF
@CHI
O: 9
D: 2
@DAL
O: 7
D: 4
OFF
3 / 0
O: 8
D: 3
Rangers
OFF
PIT
O: 3
D: 6
OFF
@CAR
O: 4
D: 8
OFF
@TB
O: 5
D: 6
OFF
3 / 1
O: 4
D: 7
Senators
OFF
@WPG
O: 7
D: 6
OFF
@DAL
O: 4
D: 7
OFF
@WSH
O: 1
D: 6
OFF
3 / 0
O: 4
D: 6
Flyers
OFF
OFF
OFF
OFF
@ANA
O: 5
D: 6
@PHO
O: 6
D: 7
OFF
2 / 0
O: 4
D: 4
Coyotes
OFF
@CHI
O: 7
D: 3
OFF
@WPG
O: 8
D: 3
OFF
PHI
O: 4
D: 5
OFF
3 / 1
O: 7
D: 4
Penguins
OFF
@NYR
O: 5
D: 8
OFF
@WSH
O: 3
D: 8
OFF
@CAR
O: 6
D: 8
OFF
3 / 0
O: 5
D: 9
Blues
OFF
@WSH
O: 3
D: 5
OFF
OFF
@COL
O: 7
D: 5
CHI
O: 7
D: 5
OFF
3 / 1
O: 6
D: 5
Sharks
@LA
O: 5
D: 7
OFF
OFF
MTL
O: 5
D: 6
OFF
FLA
O: 7
D: 7
OFF
3 / 2
O: 6
D: 7
Lightning
@MIN
O: 7
D: 7
OFF
@DET
O: 7
D: 3
OFF
OFF
NYR
O: 6
D: 6
OFF
3 / 1
O: 7
D: 6
Maple Leafs
OFF
OFF
BOS
O: 2
D: 4
OFF
OFF
@BOS
O: 3
D: 2
OFF
2 / 1
O: 1
D: 2
Canucks
OFF
CLS
O: 10
D: 10
OFF
NSH
O: 6
D: 10
OFF
OFF
CGY
O: 9
D: 7
3 / 3
O: 9
D: 10
Capitals
OFF
STL
O: 6
D: 7
OFF
PIT
O: 3
D: 8
OFF
OTT
O: 6
D: 9
OFF
3 / 3
O: 5
D: 9
Jets
OFF
OTT
O: 5
D: 5
OFF
PHO
O: 6
D: 4
OFF
NJ
O: 3
D: 6
OFF
3 / 3
O: 4
D: 5
"O" (offense) and "D" (defense) matchup ratings are based upon a scale from 1 (poor matchup) to 10 (excellent matchup), and are calculated using a formula that evaluates the team's year-to-date and past 21 days' statistics, its performance in home/road games depending on where the game is to be played, as well as its opponents' numbers in those categories. The
Games T / H
column lists the team's total number of games played as well as home games (T / H) and lists the cumulative rating from 1-10 of that week's matchups.
Offensive highlights
Colorado Avalanche: The Avs have a nice four-game week ahead with an O:10 on the Forecaster for games against the Dallas Stars, New Jersey Devils, St. Louis Blues and Detroit Red Wings. Matt Duchene, Milan Hejduk and Gabriel Landeskog have been skating as the top line and should all be in your lineup. David Jones (available in 66 percent of ESPN leagues) should be substituted into your lineup if possible, and Kyle Quincey should be there on your blue line. It's worth a look at Shane O'Brien (available in 89 percent of ESPN leagues), too, given his recent performance. Skating with Quincey at even strength and getting a mild amount of power-play time, O'Brien has shots on goal and penalty minutes that are enough to make him a decent start in a good week. Using Paul Stastny is a bit of an iffy prospect, noting that he most recently was spotted on a line with Brandon Yip and Kevin Porter. Still, Stastny gets his time on the power play and has enough talent to be worth starting in most leagues.
[+] Enlarge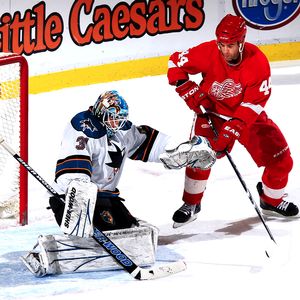 Dave Reginek/Getty ImagesTodd Bertuzzi has at least 40 points and 70 penalty minutes in each of his past four seasons.
Detroit Red Wings: As discussed in last week's Forecaster, Pavel Datsyuk's adjusted shooting percentage called for more goals, and he has scored three since then and has eight total points in his past four games. He is playing on a line with Todd Bertuzzi (available in 95 percent of ESPN leagues) and Johan Franzen. Bertuzzi, though scoreless in three games on Datsyuk's wing, is a plus-4 in that time. Big Bert doesn't help out in many ways, but using him on a week when the Red Wings have an O:10 for three games on the Forecaster could mean a boost to plus/minus, if nothing else. Tomas Holmstrom (available in 98 percent of ESPN leagues) has been up to his old tricks as a power-play specialist since Datsyuk perked up. Holmstrom has four power-play points in his past four games and is skating on the top unit. Ian White (available in 31 percent of ESPN leagues) was dropped in some leagues while he dealt with a fractured cheekbone, but was back Wednesday night and skating beside Nicklas Lidstrom. He will start producing again soon, too.
Anaheim Ducks: The Ducks face a three-game week with an O:7 against the Montreal Canadiens, Philadelphia Flyers and Minnesota Wild. Obviously, the game against the Canadiens is bringing down the average rating for the week, given the play of Carey Price lately, but overall it should be a positive result for Corey Perry, Ryan Getzlaf, Teemu Selanne and Cam Fowler. Of interest is the Ducks' waiver claim on Niklas Hagman. Although Andrew Cogliano (available in 99 percent of ESPN leagues and also a good option for next week) has begun earning his stripes on the second line with Saku Koivu and Selanne (six points in seven games), there is always room for a former 27-goal scorer to weasel into the top six. Hagman hasn't flashed any of his goal-scoring ability in his time with the Flames, but he showed 30-goal potential with the Toronto Maple Leafs and the Stars. It will be worth monitoring his role with the Ducks next week, especially if Bobby Ryan's hip contusion means any lost time.
Offensive lowlights
Florida Panthers: The Panthers have a weak O:3 on the Forecaster, but it is still hard to argue against starting Stephen Weiss, Kris Versteeg or Tomas Fleischmann. They have defied so many odds this season that a poor rating on schedule software shouldn't cause you to shy away. But a poor rating should be hesitation for starting Jason Garrison and Dmitry Kulikov, both of whom are banged up on the Panthers' blue line.
Toronto Maple Leafs: Only two games and both are against the streaking Boston Bruins; that should be reason enough to avoid the Leafs next week. Even the league's leading scorer, Phil Kessel, has been shut out in two contests against the Bruins so far this season. There is little argument for using any member of the Maple Leafs next week unless you have no alternative.
Defensive highlights
Vancouver Canucks: The reason the Canucks' D:10 is even mildly exciting is the current upper-body ailment afflicting Roberto Luongo. Although Luongo is expected to be ready to go sooner than later, Cory Schneider could get as many as two of the three starts on Vancouver's strong defensive week. Luongo will be eased back into play, and there is absolutely no rush given Schneider's terrific play in his stead. Available in 68 percent of ESPN leagues, Schneider deserves some serious fantasy attention next week.
Minnesota Wild: Although Niklas Backstrom has been rock solid in goal since Josh Harding started threatening him earlier this month with some hot starts, his absence for personal reasons opened the door for Harding to roll off two straight wins and reassert his value. The Wild have four games and a D:9 on the Forecaster. Certainly, with Harding showing his quality this season, Backstrom won't be expected to start all of the games. Harding has made the case to start sneaking at least one start in per week, and there is something to be said for one good start a week from a backup goaltender.
Defensive lowlights
New York Islanders: Avoid the Islanders for defense next week. Given that Al Montoya and Evgeni Nabokov are on injured reserve, this is probably a no-brainer for most folks. The last time an Isles goaltender won a game with a save percentage better than .900 was on Oct. 15 (Nabokov pulled it off). With such a low bar for performance, don't even toy with the idea of starting Rick DiPietro or Anders Nilsson. You shouldn't even be considering the Isles' netminders until Montoya and Nabokov are back in the picture.
Colorado Avalanche: It's a great week on offense and a lousy week on defense for the Avs. With an O:1 on the Forecaster, the team has the dubious honor of having the best offensive and worst defensive rating for the week ahead. Although the feeling is that Semyon Varlamov will be given an opportunity to start a few games in a row to earn back the No. 1 label for the club, he probably wishes it were in a different week. The Stars and Red Wings make for dangerous bookends on a week that also includes games against the Devils and Blues. Jean-Sebastien Giguere might have an extension to his value in the medium term thanks not to his own merits but to the schedule makers. Check in next week to take the temperature of the Avs' goaltending situation because, if the Forecaster is any indication, Giggy could be the hot topic again this time next week.
Who's hot/not
Rk

Team

G/Gm

Rk

Team

GA/Gm

Rk

Team

Shots
/Gm

Rk

Team

Opp.
Shots
/Gm

1
BOS
4.67
1
NYI
4.20
1
PIT
35.3
1
ANA
34.0
2
PHI
3.67
2
ANA
3.56
2
COL
34.9
2
NYI
33.6
3
DET
3.50
2
CLS
3.56
3
DET
34.1
3
PHO
33.3
The fantasy owners of Jonas Hiller certainly won't see it as a shock that the Ducks have taken the most shots on goal in the past three weeks and are second in goals allowed. In fact, Hiller has won two games in his past 12 starts with a 3.15 goals-against average. That is not the material of a No. 1 goaltender. Hiller's season-long GAA has even crept up to 3.01 with Thursday's loss to the Phoenix Coyotes. It is obvious that a benching is in order for Hiller, but it is not worth dropping him just yet. The Ducks have a competitive team built and have no other place to turn for goaltending. If the team can turn its fortune around, Hiller will be in net for it. Just make sure you set him aside for now until you see the defense tighten up a bit.
Hockey Challenge
Best bets: The Canucks are back in the good graces of the schedule maker with one of the best offensive ratings of the week, but the Avalanche and Red Wings are up there, as well. Pavel Datsyuk ($9.4M) is one of the hotter scorers in the league but will come at a premium price. Tomas Holmstrom ($5.3M) has been benefiting from Datsyuk's hot play on the power play and comes at a significantly lower rate. … To take advantage of the Canucks' schedule, be wary that the team has gone back to its expected line combinations, making Jannik Hansen ($5.6) a third-liner again by putting Alexandre Burrows ($7.0) back with the Sedin twins. … The best deal for the Avalanche lies in Milan Hejduk ($6.4), who is cheaper than Matt Duchene ($8.0M) but shares the ice with him most of the time. … If you planned properly, Marc-Andre Fleury ($13.1M) and Carey Price ($14.0M) remain a couple of the top-rated goaltenders for the week ahead based on the schedule. Because of Roberto Luongo's ($14.3M) injury status and the fact he is nearing a return, it is dangerous to try to take advantage of the Canucks' terrific schedule by looking at either goaltender. No matter how well Cory Schneider has played ($10.3M).
Weekly bargains: With Tyler Myers hurting, an investment in Marc-Andre Gragnani ($4.7M) could pay dividends in the next month. As Myers recovers from a broken wrist, Gragnani will be relied upon for the power play. … Injuries will be a lingering concern, but Sami Salo ($5.6M) will pay dividends while you own him and he is healthy. Back with the Canucks again after a groin injury, Salo already is starting to find the back of the net again with regularity.
Rentals: As much as I spoke out against the idea in the above paragraphs, those with a gambling nature should keep an eye on Luongo's status through the weekend and consider Schneider if Luongo isn't back between the pipes. The same can be said of the Wild's Josh Harding ($9.6M). Finding a bargain goaltender can go a long way toward freeing up dollars for your offense. It is a very risky game to play, though. … The Sabres have a solid week ahead for offense, and Jochen Hecht is at a bargain basement price of $4.6 million. He might not be someone to keep around for the long term, but when the Sabres have a good week and he is skating with the top line, Hecht could pay dividends.
My roster for next week:
Carey Price, G ($13.5M / $13.5M on market)
Marc-Andre Fleury, G ($13.1M)
Cam Fowler, D ($6.9M)
Erik Karlsson, D ($6.4M / $7.5M on market)
Marc-Andre Gragnani, D ($4.7M)
Alexander Edler, D ($7.9M)
Daniel Sedin, F ($9.0M / $10.0M on market)
Sidney Crosby, F ($8.8M)
Jochen Hecht, F ($4.6M)
Phil Kessel, F ($7.7M / $9.3 on market)
Henrik Sedin, F ($8.9M / $9.9 on market)
Matt Duchene, F ($8.0M)

Sean Allen is a fantasy analyst for ESPN.com. He is the 2008 and 2009 Fantasy Sports Writers Association Hockey Writer of the Year. You can send him a note here or tweet him @seanard with the hashtag #FantasyHockey for a timelier response.
Sean Allen is a fantasy analyst for ESPN.com. He was the 2008 and 2009 Fantasy Sports Writers Association Hockey Writer of the Year. You can tweet him
@seanard
.
MOST SENT STORIES ON ESPN.COM