Commentary
Fantasy Forecaster: Week of Dec. 5
Updated:
December 2, 2011, 4:56 PM ET
By
Sean Allen
| Special to ESPN.com
Wait a minute. The Washington Capitals canned a coach with a perfect playoff appearance record, two trips to the conference semifinals in four years and who won the Jack Adams Trophy in his first year at the helm? No wonder Bruce Boudreau's search for a head-coaching gig lasted all of two days.
During the past week we have a total of three new head coaches to consider in the NHL. Boudreau was fired by the Caps and replaced by the OHL London Knights bench boss -- and former Capital -- Dale Hunter. Paul Maurice was let go by the Carolina Hurricanes to bring in Kirk Muller. Randy Carlyle was then fired by the Anaheim Ducks so they could bring in Boudreau.
Starting with the most recent news, a switch at the helm for the Ducks to a coach who has had success building a strong offense can only be good news. There is an argument to be made that Boudreau will have even more puzzle pieces to work with on the Ducks than he had with the Capitals. Given Boudreau's history of assembling his top offensive pieces at the top of the depth chart, we should not expect a change in the top two lines. The Ducks' players are a collective minus-104 this season, which is 29th in the league. The team was a collective minus-67 last season (20th in the league). Plus/minus has been one of the biggest problems with some of the values this season for the Ducks. While Boudreau's Capitals are a minus-16 this season (20th in the league), they were plus-118 last season (sixth in league) and plus-384 the season prior (first in league). There is reason to think Boudreau can bring in a stronger defensive responsibility, especially considering that Jonas Hiller is a stronger asset in net than what Boudreau had to work with during his years with the Capitals. Expect an improvement to your Ducks' plus/minus, and thus an improvement in their overall value.
[+] Enlarge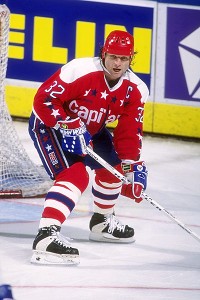 Getty ImagesDale Hunter knows all about offense and intensity. Over his 20-year career, he amassed 1,020 points and 3,565 penalty minutes in 1,407 regular-season games.
Dale Hunter has lost his first two games in the NHL, but the week has gone fast. You get the feeling he has the same attitude as a coach in the dressing room as he did as a player, which is a tough one. Alex Ovechkin and Alexander Semin will have to shape up real quick. Maybe the defensive awareness and plus/minus generation for the Capitals is a thing of the past, but Hunter will surely bring the offense back. He is known for coaching some of the most prolific young prospects to come through the OHL including John Tavares, Corey Perry, Rick Nash and Patrick Kane. Hunter knows how to generate offense. Ovechkin, Semin and Nicklas Backstrom should all start bringing in numbers closer to what you thought you were getting when you drafted. Both John Carlson and Dennis Wideman developed under the tutelage of Hunter with the Knights and that familiarity should be good for both players, as they have previously quarterbacked power plays for the new boss. Dmitry Orlov is also getting an extended look from Hunter on the blue line, splitting the power-play time during the first two games of Hunter's reign. Because the results of the first two games were not positive, the lines could change, but for now Troy Brouwer has stayed with Ovechkin and Backstrom. On the second line, Cody Eakin has been given a chance to stick with Marcus Johansson and Semin. Watch how the combinations are when the Caps finally start scoring, though.
For the Hurricanes, Muller's presence will have an effect on several players who seemed to be Maurice's personal favorites and the younger players should get an opportunity to shine. First things first, Zac Dalpe -- a popular preseason pick for the Calder -- will surely get a chance to play more than five minutes a night under Muller and will have a fresh opportunity to flash his scoring prowess. Put him back on your radar. Anthony Stewart is also going to be in the mix for more ice time, while Jussi Jokinen and Chad LaRose face the threat of reduced minutes. Muller helped form an above-average power play as an assistant with the Montreal Canadiens and part of that process with the Hurricanes will involve expanding the role of Tomas Kaberle over Maurice-favorite Jamie McBain.
Team

Mon
12/5

Tue
12/6

Wed
12/7

Thu
12/8

Fri
12/9

Sat
12/10

Sun
12/11

Games
T / H

Ducks
OFF
LA
O: 7
D: 6
OFF
@STL
O: 7
D: 5
OFF
@NSH
O: 6
D: 5
OFF
3 / 1
O: 6
D: 5
Bruins
@PIT
O: 5
D: 6
@WPG
O: 10
D: 7
OFF
FLA
O: 4
D: 7
OFF
@CLS
O: 7
D: 7
OFF
4 / 1
O: 8
D: 9
Sabres
OFF
OFF
PHI
O: 6
D: 5
OFF
FLA
O: 5
D: 7
NYR
O: 6
D: 5
OFF
3 / 3
O: 6
D: 5
Flames
OFF
CAR
O: 8
D: 6
OFF
COL
O: 9
D: 5
OFF
EDM
O: 9
D: 6
OFF
3 / 3
O: 8
D: 5
Hurricanes
OFF
@CGY
O: 5
D: 4
@EDM
O: 7
D: 4
OFF
@WPG
O: 8
D: 4
OFF
OFF
3 / 0
O: 6
D: 4
Blackhawks
PHO
O: 8
D: 4
OFF
OFF
@NYI
O: 9
D: 6
OFF
OFF
SJ
O: 8
D: 2
3 / 2
O: 8
D: 3
Avalanche
OFF
@VAN
O: 2
D: 1
OFF
@CGY
O: 6
D: 6
@EDM
O: 8
D: 6
OFF
OFF
3 / 0
O: 4
D: 3
Blue Jackets
OFF
@MTL
O: 4
D: 4
OFF
NSH
O: 3
D: 6
OFF
BOS
O: 5
D: 3
OFF
3 / 2
O: 3
D: 4
Stars
OFF
OFF
OFF
@SJ
O: 4
D: 3
OFF
@LA
O: 3
D: 5
OFF
2 / 0
O: 1
D: 2
Red Wings
OFF
@STL
O: 7
D: 7
OFF
PHO
O: 6
D: 6
OFF
WPG
O: 10
D: 4
OFF
3 / 2
O: 8
D: 6
Oilers
OFF
OFF
CAR
O: 6
D: 5
OFF
COL
O: 7
D: 4
@CGY
O: 6
D: 3
OFF
3 / 2
O: 6
D: 3
Panthers
WSH
O: 1
D: 6
OFF
OFF
@BOS
O: 4
D: 5
@BUF
O: 3
D: 6
OFF
@NYR
O: 3
D: 6
4 / 1
O: 2
D: 8
Kings
OFF
@ANA
O: 5
D: 5
OFF
MIN
O: 4
D: 8
OFF
DAL
O: 4
D: 8
OFF
3 / 2
O: 3
D: 7
Wild
OFF
@SJ
O: 4
D: 4
OFF
@LA
O: 4
D: 7
OFF
@PHO
O: 5
D: 7
OFF
3 / 0
O: 3
D: 6
Canadiens
OFF
CLS
O: 6
D: 7
OFF
VAN
O: 2
D: 3
OFF
@NJ
O: 3
D: 10
OFF
3 / 2
O: 3
D: 6
Predators
OFF
PHO
O: 5
D: 8
OFF
@CLS
O: 5
D: 6
OFF
ANA
O: 5
D: 5
OFF
3 / 2
O: 5
D: 6
Devils
OFF
@TOR
O: 5
D: 8
OFF
OTT
O: 4
D: 8
OFF
MTL
O: 1
D: 8
OFF
3 / 2
O: 2
D: 8
Islanders
OFF
TB
O: 5
D: 2
OFF
CHI
O: 8
D: 1
OFF
PIT
O: 5
D: 3
OFF
3 / 3
O: 6
D: 1
Rangers
TOR
O: 8
D: 8
OFF
OFF
TB
O: 5
D: 5
OFF
@BUF
O: 5
D: 6
FLA
O: 5
D: 7
4 / 3
O: 7
D: 9
Senators
TB
O: 4
D: 3
OFF
WSH
O: 1
D: 5
@NJ
O: 3
D: 8
OFF
VAN
O: 1
D: 1
OFF
4 / 3
O: 2
D: 5
Flyers
OFF
OFF
@BUF
O: 6
D: 5
PIT
O: 6
D: 5
OFF
TB
O: 7
D: 4
OFF
3 / 2
O: 6
D: 4
Coyotes
@CHI
O: 6
D: 2
@NSH
O: 3
D: 6
OFF
@DET
O: 5
D: 3
OFF
MIN
O: 4
D: 7
OFF
4 / 1
O: 5
D: 6
Penguins
BOS
O: 5
D: 5
OFF
OFF
@PHI
O: 6
D: 6
OFF
@NYI
O: 7
D: 8
OFF
3 / 1
O: 6
D: 6
Blues
OFF
DET
O: 6
D: 5
OFF
ANA
O: 5
D: 6
OFF
SJ
O: 4
D: 6
OFF
3 / 3
O: 4
D: 5
Sharks
OFF
MIN
O: 7
D: 7
OFF
DAL
O: 6
D: 8
OFF
@STL
O: 5
D: 7
@CHI
O: 8
D: 3
4 / 2
O: 8
D: 8
Lightning
@OTT
O: 7
D: 8
@NYI
O: 8
D: 6
OFF
@NYR
O: 5
D: 7
OFF
@PHI
O: 6
D: 5
OFF
4 / 0
O: 8
D: 9
Maple Leafs
@NYR
O: 3
D: 3
NJ
O: 2
D: 7
OFF
OFF
@WSH
O: 2
D: 2
OFF
OFF
3 / 1
O: 1
D: 4
Canucks
OFF
COL
O: 10
D: 8
OFF
@MTL
O: 9
D: 7
OFF
@OTT
O: 10
D: 9
OFF
3 / 1
O: 10
D: 8
Capitals
@FLA
O: 4
D: 10
OFF
@OTT
O: 5
D: 10
OFF
TOR
O: 8
D: 9
OFF
OFF
3 / 1
O: 5
D: 10
Jets
OFF
BOS
O: 3
D: 3
OFF
OFF
CAR
O: 5
D: 4
@DET
O: 7
D: 1
OFF
3 / 2
O: 4
D: 1
"O" (offense) and "D" (defense) matchup ratings are based upon a scale from 1 (poor matchup) to 10 (excellent matchup), and are calculated using a formula that evaluates the team's year-to-date and past 21 days' statistics, their performance in home/road games depending on where the game is to be played, as well as their opponents' numbers in those categories. The
Games T / H
column lists the team's total number of games played as well as home games (T / H), and lists the cumulative rating from 1-10 of that week's matchups.
Offensive Highlights
San Jose Sharks: A four-game week and an O:8 rating has the Sharks ready for an offensive frenzy in the coming week. After some line mixing during the past couple of weeks, the original combinations returned to the ice for Thursday's win against the Montreal Canadiens and that means Martin Havlat is interesting again. Back with Logan Couture and Ryane Clowe, the line potted two goals on Thursday. Havlat was dropped in 8 percent of ESPN leagues during a recent dry spell, so check him out. Marc-Edouard Vlasic has been scorching as Brent Burns' even-strength partner and is available in 12 percent of leagues. Unfortunately, that's about where the list ends for the well-owned Sharks.
Calgary Flames: Since being picked up on waivers, Blake Comeau finally made his presence felt in his fourth game as a Flame. Shuffled onto a line with Mikael Backlund and Lee Stempniak, Comeau had two points as the line was responsible for two goals in a shootout loss to the Columbus Blue Jackets. The Flames have an O:9 for a three-game week and Comeau is an interesting proposition. The Flames still don't have a dominant scoring line, so if any three players can go on a strong run they could stake claim to the role. Since the other two scoring lines consisted of Olli Jokinen, Jarome Iginla and Curtis Glencross on the top line and Rene Bourque, Roman Horak and Alex Tanguay on the second line on Thursday, a there's a top-6 role for the taking if Comeau can grab it.
Tampa Bay Lightning: The Bolts have a four-game road trip with an O:8 on the Forecaster. We all know that the majority of the Bolts' offense comes from players who are already owned in 100 percent of ESPN leagues, so the question is how to take advantage of this good forecast. The first answer is usually Brett Connolly, but the rookie has been the victim of recent benchings for defensive shortcomings. Ryan Malone and Teddy Purcell haven't been very reliable this season, but with a good offensive forecast and a spot on a line with Steven Stamkos, they could be worth a gamble in many leagues.
Offensive Lowlights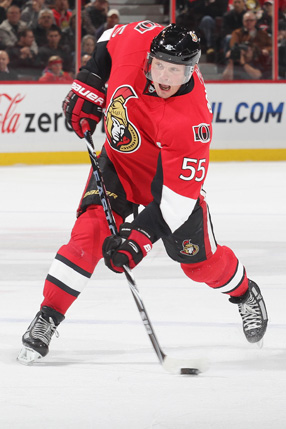 Andre Ringuette/NHLI/Getty ImagesSergei Gonchar is just 10 points shy of matching last season's disappointing 27-point total, which he amassed over 67 games.
Ottawa Senators: Guess who's back? Sergei Gonchar is currently on pace for 61 points this season. He's been scooped up in 100 percent of ESPN leagues now, but you may want to sit him on the bench for next week. The Sens have an O:2 on the Forecaster despite the added benefit of a four-game week. With such a poor rating, you might want to stick to Jason Spezza and Erik Karlsson as the only viable options.
Florida Panthers: Kris Versteeg is recovering from a broken nose and the team has an O:2 on the Forecaster. It might not be the best week to keep marching out the regular players. Like the Sens, the Panthers have the weak rating on a four-game week, which does make the decision to bench anyone very difficult. It wouldn't be a terrible idea to base your decision on the availability of Versteeg. If he quickly recovers from the effects of having his nose broken and is back in the lineup, using Tomas Fleischmann and Stephen Weiss could be advisable. If Versteeg is out for a few more games, finding alternatives is advisable.
Defensive Highlights
New York Rangers: Last season, the New York Rangers' checking line generated fantasy value for Brian Boyle. Playing low on the depth chart, Boyle finished with 21 goals. It's been a slow start in 2011-12 for Boyle, but a checking-line call-up from the AHL might be his magic bullet. Since getting the call, Carl Hagelin has four points in four games with a plus-4 as a member of Boyle's line. Boyle has three of his seven total points this season in those past four games and a plus-4. In a week that the Rangers have a D:9, this line should continue to contribute.
Tampa Bay Lightning: The Bolts have a solid offensive rating and a solid defensive rating on the Forecaster. With a D:9 to go with an O:8, the Lightning could bring some of the better overall fantasy value next week. As mentioned already in this space, there aren't too many ways to take advantage of the situation. Malone and Purcell may be a bit more attractive as a pickup given the situation is also sound defensively. Purcell pulled off a plus-3 performance in a single game against the Panthers last week.
Defensive Lowlights
Edmonton Oilers: Nikolai Khabibulin has forced some separation from Devan Dubnyk during the past couple of weeks, but when you see a D:3 on the Forecaster he goes from a no-brainer to a calculated start. Games against the Carolina Hurricanes, Colorado Avalanche and Calgary Flames rate poorly next week. With the Avalanche and Flames contests on back-to-back nights, 'Bulin won't likely get all three starts next week, either.
Chicago Blackhawks: Corey Crawford has been coughing up some poor performances of late, between solid starts. In order during his past seven starts he has allowed: one, five, two, one, five, one and four goals. The Jekyll/Hyde goaltending is doing no favors for fantasy owners. When you see the Hawks with a D:3 on the Forecaster it might simply be wiser to seek alternative goaltending.
Who's Hot/Not
Rk

Team

G/Gm

Rk

Team

GA/Gm

Rk

Team

Shots
/Gm

Rk

Team

Opp.
Shots
/Gm

1
BOS
4.10
1
WSH
3.70
1
PIT
35.8
1
PHO
33.1
2
TOR
3.60
2
ANA
3.67
2
WPG
34.8
2
OTT
33.0
3
DET
3.50
3
EDM
3.64
3
COL
34.0
3
TOR
32.8
3
OTT
3.50
3
PIT
3.50
Here we see that the Anaheim Ducks fired their head coach after allowing the second-most goals per game during the past three weeks and hired the coach of the team with the most goals allowed during the past three weeks.
As mentioned above, though, Bruce Boudreau is a proven defensively sound coach. You don't finish the season with your players boasting a collective plus-384 (in 2009-10) by simply scoring so many goals. The team had to prevent them, too. As mentioned already, Jonas Hiller is arguably the most talented goaltender Boudreau will have worked with in his time as a head coach (Tomas Vokoun might outrank him, but we don't get to see a full season). If Boudreau starts trimming down the attacks on Hiller while the scoring lines are on the ice for the Ducks, the sky is the limit for Hiller's game.
While the Ducks appear to have traded down in defense based on the past three weeks, it would be unfair to judge Boudreau on the past three weeks alone.
Hockey Challenge
Best bets: Obviously there is logic to buying the most expensive player in the Hockey Challenge game when his team has a solid week ahead on defense. Henrik Lundqvist might cost you $14.8 million in this game, but there is a reason he gets paid the big bucks. … As has become the norm, the Vancouver Canucks, Boston Bruins and Chicago Blackhawks are looking good for next week for scoring. … No defenseman is hotter than Marc-Edouard Vlasic ($4.6M) and the Sharks have a great offensive schedule ahead. He's cheap and he's on the right time. Definitely get him in your lineup.
Weekly bargains: It might not be a bad time to invest in some Winnipeg Jets. The team seems to have found a top-line combination that is quite threatening on the ice. Bryan Little ($6.3M) is inexpensive in the game and has five goals in the past two weeks. … Obviously, Sidney Crosby's ($9.2M) price is only going to continue to skyrocket. If you didn't get in on the ground floor, there is still room for some cost savings by purchasing him now. … Mikko Koivu ($9.0M) is finally scoring at the pace we all expected of him this season. With 10 points in his past seven games, now might be the time to get Koivu into your lineup.
Rentals: To save a few bucks on your goaltending, start Mathieu Garon ($11.1M). The Bolts have one of the best-rated weeks ahead on defense and Garon has been rock solid in his past three starts. … Jordan Eberle ($8.2M) has a ridiculous 15 points in his past nine games. If that isn't a hot streak, the term has not been defined properly. … Adam Larsson ($5.5M) has found his scoring touch in the past two weeks. The Devils have a solid three-game week ahead. Give him a whirl and you might keep him long-term.
My roster for next week:
Carey Price, G ($13.5M/$14.1M on market)
Marc-Andre Fleury, G ($13.5M)
Cam Fowler, D ($6.9M/$7.2M on market)
Erik Karlsson, D ($6.4M/$7.7M on market)
Marc-Edouard Vlasic, D ($4.6M)
Alexander Edler, D ($7.9M/$8.1M on market)
Daniel Sedin, F ($9.0M/$9.9M on market)
Sidney Crosby, F ($8.8M/$9.2M on market)
Lee Stempniak, F ($4.8M)
Phil Kessel, F ($7.7M/$9.4 on market)
Henrik Sedin, F ($8.9M/$10.0M on market)
Jordan Eberle, F ($8.2M)

Sean Allen is a fantasy analyst for ESPN.com. He is the 2008 and 2009 Fantasy Sports Writers Association, Hockey Writer of the Year. You can send him a note here or tweet him @seanard with the hashtag #FantasyHockey for a timelier response.
Sean Allen is a fantasy analyst for ESPN.com. He was the 2008 and 2009 Fantasy Sports Writers Association Hockey Writer of the Year. You can tweet him
@seanard
.
SPONSORED HEADLINES
FANTASY TOP HEADLINES
MOST SENT STORIES ON ESPN.COM