Commentary
Fantasy Forecaster: Week of Dec. 19
Updated:
December 16, 2011, 7:00 PM ET
By
Sean Allen
| Special to ESPN.com
Usually the best analysis involves a balanced amount of opinion, conjecture and ideas to go with statistical evidence to back it up. If the best way to look at fantasy hockey was from a strictly numerical perspective, we could get computers to generate fantasy hockey columns instead of humans (and that wouldn't be fun for anyone). But what would a computer say right now if you asked it for some fantasy hockey recommendations?
That is the exercise this week: Allowing pure math to select which players will be discussed at the top of this column. The ESPN Player Rater uses solely statistics to give each player a fantasy value for the season. So what we have here are the top two players at forward, defense and goaltender on the Player Rater (as of Thursday) who are available in at least 50 percent of ESPN leagues. That's it. This is whom a computer would pick for its fantasy hockey team, so let's take some time to discuss the merits of these selections.
[+] Enlarge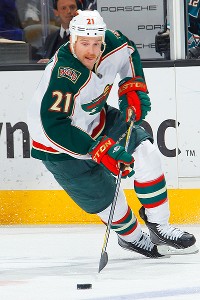 Rocky Widner/Getty ImagesKyle Brodziak is a great short-term addition, but can he keep his value when his Wild teammates return from injury?
Kyle Brodziak, C, Minnesota Wild (No. 112 on the Player Rater and available in 60.5 percent of ESPN leagues): Brodziak has made a late charge for inclusion on this list with strong fantasy performances during the past two weeks. Most of his value comes from 11 goals and a decent amount of penalty minutes and shots. Plus he played a role on the power play lately thanks to injuries. For a checking role guy, Brodziak has shown a scoring touch in the past. The fact he is trending close to 200 shots means he doesn't need an unsustainable shooting percentage to continue scoring, either. For now he's a decent pickup, but when the Wild have everyone healthy, there will be less opportunity for Brodziak to score some points. Still, if you seek mild production, consistent play and little downside, Brodziak fits the bill.
Martin Hanzal, C, Phoenix Coyotes (No. 116 on the Player Rater and available in 64.2 percent of ESPN leagues): Due to a lack of other options, Hanzal continues to play No. 1 center for the Coyotes and will continue to earn points by osmosis from his linemates. Currently rolling with Radim Vrbata and Ray Whitney, but occasionally saddling next to Shane Doan, Hanzal has an unimpressive 18 points in 29 games. That won't win you any leagues, but combine it with a plus-9, lots of ice time and better than average shots on goal and you have the king of the unsexy centers. What do Mike Ribeiro, Derek Roy and Doan have in common? Hanzal has been more valuable than all of them in fantasy leagues so far this season. You won't ever credit Hanzal with your victories, but his performance won't have you pulling your hair out, either. Since Kyle Turris doesn't appear any closer to threatening Hanzal for the prime role, Hanzal remains an underrated potential asset.
Johnny Boychuk, D, Boston Bruins (No. 189 on the Player Rater [No. 43 among defensemen] and available in 76 percent of ESPN leagues): There is only one reason Boychuk is rated so well this season: his plus-14 rating. Still, that is not something to be overlooked. The defenseman ranks have their fair share of busts this season and, while dropping some of the underperformers may be ill-advised, benching them for Boychuk to produce plus/minus can be a shrewd move. Drew Doughty has two more points than Boychuk's seven and is a minus-5. Brent Seabrook, rookie Adam Larsson and sophomore Cam Fowler are just three other examples of D-men who have done less for fantasy teams than Boychuk has to this point.
Matt Niskanen, D, Pittsburgh Penguins (No. 190 on the Player Rater [No. 44 amongst defensemen] and available in 86 percent of ESPN leagues): Like Boychuk, Niskanen's numbers are buoyed by his plus/minus rating, but there is a slightly different tale to be told here. Also like Boychuk, Niskanen has fewer than 10 points this season, as he just isn't the offensive defenseman type. But Niskanen does have four points in his past five games. Kris Letang was injured seven games back and the Penguins have had a void on defense in his absence. While Niskanen is more the stay-at-home type, he has shown off crisp puck movement in days past with the Dallas Stars. This boost in production could very well be the coaches telling him to play with an extra eye to the opposing end of the ice. Since Letang is dealing with a concussion (which we know can be a tricky injury), there is a chance this boost in production could continue for Niskanen. Even though only one of his four recent points was on the power play, Niskanen is taking responsibility on the first unit in Letang's absence.
Tuukka Rask, G, Boston Bruins (No. 50 on the Player Rater [No. 11 amongst goaltenders] and available in 50 percent of ESPN leagues): Yes, Tim Thomas is a rock solid, rock star goaltender. But Rask is still going to start at least 30 games this season. Rask is that good, too. While Thomas has a .940 save percentage, Rask is at .939. In 30 starts, Rask might win 20 games. With his sparkling goals-against average and save percentage, a downgrade to 20 wins to upgrade your other stats might make sense. If you own a goaltender like Ilya Bryzgalov or Tomas Vokoun who wins a lot of games that are often a touch on the ugly side, Rask makes a perfect partner. Instead of using another lukewarm goalie like Al Montoya or Ondrej Pavelec, use Rask as your No. 2 goaltender. The ratio statistics will improve for your team and you won't notice a huge drop-off in wins going to Rask.
Richard Bachman, G, Dallas Stars (No. 118 on the Player Rater [No. 19 amongst goaltenders] and available in 62.9 percent of ESPN leagues): A 3-0-0 record in the NHL and a 0.43 goals-against average through three-plus games will certainly help skyrocket a young netminder up the Player Rater. Bachman is going to tend crease for the Stars until Kari Lehtonen returns from a pulled groin, likely in January. Clearly, Bachman has some beginner's luck working for him, but beginner's luck is often the manifestation of the league not having a clear idea of how to beat a goaltender. The book will get passed around and Bachman will start getting beat a few times, but three starts are enough to see he plays with poise and the offense is confident in front of him. If he gets half a dozen more games in net with Lehtonen hurt, you should get four wins out of him. And remember, Lehtonen has never been the picture of health, and a pulled groin used to be a weekly occurrence when he was with the Atlanta Thrashers. This stint might not be the last we hear of Bachman this season.
Team

Mon
12/19

Tue
12/20

Wed
12/21

Thu
12/22

Fri
12/23

Sat
12/24

Sun
12/25

Games
T / H

Ducks
@DAL
O: 6
D: 5
OFF
OFF
@LA
O: 3
D: 6
OFF
OFF
OFF
2 / 0
O: 4
D: 4
Bruins
MTL
O: 4
D: 8
OFF
OFF
OFF
FLA
O: 4
D: 8
OFF
OFF
2 / 2
O: 3
D: 6
Sabres
OFF
@OTT
O: 7
D: 6
OFF
@TOR
O: 9
D: 7
OFF
OFF
OFF
2 / 0
O: 6
D: 5
Flames
OFF
MIN
O: 6
D: 6
OFF
DET
O: 8
D: 3
@VAN
O: 2
D: 2
OFF
OFF
3 / 2
O: 6
D: 4
Hurricanes
OFF
OFF
PHO
O: 6
D: 5
OFF
OTT
O: 7
D: 5
OFF
OFF
2 / 2
O: 5
D: 4
Blackhawks
OFF
@PIT
O: 7
D: 6
MTL
O: 6
D: 5
OFF
OFF
OFF
OFF
2 / 1
O: 5
D: 4
Avalanche
PHI
O: 6
D: 1
OFF
STL
O: 4
D: 3
OFF
TB
O: 6
D: 1
OFF
OFF
3 / 3
O: 6
D: 1
Blue Jackets
OFF
OFF
OFF
@NSH
O: 3
D: 3
OFF
OFF
OFF
1 / 0
O: 2
D: 1
Stars
ANA
O: 6
D: 5
OFF
PHI
O: 6
D: 4
OFF
NSH
O: 4
D: 6
OFF
OFF
3 / 3
O: 7
D: 6
Red Wings
@EDM
O: 9
D: 8
OFF
@VAN
O: 6
D: 3
@CGY
O: 8
D: 6
OFF
OFF
OFF
3 / 0
O: 9
D: 7
Oilers
DET
O: 6
D: 1
OFF
OFF
MIN
O: 4
D: 4
OFF
OFF
OFF
2 / 2
O: 4
D: 2
Panthers
OFF
PHO
O: 5
D: 7
OFF
@OTT
O: 5
D: 7
@BOS
O: 3
D: 5
OFF
OFF
3 / 1
O: 5
D: 8
Kings
@TOR
O: 7
D: 9
OFF
OFF
ANA
O: 4
D: 7
@SJ
O: 4
D: 7
OFF
OFF
3 / 1
O: 6
D: 10
Wild
@VAN
O: 1
D: 3
@CGY
O: 6
D: 6
OFF
@EDM
O: 7
D: 7
OFF
OFF
OFF
3 / 0
O: 5
D: 7
Canadiens
@BOS
O: 4
D: 6
OFF
@CHI
O: 5
D: 5
@WPG
O: 8
D: 7
OFF
OFF
OFF
3 / 0
O: 6
D: 8
Predators
OFF
@WSH
O: 3
D: 7
OFF
CLS
O: 7
D: 8
@DAL
O: 5
D: 7
OFF
OFF
3 / 1
O: 6
D: 10
Devils
OFF
NYR
O: 2
D: 7
OFF
OFF
WSH
O: 1
D: 8
OFF
OFF
2 / 2
O: 1
D: 6
Islanders
OFF
@WPG
O: 8
D: 4
OFF
@NYR
O: 5
D: 4
TOR
O: 8
D: 4
OFF
OFF
3 / 1
O: 8
D: 5
Rangers
OFF
@NJ
O: 3
D: 9
OFF
NYI
O: 7
D: 7
PHI
O: 7
D: 5
OFF
OFF
3 / 2
O: 7
D: 10
Senators
OFF
BUF
O: 5
D: 4
OFF
FLA
O: 4
D: 5
@CAR
O: 7
D: 5
OFF
OFF
3 / 2
O: 6
D: 6
Flyers
@COL
O: 9
D: 7
OFF
@DAL
O: 6
D: 7
OFF
@NYR
O: 6
D: 5
OFF
OFF
3 / 0
O: 8
D: 8
Coyotes
OFF
@FLA
O: 4
D: 5
@CAR
O: 6
D: 4
OFF
STL
O: 3
D: 5
OFF
OFF
3 / 1
O: 5
D: 6
Penguins
OFF
CHI
O: 6
D: 5
OFF
OFF
@WPG
O: 9
D: 7
OFF
OFF
2 / 1
O: 6
D: 5
Blues
OFF
OFF
@COL
O: 6
D: 6
OFF
@PHO
O: 5
D: 7
OFF
OFF
2 / 0
O: 4
D: 5
Sharks
OFF
OFF
TB
O: 9
D: 4
OFF
LA
O: 3
D: 6
OFF
OFF
2 / 2
O: 5
D: 4
Lightning
OFF
OFF
@SJ
O: 6
D: 3
OFF
@COL
O: 10
D: 6
OFF
OFF
2 / 0
O: 6
D: 3
Maple Leafs
LA
O: 2
D: 5
OFF
OFF
BUF
O: 4
D: 2
@NYI
O: 7
D: 3
OFF
OFF
3 / 2
O: 5
D: 4
Canucks
MIN
O: 8
D: 9
OFF
DET
O: 9
D: 5
OFF
CGY
O: 9
D: 7
OFF
OFF
3 / 3
O: 10
D: 10
Capitals
OFF
NSH
O: 4
D: 8
OFF
OFF
@NJ
O: 3
D: 9
OFF
OFF
2 / 1
O: 3
D: 7
Jets
OFF
NYI
O: 7
D: 4
OFF
MTL
O: 3
D: 4
PIT
O: 3
D: 4
OFF
OFF
3 / 3
O: 5
D: 5
"O" (offense) and "D" (defense) matchup ratings are based upon a scale from 1 (poor matchup) to 10 (excellent matchup), and are calculated using a formula that evaluates the team's year-to-date and past 21 days' statistics, their performance in home/road games depending on where the game is to be played, as well as their opponents' numbers in those categories. The
Games T / H
column lists the team's total number of games played as well as home games (T / H), and lists the cumulative rating from 1-10 of that week's matchups.
Offensive Highlights
New York Islanders: It's not often we get to highlight the Forecaster rating for the Isles' offense in a positive light, but with three games and an O:8 on the schedule they are one of the better choices next week. We are just starting to see the Isles' second line of Michael Grabner, Kyle Okposo and Frans Nielsen awake from an early-season slumber. All three are owned in less than 33 percent of leagues, with Okposo (six points in seven games) worth watching.
Detroit Red Wings: A Western Canada road trip sets up an O:9 on the Forecaster for the Red Wings. Games against the Edmonton Oilers, Vancouver Canucks and Calgary Flames all rate well on this short week. Since settling on a new top six, Todd Bertuzzi and Jiri Hudler have been productive for the team. Hudler has seven points in the past five games while Bertuzzi has a four-game point streak going and is up to plus-10 on the season. With a good schedule ahead, this is a good week to try out one or both of these players.
Vancouver Canucks: While the Canucks are generally considered to be assumed as a good Forecaster schedule, they have a perfect O:10 on offense and defense, with players available to take advantage of it. With David Booth's continued absence, Mason Raymond is without threat as a member of the top six. What could make Raymond especially appealing is if Daniel Sedin has to miss any more time with a back injury. Sedin missed Thursday's game and Raymond had two points in his place on the top line. But even if Daniel is back, the second line with the red hot Ryan Kesler is a great consolation prize.
Offensive Lowlights
Washington Capitals: There are a lot of weak schedules on the Forecaster for this shortened week, but the Caps' O:3 in two games stands out as a poor rating. The question is: Can you really consider benching the un-benchable? Obviously sitting Alex Ovechkin during a bad week is something we've never had to consider before this season. But with such a poor offensive schedule and such poor output by Ovechkin this season, is it justifiable? That decision is up to you. I, however, have no qualms about telling you to sit Alexander Semin next week. Nicklas Backstrom and Dennis Wideman are probably no-brainer starts regardless of schedule, though.
Columbus Blue Jackets: One of the rare beasts known as the one-game schedule surfaces this week for the Blue Jackets, as they play just the Nashville Predators. There are only a few Blue Jackets usually worth your fantasy while, but with only one contest against a defensively sound opponent, there should be no Blue Jackets in your lineup, even Rick Nash.
Defensive Highlights
New York Rangers: The Rangers have three divisional games that combine for an O:10 for Henrik Lundqvist on the Forecaster. Since you can't go pick up Lundqvist in any league, this is a good reminder that a strong defensive forecast can be reason to lean on some other types of players. Two-way players can benefit from a good defensive schedule, and the Rangers have one of the best checking lines going of late. Brian Boyle, Carl Hagelin and John Mitchell are a combined plus-6 with five points in the past four games. Hagelin, with two goals, has been the ringleader whenever the line does serious damage. If you can afford the hit in average ice time, Hagelin has six points, a plus-7 and 26 shots in his first 11 NHL games.
Los Angeles Kings: The Kings and interim head coach John Stevens have a D:10 on the Forecaster for a three-game week. Playing on the road against the Toronto Maple Leafs, followed by games against the Anaheim Ducks and San Jose Sharks, should be a good chance to get Jonathan Quick & Co. rolling again. Quick has turned in some very subpar performances, but very little of the blame should get shouldered by him. Just like the way the Kings' defense and backchecking should share the spotlight when Quick has success, they should accept the blame when the team falls on hard times. A new head coach running the system should mean at least two solid games out of Quick next week. If recent performance had sapped your confidence in him, don't let it stop you from using Quick this week.
Defensive Lowlights
Pittsburgh Penguins: Marc-Andre Fleury has only two games next week and one of them is against the ever dangerous Chicago Blackhawks. The O:6 on the Forecaster is unusually low for a consistent performer like Fleury. If there was ever a week to consider not starting Fleury, it would be this one.
Who's Hot/Not
Rk

Team

G/Gm

Rk

Team

GA/Gm

Rk

Team

Shots
/Gm

Rk

Team

Opp.
Shots
/Gm

1
DET
4.00
1
OTT
3.82
1
PIT
34.7
1
BOS
36.6
1
VAN
4.00
2
CAR
3.80
2
BOS
34.1
2
OTT
34.6
2
#N/A
#N/A
3
ANA
3.50
3
PHI
33.7
3
BUF
33.4
3
WSH
3.50
It's surprising to see the Boston Bruins atop the leaderboard for most shots allowed during the past few weeks. There has been no dip in the play of goaltenders Tim Thomas or Tuukka Rask to make you think something is amiss. In fact, increase the number of shots on goaltenders who keep stopping most of them and your save percentage not only gets better, but is more heavily weighted by the Bruins' performance. Still, this is something to be concerned about long-term.
Thomas has faced a pair of high shot games in December, saving 45 of 46 shots against the Pittsburgh Penguins and 47 of 49 shots against the Ottawa Senators. Going back three weeks, he saved 40 of 42 shots against the Winnipeg Jets. In all three games that helped push up the shots allowed statistic, Thomas was rock solid and got the wins. For his part, Rask stopped 41 shots in shutting out the Los Angeles Kings.
That is four 40-plus shot games in the past three weeks. The Bruins had none prior to Nov. 26 this season. So, no, this change in trends has not affected the Bruins' duo of superstar goaltenders, but it could if it continues. Consider this as a warning to keep an eye on things.
Hockey Challenge
Best bets: It's hard to avoid loading up on the Vancouver Canucks when they, by far, have the best fantasy schedule for next week. Even though it may start to feel old when we are recommending Orcas week in and week out for this game. Though, depending on what news continues to come out about Daniel Sedin ($10.6M) and his injured back, you may have to make a decision about whether to continue keeping him. If he's only missing a game or two (and you are saving more than $0.5M on him), it will be worth eating some missed games. … Pavel Datsyuk ($10.4M) and Henrik Zetterberg ($9.1M) should be money as the Detroit Red Wings continue to roll.
Weekly bargains: In the spirit of the Canucks and Red Wings as the key teams for next week, there are some cheaper options, as well. Todd Bertuzzi ($5.4M) and Jiri Hudler ($4.2M) are benefiting from top-six play with the Red Wings and are incredibly cheap for the production they are bringing to the table. … Christopher Higgins ($5.2M) is the equivalent choice for the Canucks. He is back from a couple of games off with injury and skating with Ryan Kesler on the second line.
Rentals: Consider renting out some New York Islanders given their schedule advantages this week. Matt Moulson ($5.6M) and P.A. Parenteau ($6.2M) are the natural choices on the top line with John Tavares ($8.0M). … Jonathan Quick ($13.4M) hasn't been the most reliable of late, but the Kings have a new coach and a great schedule next week.
My roster for next week:
Roberto Luongo, G ($14.3M / $14.7M on market)
Jonathan Quick, G ($13.4M)
Kevin Bieksa, D ($7.0M / $7.2M on market)
Erik Karlsson, D ($6.4M / $8.1M on market)
Matt Niskanen, D ($4.9M)
Alexander Edler, D ($7.9M / $8.7M on market)
Daniel Sedin, F ($9.0M / $10.6M on market)
Steven Stamkos, F ($10.7M)
Christopher Higgins, F ($5.2M)
Phil Kessel, F ($7.7M / $9.6M on market)
Henrik Sedin, F ($8.9M / $10.6M on market)
Jiri Hudler, F ($4.2M)
Sean Allen is a fantasy analyst for ESPN.com. He is the 2008 and 2009 Fantasy Sports Writers Association, Hockey Writer of the Year. You can send him a note here or tweet him @seanard with the hashtag #FantasyHockey for a timelier response.
Sean Allen is a fantasy analyst for ESPN.com. He was the 2008 and 2009 Fantasy Sports Writers Association Hockey Writer of the Year. You can tweet him
@seanard
.
MOST SENT STORIES ON ESPN.COM