Commentary
Fantasy Forecaster: Week of Jan. 2
Updated:
January 1, 2012, 8:52 AM ET
By
Sean Allen
| Special to ESPN.com
After a string of four loses as interim head coach, Randy Cunneyworth got his first victory behind the bench on Tuesday when the Montreal Canadiens hammered the Ottawa Senators 6-2. Inside that victory we can see some serious potential for a turnaround and the emergence of new fantasy-relevant names.
For all the positive qualities Jacques Martin brought to the table as coach, he has exhibited a tendency of many other "old school" NHL coaches to keep the pressure off of young players until they earn their way up the depth chart. What we saw from Cunneyworth on Tuesday was a willingness to insert some younger prospects in a scoring position and letting them find their own footing. He followed up with the same lines in a 4-3 loss on Thursday.
Lars Eller was the prize in a trade that saw the club ship away postseason hero Jaroslav Halak to the St. Louis Blues prior to last season. Eller has the kind of offensive acumen that could quickly propel him into fantasy discussions if a coach can finally help him adjust his game to the NHL. Eller had solid stats in the Swedish Elite League as a 19-year-old and showed potential in one year of play in the AHL, but has not had an opportunity to translate that success last season or so far this season. Cunneyworth put Eller between Erik Cole and Max Pacioretty this week. That is quite a show of confidence to bookend the young Dane with the team's top offensive wingers so far this season. Eller potted a shorthanded goal in the game, which doesn't indicate the line has chemistry yet, but does help reinforce the confidence Cunneyworth has shown. Eller is certainly one to watch if he continues to skate with Cole and Pacioretty.
[+] Enlarge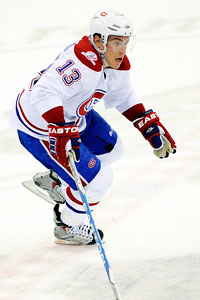 Don Wright/US PresswireMike Cammalleri's goal-per-game production has slipped each season since scoring 39 for the Flames in 2008-09, but the 29-year-old still has 25-goal upside.
Louis Leblanc, the Habs first-round pick from the 2009 draft, has been in the NHL for a dozen games putting in some cursory minutes on the fourth line under Martin and then Cunneyworth. The 20-year-old still played fewer than 10 minutes on Tuesday, but when he did play he was on the ice with Mike Cammalleri and David Desharnais. Although the unit is arguably the Canadiens third line, there is some talent present there. The trio responded with goals by both Cammalleri and Leblanc. This line is a trio of small shifty guys and the energy produced could be enough to get Cammalleri scoring again. Keep an eye on these three and consider looking at Cammalleri's availability in deeper leagues if you have a roster spot you use to speculate.
Andrei Kostitsyn has been living in Martin's doghouse ever since the head coach assumed the role in 2009. Despite his 30-goal, 60-point potential, Kostitsyn has been mired on the third line almost exclusively. He was front and centre with leading scorer Tomas Plekanec (and Travis Moen) on Tuesday in an opportunity to finally start showing his skills and stay in a relevant spot in the depth chart. Kostitsyn also played on the first power-play unit. We know he has talent and, for the first time in two seasons, Kostitsyn has opportunity.
There are some lingering concerns to watch for with this new deployment by the Habs. First off, rolling three scoring lines has a tendency to bring down the value of the top producers. Fortunately or unfortunately, the Habs haven't had very many top performers in fantasy this season. Tomas Plekanec has been above average, Erik Cole has come on strong lately and Max Pacioretty has had streaky value, but those are the only three players with any value to lose. Secondly, the injured Brian Gionta and Scott Gomez look to be nearing a return to the lineup in the near future. Both players make the kind of money and have the kind of track record that means they will be on a scoring line if healthy. Moen, Leblanc and Eller would be the top candidates to move aside for Gionta and Gomez. That means this situation could change quickly in the coming weeks, but there is still time before Gionta and Gomez return for some of these players to plant their fantasy flag.
Team

Mon
1/2

Tue
1/3

Wed
1/4

Thu
1/5

Fri
1/6

Sat
1/7

Sun
1/8

Games
T / H

Ducks
OFF
OFF
SJ
O: 7
D: 4
OFF
NYI
O: 7
D: 6
OFF
CLS
O: 8
D: 5
3 / 3
O: 8
D: 5
Bruins
OFF
OFF
@NJ
O: 5
D: 9
CGY
O: 4
D: 7
OFF
VAN
O: 4
D: 4
OFF
3 / 2
O: 4
D: 8
Sabres
OFF
EDM
O: 8
D: 6
OFF
OFF
@CAR
O: 8
D: 5
WPG
O: 9
D: 5
OFF
3 / 2
O: 8
D: 6
Flames
OFF
@WSH
O: 4
D: 6
OFF
@BOS
O: 4
D: 4
OFF
MIN
O: 5
D: 8
OFF
3 / 1
O: 4
D: 6
Hurricanes
OFF
NYI
O: 5
D: 6
OFF
OFF
BUF
O: 5
D: 4
@NSH
O: 5
D: 4
OFF
3 / 2
O: 5
D: 4
Blackhawks
EDM
O: 7
D: 6
OFF
OFF
@PHI
O: 7
D: 6
COL
O: 8
D: 6
OFF
DET
O: 7
D: 3
4 / 3
O: 10
D: 8
Avalanche
@LA
O: 3
D: 6
OFF
OFF
OFF
@CHI
O: 6
D: 2
@STL
O: 5
D: 4
OFF
3 / 0
O: 5
D: 4
Blue Jackets
OFF
OFF
OFF
@SJ
O: 7
D: 1
OFF
@LA
O: 3
D: 4
@ANA
O: 7
D: 3
3 / 0
O: 5
D: 2
Stars
OFF
DET
O: 7
D: 2
OFF
@NSH
O: 5
D: 4
OFF
EDM
O: 7
D: 5
OFF
3 / 2
O: 6
D: 3
Red Wings
OFF
@DAL
O: 8
D: 7
OFF
OFF
OFF
@TOR
O: 10
D: 7
@CHI
O: 7
D: 5
3 / 0
O: 9
D: 7
Oilers
@CHI
O: 6
D: 2
@BUF
O: 5
D: 4
OFF
@STL
O: 4
D: 4
OFF
@DAL
O: 6
D: 5
OFF
4 / 0
O: 7
D: 5
Panthers
OFF
OFF
OFF
@NYR
O: 3
D: 5
@NJ
O: 4
D: 6
OFF
OFF
2 / 0
O: 2
D: 4
Kings
COL
O: 5
D: 8
OFF
OFF
PHO
O: 4
D: 8
OFF
CLS
O: 5
D: 8
OFF
3 / 3
O: 5
D: 9
Wild
OFF
OFF
@VAN
O: 1
D: 2
OFF
OFF
@CGY
O: 4
D: 6
OFF
2 / 0
O: 1
D: 2
Canadiens
OFF
OFF
WPG
O: 7
D: 6
OFF
OFF
TB
O: 6
D: 6
OFF
2 / 2
O: 4
D: 4
Predators
OFF
OFF
OFF
DAL
O: 7
D: 6
OFF
CAR
O: 7
D: 6
OFF
2 / 2
O: 5
D: 3
Devils
@OTT
O: 6
D: 7
OFF
BOS
O: 2
D: 5
OFF
FLA
O: 3
D: 9
@PIT
O: 4
D: 5
OFF
4 / 2
O: 5
D: 10
Islanders
OFF
@CAR
O: 6
D: 6
OFF
OFF
@ANA
O: 6
D: 5
@PHO
O: 5
D: 6
OFF
3 / 0
O: 6
D: 5
Rangers
@PHI
O: 4
D: 7
OFF
OFF
FLA
O: 5
D: 9
@PIT
O: 3
D: 6
OFF
OFF
3 / 1
O: 4
D: 8
Senators
NJ
O: 5
D: 4
OFF
OFF
TB
O: 5
D: 3
OFF
@PHI
O: 6
D: 4
PHI
O: 6
D: 2
4 / 3
O: 7
D: 4
Flyers
NYR
O: 5
D: 5
OFF
OFF
CHI
O: 7
D: 3
OFF
OTT
O: 8
D: 5
@OTT
O: 8
D: 6
4 / 3
O: 10
D: 7
Coyotes
OFF
@STL
O: 5
D: 4
OFF
@LA
O: 3
D: 6
OFF
NYI
O: 5
D: 6
OFF
3 / 1
O: 4
D: 6
Penguins
OFF
OFF
OFF
OFF
NYR
O: 5
D: 8
NJ
O: 5
D: 9
OFF
2 / 2
O: 3
D: 6
Blues
OFF
PHO
O: 6
D: 8
OFF
EDM
O: 6
D: 8
OFF
COL
O: 7
D: 8
OFF
3 / 3
O: 6
D: 10
Sharks
@VAN
O: 4
D: 2
OFF
@ANA
O: 6
D: 6
CLS
O: 8
D: 6
OFF
WSH
O: 7
D: 5
OFF
4 / 2
O: 9
D: 7
Lightning
OFF
@TOR
O: 9
D: 6
OFF
@OTT
O: 7
D: 6
OFF
@MTL
O: 4
D: 6
OFF
3 / 0
O: 7
D: 6
Maple Leafs
OFF
TB
O: 5
D: 2
OFF
WPG
O: 7
D: 3
OFF
DET
O: 5
D: 1
OFF
3 / 3
O: 6
D: 1
Canucks
SJ
O: 9
D: 5
OFF
MIN
O: 8
D: 10
OFF
OFF
@BOS
O: 8
D: 6
OFF
3 / 2
O: 8
D: 8
Capitals
OFF
CGY
O: 6
D: 7
OFF
OFF
OFF
@SJ
O: 5
D: 4
OFF
2 / 1
O: 3
D: 3
Jets
OFF
OFF
@MTL
O: 4
D: 3
@TOR
O: 9
D: 3
OFF
@BUF
O: 6
D: 2
OFF
3 / 0
O: 6
D: 2
"O" (offense) and "D" (defense) matchup ratings are based upon a scale from 1 (poor matchup) to 10 (excellent matchup), and are calculated using a formula that evaluates the team's year-to-date and past 21 days' statistics, their performance in home/road games depending on where the game is to be played, as well as their opponents' numbers in those categories. The
Games T / H
column lists the team's total number of games played as well as home games (T / H), and lists the cumulative rating from 1-10 of that week's matchups.
Offensive Highlights
Buffalo Sabres: The Sabres have an advantageous week with matchups against the Edmonton Oilers, Carolina Hurricanes and Winnipeg Jets. Even though the results haven't been there this season, Jochen Hecht continues to play with Thomas Vanek and Jason Pominville when he is healthy. He made his debut in November after dealing with post-concussion syndrome only to injure his knee after eight games and miss another six games before returning this week. He potted an assist in his return on Monday and remained with the pair of performers in a loss on Wednesday. If he keeps playing with Vanek and Pominville, the returns are inevitable. Consider him as an option next week.
Philadelphia Flyers: Despite a tough matchup with the New York Rangers to start the week, a game against the porous Chicago Blackhawks and a two-game set with the Ottawa Senators bring the Flyers Forecaster rating up significantly. Wayne Simmonds (available in 62 percent of ESPN leagues) and Matt Read (available in 51 percent of ESPN leagues) have been ice cold in recent weeks, but in their defense the lines have been jumbled due to injuries. Now that everyone is back on the ice, Read and Simmonds are playing on the second line with Danny Briere and Simmonds is earning power-play time on the top unit. Jakub Voracek and James van Riemsdyk are also available in many leagues, but are playing third-line minutes together. Voracek is getting a taste on the top power-play unit though.
Chicago Blackhawks: During a week in which the Blackhawks are showing an O:10 on the Forecaster, there are several interesting role players that are available in fantasy leagues. Viktor Stalberg is on a streak with eight points in seven games and can be picked up in 88 percent of ESPN leagues. Dave Bolland only has four points in the past six games, but three of those points are on the power play. With an advantageous schedule, the third line center could contribute to deeper leagues.
Offensive Lowlights
[+] Enlarge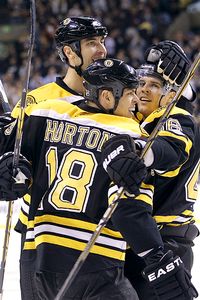 AP Photo/Mary SchwalmThe Bruins may find goals more difficult to come by than usual in the first week of the new year.
Boston Bruins: The Bruins aren't often highlighted as a team with a poor outlook on offense, but facing Martin Brodeur, Miikka Kiprusoff and Roberto Luongo isn't the most conducive formula for goals. With a D:4 on the Forecaster, any Bruins not on a hot streak can be downgraded from their usual "must start." Nathan Horton and David Krejci are prime examples of having cold sticks. The two top-line players have a combined seven points in the past six games despite 27 goals scored by the team in that span.
Minnesota Wild: Obviously Dany Heatley and Mikko Koivu have to stay in your lineup, but beyond that it may be best to avoid Wild players next week. Facing only the Vancouver Canucks and Calgary Flames on a two-game week produces a D:1 on the Forecaster for the Wild. If you've been experimenting with Kyle Brodziak or Cal Clutterbuck in your lineup, this may be a week to set aside the project. Though with so many injuries in the Wild top six (Guillaume Latendresse, Devin Setoguchi, Casey Wellman) you may want to pick up where you left off next week with Brodziak and Clutterbuck.
Defensive Highlights
St. Louis Blues: The Blues and their duo of dynamic goaltenders pull a D:10 on the Forecaster next week. But who should you start, Brian Elliot or Jaroslav Halak? The Blues play the Phoenix Coyotes, Edmonton Oilers and Colorado Avalanche next week. Elliot had a stand up performance against the Coyotes on Dec. 23 and should get the rematch. Against the Avalanche twice in December, Elliot struggled while Halak performed well, making Halak the likely starter. The Oilers game is up in the air, but they did pound Halak in October. Elliot is probably the safer bet if you have to pick and Halak might only get the one start for those of you in weekly roster leagues.
Philadelphia Flyers: The Flyers D:7 isn't the best rating on the Forecaster next week, but it is a rating you may be able to take advantage of. Sergei Bobrovsky is still No. 2 in name for the Flyers, but his game says No. 1 these days. The sophomore 'tender doesn't have the greatest numbers, but a 2.52 goals-against average glows brighter when held next to Ilya Bryzgalov's totals. After a six-game win streak earlier this month, Bryzgalov has lost four straight while allowing 16 goals. During that same timeframe Bobrovsky has allowed seven goals in his four starts to go with three wins. Bryzgalov's 3.01 goals-against average is easy to look past this season when he is winning games, but when the Ws aren't there, the team has to start looking at Bobrovsky. The Flyers play the Rangers, the Bolts and then have two games against the Sens next week. Bobrovsky has a quality start already this season against both the Rangers and Sens to go with a shutout period in relief against the Lightning. If ever he was set up for a week with value, this is it.
Defensive Lowlights
Toronto Maple Leafs: James Reimer has pitched a 3.24 goals-against average since returning from an October injury and his save percentage has been .892. Those are not the numbers of a reliable fantasy goaltender, but the occasional Herculean effort on the ice has kept him owned in almost 90 percent of ESPN leagues. Two of his 10 starts since returning can be considered above-average for fantasy purposes, two can be considered average, two we could slot as below average and the other four have been downright damaging. Whether he still isn't 100 percent recovered from having his bell rung in October or whether we are finally starting to see the pedestrian numbers he was expected to have coming into the league, it is definitely time to stop blindly starting him. Next week has the Maple Leafs as a D:1 on the Forecaster. Leave Reimer out of your planning.
Who's Hot/Not
Rk

Team

G/Gm

Rk

Team

GA/Gm

Rk

Team

Shots
/Gm

Rk

Team

Opp.
Shots
/Gm

1
BOS
4.29
1
BUF
3.78
1
LA
35.8
1
BOS
36.0
2
DET
4.10
2
OTT
3.70
2
SJ
34.9
2
MIN
33.3
3
PIT
4.00
3
CLS
3.67
3
PIT
33.1
3
EDM
32.5
If you haven't been paying attention to your goaltending but find yourself slipping in the standings, you might be a Ryan Miller owner. One of the more dependable goaltenders in the NHL for quality starts during the past several seasons, Miller has slipped into a funk that dates back to his return from a concussion on Dec. 3. In 10 games since rejoining his club, Miller has a 3.25 goals-against average and .896 save percentage. Both those numbers are very un-Miller. In the previous three complete seasons Miller has only one month with a GAA north of 3.00 and one month with a save percentage south of .900. That's a lot of months of consistency. And by the way, they were not the same months; Miller had a .897 save percentage in November 2008 and a 3.13 GAA in February 2010. This guy comes to play every day.
So why has this been the worst month in net for Miller in a very long time? Could it be he isn't 100 percent from the concussion? Has he been playing too much? He had started seven games in 16 days as of Wednesday night. Miller might be lucky that Jhonas Enroth has scuttled both opportunities he has had on the ice since Miller's return or else he might be pressing for more playing time.
Unless there is an injury problem that we don't know about, we have to give Miller the benefit of the doubt to right this ship sooner than later. Short of Henrik Lundqvist, few goaltenders have been as consistently good in recent years. Just make sure you are aware of the situation and start holding Miller back on bad matchups or even pull him in rotisserie leagues until he sorts out his game.
Hockey Challenge
[+] Enlarge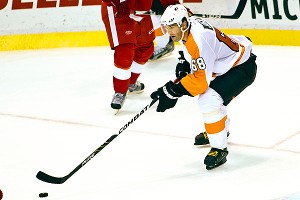 AP Photo/Tony DingJaromir Jagr is one of several Philadelphia players to take a flyer on in the coming week.
Best bets: If you have been depending on the good schedules of Jonathan Quick ($13.8M) and Roberto Luongo ($15.1M) in net, don't change things, because they continue to have a good schedule for next week. But if you are seeking the netminder with the best overall schedule, that would be Martin Brodeur ($13.3M). The Devils have four games and while two may be tougher matchups against the Boston Bruins and Pittsburgh Penguins, the contests against the Ottawa Senators and Florida Panthers should produce points. … On offense, you should consider loading up on some Philadelphia Flyers. Claude Giroux ($10.4M), Jaromir Jagr ($9.0M) and Scott Hartnell ($8.9M) would all make worthy investments for next week. … On defense, Dan Boyle ($8.3M) and Brent Burns ($7.1M) will offer a combination of scoring and the potential for a San Jose Sharks shutout on a good defensive and offensive schedule next week.
Weekly bargains: Wayne Simmonds ($6.2M) and James van Riemsdyk ($6.5M) are very inexpensive acquisitions if you wish to follow through on the great schedule for the Flyers next week. Simmonds is on the second line and first power-play unit, while van Riemsdyk is skating on the third line and second power-play unit. … Sergei Bobrovsky ($11.2M) is on the upswing as the Flyers No. 2 goaltender. He is beginning to make a case for more starts in lieu of No. 1 Ilya Bryzgalov ($14.0M) losing too many games. An investment now might save you money in the long term if he can keep up momentum.
Rentals: Viktor Stalberg ($7.3M) has been as hot as any Chicago Blackhawks player and the team has a good schedule next week with four games. He is a bit on the pricey side considering his overall standing, but now might be a good time to deploy him. … Brian Elliot ($12.0M) is poised to probably get two of the three St. Louis Blues games next week and comes at a much lower price than other goaltenders especially considering he leads most of them in the ratio categories. … Considering he is now one of the Flyers top pairing offensive defensemen, Matt Carle ($6.5M) comes at a decent price point for the Hockey Challenge. And, as has been the theme this week, the Flyers are one of the best places to look for help.
My roster for next week:
Roberto Luongo, G ($14.3M / $15.1M on market)
Jonathan Quick, G ($13.4M / $13.8M on market)
Kevin Bieksa, D ($7.0M / $7.8M on market)
Erik Karlsson, D ($6.4M / $8.9M on market)
Brent Burns, D ($7.1M on market)
Alexander Edler, D ($7.9M / $9.1M on market)
Daniel Sedin, F ($9.0M / $10.8M on market)
Wayne Simmonds, F ($6.2M)
James van Riemsdyk, F ($6.5M)
Phil Kessel, F ($7.7M / $10.0M on market)
Henrik Sedin, F ($8.9M / $11.1M on market)
Dave Bolland, F ($5.6M)
Sean Allen is a fantasy analyst for ESPN.com. He was the 2008 and 2009 Fantasy Sports Writers Association, Hockey Writer of the Year. You can send him a note here or tweet him @seanard with the hashtag #FantasyHockey for a timelier response.
Sean Allen is a fantasy analyst for ESPN.com. He was the 2008 and 2009 Fantasy Sports Writers Association Hockey Writer of the Year. You can tweet him
@seanard
.