Commentary
Fantasy Forecaster: Week of Jan. 16
Updated:
January 13, 2012, 11:39 AM ET
By
Sean Allen
| Special to ESPN.com
Like it or not, the current situation for several NHL teams as it relates to injuries warrants another injury roundup in this space. It doesn't seem like all that long ago we last dedicated this space to a look at the bumps, bruises and breaks around the league, but certainly the current list of NHLers missing time deserves another review for fantasy implications.
Jeff Skinner, Carolina Hurricanes: We are probably days away from Skinner making his return to the lineup from a concussion that has had him sidelined since Dec. 7. He sat out Thursday's game but could return over the weekend. Skinner was the team's new offensive leader earlier this season, but Eric Staal has been rejuvenated since coach Kirk Muller came on board at the end of November. We don't have much to look at for Skinner playing under Muller, but his talent should trump any troubles with Muller's system. Skinner could very well even improve his pace if Muller decides to pair him with Staal. The current line combinations suggest a role for Skinner on a line with Staal and Tuomo Ruutu or on a line with Alexei Ponikarovsky and Jussi Jokinen. Either way, plan to get him back into your lineup as soon as possible, or consider sending a slightly low-ball offer for him if you don't have him. Missing a month certainly pulls down the appearance of his overall value.
[+] Enlarge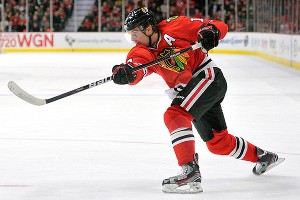 Rob Grabowski/US PresswirePatrick Sharp suffered a wrist fracture Sunday against the Red Wings.
Patrick Sharp, Chicago Blackhawks: Losing Sharp is awful news for any fantasy team. The No. 2 overall skater on the ESPN Player Rater this season, Sharp has been absolute money. A broken wrist is expected to sideline him for the next 3-4 weeks. While replacing Sharp's production will be impossible and you will have to look elsewhere for mitigating options, there is a boost to Dave Bolland's production in Sharp's absence with the Hawks. Bolland was promoted to the job of centering Marian Hossa, and he already has five points in three games since Sharp was hurt.
Nicklas Backstrom, Washington Capitals: While it is still officially listed as nothing more than a "head" injury, there have been suggestions that Backstrom has concussion-like symptoms. There is hope that this injury won't keep him out too much longer, though, as daily updates indicate that he is close to a return. He is clearly the lynchpin of the Capitals offense, and Alex Ovechkin needs him to return quickly. Ovechkin was red hot until Backstrom was injured but has no points and a minus-4 since the injury occurred. Marcus Johansson does see a slight uptick in value as long as Backstrom is out, though.
James Neal, Pittsburgh Penguins: So yeah, wow. After being declared out for "weeks" by head coach Dan Bylsma, Neal didn't miss a beat with a broken foot. He is apparently able to bear the pain and cannot do any further damage to the break. All righty then. So this means there is no bonus value to be found among the Penguins as we discussed in this week's Front Line. If anything, this is bad news for Steve Sullivan and Tyler Kennedy, who not only don't get a shot at the top line, but also don't have a quality No. 2 center in Jordan Staal (apparently his injury is going to keep him out). So keep starting Neal and don't go searching for bonus value in the Pens ranks until either Staal or Sidney Crosby is back.
Sidney Crosby, Pittsburgh Penguins: Crosby is traveling with the team again and will be skating over the weekend. So what does that mean? We will apparently find out soon; he is due to address the media at some point as well. It does mean that he is improving and at least eyeing a return. The first step is to get skating, then practice, then have contact at practice. Keep an eye on him, but if your team is not in a position to cope with his absence, you need to take serious consideration about trading him to a team in your league that can afford to gamble. Just don't give him away.
Jeff Carter, Columbus Blue Jackets: A separated shoulder can be a short- or long-term injury, depending on severity. Without that knowledge, the suggestion for now is to consider Derick Brassard in deep leagues. Brassard will play on the top line as long as Carter is out, though a league must be very deep for him to be worth consideration.
Mike Ribeiro, Dallas Stars: The Stars' playmaking centerman has missed a couple of games because of a knee injury that hasn't been given a clear timetable. Ribeiro's 31 points in 40 games make him a difficult commodity to replace, and his on-ice replacement, Tom Wandell, is not the likely answer. Wait for word on the severity of the injury before you concern yourself with taking action.
Alexander Steen, St. Louis Blues: Third on the team with 24 points this season and second in shots on goal, Steen has found a role as a fantasy asset. His ownership in ESPN leagues has dropped to 74 percent while he suffers from a concussion, but his return is imminent. While he was healthy, Steen was helping anchor the top line with T.J. Oshie and David Backes. Consider scooping him up now before the action really kicks up when he starts playing again.
Matt Duchene, Colorado Avalanche: Duchene hasn't been living up to his previous seasons from a fantasy perspective, but he still offers some value when healthy. His knee injury is going to take an estimated two more weeks to heal. In the meantime, the Avalanche have welcomed Peter Mueller back to the ice again from his concussion-related issues that now date back almost two years. Mueller has some time to carve out a role in the top six if he can stay healthy, and he will be worth watching. Duchene will get his role back once his knee heals, but he might well end up playing with Mueller. The pair had good chemistry in 2009-10 after Mueller was dealt to the Avs. If Mueller doesn't immediately start lighting the lamp, consider revisiting his availability when Duchene is cleared to return.
[+] Enlarge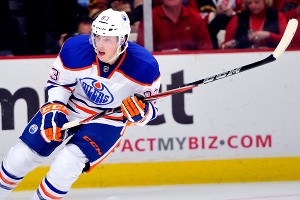 Rob Grabowski/US PresswireRookie Ryan Nugent-Hopkins has 35 points in 38 games this season.
Ryan Nugent-Hopkins, Edmonton Oilers: The Oilers aren't expecting RNH to return to the ice for another two to three weeks. Nugent-Hopkins' shoulder injury might actually help preserve his strong rookie season, as he will be less likely to hit the conditioning wall we've seen some star rookies hit in the past (Steven Stamkos comes to mind). Expect a fresh RNH when his shoulder is healed up in early February. If you can make a move to get him on the cheap, don't hesitate to do so.
Jordan Eberle, Oilers: The timetable for Eberle's knee injury actually has him on pace to return to the team about the same time as Nugent-Hopkins. That should help the duo get right back down to business as the team's offensive leaders. As mentioned in previous columns, it is worth taking a peek at Sam Gagner and perhaps Ales Hemsky while RNH and Eberle are healing. Taylor Hall still has the talent to drive an offensive line and Gagner and Hemsky are his current linemates.
Andy McDonald, St. Louis Blues: He's traveling with the team and taking part in practice, which are good signs that this slick passer could return in time to have fantasy value this season. While McDonald has a frustrating injury history -- his current injury is a concussion -- he also has a history of performing well when healthy. Keep in mind that McDonald finished the final two and a half months of last season (after dealing with injury problems) with 33 points in the final 33 games. He is available in 74 percent of ESPN leagues.
David Booth, Vancouver Canucks: Booth has been cleared for a return to the ice with the Canucks but is still dealing with some lingering soreness. That means we will see him as early as this weekend and likely no later than next week. Pay close attention to the line combinations. Booth didn't have to compete with Mason Raymond earlier this season, but with the pair healthy, they'll have to battle for the wing spot next to Ryan Kesler and Christopher Higgins. That said, don't completely disregard the loser of that battle, as Cody Hodgson is proving that the Canucks' third line can produce some offense as well.
Dustin Byfuglien, Winnipeg Jets: Buff's knee injury has been lingering since late December now, and the latest reports suggest we could be waiting awhile longer for his return. It might be worth it to shop him right now, even with some reduced value because of the injury. Byfuglien hasn't had a start to his season that comes close to what he did last year, and he actually was rather pedestrian for fantasy purposes after December last season as well. In January, February, March and April of last season, Byfuglien had a total of 13 points in 40 games. He scored his other 30 points in the 41 games during October, November and December last season. Unless you desperately need the shots on goal from the back end, see what kind of offers are out there.
Team

Mon
1/16

Tue
1/17

Wed
1/18

Thu
1/19

Fri
1/20

Sat
1/21

Sun
1/22

Games
T / H

Ducks
OFF
OFF
PHO
O: 5
D: 7
OFF
OFF
OTT
O: 7
D: 5
COL
O: 7
D: 7
3 / 3
O: 6
D: 6
Bruins
@FLA
O: 6
D: 7
@TB
O: 9
D: 7
OFF
@NJ
O: 5
D: 8
OFF
NYR
O: 4
D: 7
@PHI
O: 6
D: 6
5 / 1
O: 10
D: 10
Sabres
@DET
O: 6
D: 4
OFF
@CHI
O: 6
D: 4
@WPG
O: 8
D: 5
OFF
@STL
O: 5
D: 5
OFF
4 / 0
O: 8
D: 5
Flames
OFF
@SJ
O: 5
D: 4
OFF
@LA
O: 2
D: 6
OFF
@EDM
O: 6
D: 5
OFF
3 / 0
O: 3
D: 4
Hurricanes
OFF
@PIT
O: 4
D: 3
OFF
OFF
WSH
O: 3
D: 4
@NYI
O: 6
D: 2
OFF
3 / 1
O: 3
D: 1
Blackhawks
OFF
OFF
BUF
O: 6
D: 4
OFF
FLA
O: 6
D: 5
@NSH
O: 7
D: 5
OFF
3 / 2
O: 6
D: 3
Avalanche
@PHO
O: 4
D: 7
OFF
FLA
O: 4
D: 5
OFF
OFF
@LA
O: 2
D: 6
@ANA
O: 5
D: 6
4 / 1
O: 4
D: 7
Blue Jackets
OFF
EDM
O: 6
D: 5
OFF
NSH
O: 4
D: 4
OFF
@DET
O: 6
D: 2
OFF
3 / 2
O: 4
D: 2
Stars
@STL
O: 4
D: 4
DET
O: 7
D: 3
OFF
OFF
TB
O: 7
D: 4
@MIN
O: 4
D: 7
OFF
4 / 2
O: 7
D: 5
Red Wings
BUF
O: 6
D: 5
@DAL
O: 8
D: 6
OFF
@PHO
O: 6
D: 8
OFF
CLS
O: 8
D: 6
OFF
4 / 2
O: 9
D: 7
Oilers
OFF
@CLS
O: 7
D: 5
OFF
@STL
O: 5
D: 3
OFF
CGY
O: 6
D: 5
OFF
3 / 1
O: 5
D: 3
Panthers
BOS
O: 6
D: 3
OFF
@COL
O: 7
D: 5
OFF
@CHI
O: 6
D: 3
@WPG
O: 6
D: 5
OFF
4 / 1
O: 8
D: 5
Kings
OFF
@VAN
O: 1
D: 5
OFF
CGY
O: 3
D: 9
OFF
COL
O: 4
D: 9
OFF
3 / 2
O: 1
D: 7
Wild
OFF
@PHI
O: 4
D: 4
OFF
@TOR
O: 7
D: 6
OFF
DAL
O: 6
D: 5
OFF
3 / 1
O: 5
D: 4
Canadiens
OFF
OFF
WSH
O: 3
D: 6
OFF
@PIT
O: 3
D: 7
@TOR
O: 8
D: 8
OFF
3 / 1
O: 3
D: 6
Predators
@NYI
O: 6
D: 5
@NYR
O: 4
D: 7
OFF
@CLS
O: 7
D: 7
OFF
CHI
O: 6
D: 5
OFF
4 / 1
O: 7
D: 7
Devils
OFF
WPG
O: 4
D: 8
OFF
BOS
O: 4
D: 5
OFF
PHI
O: 4
D: 6
OFF
3 / 3
O: 3
D: 5
Islanders
NSH
O: 6
D: 5
@WSH
O: 3
D: 5
OFF
@PHI
O: 7
D: 5
OFF
CAR
O: 9
D: 5
OFF
4 / 2
O: 8
D: 6
Rangers
OFF
NSH
O: 5
D: 7
OFF
PIT
O: 3
D: 7
OFF
@BOS
O: 4
D: 5
OFF
3 / 2
O: 3
D: 6
Senators
WPG
O: 7
D: 3
@TOR
O: 8
D: 5
OFF
@SJ
O: 5
D: 4
OFF
@ANA
O: 5
D: 6
OFF
4 / 1
O: 8
D: 6
Flyers
OFF
MIN
O: 6
D: 7
OFF
NYI
O: 7
D: 4
OFF
@NJ
O: 6
D: 7
BOS
O: 8
D: 3
4 / 3
O: 9
D: 6
Coyotes
COL
O: 5
D: 6
OFF
@ANA
O: 5
D: 6
DET
O: 4
D: 5
OFF
TB
O: 5
D: 4
OFF
4 / 3
O: 5
D: 6
Penguins
OFF
CAR
O: 7
D: 7
OFF
@NYR
O: 5
D: 8
MTL
O: 4
D: 8
OFF
WSH
O: 4
D: 8
4 / 3
O: 6
D: 9
Blues
DAL
O: 8
D: 7
OFF
OFF
EDM
O: 7
D: 8
OFF
BUF
O: 6
D: 7
OFF
3 / 3
O: 6
D: 6
Sharks
OFF
CGY
O: 6
D: 6
OFF
OTT
O: 8
D: 5
OFF
@VAN
O: 4
D: 2
OFF
3 / 2
O: 5
D: 3
Lightning
OFF
BOS
O: 5
D: 3
OFF
OFF
@DAL
O: 6
D: 6
@PHO
O: 6
D: 6
OFF
3 / 1
O: 5
D: 4
Maple Leafs
OFF
OTT
O: 7
D: 4
OFF
MIN
O: 5
D: 5
OFF
MTL
O: 3
D: 4
OFF
3 / 3
O: 4
D: 3
Canucks
OFF
LA
O: 5
D: 10
OFF
OFF
OFF
SJ
O: 9
D: 6
OFF
2 / 2
O: 3
D: 4
Capitals
OFF
NYI
O: 8
D: 8
@MTL
O: 3
D: 7
OFF
@CAR
O: 7
D: 7
OFF
@PIT
O: 3
D: 6
4 / 1
O: 6
D: 8
Jets
@OTT
O: 7
D: 3
@NJ
O: 4
D: 5
OFF
BUF
O: 5
D: 3
OFF
FLA
O: 5
D: 6
OFF
4 / 2
O: 6
D: 5
"O" (offense) and "D" (defense) matchup ratings are based upon a scale from 1 (poor matchup) to 10 (excellent matchup), and are calculated using a formula that evaluates the team's year-to-date and past 21 days' statistics, their performance in home/road games depending on where the game is to be played, as well as their opponents' numbers in those categories. The
Games T / H
column lists the team's total number of games played as well as home games (T / H), and lists the cumulative rating from 1-10 of that week's matchups.
Offensive Highlights
Boston Bruins: There isn't usually a clear path to finding fantasy value on the waiver wire when it comes to the Bruins. That is not the case next week. For the first two of four games the Bruins play next week, Benoit Pouliot (available in 97 percent of ESPN leagues) is worth starting while Brad Marchand serves out his five-game suspension. Pouliot has five points in the past four games in which he has served the Bruins as a replacement top-six winger. Overall, make sure all your Bruins are in your lineup as the four-game week features an "O:10" and a "D:10" on the Forecaster. That's fantasy gold.
Florida Panthers: It has been a slow haul for the Panthers' top line of Stephen Weiss, Tomas Fleischmann and Kris Versteeg lately. The four-game "O:8" on the Forecaster for next week is just what the doctor ordered to get this trio scoring again. On the waiver wire, take a look at Mikael Samuelsson (available in 69 percent of ESPN leagues). Despite a flurry of injuries this season, Samuelsson has proven productive for the Panthers when on the ice.
Offensive Lowlights
New York Rangers: It should be obvious to most observers that the Rangers' offense is ice cold right now. Marian Gaborik has one point in seven games, and Brad Richards has five points in the past 11 games. Without those two scoring a lot more, most of the team will have trouble finding the net. Ryan Callahan and Brandon Dubinsky (if his shoulder injury heals up quick) are the two exceptions who seem to be finding a way to maintain fantasy value, though it seems they're on periphery categories to get the job done. With a weak "O:3" on the Forecaster for games against the Nashville Predators, Penguins and Bruins, consider letting some of your Rangers assets cool their jets on your bench for a week.
Defensive Highlights
Ottawa Senators: Outside of the wins category, Craig Anderson wasn't much help for fantasy hockey teams in the 2011 portion of this season, but he seems determined to change that in 2012. Five games into the new year, Anderson is undefeated in regulation with a 2.14 goals-against average and .936 save percentage. His ownership in ESPN leagues has quickly spiked to 96 percent (and rising), and next week the Sens draw a four-game week with a "D:6" on the Forecaster for contests against the Winnipeg Jets, Toronto Maple Leafs, San Jose Sharks and Anaheim Ducks. If you have access to Anderson, start him with a confidence you would have never shown a month ago.
Defensive Lowlights
Carolina Hurricanes: Cam Ward has actually strung together three good starts in a row for the Hurricanes, but the Forecaster warns of doom ahead. The Canes have a lowly "D:1" next week as they play the Penguins, Capitals and New York Islanders. Ward may be inspiring confidence now, but overall he is pitching a 3.15 GAA and .900 save percentage this season. Be prudent with his use despite recent success. Surprisingly, the Islanders contest rates the worst of the three next week from a defensive standpoint.
Who's Hot/Not
Rk

Team

G/Gm

Rk

Team

GA/Gm

Rk

Team

Shots
/Gm

Rk

Team

Opp.
Shots
/Gm

1
BOS
4.63
1
FLA
3.75
1
SJ
36.9
1
CAR
33.4
2
DAL
3.67
2
MIN
3.56
2
PIT
35.9
2
OTT
33.3
2
TOR
3.67
2
TB
3.56
3
PHI
33.6
3
TOR
32.2
While Jose Theodore isn't having flashbacks to his 2002 Hart and Vezina trophies, he has been a revelation in the Panthers net this season. Out since the end of December because of a knee injury, he could be to blame for the Panthers' rise in the ranks of goals against during the past three weeks. The rotation of Scott Clemmensen and Jacob Markstrom could come to an end this weekend, as Theodore is in the mix for Friday's start (though it may come Monday).
Theodore's absence coincides with an ice-cold start to the new year for Fleischmann, Weiss and Versteeg. Perhaps the trio, which scored a combined 107 points in the first three months of the season, play better hockey with "their" goaltender in net? Through three games without Theodore, the trio has one assist among them and a combined minus-11 rating. Plus/minus has been a big part of the fantasy value for this line and having Theodore back in net should at least get them headed in the right direction again. Hold on to your Panthers assets that have paid off so well to this point and wait for the better times that are soon to come.
Hockey Challenge
Best bets: Boston Bruins, Boston Bruins and more Boston Bruins. The team has the best schedule ahead next week and should be leaned upon heavily if possible. Tyler Seguin ($8.0M) is still the best bang-for-your-buck forward in the top six, and remember to stay away from Brad Marchand ($7.7M) because he'll miss two games with a suspension. Everyone else should be fair game. … As great as the skaters are for the Bruins next week, Tim Thomas ($15.1M) offers a conundrum. He appears to be trending toward a more even split of duties with Tuukka Rask ($11.9M). As long as Thomas is priced so much higher, it is difficult to justify his purchase in this format. … Marc-Andre Fleury ($14.0M) has one of the better-rated weeks defensively and is one option to turn to if you have been rolling with Jonathan Quick ($14.4M) for a while. Quick and the Los Angeles Kings rate very poorly on defense next week.
Weekly bargains: Mark Giordano ($6.7M) is at an all-time low value after missing so much time because of a knee injury, but he should be quarterbacking a power play for a Calgary Flames team that has improved significantly on offense since his departure. … Dave Bolland ($6.0M) will fill in for Patrick Sharp the next month or so and offers significant potential value playing with Marian Hossa. … The Philadelphia Flyers look good next week, and Jakub Voracek ($7.5M) is beginning to click with Danny Briere ($9.0M). Voracek's price makes him a very nice option that has the upside to improve on the value.
Rentals: If you really want to cheap out, Benoit Pouliot ($5.6M) is a top-six forward for the Bruins during the two games next week that Marchand is suspended. He is scoring when given the top-line opportunities this season.
My roster for next week:
Roberto Luongo, G ($14.3M / $15.5M on market)
Marc-Andre Fleury, G ($14.0M)
Kevin Bieksa, D ($7.0M / $8.6M on market)
Erik Karlsson, D ($6.4M / $9.4M on market)
Mark Giordano, D ($6.7M)
Alexander Edler, D ($7.9M / $9.7M on market)
Daniel Sedin, F ($9.0M / $11.4M on market)
T.J. Galiardi, F ($4.2M)
Tyler Seguin, F ($7.6M / $8.0M on market)
Phil Kessel, F ($7.7M / $10.5M on market)
Henrik Sedin, F ($8.9M / $11.7M on market)
Dave Bolland, F ($6.0M)
Sean Allen is a fantasy analyst for ESPN.com. He is the 2008 and 2009 Fantasy Sports Writers Association, Hockey Writer of the Year. You can send him a note here or tweet him @seanard with the hashtag #FantasyHockey for a timelier response.
Sean Allen is a fantasy analyst for ESPN.com. He was the 2008 and 2009 Fantasy Sports Writers Association Hockey Writer of the Year. You can tweet him
@seanard
.
MOST SENT STORIES ON ESPN.COM