Commentary
Fantasy Forecaster: Week of Feb. 13
Updated:
February 10, 2012, 3:29 PM ET
By
Sean Allen
| Special to ESPN.com
We are a little more than two weeks away from the NHL trade deadline, which is the last major opportunity to improve your team at little cost. It is difficult to predict what will happen, but one thing is all but guaranteed: There will be some players who go from zero to fantasy hero with the changing of a jersey or a sudden vacancy on his team's top six.
The difficulty is in predicting the exact outcome, but that doesn't mean you can't be prepared. Scouring online guides of restricted free agents and following the NHL scuttlebutt via ESPN Insider Rumor Central

are great ways to begin to guess who might get a change of scenery come Feb. 27. The trades could start sooner than the actual deadline, so be vigilant in the coming weeks.
As a reminder of just how quickly fortunes can change, let me review the past two trade deadlines. Last season, it was Brad Boyes and Jason Arnott who were deemed the players of fortune here on ESPN.com. Boyes didn't have an enormous uptick in his scoring after going from the St. Louis Blues to the Buffalo Sabres, but he kept up his modest pace and became a final week game-changer when he notched three assists in the season's final game. Arnott didn't finish the season healthy, but provided a huge turnaround in the 11 games he played for the Washington Capitals (after a very disappointing start to his season with the New Jersey Devils). His seven points during his time with the Caps made a difference to a lot of teams, especially when he scored five points in the seven games immediately following the deadline deal.
The 2009-10 season provided one of the best examples of how a trade can change fantasy fortunes at the deadline. The Phoenix Coyotes and Colorado Avalanche swapped a couple of underachieving prospects who turned their seasons around and scored a point per game or better for their new club. Wojtek Wolski had 47 points in 62 games for the Avalanche and was getting some use in fantasy leagues, but was far from being a regular. After landing in the desert, he finished the season with 18 points in 18 games. Peter Mueller went the other way with his disappointing 17 points in 54 games in his third season with the Coyotes. Barely owned in any fantasy leagues at the time, he performed even better than Wolski by notching 20 points in 15 games.
Though 2009-10 provided the better example, trade deadline day means there will be players available in ESPN leagues who will become fantasy stars after changing locations. Get yourself prepped on the players likely to move, be ready to jump on the waiver wire with appropriate links on your mobile phone (if your league doesn't use a restrained pick-up system) and even consider some form of pre-emptive strike on players you truly believe will have a chance at a change of scenery.
Team

Mon
2/13

Tue
2/14

Wed
2/15

Thu
2/16

Fri
2/17

Sat
2/18

Sun
2/19

Games
T / H

Ducks
OFF
@MIN
O: 5
D: 6
@PIT
O: 4
D: 5
OFF
@NJ
O: 5
D: 6
OFF
@FLA
O: 6
D: 6
4 / 0
O: 6
D: 7
Bruins
OFF
NYR
O: 4
D: 7
@MTL
O: 6
D: 7
OFF
@WPG
O: 10
D: 7
OFF
@MIN
O: 7
D: 7
4 / 1
O: 7
D: 8
Sabres
OFF
NJ
O: 6
D: 5
OFF
@PHI
O: 5
D: 2
MTL
O: 5
D: 5
OFF
PIT
O: 5
D: 3
4 / 3
O: 6
D: 5
Flames
OFF
TOR
O: 9
D: 6
OFF
@DAL
O: 5
D: 8
OFF
@LA
O: 3
D: 8
OFF
3 / 1
O: 5
D: 7
Hurricanes
@MTL
O: 3
D: 5
OFF
OFF
OFF
SJ
O: 4
D: 3
@NYI
O: 4
D: 5
OFF
3 / 1
O: 2
D: 4
Blackhawks
OFF
@NSH
O: 8
D: 4
OFF
@NYR
O: 6
D: 6
OFF
@CLS
O: 9
D: 6
STL
O: 7
D: 5
4 / 1
O: 8
D: 6
Avalanche
OFF
OFF
@VAN
O: 3
D: 1
OFF
@EDM
O: 7
D: 5
OFF
@WPG
O: 8
D: 4
3 / 0
O: 5
D: 3
Blue Jackets
OFF
STL
O: 4
D: 5
OFF
OFF
OFF
CHI
O: 5
D: 2
@NYR
O: 3
D: 4
3 / 2
O: 3
D: 3
Stars
OFF
@DET
O: 6
D: 4
OFF
CGY
O: 5
D: 5
OFF
@PHO
O: 5
D: 6
NSH
O: 6
D: 5
4 / 2
O: 6
D: 6
Red Wings
OFF
DAL
O: 7
D: 5
OFF
OFF
NSH
O: 7
D: 3
OFF
SJ
O: 7
D: 2
3 / 3
O: 6
D: 3
Oilers
OFF
OFF
TOR
O: 7
D: 4
OFF
COL
O: 8
D: 4
OFF
VAN
O: 1
D: 1
3 / 3
O: 5
D: 3
Panthers
OFF
OFF
OTT
O: 5
D: 6
OFF
WSH
O: 2
D: 6
OFF
ANA
O: 6
D: 4
3 / 3
O: 3
D: 5
Kings
OFF
OFF
OFF
PHO
O: 4
D: 9
OFF
CGY
O: 3
D: 7
OFF
2 / 2
O: 1
D: 5
Wild
OFF
ANA
O: 5
D: 5
OFF
WPG
O: 6
D: 6
OFF
@STL
O: 4
D: 7
BOS
O: 4
D: 4
4 / 3
O: 6
D: 7
Canadiens
CAR
O: 5
D: 7
OFF
BOS
O: 4
D: 5
OFF
@BUF
O: 6
D: 8
OFF
NJ
O: 4
D: 7
4 / 3
O: 6
D: 8
Predators
OFF
CHI
O: 7
D: 5
OFF
OFF
@DET
O: 6
D: 5
OFF
@DAL
O: 5
D: 7
3 / 1
O: 6
D: 5
Devils
OFF
@BUF
O: 7
D: 7
OFF
OFF
ANA
O: 5
D: 6
OFF
@MTL
O: 4
D: 7
3 / 1
O: 4
D: 6
Islanders
OFF
@WPG
O: 7
D: 6
OFF
@STL
O: 5
D: 8
OFF
CAR
O: 5
D: 6
OFF
3 / 1
O: 5
D: 6
Rangers
OFF
@BOS
O: 3
D: 6
OFF
CHI
O: 6
D: 6
OFF
OFF
CLS
O: 6
D: 9
3 / 2
O: 4
D: 7
Senators
OFF
@TB
O: 6
D: 5
@FLA
O: 6
D: 6
OFF
OFF
OFF
OFF
2 / 0
O: 3
D: 3
Flyers
OFF
OFF
OFF
BUF
O: 8
D: 5
OFF
PIT
O: 6
D: 4
OFF
2 / 2
O: 4
D: 3
Coyotes
@VAN
O: 2
D: 1
OFF
OFF
@LA
O: 3
D: 6
OFF
DAL
O: 4
D: 6
OFF
3 / 1
O: 2
D: 4
Penguins
OFF
OFF
ANA
O: 6
D: 7
OFF
OFF
@PHI
O: 7
D: 6
@BUF
O: 7
D: 8
3 / 1
O: 6
D: 6
Blues
OFF
@CLS
O: 5
D: 7
OFF
NYI
O: 4
D: 6
OFF
MIN
O: 4
D: 8
@CHI
O: 5
D: 4
4 / 2
O: 5
D: 8
Sharks
@WSH
O: 6
D: 6
OFF
OFF
@TB
O: 8
D: 5
@CAR
O: 8
D: 7
OFF
@DET
O: 8
D: 6
4 / 0
O: 8
D: 8
Lightning
OFF
OTT
O: 9
D: 5
OFF
SJ
O: 7
D: 2
OFF
WSH
O: 6
D: 5
OFF
3 / 3
O: 6
D: 4
Maple Leafs
OFF
@CGY
O: 6
D: 2
@EDM
O: 9
D: 3
OFF
OFF
@VAN
O: 4
D: 1
OFF
3 / 0
O: 6
D: 1
Canucks
PHO
O: 9
D: 9
OFF
COL
O: 10
D: 8
OFF
OFF
TOR
O: 10
D: 8
@EDM
O: 10
D: 9
4 / 3
O: 10
D: 10
Capitals
SJ
O: 6
D: 5
OFF
OFF
OFF
@FLA
O: 5
D: 8
@TB
O: 6
D: 6
OFF
3 / 1
O: 5
D: 6
Jets
OFF
NYI
O: 6
D: 5
OFF
@MIN
O: 5
D: 5
BOS
O: 3
D: 3
OFF
COL
O: 8
D: 4
4 / 3
O: 6
D: 5
"O" (offense) and "D" (defense) matchup ratings are based upon a scale from 1 (poor matchup) to 10 (excellent matchup) and are calculated using a formula that evaluates the team's year-to-date and past 21 days' statistics, their performance in home/road games depending on where the game is to be played, as well as their opponents' numbers in those categories. The
Games T / H
column lists the team's total number of games played as well as home games (T / H), and lists the cumulative rating from 1-10 of that week's matchups.
Offensive Highlights
San Jose Sharks: A four-game road trip puts the Sharks out ahead of most teams on offense next week with dates versus the Washington Capitals, Tampa Bay Lightning, Carolina Hurricanes and Detroit Red Wings that should be conducive to goal scoring, especially if Jimmy Howard isn't back with the Wings by the end of next week. The Sharks are coming into the week already hot on offense as Logan Couture, Patrick Marleau, Joe Pavelski and Joe Thornton all have at least seven points in the past 12 games. The Couture, Marleau and Ryane Clowe combination is leading the way this past week with a combined five goals and nine assists in the past three games (since Clowe returned from a facial fracture). Thornton and Pavelski (a combined 13 points in four games) are equally as strong lately. Despite the opportunity and a rotation of wingers, no one has seized the chance to play top-six minutes on a regular basis with Martin Havlat sidelined. While such a good situation normally would call for taking a gamble on Benn Ferriero or Andrew Desjardins, the results just haven't been there to justify.
[+] Enlarge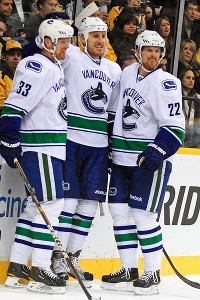 AP Photo/Mike StrasingerByron Bitz has one of the prime assignments in hockey, albeit temporary: riding shotgun for the Sedin twins.
Vancouver Canucks: If you need someone to start in your league on offense next week, go get Byron Bitz. Just do it; he will be available. Bitz is the surprise choice to join the Canucks' top six, while Christopher Higgins is out with an illness caused by a bad reaction to medication. Rather than shuffle the depth chart from the bottom up, the Canucks called up Bitz and dropped him onto a line with Daniel Sedin and Henrik Sedin. He has three points and a plus-3 in three games and as a bonus has seven penalty minutes. Bitz's fairy-tale line assignment will last as long as Higgins' illness, so strike while the iron is hot. Alexandre Burrows is playing on the second line with Ryan Kesler and David Booth, which shouldn't affect his overall value despite being demoted from the Sedin line. The Canucks have a four-game week with an O:10, so getting Bitz and even Booth into your lineup can only boost your bottom line in deep leagues.
Chicago Blackhawks: The Hawks are staring at a six-game losing streak and that means all assets are currently on the table to find some offense among the top lines. The Hawks have an O:8 on the Forecaster for next week's four games against the Nashville Predators, New York Rangers, Columbus Blue Jackets and St. Louis Blues. Though, to be fair, all but one of those matchups looks very tough on the offense. Still, this will be a week to see where the Blackhawks stand in terms of scoring. They have all four key players -- Jonathan Toews, Patrick Kane, Patrick Sharp and Marian Hossa -- healthy on the ice and more options to choose from than most teams when it comes to filling the top-six gaps. On a six-game losing streak and looking at games against Pekka Rinne, Henrik Lundqvist and the Blues duo is not the time to experiment with the role players in your lineup, but this will be a key time to see if one or more of Dave Bolland, Marcus Kruger, Andrew Shaw, Viktor Stalberg, Brendan Morrison or Andrew Brunette can step strongly into a fantasy role for the remainder of the season. The idea of Bolland having earned a permanent top-six role with his play while Sharp was injured is appealing, but far from set in stone given Bolland's checking abilities. Kruger, Shaw and Stalberg have all had mild but not prolonged success on a top line. Morrison and Brunette are sentimental favorites. Don't jump on them this week, but keep an eye on how the horse race is shaping up.
Offensive Lowlights
Los Angeles Kings: A reminder that this "lowlight" is for next week only and not a general look at the standings. It's sometimes hard to tell the difference for coach Darryl Sutter's Kings, as the team has sunk to the very bottom of the league for scoring. Anze Kopitar and Justin Williams are doing a large percentage of the scoring and still appear safe for general use, while Jack Johnson and Drew Doughty have been doing enough lately to justify deployment as well. But that is where the buck stops for skaters on the Kings. Of course, Jonathan Quick remains an option thanks to the defensive philosophy, but the four aforementioned skaters are where you need to stop looking for fantasy help from this roster. Mike Richards snapped an eight-game pointless streak this week, and then followed it up with a minus-3. Dustin Penner scored this week to move into a tie with Zenon Konopka with five goals this season. Dustin Brown is even difficult to justify using lately unless you play in a custom league with hits as a category. The Kings have only a pair of games next week against the Phoenix Coyotes and Calgary Flames. It would be easy to rationalize not starting any of the team's skaters in a weekly league.
Defensive Highlights
New York Islanders: Rather than point out some of the teams with better Forecaster ratings than the Isles next week, we will highlight the Islanders' D:6 because the team's goaltender is available in 25 percent of ESPN leagues. Evgeni Nabokov has won six of his past eights starts and has mixed in a pair of shutouts during that stretch. The Islanders have been better on offense of late, getting results that should be expected from a goaltender who has posted a .949 save percentage in his past 10 starts. Believe it or not, only Cam Ward has a better ESPN Player Rater value among goaltenders during the past 30 days. The Islanders play the Winnipeg Jets, St. Louis Blues and the Ward-led Carolina Hurricanes next week.
Defensive Lowlights
Detroit Red Wings: Give Jimmy Howard and the Red Wings' netminders another week of rest. Even if Howard is back from his broken finger, the schedule is none too kind to the Red Wings next week with the Dallas Stars, Nashville Predators and San Jose Sharks on tap. The Forecaster calls for a D:3 next week for the Red Wings, who have rarely been rated so low this season. Whether it is Howard looking after the twine with a still-painful broken finger, Joey MacDonald or Ty Conklin, just stay away from the situation for another week.
Who's Hot/Not
Rk

Team

G/Gm

Rk

Team

GA/Gm

Rk

Team

Shots
/Gm

Rk

Team

Opp.
Shots
/Gm

1
NSH
3.38
1
CHI
3.75
1
COL
36.4
1
VAN
37.7
2
VAN
3.33
2
EDM
3.38
2
SJ
35.7
2
EDM
36.4
3
TOR
3.22
3
CLS
3.25
3
PHI
33.4
3
WSH
32.7
3
FLA
3.25
This outburst from the Nashville Predators has certainly been a surprise. A team known for staying mild on offense and winning games through defense, it is odd to see it sustain as the second highest-scoring team in the NHL during the past three weeks.
Mike Fisher's ownership in ESPN leagues has skyrocketed to 87 percent and Martin Erat was already close to being owned in 100 percent of leagues before the streak began. But Fisher and Erat are only two-thirds of the team's top line during this span. The third man hasn't been getting as much credit. Though he only has 11 points in the past 13 games compared to Fisher's 12 and Erat's 15, Sergei Kostitsyn remains available in 82 percent of ESPN leagues. Playing on the top line, Kostitsyn has six goals, five assists and a plus-7. His lack of a power-play role has muted his value compared to his linemates, but those numbers still represent very fantasy-friendly production.
Patric Hornqvist -- also known as the streaky one -- isn't as hot as the top line, but he joins Erat and Fisher in lieu of Kostitsyn when the Predators are on the power play. He has three power-play points to go with eight total points during the past 13 games. His 41 shots on goal are another nice bonus to his value. Hornqvist is available in 55 percent of ESPN leagues.
Hockey Challenge
Best bets: Running your lineup full of the red-hot Sharks can't hurt your chances when the team has four good matchups next week. Logan Couture ($7.5M), Patrick Marleau ($7.5M), Joe Pavelski ($6.8M) and Joe Thornton ($7.8M) are all solid options. Sliding the regular Vancouver Canucks heroes into the mix is equally as strong a plan. Daniel Sedin and Henrik Sedin are still very affordable. The two aforementioned teams on offense have strong offensive defensemen to include on your roster as well. Alexander Edler ($7.7M) and Brent Burns ($5.8M) are the best examples. Be careful with Dan Boyle ($6.8M), who is currently dealing with the flu. In net, Roberto Luongo ($11.7M) is an obvious strong choice with four games to play. The same can be said for Antti Niemi ($11.8M) and Carey Price ($11.0M).
[+] Enlarge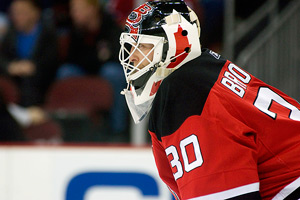 Olya Evanitsky for ESPN.com Martin Brodeur has six wins in his past nine starts, with a 1.86 goals-against average and a .922 save percentage.
Weekly bargains: If looking for a long-term investment goaltender for the remainder of the season, look no further than Martin Brodeur ($10.5M). Starting goaltenders on playoff teams don't come much cheaper, and Brodeur has seemingly turned a corner on his season. It has been more than a month since his last poor start. During that time, he only allowed as many as three goals in four games (but two of those games were wins). A turned ankle won't keep him out long and the Devils offense is not supporting the team's defense enough to win games. While I don't think locking in a cheap goaltender is my personal strategy, Brodeur makes a fine choice if that is the route you choose to take.
Rentals: Again, we are still at a point in Segment 2 where the salary rollback should mean you have your choice of players to deploy. The prices remain low enough that there should be few barriers to you marching out the fantasy roster of your choosing. If price is an issue, toss David Desharnais ($5.8M) or Sam Gagner ($5.4M) into your lineup to save some cash for another roster spot.
My roster for next week:

Carey Price, G ($11.0M)
Antti Niemi, G ($11.8M)
Alex Pietrangelo, D ($6.0M / $6.2M on market)
Alexander Edler, D ($7.7M)
Dan Boyle, D ($6.8M)
Kris Letang, D ($6.8M)
Joe Pavelski, F ($6.8M)
Logan Couture, F ($7.5M)
Evgeni Malkin, F ($8.9M / $9.1M on market)
Martin St. Louis, F ($8.1M / $8.5M on market)
Patrick Marleau, F ($7.5M)
Ilya Kovalchuk, F ($8.0M / $8.4M on market)

Sean Allen is a fantasy analyst for ESPN.com. He is the 2008 and 2009 Fantasy Sports Writers Association, Hockey Writer of the Year. You can send him a note here or tweet him @seanard with the hashtag #FantasyHockey for a timelier response.
Sean Allen is a fantasy analyst for ESPN.com. He was the 2008 and 2009 Fantasy Sports Writers Association Hockey Writer of the Year. You can tweet him
@seanard
.
SPONSORED HEADLINES
FANTASY TOP HEADLINES
MOST SENT STORIES ON ESPN.COM