Commentary
Point Shots: Substantiating the sophomore slump
Updated:
November 6, 2008, 3:25 PM ET
By
Jim Wilkie
| Special to ESPN.com
Edmonton forward Sam Gagner 's rough start (two assists through 11 games) after a solid rookie season naturally has led to questions about a sophomore jinx dragging down the talented 19-year-old.
After the Oilers lost 5-4 to the Blue Jackets on Wednesday night, Gagner has gone 14 games since scoring his last goal, on March 28.
"It's capable of happening any year if you forget how hard you have to work," Gagner told the Canadian Press. "People make a thing of the sophomore jinx, but a lot of guys have had bad fourth years or fifth years. It's just the way it happens."
Yes, everybody slumps, but is the sophomore slump a tired cliché or an enduring hockey tradition?
Let's take a look back at the past two groups of NHL sophomores to find out. For the basis of this article, I looked only at rookie classes since the lockout because it would be unfair to compare the 2003-04 rookies, who were two years removed from their rookie seasons in their sophomore campaigns, with other sophomores.
Besides, the salary cap and the crackdown on obstruction and interference have given younger, smaller and skilled players more opportunities and bigger roles than before the lost season while squeezing out older plodders with bigger contracts. Trying to fit under the cap or, in some cases, an even tighter budget has seen teams opt for younger, and often times cheaper, players instead of aging veterans.
First, let's look at how the marvelous rookie crop of 2005-06 fared the following season. That first season consisted of essentially two classes in one, so I examined the top 20 rookie scorers. I only chose the top scorers because a player first has to be productive before he can slump.
The chart lists whether a player's production increased or decreased in the seven categories ESPN.com Fantasy Hockey uses (goals, assists, plus-minus, penalty minutes, average time on ice, shots on goal and power-play goals), plus games played and points for reference.
2005-06 rookie class: Sophomore season differentials
GP
G
A
Pts
+/-
PIM
ATOI
SOG
SOG
PPG
Result
Alex Ovechkin, F
1
-6.0
-8
-14
-17
0
-0:14
-33
-33
-5
Sidney Crosby, F
-2
-3.0
21
18
9
-50
+0:39
-28
-28
-3
Brad Boyes, F
-1
-9.0
-14
-23
-28
-1
+0:36
-21
-21
-7
Jussi Jokinen, F
1
-3.0
-4
-7
6
-12
+0:20
14
14
-2
Marek Svatos, F
5
-17.0
-3
-20
1
-14
-1:14
14
14
-4
Dion Phaneuf, D
-3
-3.0
4
1
5
5
+3:57
-12
-12
-3
Thomas Vanek, F
1
18.0
18
36
58
-32
+2:04
33
33
4
Petr Prucha, F
11
-8.0
1
-7
-10
-2
-0:41
6
6
-8
Alexander Steen, F
7
-3.0
-7
-10
14
-16
-1:55
16
16
-5
Kyle Wellwood, F
-33
1.0
-4
-3
3
-14
+3:52
-18
-18
4
--
Jeff Carter, F
-19
-9.0
4
-5
-27
8
+6:56
26
26
-3
--
Chris Kunitz, F
12
6.0
13
19
7
10
+3:50
31
31
6
Colby Armstrong, F
33
-4.0
-2
-6
-13
9
-2:14
59
59
-6
Ryan Getzlaf, F
25
11.0
8
19
11
44
+2:30
87
87
1
Andrej Meszaros, D
0
-3.0
-1
-4
-49
41
+3:31
10
10
-5
Keith Ballard, D
-12
-3.0
-9
-12
11
-40
+1:43
-23
-23
1
Christopher Higgins, F
-19
-1.0
1
0
-10
0
+3:30
11
11
1
--
R.J. Umberger, F
8
-4.0
-6
-10
-41
23
+1:19
-4
-4
-3
Ryan Whitney, D
13
8.0
13
21
16
-8
+0:07
16
16
7
Francois Beauchemin, D
-1
-1.0
-7
-8
5
-3
+2:19
-9
-9
-2
As we all know this class was exceptional because some received extra grooming in juniors, the minors or Europe before busting into the new NHL. That said, not all of them were able to improve their output in their second season.
In my arbitrary "Result" analysis category at the end, I simply counted how many fantasy categories the player improved in. If he improved in a majority of stats, he got an up arrow. No arrow means no change in production, and a down arrow denotes a sophomore slump because that player declined in four or more categories.
Of course most players should be considered on a case-by-case basis because of injuries, team turmoil or a poor supporting cast, but I'm just looking at how much the player increases or decreases production. Alexander Ovechkin beat out Sidney Crosby for the Calder Trophy in 2005-06 by scoring 52 goals and 106 points, but I would have been happy to take his 46 goals and 92 points during his "sophomore slump" season.
But it's interesting that only six of 20 players improved and three were unchanged while 11 slumped. Sort of lends a little credibility to the curse of the sophomore slump.
Plus, it's worth noting that three of the five defenseman who cracked the top 20 in rookie scoring suffered declines, although all five saw increased ice time. This position takes longer for youngsters to adjust to, and offensively gifted blueliners aren't always known to be especially strong in their own end.
Next, here are the top 10 rookies from 2006-07 and their differential in production last season:
2006-07 rookie class: Sophomore season differentials
GP
G
A
Pts
+/-
PIM
ATOI
SOG
SOG
PPG
Result
Evgeni Malkin, F
5
14.0
7
21
14
-2
+2:10
30
30
1
Paul Stastny, F
-16
-4.0
-3
-7
18
-18
+2:55
-47
-47
-8
Anze Kopitar, F
10
12.0
4
16
-3
-2
+0:09
8
8
5
Wojtek Wolski, F
1
-4.0
2
-2
8
0
+0:25
-7
-7
-3
--
Dustin Penner, F
0
-6.0
8
2
-10
-13
+3:13
-3
-3
4
Jordan Staal, F
1
-17.0
3
-14
-21
31
+3:20
52
52
0
--
Travis Zajac, F
2
-3.0
-5
-8
-12
15
+0:42
21
21
-1
Matt Carle, D
-15
-9.0
-18
-27
-17
-4
-1:35
-48
-48
-6
Alexander Radulov, F
17
8.0
13
21
-12
18
+4:46
87
87
-1
Ryane Clowe, F
-43
-13.0
-13
-26
-5
-56
+1:11
-71
-71
-2
Only Malkin, Kopitar and Radulov improved, continuing the 30 percent rate from the season before. Two were unchanged, although Staal made the cut based on gains in the less impressive categories of PIM, ATOI and shots. The percentage of slumpers fell from 55 percent to 50 percent, so let's declare it a trend.
Carle, the only defenseman among last season's sophomores, was a flop in all seven categories. So far, our sampling says to beware of the second-year blueliners.
Here are the top 10 rookie scorers from last season:
2007-08 rookie class: Top 10 scorers
GP
G
A
Pts
+/-
PIM
ATOI
SOG
SOG
PPG
Patrick Kane, F
82
21.0
51
72
-5
52
18:21
191
191
7
Nicklas Backstrom, F
82
14.0
55
69
13
24
18:59
153
153
3
Jonathan Toews, F
64
24.0
30
54
11
44
18:40
144
144
7
Peter Mueller, F
81
22.0
32
54
-13
32
17:15
201
201
7
Sam Gagner, F
79
13.0
36
49
-21
23
15:40
135
135
4
Andrew Cogliano, F
82
18.0
27
45
1
20
13:39
98
98
1
Brandon Dubinsky, F
82
14.0
26
40
8
79
14:29
157
157
1
Tobias Enstrom, D
82
5.0
33
38
-5
42
24:28
105
105
4
Tom Gilbert, D
82
13.0
20
33
-6
20
22:11
98
98
3
Erik Johnson, D
69
5.0
28
33
-9
28
18:11
105
105
4
If the previous years are an indication at least three are due for increases, two will remain the same and the rest will slide. Blues defenseman Erik Johnson seems to have been the victim of some kind of jinx when a preseason golf-cart mishap resulted in a season-ending knee injury.
A simple look at the average points per game through Wednesday night compared with last year has Patrick Kane and Brandon Dubinsky registering significant improvement, Peter Mueller and Tom Gilbert showing slight gains and the rest declining.
2007-08 rookie class: Sophomore scoring
2007-08
2008-09
Patrick Kane
0.88
1.25
Nicklas Backstrom
0.84
0.36
Jonathan Toews
0.84
0.58
Peter Mueller
0.67
0.70
Sam Gagner
0.62
0.18
Andrew Cogliano
0.55
0.42
Brandon Dubinsky
0.48
0.80
Tobias Enstrom
0.46
0.16
Tom Gilbert
0.40
0.50
Erik Johnson
0.48
0.00
With the sophomore jinx likely to affect at least half of these second-year players, fantasy owners have to decide which of the youngsters have the character to work their way out of slumps and avoid damaging their confidence.
"I don't really look at it too much," Gagner told the Canadian Press. "It's a long season. Guys go through slumps at different points of the season. Mine just happens to be now.
"I feel I'm playing well and I'm creating chances. If that wasn't happening, I'd be a little worried, but hopefully it's a matter of time and I can play solid hockey and put some points up."
Earlier this week, Edmonton coach Craig MacTavish told the CP he wanted to help Gagner work his way out of it by giving him "offensive minutes where he can get something done." But after Gagner's season-low 13:38 against Columbus, MacTavish seems to have suddenly lost some faith in the center who had been averaging 17:34 before Wednesday.
Blackhawks center Jonathan Toews is also looking for his first goal of the season, but he has helped the team by going 3-for-3 in shootout attempts so far.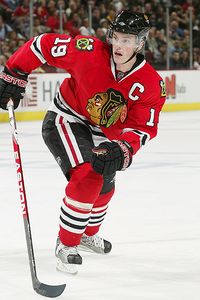 Bill Smith/NHLI/Getty ImagesJonathan Toews scored 24 goals and added 30 assists in only 64 games in his rookie season.
"I'm doing everything I can to contribute," Toews, who has seven assists through 12 games, told the Chicago Tribune.
"I still feel I'm an offensive player. One of my best attributes is scoring goals and playing that style of hockey."
The Blackhawks named the 20-year-old their captain in the summer, but Toews dismissed the notion of any added pressure.
"I've just been going about my business the way I normally would. Nothing has changed," Toews told the Tribune. "I think the guys respect that.
"They don't expect me to change the way I am, who I am and the way I act in the locker room every day."
Washington center Nicklas Backstrom is also goalless and has four assists in 11 games. It hasn't helped that linemate Alexander Ovechkin was off to a slow start and missed two games to be with his ailing grandfather in Russia.
Dubinsky, 22, has cooled off a little since he notched three goals and four assists in the first five games. His 12 points are good enough to tie Markus Naslund and Nikolai Zherdev for most points on the Rangers, but Dubinsky has just a goal and two assists in the past six games.
Mueller, 20, has three goals and four assists and is a minus-2 through 10 games in which he has mostly played on Phoenix's top line with Shane Doan and Olli Jokinen.
With Enstrom on a bad Atlanta team, Gilbert is the only defenseman in the group with a chance to avoid an overall setback. He's 25 and a top-four blueliner who gets power-play time on a talented Oilers team. Five of Gilbert's six assists have come in the past two games.
More changes in Washington
Capitals coach Bruce Boudreau tells The Washington Post he will give backup goalie Brent Johnson a second consecutive start, Thursday against Carolina.
Johnson stopped 42 shots in a 2-1 overtime loss to the Senators on Tuesday to earn the nod over Jose Theodore, the No. 1 goalie brought in during the summer with a two-year, $9 million contract.
"Theodore is still the No. 1 goalie," Boudreau told The Post. "Theodore started five games in a row. Brent came in and did well, so he's earned another start. I don't think [either is] going to play 10 games in a row. We're going to go with the hot hand."
So fantasy owners will need to follow this possible goalie controversy from game to game to see if Johnson can keep the former Hart Trophy winner nailed to the end of the bench.
"If Brent goes in and is crappy tomorrow, then obviously I am going to use [Theodore] Saturday against the Rangers," Boudreau told The Washington Times on Wednesday. "All I am looking at is tomorrow night."
Johnson is 1-1-2 with a 2.47 goals-against average and a .914 save percentage while Theodore is 4-3 with a 3.44 GAA and an .877 save percentage.
Shoot first, ask questions later
New Blackhawks coach Joel Quenneville is encouraging his defensemen to shoot more, and it should pay off well for fantasy owners of top guns on the blue line such as Brian Campbell, Duncan Keith and Brent Seabrook.
"With the way the slots are being blocked up and tough to penetrate, I think the best option now is to get it back to the point and load it up and try to get some screen tips and deflections," Quenneville told the Chicago Tribune.
"We have the weapons back there, so let's load it up and pound it and make sure one or two guys are in screening positions. The goalie isn't going to be able to stop it if he can't see it."
Seabrook, with three goals, leads all Hawks defensemen, but right behind with two apiece are Campbell, Keith, Aaron Johnson and Cam Barker.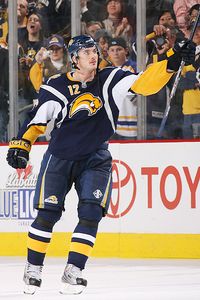 Bill Wippert/NHLI/Getty ImagesAles Kotalik has been promoted to Buffalo's top line with Thomas Vanek and Derek Roy.
Slight shift for Sabres
Sabres forward Ales Kotalik has moved up to join the top line of Derek Roy and Thomas Vanek, bumping Drew Stafford down to the third line.
The 6-foot-1, 227-pound Kotalik and his new linemates combined for three goals and two assists in two games together.
"He's been able to use his speed, drive wide and beat people," Sabres coach Lindy Ruff told The Buffalo News. "He's got some pucks on the net and created opportunities. I really think he's skated well, and that's been a difference in his game."
Kotalik has four goals, five assists and a plus-2 through 12 games. Two goals and three assists have come on the power play.
Hoping for an end to St. Louis' blues
Moving Martin St. Louis to quarterback the power play and play the point paid off Wednesday night, with one man-advantage goal for the Lightning winger, although Tampa Bay lost to the Devils in a shootout.
"I hope it increases [St. Louis' shots] because he has the puck more," Lightning coach Barry Melrose told the St. Petersburg Times. "Marty has to be selfish on the point. He has a great shot that he gets away quick."
Selfishly speaking as a St. Louis owner in one league, getting the speedy forward to handle the puck more is great news after getting just one goal and five assists in his first 10 games before Wednesday.
Jim Wilkie is a former NHL editor/writer for ESPN.com. You can email him at espnpucks@comcast.net.
SPONSORED HEADLINES
FANTASY TOP HEADLINES
MOST SENT STORIES ON ESPN.COM