Commentary
Point Shots: CPR line breathes life into Panthers
Updated:
January 15, 2009, 1:17 PM ET
By
Jim Wilkie
| Special to ESPN.com
They're calling Florida's third unit of Gregory Campbell, Ville Peltonen and Radek Dvorak the CPR line (Campbell, Peltonen, Radek -- OK, it's not perfect), and The Miami Herald says it has "helped breathe new life into a Panthers season that needed to be resuscitated in November."
Although the trio makes up the third line, Panthers coach Peter DeBoer isn't afraid to give the players top-line minutes if they deserve it, according to the Herald.
The three have combined for nine goals, nine assists and a plus-24 in the past five games, and the Panthers have gone 4-0-1 in that span.
''It's fun, but it's a reward for the hard work,'' Dvorak told the Herald. ''When you work hard, sometimes good things happen.''
The line will need a new left winger for at least two weeks, however, as Peltonen has a broken bone in his left foot. Brett McLean took his place in practice Tuesday, according to the Herald.
Briere on his way back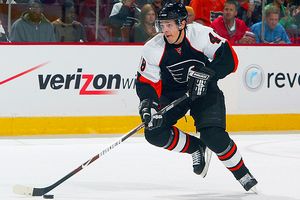 Jim McIsaac/Getty ImagesDaniel Briere could return to the Flyers before the All-Star break.
In what might be turning into a weekly staple of Point Shots, Philadelphia center
Daniel Briere
is close to returning from his groin injury.
But first, the Flyers have sent him to the AHL Philadelphia Phantoms for a two-game conditioning stint that began Wednesday night against Claude Lemieux's Worcester Sharks.
"We are doing this just to make sure everything is OK with Danny," Flyers GM Paul Holmgren told The Philadelphia Inquirer. "This will give him the opportunity to play in some games prior to rejoining the Flyers. He will play two games with the Phantoms on Wednesday and Friday. He was absolutely receptive to this."
Briere had told the Inquirer on Monday he might have played Tuesday against Pittsburgh had the Flyers been short a player. So besides allowing Holmgren to do everything he can to prevent the shifty center from reinjuring himself quickly a second time this season, the delay also allows Holmgren a chance to buy time. Holmgren must shuffle bodies to get under the salary cap to fit Briere's big contract back on the roster.
"I'm just excited to get back and playing some games, to test it out and see where I am," Briere told the Philadelphia Daily News. "We all know the situation here, and some moves will need to be made when I'm ready to come in the lineup, so the last thing I want is to force the team to make some moves and find out that I can't go, that I can't play.
"The American [Hockey] League is not that far behind the NHL. It's competitive, and it's going to be a good test."
Briere last played Dec. 2 and had abdominal surgery earlier in the season. Assuming all goes well with the Phantoms -- and he did have a goal and an assist to help them to a 7-1 victory Wednesday -- Briere's return to the Flyers might be as early as Wednesday against the Thrashers. It helps that after the Flyers play two games at the Lightning and Panthers on Thursday and Friday, they'll have a five-day layoff until Wednesday's game.
Canucks look for sparks
Canucks forward Pavol Demitra responded to being demoted to the fourth line by scoring a goal Tuesday night in Vancouver's 5-3 loss to New Jersey.
"I think in the last 13 games here, [Demitra] has scored two goals, and one of those was the empty net in Edmonton," Canucks coach Alain Vigneault told the Vancouver Sun on Monday.
"In those 13 games, I think 10 games have been scoreless, and for me it's not so much the points as the fact he's not getting a lot of chances offensively. Lately, defensively he hasn't been as committed as he needs to be. He is one of the players we look for to be better."
Against the Devils, Demitra began playing on a line with Ryan Johnson and Darcy Hordichuk, but by the end he worked alongside Mats Sundin and Mason Raymond. Demitra's goal was a rebound off a Sundin shot.
Meanwhile, Jason LaBarbera is the No. 2 goalie behind Roberto Luongo after the Canucks placed Curtis Sanford on waivers Wednesday. Luongo is expected back Thursday against Phoenix after missing the past 24 games with a groin injury.
It's a slim chance, but check your free-agent list just in case you're in one of the 0.2 percent of ESPN.com leagues in which Luongo is available. That's almost as difficult to explain as the 3.5 percent of leagues in which retired goalie Dominik Hasek is owned.
Selanne skates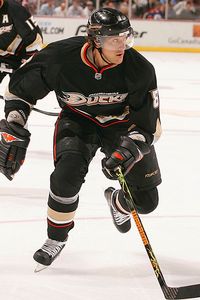 Debora Robinson/NHLI/Getty ImagesTeemu Selanne has 27 points in 33 games but hasn't played in nearly a month.
Ducks forward
Teemu Selanne
was back on the ice Wednesday for the first time since his left quadriceps muscle was lacerated by his own skate after he was hit in a Dec. 19 game against the Oilers.
"I'm pretty much able to do everything else, but not explosive stuff," Selanne told the Orange County Register. "With the controlled strides, I can push quite hard, but anything explosive or quick, it's not strong enough. That will come from skating."
The newspaper reported Selanne skated on his own before the Ducks had their morning skate in preparation for Wednesday's game against the Red Wings.
Selanne told The Register he's happy with the progress, and he's targeting to return on Jan. 27 at Phoenix, the first game after the All-Star break.
Hemsky still on the shelf
Oilers coach Craig MacTavish tells the Edmonton Sun he doesn't expect forward Ales Hemsky to return before the All-Star break.
"He's not right," MacTavish told The Sun about Hemsky, who has been out since suffering a concussion Dec. 28 against the Predators. "And we want to be careful and make sure we're not doing anything to undermine his long-term health."
The newspaper said Hemsky has felt fine while training on dry land but hasn't felt right in two practices and developed headaches afterward.
"I felt all right in the drills, but at the end of skating it showed that I'm not quite ready," Hemsky told the Sun. "The lights [bother me]. When guys skate by me, it spins sometimes. When you still have those symptoms, you're not quite ready yet.
"We tried some battles to see how the head would react, and after the battles if I skated around I got dizzy sometimes. It shows me I'm not quite ready."
Boogaard's hands of stone
To the owners of Wild enforcer Derek Boogaard, all we can say is you're due.
Boogaard owns the longest current goalless streak in the NHL at 147 games.
"But I didn't play for more than half the season last year," Boogaard told the Minneapolis Star Tribune. "Maybe my time's up. You always care about that stuff, but you can't worry about or think about it. I mean, if I was on the first or second line, I think I'd be in trouble."
Of course, those folks (in 0.5 percent of leagues) with the 6-foot-8, 257-pound forward on their roster don't have him for his scoring prowess. He has three assists and 61 penalty minutes and is a plus-4 in 33 games in which he has averaged four minutes, 28 seconds of ice time.
Boogaard hasn't scored since a Jan. 7, 2006 game against the Ducks.
Jim Wilkie is a former NHL editor and writer for ESPN.com. You can e-mail him at espnpucks@comcast.net.
MOST SENT STORIES ON ESPN.COM