Commentary
Point Shots: Zednik's injury a thing of the past
Updated:
February 12, 2009, 4:10 PM ET
By
Jim Wilkie
| Special to ESPN.com
While the one-year anniversary of Richard Zednik's horrific neck injury received a lot of attention earlier this week, the Panthers forward's re-emergence as a scoring threat deserves recognition as well.
Zednik had two goals, including the game winner, in a 5-4 overtime victory over the Maple Leafs on Tuesday night. That gave him five goals, six assists and a plus-6 in his past 13 games.
"I feel great about the way I'm playing right now," Zednik told the South Florida Sun-Sentinel. "When you have confidence, that's the bottom line. I just can't wait to go on the ice and play."
To illustrate Zednik's confidence with the puck, just check out the YouTube video of his amazing goal against the Islanders on Feb. 5. Wow.
Panthers coach Pete DeBoer told the Sun-Sentinel he believes Zednik has overcome the mental obstacles of the injury because he hasn't shied away from battling in the corners. "Considering where he was, and it hasn't been easy for him, he had a battle the first half of the year," Panthers rookie coach Pete DeBoer told the Sun-Sentinel on Tuesday. "[Now] he has started to play the best hockey since I've been here."
And with the improved Panthers in playoff contention, Zednik could help some fantasy teams' stretch runs, at least during his current hot streak. He's owned in just 1.2 percent of ESPN.com leagues because his season totals of 10 goals, 12 assists and a plus-6 through 42 games are easily overlooked.
For those who don't know about his injury, against the Sabres on Feb. 10, 2008, Zednik nearly lost his life when then-teammate Olli Jokinen's skate came up suddenly in a collision along the end boards and cut a major artery in Zednik's neck. He needed five units of blood during emergency surgery and missed the rest of the season.
"It's amazing. When something like that happens to you, I'm sure all kinds of things cross your mind, including whether or not you want to suit up and even get back out there, whether it's all worth it," DeBoer told the Sun-Sentinel.
Penguins eager to get Gonchar back
Sergei Gonchar might make his season debut Saturday against the Maple Leafs, according to published reports.
Gonchar has been out all season while recovering from surgery to repair a shoulder separation he suffered in a Sept. 20 preseason game. While he has been medically cleared to play, the Pittsburgh Post-Gazette reported the Penguins defenseman has yet to decide when that will be.
"It's going to be day by day. It depends on how I feel," Gonchar, who has told reporters he still has pain in his surgically repaired shoulder, told the Post-Gazette. "It's a little bit of everything. A little bit of conditioning, a little bit of timing, maybe skating with the team a little bit more."
Pittsburgh, which is a point behind Florida for the final playoff spot in the Eastern Conference, badly needs Gonchar back to lead its disappointing power play. Even at less than 100 percent, Gonchar's puck-moving skill and offensive talent should provide a much-needed spark. Think back to Game 5 of the Stanley Cup finals against Detroit, when he crashed into the end boards headfirst in the second period, and missed the third period and two overtime periods before assisting on the winning goal in the third overtime.
Canucks find magic formula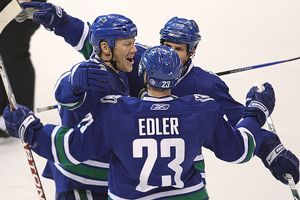 AP Photo/Darryl DyckThe Canucks have been celebrating after goals a lot more often with Mats Sundin on board.
Coinciding with
Mats Sundin
getting in better shape and taking fewer lazy penalties, the Canucks have come up with a potent combination featuring the big Swede with
Ryan Kesler
and
Pavol Demitra
on his wings.
The trio has combined for 22 points and a plus-8 in the past three games, all victories, and, along with the Henrik Sedin-Daniel Sedin-Taylor Pyatt line, has provided the one-two punch Vancouver had expected with Sundin's arrival.
"Ryan, in my book, is having a breakthrough season, and Pavol is a veteran guy who knows where to go on the ice," Sundin, who has two goals and two assists on the power play in the past two games, said after Tuesday's 6-4 victory over the Blues. "It's been fun playing with those two guys."
Kesler, who has six goals during his current four-game goal-scoring streak, is more widely available in ESPN leagues than his linemates (Kesler is owned in 25.4 percent compared with 78.1 percent for Sundin and 79 percent for Demitra), but his superb checking ability gets him on the ice more often. He already gets considerable short-handed duty because the Canucks remain among the league leaders in penalty minutes, but he has earned his increased power-play time with four goals and an assist in the past four games with the man advantage.
"It's weird. Sometimes you have chemistry with guys and sometimes you don't," Kesler told The Vancouver Province. "With those two guys, they see the ice really well and they're strong down low. It's an easy game to play when we're all working hard."
Demitra has a goal and six assists, Sundin has four goals and three assists, and Kesler has four goals and four assists in the past three games.
One of the more surprising results of the line's formation has been the impact on Alexandre Burrows, who had been a successful sidekick to Kesler on the third line. Burrows has two goals, including one potentially season-altering short-handed goal against Carolina that helped the Canucks end an eight-game losing streak Feb. 3.
Burrows, who still gets penalty-killing time alongside Kesler, has been his usual feisty self while skating with Steve Bernier and Mason Raymond.
Positive steps for Stastny
Avalanche center Paul Stastny is expected to receive medical clearance to return to practice next week. Stastny had surgery to repair a broken forearm Dec. 30, and the Rocky Mountain News is reporting he might be back in the lineup sometime during an 11-day East Coast road trip that starts Feb. 20.
Meanwhile, the Avs have become so desperate, they've given Cody McLeod some time on the top line with Wojtek Wolski and Milan Hejduk, according to The Denver Post.
McLeod has 12 goals, four assists, 114 penalty minutes and is plus-1 while averaging 10:45 of ice time through 54 games this season.
Another Briere update
I told myself I wasn't going to do this again, but here goes: Flyers center Daniel Briere practiced Wednesday for the first time since groin surgery three weeks ago and told The Associated Press he hopes to play Feb. 24 against the Capitals.
"There's still lots of pain and a lot of discomfort, depending on what I do," Briere said. "But just from skating [by myself] this past weekend to today was way better. I was able to do a little bit more with the puck and shoot a little harder and skate a little harder."
Although his abdominal and groin problems are certainly no joke, and his false starts and stops in his bid to return are frustrating for fantasy owners, including myself, Briere can be a valuable asset when healthy.
Jim Wilkie is a former NHL editor and writer for ESPN.com. You can e-mail him at espnpucks@comcast.net.
SPONSORED HEADLINES
FANTASY TOP HEADLINES
MOST SENT STORIES ON ESPN.COM