Commentary
Thin Blue Line: Impact of injuries
Bryan McCabe goes down; Chris Pronger returning
Updated:
January 20, 2011, 10:46 AM ET
By
Victoria Matiash
| Special to ESPN.com
As the season wears on, the challenge of staying healthy becomes increasingly difficult. Players' bodies break down more easily as the weeks of wear and tear add up. It seems as though a fresh gaggle of skaters are placed on the shelf -- for stays of varying lengths -- each and every day. Staying healthy isn't as important as being good, but it's up there. It doesn't matter how talented a player is if he's watching the game in his best single-breasted suit.
[+] Enlarge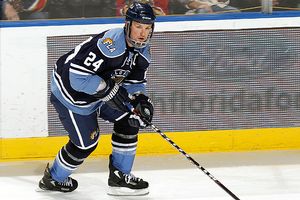 Eliot J. Schechter/NHLI/Getty ImagesBryan McCabe's recent injury means he plummets greatly down the defensemen rankings.
Part of the fantasy gig is keeping a close eye on who is entering or exiting the infirmary, day in and day out. Not only to keep track of the obvious -- who's fit and who's not -- but how a player's teammates are affected by one's injury and subsequent recovery. The ramifications can be significant.
Unfortunately for Bryan McCabe owners, the Florida Panthers defenseman is out for the next four to six weeks after taking a puck to the face Saturday and sustaining a broken jaw and other fractures. Under these circumstances, the Panthers will look to Dennis Wideman to carry even more of the offensive load from the blue line. Wideman has been productive in recent games, but in McCabe's absence, the 27-year-old is in position to put up some very serious numbers.
However, Dmitry Kulikov may benefit the most from the void left by McCabe. The 20-year-old has shown spurts of promise in his last two seasons, but with additional responsibility and increased minutes with the man advantage, Kulikov will get a genuine shot to showcase his talent. Available in less than 3 percent of ESPN leagues, this youngster could be worth the gamble.
On the flip side, the Philadelphia Flyers are about to welcome back Chris Pronger from a five-week stay in sick bay with a broken foot. The loveliest element of Pronger's return is his fellow blueliners won't be too adversely affected. We expect Pronger to resume his spot on the squad's top power-play unit alongside Kimmo Timonen, while Matt Carle and Andrej Meszaros should continue to toil on the second unit. No harm, no foul. The Flyers are playing so well anyway right now, there's enough scoring to go around as it is.
Top 75 Defensemen Note: Victoria Matiash's top 75 defensemen are ranked for their expected performance in ESPN standard leagues from this point on, not on statistics that have been accrued. ESPN standard stats include goals, assists, power-play points, shots on goal, plus/minus, penalty minutes and average time on ice. Last week's ranking is indicated in parentheses.
1. Dustin Byfuglien, Atl (1)
2. Nicklas Lidstrom, Det (2)
3. Dan Boyle, SJ (3)
4. Zdeno Chara, Bos (5)
5. Kris Letang, Pit (6)
6. Tobias Enstrom, Atl (7)
7. Mike Green, Was (4)
8. John-Michael Liles, Col (9)
9. Drew Doughty, LA (8)
10. Lubomir Visnovsky, Ana (10)
11. Christian Ehrhoff, Van (11)
12. Alexander Edler, Van (13)
13. Brian Rafalski, Det (12)
14. James Wisniewski, Mon (14)
15. Keith Yandle, Pho (15)
16. Alex Goligoski, Pit (17)
17. Shea Weber, Nsh (20)
18. Chris Pronger, Phi (62)
19. Stephane Robidas, Dal (16)
20. Jack Johnson, LA (18)
21. Tomas Kaberle, Tor (19)
22. Kimmo Timonen, Phi (22)
23. Duncan Keith, Chi (21)
24. Brent Burns, Min (25)
25. Niklas Kronwall, Det (23)
26. Mark Giordano, Cgy (24)
27. Erik Karlsson, Ott (28)
28. Joni Pitkanen, Car (26)
29. Sergei Gonchar, Ott (29)
30. Brent Seabrook, Chi (31)
31. Brian Campbell, Chi (33)
32. Roman Hamrlik, Mon (32)
33. Jay Bouwmeester, Cgy (34)
34. Ryan Suter, Nsh (40)
35. Marc Staal, NYR (38)
36. Dion Phaneuf, Tor (30)
37. Dennis Seidenberg, Bos (39)
38. Matt Carle, Phi (37)
39. Kevin Shattenkirk, Col (36)
40. Dennis Wideman, Fla (45)
41. P.K. Subban, Mon (42)
42. Cam Fowler, Ana (41)
43. Joe Corvo, Car (48)
44. Kurtis Foster, Edm (35)
45. John Carlson, Was (43)
46. Kevin Bieksa, Van (44)
47. Jordan Leopold, Buf (50)
48. Paul Martin, Pit (46)
49. Tyler Myers, Buf (47)
50. Alex Pietrangelo, StL (53)
53. Andrew MacDonald, NYI (49)
52. Erik Johnson, StL (54)
51. Andy Greene, NJ (61)
54. Andrej Meszaros, Phi (52)
55. Anton Babchuk, Cgy (58)
56. Jamie McBain, Car (67)
57. Francois Beauchemin, Tor (57)
58. Adrian Aucoin, Pho (60)
59. Dmitry Kulikov, Fla (NR)
60. Ed Jovanovski, Pho (55)
61. Fedor Tyutin, Cls (NR)
62. Daniel Girardi, NYR (64)
63. Cody Franson, Nsh (59)
64. Michael Del Zotto, NYR (63)
65. Pavel Kubina, TB (65)
66. Carlo Colaiacovo, StL (51)
67. Brett Clark, TB (56)
68. Marc-Andre Bergeron, TB (66)
69. Michal Rozsival, Pho (69)
70. Dan Hamhuis, Van (NR)
71. Steve Kampfer, Bos (74)
72. Matt Gilroy, NYR (71)
73. Toni Lydman, Ana (70)
74. Bryan McCabe, Fla (27)
75. Tom Gilbert, Edm (72)

Rising and Falling
Jamie McBain, Carolina Hurricanes (up 11 spots): Reintroduced as a staple on the Hurricanes' power play, McBain is making a solid fantasy case for himself again. With seven points in his last 10 games, you can almost smell the young lad warming up for a strong final third of the season. McBain finished off 2009-10 with a great deal of gusto, so feel free to give him a shot. The 22-year-old is still available in most ESPN leagues.
Andy Greene, New Jersey Devils (up 10 spots): Well, would you fancy that? The Devils are playing better and so, in turn, is Greene. This turnaround was expected a little earlier, but we'll take what we can get. Notching five points in his past six games, Greene is looking much more like the fantasy asset of 12 months ago, steady, if not sexy. And his plus-6 rating over this recent stretch is downright eye-popping, especially in contrast to his minus-19 for the season. As an owner, feel free to activate Greene again without trembling.
Anton Stralman, Columbus Blue Jackets (off): Only one member of Blue Jackets' blue line is making a bit of noise these days, and his name isn't Anton Stralman. After a solid finish to December, Fedor Tyutin has a nifty little hot streak going, including seven points in his past six games. If you're in need, consider picking up and exploiting Tyutin until he cools off, as he's widely available. However, fantasy-wise, we would prefer to wash our hands of the Blue Jackets altogether, so consider this a tepid endorsement at best.
Key injury notes
• It appears Ryan Whitney is done for the season following ankle surgery. Kurtis Foster, for better or for worse, is the most valuable defenseman for the Edmonton Oilers moving forward. Foster has been struggling but could still get his act together.
• Listed as day-to-day, Ed Jovanovski continues to nurse a lower-body injury. The Phoenix Coyotes defenseman hasn't played since Jan. 13.
• The St. Louis Blues have placed Carlo Colaiacovo on injured reserve after the blueliner suffered an eye injury during Tuesday's contest with the Los Angeles Kings. Colaiacovo is expected to be out a minimum of two weeks. Alex Pietrangelo and Erik Johnson carry a little bit more fantasy value in the meanwhile.
• Here's a juicy tidbit from left field: Mark Streit is skating again. The veteran defenseman for the New York Islanders was spotted on the ice for the first time this season Monday. Streit had preseason shoulder surgery and was expected to miss up to six months. If his recovery is ahead of schedule, we could see the 33-year-old back in action for the Isles by the start of March. We'll keep an eye on the situation since Streit is a fantasy beast when healthy.
Power Play Performers
• The Tampa Bay Lightning are brimming with power-play participants at present, and that's not a good thing. Along with four forwards, coach Guy Boucher is using Pavel Kubina, Brett Clark and Victor Hedman as seemingly interchangeable pawns on the point during the man-advantage. Although there might be some method to the (perceived) madness, it's not working. In recent games, the Lightning are 3-for-35 with the extra skater. Not good.
Until Marc-Andre Bergeron is back in NHL-shape and called up from Norfolk, the Lightning blue line will remain free of potential fantasy gems. And there's been a setback with Bergeron; the power-play specialist is listed as day-to-day with a right knee contusion.
Victoria Matiash is a fantasy hockey analyst for ESPN.com.