Commentary
Spin the Black Circle: Sylvania 300
Gee, you think it pays to be on a mega-team?
The Chase starts in Loudon, N.H., this weekend, and take a look at the participants:
Hendrick: 3 (Jimmie Johnson, Jeff Gordon, Dale Earnhardt Jr.)
Roush: 3 (Carl Edwards, Matt Kenseth, Greg Biffle)
Childress: 3 (Kevin Harvick, Jeff Burton, Clint Bowyer)
Gibbs: 3 (Kyle Busch, Tony Stewart, Denny Hamlin)
Even if the season's "great story," David Ragan, had been able to slide his way into the Chase, hey, he's a Roushketeer, too. The true great story of 2008 would've been Brian Vickers finding his way in. In the end, Vickers didn't come all that close (he finished 15th), but he does have a pole, three top-5 finishes and six top-10s. And let's face it: Team Red Bull isn't exactly the land of paupers. When a well-funded organization which, in other racing series, often dominates races is what passes for an underdog? Well, your sport has gone quite a bit beyond the one-car fun of Alan Kulwicki.
This week, ESPN.com's Race for the Cup begins. Each week, you'll have to choose 10 head-to-head matchups: Which driver will finish higher in the race? The entrant who picks the most correct head-to-head winners in all 10 Chase races combined will win a trip for two to a NASCAR race next season and a $1,100 gift card from Circuit City. The second-place finisher gets that $1,100 Circuit City gift card. And each week's winner gets an ESPN hoodie and hat.
My picks in Race for the Cup this week are:
Kyle Busch over Carl Edwards
Jimmie Johnson over Dale Earnhardt Jr.
Tony Stewart over Jeff Burton
Kevin Harvick over Greg Biffle
Jeff Gordon over Matt Kenseth
Denny Hamlin over Clint Bowyer
Kasey Kahne over David Ragan
Martin Truex Jr. over Kurt Busch
Casey Mears over Brian Vickers
Regan Smith over Paul Menard
"Given To Fly" (Featured Elite Drivers)
(Last Week: Denny Hamlin, 3rd; Kyle Busch, 15th)
After his histrionics at Richmond last week, it might sound unlikely that Tony Stewart will pull out a win, or even a good fantasy finish, at New Hampshire this week. But doesn't Smoke usually perform pretty well when he's the center of controversy? For those who missed it, Stewart threw a hissy fit after the race because Jimmie Johnson finished his final pit stop faster than the No. 20, and then Stewart couldn't get around Johnson before the race ended. He whined to his crew over his radio, whereupon Greg Zipadelli (who's eagerly awaiting the Joey Logano era) told him to shut up. All that said, Stewart had the best car the first time around at Loudon this year, and might've won if not for some questionable late pit strategy and some rain. I give him a good chance to finally pick up that elusive first win of the season Sunday.
It's also hard not to be excited about Jimmie Johnson this week. JJ has back-to-back wins, and on flat tracks in the Car of Tomorrow, he's been absolute money for nearly two years. He kills it at Phoenix, he's awesome at Martinsville and in three COT races at Loudon, he's got three top-10s. Remember, he might have finished ninth here back in June, but most of the cars ahead of him benefited from not stopping before the rain came out. He was very good that day, and he'll be very good Sunday.
[+] Enlarge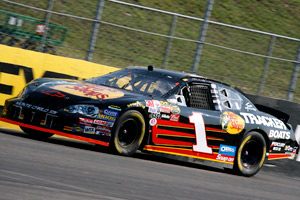 Worth Canoy/IconAlthough he's not in the Chase, Martin Truex Jr. has one of the best track records at Loudon.
"Rearviewmirror" (Midrange Drivers of Note)
(Last Week: Ryan Newman, 33rd; Mark Martin, 5th)
Martin Truex Jr. is my highest-rated non-Chase driver this week. Here's the only stat you really need to know: In three COT events at Loudon, Truex has finished third, fifth and fourth. That makes him a great bargain in almost all fantasy games.
I'll also take a stab with the June Loudon winner, Kurt Busch. No, Busch didn't have the best car that day, and yes, he was lucky as heck the rains came when they did, and that they never abated. But remember, the elder Busch has three wins at this track in his career, and two second-place finishes, as well. For him to be a solid fantasy performer this week (at his current fantasy price), we don't need him to win again. A top-20 would do just fine.
"Not For You" (Beware Of This Driver)
(Last Week: Greg Biffle, 14th)
This section of STBC is devoted to finding the guys who, statistically speaking, don't excel on the present week's track and/or track style. I'm not definitively predicting a guy will stink at this week's race; rather, I'm saying there are more consistent fantasy options elsewhere. This week, I'm staying away from Greg Biffle again. Nothing against The Biff; after all, for these past few months, I'm forcing myself to pick only Chase drivers in this section of STBC. But on the flat tracks, Biffle just hasn't been that great in the COT. Get him on one of the cookie-cutters that'll dominate the end of the Chase? I'm all over Biffle. But in three Loudon COT events, Biffle has finished 31st, 13th and 21st. It's not that he can't or definitely won't give you a top-10. But as I regularly say in this space, there are safer drivers at his price.
"Nothing As It Seems" (Weekly Sleepers)
(Last Week: Casey Mears, 11th; David Reutimann, 9th)
David Reutimann didn't disappoint me last week, leading 104 laps at Richmond (easily topping his total career laps led in that single race) before finishing ninth. There's a bit of overlap between Richmond and New Hampshire; though Richmond is the "short track that drives like a superspeedway" because of its long front stretch, the turns at those two tracks are within a couple of degrees' worth of banking of one another. Reutimann was 19th the first time around at Loudon back in June, and could snatch away another top-20 Sunday.
And finally, I'll also take Aric Almirola as a sleeper. Almirola will pilot the No. 8 in place of Mark Martin again, and considering Martin took this team to a fifth-place finish at Richmond last week, at least you know Almirola will have equipment enough to be competitive. He finished 23rd in the first Loudon event this year, and wrecked out of Martinsville, finishing 42nd. But at least we know he can handle shorter tracks; while there's almost nothing else in common between Loudon and Bristol, neither is more than a mile, and Almirola finished eighth and 13th at that track this year. I think he'll at least finish in the field's top half Sunday.
Christopher Harris is a fantasy baseball, football and racing analyst for ESPN.com. He is a six-time Fantasy Sports Writing Association award winner. You can e-mail him here.
Fantasy
Senior writer for ESPN.com
Six-time Fantasy Sports Writing Association award winner
Author of "The Big Clear," a noir thriller
SPONSORED HEADLINES
MORE NASCAR HEADLINES
MOST SENT STORIES ON ESPN.COM
EDITORS' PICKS
Can life get any better for five-time Indy winner Jeff Gordon?
Ranks »

Tires for skates

Our experts tackle the week's hot-button NASCAR topics.
Turn 4 »