Commentary
Aaron's 499 wrap
Updated:
April 29, 2008, 11:58 AM ET
By
Scott Engel
| ESPN.com
Talladega Superspeedway is always full of super excitement, and Sunday's event was no different, with three- and four-wide racing and drama from beginning to end. There were 52 lead changes among 20 different drivers; the latter number was the eighth most all-time in Sprint Cup competition.
There were also 84 green-flag passes for the lead, compared to 67 during the most recent Cup race at Talladega. And in the end, the fact that Kyle Busch won was fitting. In Talladega style, I'll take a look at him first:
Kyle Busch: Anything can change in a blink at Talladega, and so did Busch's fortunes at a track that had given him so much trouble in the past. In his first event for Joe Gibbs Racing at the site, Busch won for the first time at Talladega, putting a forgettable history there behind him. In his first six 'Dega races, Busch had four DNFs and no top-10 finishes. On Sunday, he also avoided some problems on pit road, came very close to wrecking and steered clear of a penalty, making his win even more impressive. Being able to elude his demons at Talladega is just another sign Busch has certainly arrived as an elite driver and dominant fantasy force.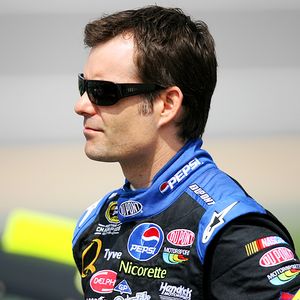 Marvin Gentry/US PresswireIt's not a good sign that Jeff Gordon struggled at a track he has fared well at in the past.
Jeff Gordon:
Just like Kyle Busch overlooked past history at Talladega, Gordon, though unintentionally, did the same -- which is not good for his fantasy owners. He led only lap, and while his illustrious past at Talladega was well-chronicled coming in, and he did make a few runs at the lead, he ultimately finished 19th. If Gordon couldn't turn his outlook around at one of his best tracks, you have to seriously wonder if he can rebound for a run of strong finishes any time in the near future. If you have Gordon on an ESPN FSR team, trades are rare and you can't bench him, so you're stuck with him, for better or worse. In the Stock Car Challenge, you just have to leave him out of your lineup until further notice.
Tony Stewart: He led 62 laps and looked like he might actually come up with the win and begin one of his patented strings of great finishes. Ultimately, though, Stewart ended up in a wreck that ruined his chances and frustrated his fantasy owners yet again. It hasn't been nearly as fun as expected to be a Stewart owner, but he did run well for a significant portion of the day, giving way to promise that consistently strong results might not be too far off.
Kurt Busch: This was the track in which you had to take the gamble on him, just like with Gordon. Coming into Sunday's race, Busch had 11 top-10 finishes in 14 Talladega starts. But he wrecked and finished 39th, continuing his disappointing beginning to the season. Like Gordon, you won't be able to move him now in an FSR league. Yet you also must keep him in your lineup in such leagues and just hope for better times ahead, although they might feel like they are far away.
Carl Edwards: Tire problems led to a 40th-place finish for Edwards, who now has four finishes out of the top 30 in eight Talladega starts. No reason to worry, though. Edwards will bounce back immediately and can still lead your team to a fantasy championship.
Matt Kenseth: An early accident led to a 41st-place finish , on the heels of a 38th-place showing at Phoenix. It's been a disappointing season for Kenseth so far; he has an average finish of 21.9. I can't say it any more simple than this, though: Kenseth is a fine driver, and the down times won't last much longer.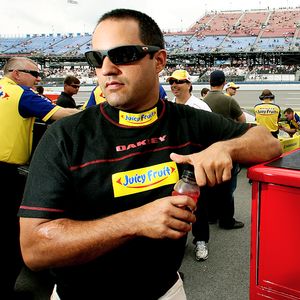 John David Mercer/US PresswireDon't look now, but Juan Pablo Montoya is actually becoming a fantasy factor.
Juan Pablo Montoya:
He was not swayed or intimidated by all the action going on around him, and Montoya coolly finished second as other challengers dropped behind him late in the race. Montoya has finished 16th or better in five of his past seven races and those who have remained patient with him are beginning to see good results. Montoya will be regularly respectable, and occasionally outstanding. Sometimes the best trades in fantasy are the ones you don't make, and now I'm glad no one bit when I put him on the market earlier this season in one of my ESPN FSR leagues.
David Ragan; He finished fourth and now has four top-15 finishes in nine races this season. He will continue to be capable of delivering quality showings on a regular basis and is always a fine sleeper in a salary cap-style game like the Stock Car Challenge.
Travis Kvapil: He has made a solid return to the Cup series, and if you have been overlooking him among the lesser-known drivers every week, you can't overlook him after a sixth-place finish at Talladega. Kvapil has finished 22nd or better in his past four races and can give you a respectable finish any time you take the chance on him. He has sponsorship now, a good sign that he is no slouch.
Casey Mears: Mears finished seventh and now has two top-10 finishes in his past four races. I would not add him to my SCC lineup yet, but if you have Mears in an FSR league, there is still time for him to right his ship and become more consistent overall.
Dale Earnhardt Jr.: He led for 46 laps but once again couldn't keep up the high momentum for a full race or when it counted most. Getting involved in a wreck certainly didn't help, but Earnhardt still fell short again without being part of the dustup. He should win a few races in 2008, and the top-10 and top-5 finishes will keep rolling in, so you can win your league with Earnhardt leading the way. You just need solid balance around him and can't expect him to carry your squad.
Paul Menard: He led for three laps and finished 14th despite a spinout. Menard has finished in the top 20 in four of his past six races and is progressively improving. Don't hesitate to slide him into your lineup in any race in any type of fantasy format.
Kevin Harvick: He was involved in a big wreck late in the race and finished 24th, and he has not placed in the top 15 in his past two races. Harvick has an average finish of 11.2 this year, though, and he has been solid overall. Expect a quick rebound and more good outings in the near future.
Joe Nemechek:"Front Row Joe" surprised us all by taking the pole, because he had recently become better known as "Near the End of the Field Nemechek". He finished 25th and served as another example to newer fantasy players that you shouldn't put too much stock in qualifying results.
Michael Waltrip: He's a good sport who pokes fun at himself in commercials. That's notable when you consider NASCAR is the best major sport for advertisers. I actually don't get up from my couch during the breaks because I'm usually guaranteed a good laugh before the race broadcast resumes. So it was fun to see Waltrip actually leading late in the race, and he always has been capable of finishing respectably in a restrictor-plate event. Yet he got caught up in a late wreck, finished 27th, and I still don't want Waltrip on my fantasy roster.
David Stremme: He ran near the front for a good portion of the day, but was involved in the late crash and finished 28th. He filled in well for an injured Dario Franchitti and would probably perform better in the No. 40 car more regularly if given the chance.
Scott Engel covers fantasy sports for ESPN.com. You can contact Scott here.
ESPN Fantasy Games
Scott Engel covers fantasy sports for ESPN.com.
SPONSORED HEADLINES
MORE NASCAR HEADLINES
MOST SENT STORIES ON ESPN.COM
EDITORS' PICKS
Roger Penske still building business, respect and success.
Smith »

Crop of new drivers worth cheering for.
McGee »

Chase Elliott will drive the iconic No. 24 Chevrolet in 2016.
Story »