Everybody's got a story
Updated:
July 18, 2004, 9:11 AM ET
By
Bob Harig
| Special to ESPN.com
TROON, Scotland -- At a long-ago point in time, Skip Kendall could not have even dreamed of a 66 to take the lead at the Open Championship. He was hitting balls in an Orlando field, between shifts waiting tables at an Olive Garden, trying to make ends meet while hoping to revive his career.
Then there's Colin Montgomerie, who always dreamed of such glory. He grew up at Royal Troon, site of the 133rd Open Championship, and is still a member of the historic club. He's been in position to win major championships, just never pulled it off.
Through two rounds of the British Open, there are stories galore. And it is difficult to say which one is best.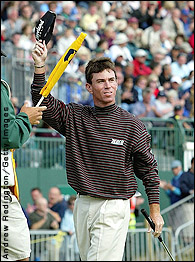 Skip Kendall's trying to join 2003 winner Ben Curtis in making the Claret Jug the first trophy on the mantel.
Kendall, 39, is playing in his 311th PGA Tour event and has yet to win. He has lost three playoffs, including one this year to Phil Mickelson. At 85th, he is the highest on the career money without a victory and is one of the shortest hitters on tour, ranking 156th at 278.3 yards. Ben Curtis was a huge surprise last year, but Kendall would not be far behind.

"I feel like I've been very close," Kendall said. "I think it's just a matter of time. Hopefully this will be mine."
France's Thomas Levet, who is a stroke behind Kendall, did not even get into the tournament until he won the Scottish Open on Sunday in Glasgow, shooting a 31 on the back nine. His wife had planned a vacation for this week, so Levet had to scurry back to his home outside of London to get more clothes, returning in time for practice rounds on Tuesday.
K.J. Choi grew up on an island off South Korea that had no golf courses, and didn't take up the game until he was 16. He became the first player from his country to win on the PGA Tour in 2002, and would become the first Asian player to win a men's major championship. Choi, who is tied for third, two shots back of Kendall, finished third this year at the Masters.
England's Barry Lane has played in more than 500 tournaments on the PGA European Tour, winning the British Masters earlier this year. It was his fifth career victory but first in 10 years. Lane, 44, has never finished in the top-10 at the British Open and has missed the cut in six previous appearances. He is tied with Choi.
Fiji's Vijay Singh has won two major championships but none since 2000, even though he has taken huge steps toward closing the gap on Tiger Woods. He is ranked third in the world, has three victories this year on the PGA Tour, and won last year's money title. Last year, he tied for second at the British Open, a shot behind Ben Curtis. He trails by three.
Ernie Els would certainly not be a surprise winner, not with his résumé. He keeps putting himself in position at majors, having finished second at the Masters and ninth at the U.S. Open after a final-round major. A victory would be his fourth major title, more than any active player besides Woods. He is three back.
Montgomerie had to qualify just to get in the British Open, and despite seven straight European Order of Merit titles in the 1990s, never was able to break through in the majors. He is playing on his home course, with huge support. He is three back.

"I used to live less than 100 yards from here," he said. "It is emotion in such circumstances. I know this course better than anybody and I'm in a good position for the weekend."
Todd Hamilton might be the most worldly of Americans, even though he is a rookie on the PGA Tour. Hamilton played on the Japan Tour for years, winning six times between 1996 and 2003. He earned his PGA Tour card last fall, then won the Honda Classic in March, birdieing the last two holes to beat Davis Love III. He is three back.
Retief Goosen, the two-time U.S. Open champion, can no longer be overlooked. A victory would give him two majors in a row and three in the last three years, something only Tiger Woods has accomplished in this decade. He is four back.
Phil Mickelson has never finished better than a tie for 11th at the British Open, but gave himself a chance for two majors in the same year with a 66 that vaulted him to a tie for 10th, four strokes back. Mickelson, the People's Champion, could become the World's Champion.
Kim Felton could be this year's Ben Curtis. The Australian is 195th on this year's PGA European Tour money list and is playing in his first British Open. With all that talk about potential Australian major winners -- Stuart Appleby, Robert Allenby, Adam Scott, Peter Lonard -- how about Felton? He is five back, tied with another Aussie, Rod Pampling.
Adam Scott gets a lot of attention because his swing is a lot like Tiger Woods and he uses the same coach, Butch Harmon, Woods once used. But he'd be known for a lot more than his swing with a victory here. That would give him two more wins and one more major than Tiger in 2004. He is six back.
Davis Love III let the British Open slip away last year and is the only player among the top six in the world not to win this year. He has quietly put himself in position, six strokes back. Perhaps there are rainbows in Scotland.
Tiger Woods is always the best story, isn't he? He's got a lot of people to pass if he is to win his ninth major championship and first in two years.

But that would make the story even better.

Bob Harig covers golf for the St. Petersburg Times, and is a frequent contributor to ESPN.com. He can be reached at harig@sptimes.com.
EDITORS' PICKS
Derek Fathauer won the Web.com finale.
Story »

The rub of the green impact the Ryder Cup result.
Jack Ross »

The R&A will now allow women members.
Story »