Tiger could learn something from Hamilton
Updated:
July 21, 2004, 11:10 AM ET
By
Jason Sobel
| ESPN.com
Ben Curtis was a Cinderella story. He was the Miracle on Ice, Buster Douglas and Super Bowl III all rolled into one.
Todd Hamilton is no Ben Curtis.
Hamilton had won all over the world, was ranked No. 56 and already owned a PGA Tour victory at this year's Honda Classic.
His win gives him one more major title than Tiger Woods during the past two years, and so the Weekly 18 begins with a possible answer to the seemingly never-ending question: "What's wrong with Tiger?"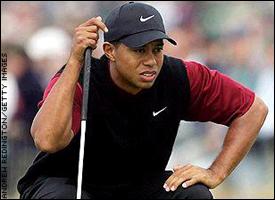 Perhaps Tiger has been too emotional and distracted during his major struggles.
1.
Major problem
The impending marriage; the breakup with Butch Harmon; he just doesn't have it anymore -- all reasons for Tiger Woods' major failures during the past two-plus years. Here's another theory: Whereas Tiger used to be stoic and reserved much of the time on the course -- those steely eyes with tunnel vision, focused on nothing but getting the ball into the hole -- his demeanor has undergone a transformation.
In recent years, Tiger has become a fountain of emotion. And not just in the final holes of a major, where an excited fist pump or a frustrated glare to the heavens can be justified. Tiger now seems to be living and dying with every tee shot, every approach, every putt; as any golfer will tell you, this is not a recommended way of playing the game.
Perhaps this is Tiger's way of dealing with the pressure, of not winning a major in his last nine attempts. But, as Tiger's grasp on the majors has slipped, gradually his distractions have become more distracting -- camera flashes are brighter, catcalls are louder -- and as a result, his play has suffered.
Need further proof that emotions and solid golf don't mix? All you had to do was watch the final pairing of Ernie Els and Todd Hamilton, each of whom seemed oblivious to the fact that history was waiting at the end of their day.
Perhaps Tiger is so conscious of his place in history that the pressure weighs on his shoulders with every shot. Perhaps this is why he's 0-for-9 in his last nine majors.
2.
Putting around
Got an old putter you're trying to get rid of? Hold onto it -- old, used putters could become the next big craze. British Open champion Todd Hamilton played his entire round with a putter he bought out of a bargain bin.
Coming up this week
PGA Tour
U.S. Bank Championship
Don't expect too many of the game's elite golfers to even show up in Milwaukee, let alone compete for the win. Those traveling back from Scotland will be jet-lagged and mentally tired, so expect someone who remained stateside to claim the title. Wisconsin's own Steve Stricker and Weekly 18 favorite Ted Purdy (a future star) will contend, but the choice is the unsinkable, excitable John E. Morgan, who's finished T-13 and T-2 in the last two weeks and still smarts from the R&A's decision to not give him a spot in the British.


LPGA Tour


Evian Masters

For most 14-year-olds, a big test would occur in 5th period algebra, not in France. But Michelle Wie's no normal 14-year-old and the Evian Masters can be considered a major test of her skill-level right now. If she can handle the travel to Europe, playing an unfamilar course and dealing with the European media, watch out. As for the title, Annika Sorenstam is running out of majors and this tune-up for the Women's British Open is right down her alley.


Champions Tour


Senior British Open

With defending champion Tom Watson nursing injuries, this one's wide open. Here's a hunch: Lifelong European Tour member Mark James was able to win the Senior Players Championship two weeks ago on American soil, so why not another title on more familiar grounds? With the tournament at the hallowed grounds of Royal Portrush in Northern Ireland, expect pars to be at a premium.

3.
The price of fame
Winning your first major? Priceless. Having the claret jug on your mantel? Priceless. A Todd Hamilton-signed golf ball? One hundred dollars. At least that was the starting bid on eBay for a Callaway ball with the autograph of the British champ on it, just hours after Hamilton clinched his win.
4.
Nice pants, part 1
The garish Union Jack flag pants that
Ian Poulter
wore in the first round were the perfect way to honor golf's oldest and most revered championship. Nice touch, Ian.
5.
Nice pants, part 2
After his outlandish trouser display in the opening round, Poulter made a nice comeback on the weekend. On Saturday, Poulter played in a pair of black plus-fours, Payne Stewart-style, with Pepto-colored socks to his knees. On Sunday, he opted for the Scottish version -- plaid red. Still not sure whether Poulter's outfits are genuine attempts to establish a new style or simply pangs for attention. He probably achieved both, as he was certainly the most-talked about 25th-place finisher in quite a while.
6.
Poulter's influence taking its Tolles
Just in case you were worried the Brits are getting the upper hand in the style (or lack thereof) department, don't worry. One look at
Tommy Tolles
and his blond and blue -- yes,
blue
-- spiked hair with pork-chop sideburns at the B.C. Open, and you'll know that American players can look just as silly as their European counterparts.
7.
No Harmon, no foul
Wouldn't you have loved to see the look on Tiger Woods' face on Friday once the third-round tee times were announced? Tiger drew the 8:55 a.m. (local time) pairing with
Adam Scott
. Now, Tiger holds no ill will toward the young Australian, who's modeled his swing after that of the world No. 1 player. But Scott's coach happens to be Butch Harmon who is, of course, Woods' estranged former teacher. Knowing Butch would be in attendance, Tiger shot a 68 -- his best score of the tournament. Maybe Tiger should play with Scott more often.
8.
A wanker no more
By all accounts,
Colin Montgomerie
and
Thomas Bjorn
shook hands and made up in the days before the British started. The two had been feuding since earlier this year, when, as playing partners, Monty walked off the green before Bjorn putted out, prompting Bjorn to call him a "wanker". Surely, the folks at the R&A had a chuckle pairing these two together in the first two rounds of the British, but there was nary a bad word or glare between them and they now say they can't wait to be Ryder Cup teammates again.
9.
Seven minutes of heaven
For a seven-minute span on Sunday, beginning at about 10:01 a.m. ET, Royal Troon turned into your local muni.
Thomas Levet
's eagle chip-in on 4 was quickly followed by Tiger's bunker hole-out on 5,
Barry Lane
's eagle putt on 4, Ernie Els' birdie putt on 3 and
Phil Mickelson
also chipping in on 4. There's no question Troon's front side played easier than its back, but for those seven minutes it seemed the British would turn into a festival of ridiculousness, conjuring up memories of the Masters' final round, when players were holing shots from everywhere.
10.
Shot of the week
Sure, it would be pretty easy to go with Els' hole-in-one on Thursday. Or
Gary Evans
' double-eagle. Hamilton's eagle hole-out from the fairway on Friday was splendid, as was Levet's eagle chip-in on 4 in the final round. But Colin Montgomerie's third shot from the greenside bunker on 14 in the third round was the best of the week. Monty had what looked to be an impossible shot, but chipped to within two feet -- falling down and taking half of the bunker with him in the process.
11.
Shot of the week (tree division)
Els' most amazing shot all week went about 15 yards. After making double-bogey on the 10th hole, his tee shot on 11 landed waist-high in a pine tree. Rather than take a drop, Els knocked it out of the tree with an iron, then got up-and-down for an improbable par.
12.
Red and black attack
Guess Levet and
Skip Kendall
didn't call each other before Saturday's third round. Playing in the last pairing of the day, Levet and Kendall each showed up sporting matching outfits of black cap/red shirt/black pants. Neophyte golf fans tuning in to the television coverage most likely thought the British was a team event. Unfortunately for Kendall, the twosome did not show up with matching golf games as well; Levet easily outshone his playing partner by four strokes.
13.
A clothes race
After winning the Scottish Open last week to qualify for the British, Levet exclaimed to reporters, "I have no clothes!" He sent his wife back to their home in France to bring him clothes for the British. Levet got them in time to claim a first-round share of the lead and finished T-5.
14.
No birdie for Purdy
Heading into the final hole at the B.C. Open,
Ted Purdy
knew he needed at least a birdie to possibly force a playoff. Purdy hit his approach shot to within five feet, watched leader
Jonathan Byrd
two-putt for par, then promptly pulled his putt left. It marked the second time this year Purdy has lost in gut-wrenching fashion; he fell in a five-hole playoff to
Stewart Cink
in the MCI Heritage Classic.
15.
Don't Tanaka it until you've tried it
There was a little taste of Bethpage in Endicott, N.Y. this weekend. "Team Tanaka," a group of fans who took a liking to Japanese pro
Hidemichi Tanaka
back in the 2002 U.S. Open, were in full force at the B.C. Open, wearing Tanaka t-shirts and cheering loudly for each great shot. In turn, Tanaka often acknowledged his posse after birdie putts -- pointing, bowing and even flexing his muscles.
16.
The son also rises
Kevin Stadler
, already a two-time winner on the Nationwide Tour this season, made a run at the B.C. Open this week, shooting 65 in the first round, but faltering on the weekend to finish at T-40. He could have joined his father Craig -- the 2003 winner of the event -- in becoming the first father-son duo to win the same title in back-to-back years on the PGA Tour.
17.
One more for Moore
UNLV rising senior
Ryan Moore
completed an unprecedented daily double on Sunday, capturing his second consecutive U.S. Amateur Public Links championship to become the first player ever to hold that title and win the NCAA individual championship in the same year. Expect Moore to make a big splash on the PGA Tour after finishing his college season next year -- much like
Casey Wittenberg
and
Bill Haas
are doing right now.
18.
Quote of the week
"That hole was stupid."
--4-year-old Kaylee Hamilton, interrupting an interview with her mother on ABC television to give her opinion of Royal Troon's 18th hole, which her father Todd had bogeyed just minutes earlier.
Information from ESPN.com's wire services is included.

Jason Sobel is ESPN.com's golf editor. He can be reached at Jason.Sobel@espn3.com.
Golf Editor, ESPN.com
Jason Sobel, who joined ESPN in 1997, earned four Sports Emmy awards as a member of ESPN's Studio Production department. He became ESPN.com's golf editor in July 2004.
SPONSORED HEADLINES
MORE GOLF HEADLINES
MOST SENT STORIES ON ESPN.COM
EDITORS' PICKS
Rory McIlroy sealed his place in golf's elite with PGA win.
Harig »

Rory's Open win set him on course for a great stretch of golf.
Harig »

A Pinehurst No. 2 win landed Kaymer his second major.
Bob Harig »