Commentary
Norman keeping expectations low after surprising start at British Open
Originally Published:
July 17, 2008
By
Bob Harig
| ESPN.com
SOUTHPORT, England -- There was a time when his name on the leaderboard would have been expected, perhaps producing a tinge of anxiety among those around him.
Today, seeing Greg Norman in contention at the Open Championship elicits surprise and wonder.
The erstwhile No. 1 player in the world is a part-time golfer at best, still on an extended honeymoon with new wife and tennis legend Chris Evert. And yet he managed to shoot even-par 70 at Royal Birkdale on Thursday in some pretty awful conditions.
"I don't play much, I don't practice much, but at the same time, there's something about this event that stimulates you," said Norman.
"The atmosphere here, the excitement, it changes. Like coming down 18 after 5½ hours of golf, the way people receive you. You don't get that anywhere else in the world. It's a phenomenal experience. It gives you a little more juice than what you normally would have."
Norman made two birdies, two bogeys and 14 pars on a day most people would have preferred to stay indoors.
Not bad for a 53-year-old entrepreneur whose time in the game has passed. The two-time Open champion has played just five events this year, missing the cut in all three of his PGA Tour appearances while finishing tied for seventh and tied for 14th in two European events. (He also played in the Senior PGA Championship, where he tied for 6th.)
Makes you wonder what would happen if he put his mind to it.
[+] Enlarge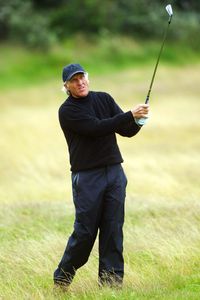 Andrew Redington/Getty ImagesGreg Norman, who recently married tennis great Chris Evert, shot an even-par 70 at Royal Birkdale on Thursday.
"My mind still wants to play, but my body doesn't want to practice," said Norman, who owned the record for most weeks atop the Official World Golf Ranking at 331 until Tiger Woods passed him. "I've gone through enough pain and surgery over the last four, five, six years that I just don't want to do it anymore.
"Believe me, I still enjoy playing, but I didn't enjoy standing out there on the driving range for four, five, six hours a day. And on top of that, the other side of my life is absolutely fantastic."
Norman, who reportedly is on the hook for a $103 million divorce settlement with his ex-wife, played just three practice rounds before the Open.
"I've got to keep my expectations realistically low, to be honest with you," he said. "I haven't played a lot of golf. … It's just like riding a bike. But even riding a bike, sometimes after a long time you're a little wobbly. I've just got to manage the process the best I can.
"I still haven't hit a lot of golf balls. These conditions are very, very trying, and all I'm trying to do is put the clubface square on the ball. … Tomorrow is another day. I want to make sure that first tee shot gets off the tee the right way. I mean, it's the toughest opening-hole tee shot I've ever experienced knowing what lurks right there, so you just approach it that way. That's the way I approached my golf before. No matter what situation that I was in, I just approached it one shot at a time."
Bob Harig covers golf for ESPN.com. He can be reached at BobHarig@gmail.com.
SPONSORED HEADLINES
MORE GOLF HEADLINES
MOST SENT STORIES ON ESPN.COM
137th OPEN CHAMPIONSHIP
Where:
Royal Birkdale, Southport, England
Yardage/Par:
7,173 yards; par 70
2008 champion:
Padraig Harrington
Fourth round
•
Harrington wins 2nd straight British title
|
Scores
•
Harig: Injury proved helpful to Harrington
•
Woj.: This loss had a different feel for Norman
•
Sobel's British Open blog
|
Final-round photos
•
Watch:
Final-round British Open highlights
•
Watch:
Watson, Azinger analyze final round
•
Watch:
Harrington on his walk up 18th hole
•
Watch:
Norman proud of British Open showing
•
Watch:
Harig, Sobel recap 137th British Open
•
Watch:
Reilly breaks down Norman's final round
•
Sobel, Harig on Norman's brush with history

Third round
•
Norman leads by 2
|
Highlights
|
Photos
•
Harig: Longtime rival Faldo not doubting Norman
•
Woj: Sharing odds on Claret Jug's next owner
•
Sobel: What leaders need to do to win Claret Jug
•
Harig: Wakefield would make unlikely champ
•
Sobel's third round British Open blog
•
Watch:
Watson, Azinger round 3 analysis
•
Watch:
Norman discusses 'brutal' conditions
•
Watch:
Rick Reilly's ode to the British Open
•
Watch:
Greg Norman press conference
•
Watch:
Wakefield, Harrington press conference
•
Watch:
Mickelson, Duval on weather woes
•
Watch:
On The Tee .... This the Shark Shootout?
•
On The Tee: Sobel, Harig make Sunday picks

Second round
•
Choi leads Norman by 1
|
Highlights
|
Scores
•
Wojciechowski: Shark turns back the clock
•
Harig: Don't expect Norman to recapture glory
•
Sobel's British Open blog
|
Zoom photo gallery
•
Harig: Villegas has impressive reversal of fortune
•
Watch:
Rinaldi on round 2
|
Impressive Norman
•
Watch:
Reilly's take on the new Greg Norman
•
Watch:
Norman on his 2nd round, expectations
•
Watch:
Duval discusses his 69, comeback
•
On The Tee: Where did Duval come from?

First round
•
Mediate shares 18-hole lead
|
Highlights
|
Photos
•
Woj: British Open yields best, worst of times
•
Harig: Mediate uses playoff experience to lead
•
Harig: Norman content after even-par 70
•
Harig: Goosen no stranger to grinding at majors
•
Watch:
Mother Nature leads
|
Reilly on '86 redux
•
Watch: Andy North's round 1 analysis
•
Watch:
Mediate, Norman
|
Mickelson
•
3UP, 3DN: Norman, Duval on the good side
•
Jason Sobel's first round British Open blog
News
•
Nicklaus wonders if money has made golfers soft
•
Williamson earns British Open invite
•
Donald to miss British Open with wrist injury
•
Deja vu? Van de Velde qualifies for British Open
GolfWorld/GolfDigest
•
Local Knowledge: Live from the British Open blog
•
The 137 British Open is wide open affair
•
British Open legend Watson shares memories
•
At 19, Irish phenom McIlroy is 'that good'
•
Royal Birkdale course map