Daly blasts Harmon again; Harmon says 'consider the source'
Updated:
July 16, 2008, 5:31 PM ET
By
Bob Harig
| ESPN.com
SOUTHPORT, England -- John Daly again lashed out at his former coach, saying that Butch Harmon "lied" about events that took place at a Florida PGA Tour event in March, where an incident in a hospitality tent led to the longtime instructor dumping the two-time major champion.
Daly, 42, said on the eve of the Open Championship Wednesday at Royal Birkdale that many of his sponsor exemptions on the PGA Tour have dried up because of Harmon.
During a first-round weather delay at the PODS Championship in March, Daly spent the afternoon in the Hooters' Owls Nest, a hospitality venue where free beer was available. When play resumed, Daly had recruited Tampa Bay Buccaneers football coach Jon Gruden to be his caddie for the rest of the round.
Days later, Harmon dumped Daly and publicly blasted his behavior -- questioning whether partying was more important to him than golf. Daly has not forgotten.
"I think most of that stuff started with Butch Harmon," Daly, a two-time major champion, said Wednesday. "I think his lies kind of destroyed my life for a little bit, the lies that he said about being at the Hooters tent and all this stuff.
"I think if he would become a man and talk about some of that stuff he lied about, when we were doing charity work that week when I just missed the cut," Daly said. "I just wish he wouldn't have said the things he did that made you guys write some pretty bad things about me when not really anybody had the facts. That kind of hurt me a little bit.''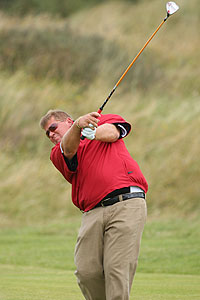 Stuart Franklin/Getty ImagesJohn Daly, seen practicing for the British Open on Wednesday, once again teed off on Butch Harmon over Harmon's comments about him earlier this season.
Harmon, at Royal Birkdale and working with Phil Mickelson on Wednesday morning, called Daly's remarks "sad," and that "I think you have to consider the source."
Harmon, who has worked with Greg Norman, Tiger Woods, Adam Scott and Mickelson, among others, agreed to work with Daly at the beginning of the year when the 1995 British Open champion was in need of getting his game in shape.
Daly, now ranked No. 643 in the world, has struggled for most of the past two years and the five-time PGA Tour winner would only get Harmon's help if he promised to make golf the most important thing in his life. "And the most important thing in his life is getting drunk,'' Harmon said after the incident at the PODS Championship in March.
After missing the cut at that tournament, Daly spent most of Saturday afternoon back at the same venue. He was seen drinking beer and signing autographs and at one point made an obscene gesture to a Tampa Tribune photographer. Daly later said the gesture was made in fun.
But Harmon didn't think it was funny. Three days later, he said he would no longer work with Daly.
"The partying and other shenanigans, if that's the way he wants to be, I don't choose to be a part of it,'' Harmon said.
Daly first challenged Harmon's remarks at a European Tour event in Spain at the end of April, to which Harmon replied: "He does one bizarre thing after another. I feel sorry for him. He's a tremendous talent but he's wasted all of his talent and continues to do so.''
Since that time, Daly has made two cuts on the European Tour but none on the PGA Tour. His best finish this year is a tie for 60th at the Mayakoba Classic. He's made just three cuts in 12 starts.
Daly claims he was not drinking during the rain delay and that he returned to the Hooters tent on Saturday at the request of tournament officials.
"Then the stories come out that I was drinking in the tent, drunk and stuff on Thursday, and it's a joke,'' Daly said. "I would never do that during a round knowing I've got to go back out. And the Saturday afternoon, I missed the cut, Gerald [Goodman], the tournament director, said we would like to raise some more money in the Hooters tent, can you go out there. No problem.
"Yeah, I had a couple of beers. Big deal, signed about 1,000 autographs. It was a great day. Next thing I know more bad rumors came out. No matter if you do something good, it turns out bad right now.''
Daly said he was angry at Harmon for telling the Golf Channel "that I'm just a drunk and it was ridiculous that coach Gruden caddied for me. He just made up stuff that he didn't really know the facts were straight, and by putting it out all over the world and not talking to me, I mean, it's kind of ridiculous. Real men just don't do that.''
Harmon could only shake his head Wednesday.
"I think you have to just consider the source,'' Harmon said. "To me it's just sad. That he would go down that road and make those statements again -- it's just sad. … I've told him all it takes is for him to get his head together, stand up and acknowledge his problems. I've been down that road, but he never wants to look in the mirror.''
Bob Harig covers golf for ESPN.com.
137th OPEN CHAMPIONSHIP
Where:
Royal Birkdale, Southport, England
Yardage/Par:
7,173 yards; par 70
2008 champion:
Padraig Harrington
Fourth round
•
Harrington wins 2nd straight British title
|
Scores
•
Harig: Injury proved helpful to Harrington
•
Woj.: This loss had a different feel for Norman
•
Sobel's British Open blog
|
Final-round photos
•
Watch:
Final-round British Open highlights
•
Watch:
Watson, Azinger analyze final round
•
Watch:
Harrington on his walk up 18th hole
•
Watch:
Norman proud of British Open showing
•
Watch:
Harig, Sobel recap 137th British Open
•
Watch:
Reilly breaks down Norman's final round
•
Sobel, Harig on Norman's brush with history

Third round
•
Norman leads by 2
|
Highlights
|
Photos
•
Harig: Longtime rival Faldo not doubting Norman
•
Woj: Sharing odds on Claret Jug's next owner
•
Sobel: What leaders need to do to win Claret Jug
•
Harig: Wakefield would make unlikely champ
•
Sobel's third round British Open blog
•
Watch:
Watson, Azinger round 3 analysis
•
Watch:
Norman discusses 'brutal' conditions
•
Watch:
Rick Reilly's ode to the British Open
•
Watch:
Greg Norman press conference
•
Watch:
Wakefield, Harrington press conference
•
Watch:
Mickelson, Duval on weather woes
•
Watch:
On The Tee .... This the Shark Shootout?
•
On The Tee: Sobel, Harig make Sunday picks

Second round
•
Choi leads Norman by 1
|
Highlights
|
Scores
•
Wojciechowski: Shark turns back the clock
•
Harig: Don't expect Norman to recapture glory
•
Sobel's British Open blog
|
Zoom photo gallery
•
Harig: Villegas has impressive reversal of fortune
•
Watch:
Rinaldi on round 2
|
Impressive Norman
•
Watch:
Reilly's take on the new Greg Norman
•
Watch:
Norman on his 2nd round, expectations
•
Watch:
Duval discusses his 69, comeback
•
On The Tee: Where did Duval come from?

First round
•
Mediate shares 18-hole lead
|
Highlights
|
Photos
•
Woj: British Open yields best, worst of times
•
Harig: Mediate uses playoff experience to lead
•
Harig: Norman content after even-par 70
•
Harig: Goosen no stranger to grinding at majors
•
Watch:
Mother Nature leads
|
Reilly on '86 redux
•
Watch: Andy North's round 1 analysis
•
Watch:
Mediate, Norman
|
Mickelson
•
3UP, 3DN: Norman, Duval on the good side
•
Jason Sobel's first round British Open blog
News
•
Nicklaus wonders if money has made golfers soft
•
Williamson earns British Open invite
•
Donald to miss British Open with wrist injury
•
Deja vu? Van de Velde qualifies for British Open
GolfWorld/GolfDigest
•
Local Knowledge: Live from the British Open blog
•
The 137 British Open is wide open affair
•
British Open legend Watson shares memories
•
At 19, Irish phenom McIlroy is 'that good'
•
Royal Birkdale course map