Commentary
Wie has only a single blemish in an otherwise impressive first round
Originally Published:
December 3, 2008
By
Eric Adelson
| Special to ESPN.com
DAYTONA BEACH, Fla. -- On the sixth hole of the Legends Course here at LPGA International, an old man drove up to the tee box in a golf cart late Wednesday morning. He had a placard in his window that read "Trashman" and two large bins in the back. He did not fetch any garbage or unload one of his bins. No, instead the Trashman asked, "How's Michelle doing?"
[+] Enlarge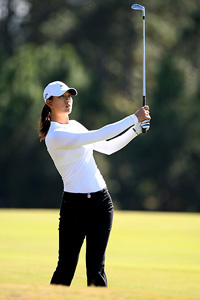 Sam Greenwood/Getty ImagesMichelle Wie played the harder of two courses at LPGA Tour Q-school on Wednesday. Her 69 tied her for the low score of the day on the Legends Course, and she stands tied for sixth after the first round.
He got his answer, then drove away. Michelle Wie played 18 holes Wednesday without a Nike rep watching, without a William Morris rep watching, without a Ken Sunshine rep watching, without a deep-pocketed Hawaiian benefactor watching, without a physical therapist watching, without a live television camera watching, without a six-deep gallery watching and even without a standard-bearer watching. Those days, and witnesses, are gone, at least for today. But the 100 or so fans and reporters who were watching got the answer to the question that still intrigues many golf fans, including the Trashman: Michelle is doing just fine. Her swing didn't inspire poetry the way it could five years ago, but Wie's swing didn't inspire dirges, either, during her first round at Q-school on Wednesday. It was compact and repeatable and sweet -- maybe not like honey, but definitely like a Toll House cookie left in the fridge overnight. She took out the driver only four times, but hit scorching draws approaching 300 yards on each occasion and set up pretty iron shots to greens. Her old nemesis -- the putter -- still cost her a few shots, but Wie made very few mistakes and shot a nifty 3-under 69 to put her on course to get her LPGA Tour card Sunday. Only a handful or so shot better, and those scores came on the easier Champions course, which Wie will tackle Thursday. Is she all the way back? No. Her wrist still flares, as it did Tuesday night when she joked to her parents "I'm not nervous, but my wrist is." So her swing is still a bit restrained, technical enough to work well but also mechanical enough to bring back longing thoughts of the Big Wiesy turn of the early part of this decade. But her approach shots arced splendidly from right to left, usually landing on the green and within birdie distance. She missed only four greens all day, made only one bogey -- a 3-putt on the par-5 14th that caused her mother to yelp as if she had torn an ACL. Wie missed only three fairways and three-putted just once. She landed in a single hazard, a greenside bunker on the par-3 7th, and promptly saved par with a pretty lob to four feet. So there were no DQs, no WDs, no snowmen, no strangeness at all. "A very comfortable round," said her coach, David Leadbetter. "No dramatics. She was very composed. She didn't seem to be grinding." Wie did not have any comment after a birdie and fist pump at the par-4 18th, but surely she would have used her favorite post-round term: "solid." Those who wanted to see another train wreck have to wait another day, and probably a lot longer than that. Wie looks like a shoo-in to get her LPGA Tour card, so the Trashman and the rest of us likely will be asking "How's Michelle doing?" for a long while to come.
Eric Adelson's book on Michelle Wie is available for preorder and will be released in 2009. He can be reached at ericadelson@gmail.com.
Eric Adelson was a senior writer for ESPN The Magazine.
2008 LPGA TOUR Q-SCHOOL FINALS

Michelle Wie has contended in women's majors and nearly made the cut of a PGA Tour event. One thing she's never owned, though, is official status on any professional circuit. That is, until she finished tied for seventh at 2008 Q-school.
What: LPGA Tour Q-school final stage
When: Dec. 3-7
Courses: LPGA International -- the Legends and Champions courses
Location: Daytona Beach, Fla.
Field: 140 players


The Future
•
Adelson: Great expectations for Wie in 2009
Day 5
•
Adelson: Wie starts '09 season with 'clean slate'
•
Watch: Wie discusses earning her Tour card
•
Wie earns card; Lewis wins Q-school
|
Scores
Day 4
•
Adelson: Wie proves again her worth to LPGA
•
Wie 1 off the lead with 18 to play
|
Scores
Day 3
•
Adelson: Wie might be shaken, but not stirred
•
Wie's 72 leaves her in decent shape
|
Scores
Day 2
•
Adelson: Wie goes old school at Q-school
•
Wie a contender after two rounds of Q-school
Day 1
•
Adelson: Wie steady as she goes in first round
•
Wie opens with 69 on tough Q-school course
Preview
•
Wie's career will hit crucial crossroad at Q-school
PGA Tour Q-school
•
Frazar, 27 others earn cards
|
Scores
|
Grades
MOST SENT STORIES ON ESPN.COM