Martin realistic about new chances in pro golf
Updated:
April 19, 2006, 2:06 PM ET
By
Bill Fields
| Golf World
Consider it a curtain call for a man who deserves it. Casey Martin is beginning the epilogue of a playing career that has been shorter than he wanted, longer than he expected but remarkable by any measure. He has a trio of sponsor's exemptions lined up on the Nationwide Tour, starting with this week's Athens Regional Foundation Classic in Georgia. A cart will take him from shot to shot, but he has always been powered by something else.
Martin is eight years removed from his victory at the 1998 Nike Lakeland Classic and his legal triumph over the PGA Tour in federal court, six years from his only top-20 finish on the PGA Tour, five years from the U.S. Supreme Court decision that upheld his right to ride, four years from nearly dying from an infection after an aggressive treatment went awry and three years from his last full season on the Nationwide Tour.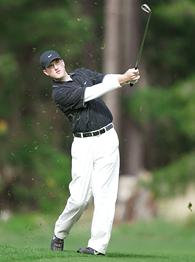 Chris Condon/WireImage.comMartin will receive a few sponsor's exemptions on the Nationwide Tour in coming weeks.
The last couple of seasons have consisted of sparse success and scant headlines, most of the latter coming late in 2005 after he failed at Q School and announced that pro golf would be in his rearview mirror soon. "I wouldn't be playing these events if I didn't think I could compete a little," Martin said last week. "It'll be exciting to get a chance to play. But I have a realistic view of life and my leg and my golf, and now is probably the right time for me to move on."
By the time he tees off in Nationwide Tour events near Chicago and in Chattanooga, Tenn., in June, Martin will know whether he has gotten the job as men's golf coach at the University of Oregon, replacing the retiring Steve Nosler.
"Growing up in Eugene, the Ducks have always been in my blood," said Martin, who has been helping the team as a volunteer assistant this spring. "I really love sharing what I've learned, whether [it's] about the swing or the mental challenges. I'm gearing up thinking it's a real possibility."
So much has changed for the 33-year-old Martin, it is important to remember what hasn't. The pain from his fragile right leg still interrupts dreams, and a misstep can result in a lot worse than a twisted ankle. Few knew what Klippel-Trenaunay-Weber Syndrome -- a rare degenerative circulatory disorder -- was until Martin limped into view with everything a golfer needed except a sturdy right leg.
"I've said to [my sons] all along," Martin's father, King, told The Sunday Oregonian last year, "it's not failure but low aim that's a crime."
Casey never committed so much as a misdemeanor.
"I wanted to be great," he said poignantly in the aftermath of another Q School disappointment last fall. Measured by anything other than titles and trophies, he has been. He is far more than another thirtysomething pro golfer who hasn't been able to borrow the secret as much as he would have liked.
"There might be a Casey Martin that comes along every 15 or 20 years, if that," said his friend and attorney, Bill Wiswall. "That you would find a person like him who could overcome a disability the way he did and be able to play at that level."
Beyond Martin's stats, which include 10 top-10 finishes in 121 Nationwide Tour events and a T-23 in the 1998 U.S. Open, there is the inspiration he has brought others.
"I think historically Casey feels like he did do a lot," Wiswall said, "not only for the game but for people who are disabled. He did something significant, something that meant more to a lot of different people than simply the fact that he got to ride a cart."
Martin always has been low-key about his trailblazing role.
"I did it for myself," he said of his legal fight, "but certainly if it helps somebody else out down the road, that is awesome. I'm not a real nostalgic person, but it is kind of amazing where I've been -- some of the highs and the lows."
A Google search of "Casey Martin and golf" yields nearly 3 million hits. He would trade them all for a tournament where his leg hurt less and his putter listened more. The last couple of years Martin has seen little payback from a lot of effort to improve.
"More knowledge hasn't been the answer," he said. "I've worked hard and learned a lot, but when I make a good, crisp turn, I'm reminded of my leg."
Martin spent a bit of his winter helping researchers at Stanford, his alma mater, conduct tests on what really happens during the golf swing. But the sensors and cameras at the Motion and Gait Analysis Laboratory couldn't gauge what really makes him tick.
If the golf gods are any good at their job, they will look Martin's way in his cameos on the Nationwide Tour. And if he gets the Oregon job, his players will be wise to listen closely, for Martin has walked the walk.
Bill Fields is a senior editor for Golf World magazine.
SPONSORED HEADLINES
MORE GOLF HEADLINES
MOST SENT STORIES ON ESPN.COM