Champions Tour can-do duo square off this week
Updated:
October 25, 2006, 3:03 PM ET
By
Bill Fields
| GolfWorld.com
Although there could be a surprise winner at this week's Charles Schwab Cup Championship, there won't be anything unexpected when it comes to who gets the $1 million annuity as Schwab Cup points champion. It will go either to Jay Haas, who has a 126-point lead entering the final event of 2006, or to Loren Roberts, who led much of the season and is now No. 2. Haas' margin with one event left is the second-smallest in the cup's six-year history.
The scenario is much different from the one last year at Sonoma (Calif.) G.C., where Tom Watson won the tournament and jumped from fifth in the points race to overtake Dana Quigley for his second season-long title in three years. But triple points were awarded at Sonoma in 2005; only double points are on the line this year, and even No. 3 Brad Bryant is too far back for the 880 points that go to the winner of the tournament to allow him to climb to the top spot.
That the focus in the finale is on Haas and Roberts is fitting because they clearly have been the best two players on the Champions Tour in 2006. Each has four victories, including a major title -- Haas the Senior PGA Championship, Roberts the Senior British Open. Each has two runner-up finishes and a lot of top-10s -- Haas with 17 and Roberts with 15 in 20 appearances each. During a season when old reliables such as 61-year-old Hale Irwin (whose 11-year winning streak will end unless he prevails this week) and Craig Stadler haven't won, Haas and Roberts have been the can-do duo.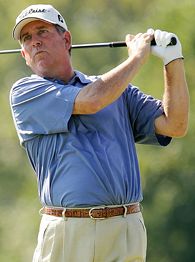 Scott Halleran/Getty ImagesHaas owns four victories in 20 Champions Tour starts this season.
When the year began, it looked as though Roberts would own it outright. Starting with his dominating, 25-under performance in the MasterCard Championship, Roberts made senior history by winning three consecutive tournaments to start the season and didn't finish out of the top 10 until the Greater Kansas City Golf Classic in early July.
The rest of that month was a mixed bag for Roberts, though. He set a USGA Open scoring record with a third-round 62 in the U.S. Senior Open at Prairie Dunes, but couldn't do better than a closing 73 to finish T-8. He was in control of the Ford Senior Players Championship, but struggled on the final nine holes to lose to Bobby Wadkins. Roberts was brilliant through three rounds at Turnberry in the Senior British, got caught by Eduardo Romero on Sunday and won in a playoff.
Roberts, whose fall was interrupted by his role as an assistant captain for the U.S. Ryder Cup team, hasn't won since. Haas has been victorious more recently, claiming a rain-shortened victory at the Administaff Small Business Classic earlier this month to go with titles at the Liberty Mutual Legends of Golf, FedEx Kinko's Classic and his major conquest at Oak Tree G.C. in May.
It is tempting to think Haas and Roberts are mirror images of each other because they had similar PGA Tour records (nine wins for Haas, eight for Roberts; both close a couple of times in majors without claiming hardware), but there are differences. Haas was a college star at Wake Forest; Roberts was one of the last guys to make his way out of a pro shop to tour success. Although both players continued to play well into their 40s, Haas won the last of his PGA Tour titles when he was 39. Befitting his late-bloomer status, Roberts didn't claim the first of his until he was 38.
Both are superb putters, but their methods contrast sharply. Roberts' long, square-to-square stroke is rooted in instruction he had as a young man from Olin Dutra, a two-time major champion in the 1930s. Haas found renewed success in his late 40s after he took putting lessons from Stan Utley, a modern short-game guru who advocates that the putter face open and close a bit during the stroke. Roberts comes to Sonoma first in putting average, Haas fourth.
Although both players bring a body of good work with them to the finale, Haas also has painful memories from 2005, when he carried a six-stroke lead into the final round. He shot a 71 that Sunday, and Watson roared from off the pace with a 64 to overtake him. Don't expect anyone to have a six-shot edge with a round to go this week. A tight showdown is more likely, and in a short field of 29, Nos. 1 and 2 figure to be part of the plot.
Bill Fields is a senior editor for Golf World magazine.
SPONSORED HEADLINES
MORE GOLF HEADLINES
MOST SENT STORIES ON ESPN.COM