Same old song for Singh in 2006
Originally Published:
February 7, 2006
By
Bob Harig
| Special to ESPN.com
Vijay Singh has been known to practice on Christmas Day, so it is no surprise to see him load up his tournament schedule. The man loves to play golf, loves to compete and does not seem to be slowing down with age.
But you have to wonder about the schedule Singh is undertaking this year.
Singh, who turns 43 on Feb. 22, is playing in this week's Pebble Beach Pro-Am, his sixth straight tournament to start the year.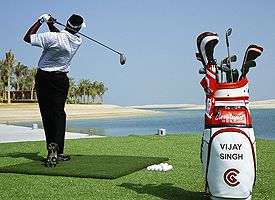 Nakheel/Getty Images
That is unheard of among today's top-ranked players. You almost never see them play four straight, let alone six.
But what makes Singh's six-week splurge is the fact that he fit in two tournaments in the Middle East as part of the package.
After opening the season at the Mercedes Championship and losing in a playoff to Stuart Appleby, it has been some kind of ride for Singh, who then went to the Sony Open (sixth) before playing the Abu Dhabi Championship (T-8) and the Qatar Masters (T-24). While some 14 time zones removed from his first two tournaments of the year, Singh found the time to squeeze in some course design work, too.
Most would take a month off after such a journey, but there was no downtime for Singh.
He returned last week to the FBR Open in Scottsdale, Ariz., where he tied for 20th. This week he's in California at Pebble.
Finally, next week he will get off the tournament trail, perhaps fitting in time to celebrate his birthday, before heading back to California from his Florida home for the Match Play Championship.
It is tiring just thinking about it.
But that's not all.
After the Match Play, Singh is headed back to Florida for four straight tournaments: Doral, Honda, Bay Hill and The Players Championship. It is hard to blame him for wanting to play in those tournaments. Singh lives and practices in Florida, and he has had success at those tournaments. He probably should have won Honda and Bay Hill last year, but came up short in the end. Nobody skips The Players Championship.
But that is 12 tournaments in 13 weeks. He is expected to take the week off before The Masters, and if he can still stand, Singh will arrive at Augusta National as the most-prepped player in the world.
A busy schedule is nothing new for Singh. Since playing 21 times on the PGA Tour in 1997, Singh has never played fewer than 26 events. Last year he played 30. He played 29 in 2004. He's on pace for another 30-tournament season this year.
Is this smart?
It is difficult to criticize someone who simply enjoys playing. At a time when PGA Tour officials rue the fact that many of their top stars do not play enough, here is a guy who maybe plays too much. Tournaments love to tout having the top players in the world, and Singh gives a bit more cachet to this week's Pebble Beach event, which is a bit short on the top-ranked players.
Still, you have to wonder: How much will be left when Singh gets to Augusta?
QUICK TAKE
| | |
| --- | --- |
| | |
| | PGA Tour |
What was once considered the lifeblood of the PGA Tour is now considered a hassle. No longer are the celebrity pro-ams which used to be must-play tournaments in vogue. They are to be endured rather than enjoyed.

It is sad that it has come to this, but with so many choices, so much money at stake, why would a PGA Tour pro put up with the hassles of six-hour rounds, bumpy greens and back-slapping celebrities if he really doesn't want to?

As was the case last month at the Bob Hope Chrysler Classic, the big-time players have not exactly showed up en masse for this week's Pebble Beach Pro-Am. Hosted by one of the most picturesque courses in the world, you would think that alone would be enough of a lure.

But the long rounds with amateur partners, the often inconsistent quality of the greens due to weather, and having to play three vastly different courses has kept several stars away. Tiger Woods is skipping again, as are most of the top 20 in the World Ranking.

Defending champion Phil Mickelson is back, as is Vijay Singh who won the tournament two years ago. But they are among just four players among the top 10 and only five among the top 20.
MAILBAG: ASK BOB HARIG
Got a question about the PGA Tour? Ask ESPN.com golf writer Bob Harig, who will answer your inquiries in his column each week.
Q. What does it mean when some tournaments are designated as Invitationals? I've heard players say they'd like to get into these events, but I can't figure out what makes the difference.
Laurie McGuinness
Vancouver
A. There are three true Invitationals on the PGA Tour: the Bay Hill Invitational, Colonial and Memorial. These tournaments have smaller fields than the typical PGA Tour event, hence the need to be "invited," which typically means a higher finish on the money list. At Bay Hill, for example, a player who finished among the top 70 on last year's money list gets invited. The Buick Invitational is that in name only. A full field teed up in the tournament two weeks ago. The Bridgestone Invitational is a World Golf Championship event that has different criteria for getting into the field. The Masters is also considered an invitational, as it typically has a field of less than 100.
Q. Do you know why Kevin Na has not played in any events this season?
Mike
Jacksonville, Fla.
A. According to his agents at SFX Sports, Na suffered an injury to his hand when it got caught in a garage door. He has entered several events but withdrawn because he was not ready. Na hopes to play next week's Nissan Open.
Bob Harig covers golf for the St. Petersburg Times and is a frequent contributor to ESPN.com. He can be reached at harig@sptimes.com.
SPONSORED HEADLINES
MORE GOLF HEADLINES
MOST SENT STORIES ON ESPN.COM
EDITORS' PICKS
What's next in the progression of Rory McIlroy?
Farrell Evans »

The tour's schedule is built around roughly a dozen players.
Bob Harig »

Rory, Tiger took the ALS Ice Bucket Challenge plunge together.
Blog »