Tiger is leader of the pack
Originally Published:
February 14, 2006
By
Bob Harig
| Special to ESPN.com
It is more than a week later, and we are still wondering how he did it. How he won a tournament in which he sprayed his drives all over the Middle East. How he won a tournament in which he turned a final-round 75 into a 69 and a playoff victory over Ernie Els.
Nobody does it like Tiger Woods, which leads us to this week's Nissan Open, a tournament he has never won.
Woods enters 2-for-2 on the year, with playoff victories at the Buick Invitational and Dubai Desert Classic, despite some serious flaws. With Woods, we are always talking about something.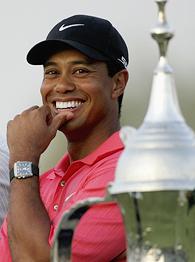 Andrew Redington/Getty ImagesWoods earned his second victory of the year with a playoff win over Els in Dubai.
Whether it is dominating the way he did several years ago or fighting to stay among the elite (as was the case two years ago) or emerging from a pack of elite players to take over again (as he did last year), Woods is part of the discussion.
Woods is again firmly in control, even if his game does not always suggest that to be the case.
Yet it wasn't all that long ago we were talking about Woods and a foursome of players who were willing and able to take him on.
At this time last year, Vijay Singh was the No. 1 player in the world and had won 10 times on the PGA Tour since the beginning of the 2004 season.
Els had moved to No. 3 in the world heading into The Masters and had two victories on the European Tour and three top-10s on the PGA Tour.
Phil Mickelson was ranked fourth, with two early-season victories and a runner-up finish to Woods at Doral.
And although Retief Goosen had not won by this point last year, he was in the mix and would go on to win the International and two events on the European Tour. It wasn't just Tiger; it was the Big Five.
All but Woods had been a factor in the majors in 2004, which set up an interesting year.
"I live for those moments," Woods said at the time. "That's exactly why you practice, to be in that position and try to handle the situation. That's what you dream about as kids, going against the best.
"It doesn't happen very often because of the nature of our sport, our travel schedules and the fact that you can't always play well each and every week. It's very rare that we separate ourselves and focus on each other in the final group. That doesn't happen very often. So when you do have that opportunity, you'd like to take advantage of it."
Woods did -- in a big way.
He won The Masters and the British Open. He finished second at the U.S. Open to Michael Campbell and was tied for fourth at the PGA Championship, two strokes behind Mickelson. He won six times on the PGA Tour.
And he has started off strong again this year.
Remember when Woods was the only thing going in golf? When everybody seemingly stumbled in his shadow?
From the 1999 PGA Championship through the 2002 U.S. Open, Woods won seven major championships. He also won 22 PGA Tour events in that period.
Then he seemed somewhat mortal. Although he won eight times between 2002 and 2004, he didn't win any majors. And Woods had just a single PGA Tour victory in '04 as Singh emerged as the top player.
Woods showed he was back with a couple of overseas victories, which led to a strong 2005. Singh, Els, Mickelson and Goosen were all on top of their games.
Now, only Woods has a victory in 2006.
It will be another week, at the Match Play Championship, before they are all together in the same field again, but the state of golf has returned to where it once was. Where it goes is still to be determined.
QUICK TAKE
| | |
| --- | --- |
| | |
| | Creamer |
After an offseason that truly gives the players some time off, the LPGA Tour season begins this week with the first of two events in Hawaii, the SBS Open at Turtle Bay. And there is some genuine intrigue.

Annika Sorenstam, who will not play this week, is still the unquestioned top player in the game, with plenty of distance between her and the rest of the competitors.

But a bunch of young upstarts, led by Paula Creamer, aren't backing down. Creamer is just 19 and is coming off a Rookie of the Year season that saw her win twice. She will be joined by 17-year-old rookie Morgan Pressel, who finished tied for second at the U.S. Women's Open. And there is Cristie Kerr, who is finally coming into her own and is still not even in her prime.

And, of course, there is Michelle Wie, who -- as a nonmember -- may play just six LPGA events, plus the majors for which she is eligible.

Can Hall of Famer Karrie Webb, just 31, come back to challenge Sorenstam again? What about Se Ri Pak, who is seemingly burned out? Or Grace Park, who has the ability to win? There are so many questions, which should make for an interesting year in women's golf.
MAILBAG: ASK BOB HARIG
Got a question about the PGA Tour? Ask ESPN.com golf writer Bob Harig, who will answer your inquiries in his column each week.
Q. Who is the best player to have won only one career major?
Nils
Blacksburg, Va.
A. This probably depends on the time frame. If we are talking about active players, Davis Love III would be a good pick. He has 18 PGA Tour victories, including one major championship. No active player has more wins with so few majors. If we're talking all-time, Lanny Wadkins, with 21 wins and a single major (1977 PGA Championship), qualifies. So does Tom Kite, with 19 wins and a single major (1992 U.S. Open).
Q. Are PGA Tour professionals required to play in the pro-am during the week of a tournament?
Robin Kleiner
San Jose, Calif.
A. Not all of them. There is a ranking system that determines the pro-am participants, and it goes off the prior year's money list. Hence, all of the top players are required to participate. If they don't, they can be disqualified from the tournament.
Q. Is Tiger Woods the only player to have won on the same golf course in the same year for two different tournaments (Pebble Beach Pro-Am and U.S. Open in 2000)?
Armida Carrillo
Hermosa Beach, Calif.
A. Although the PGA Tour does not keep a record of such feats, there are at least two notable examples other than Woods. Jack Nicklaus did the same thing at Pebble Beach in 1972, winning the Pebble tournament and the U.S. Open. And in 1948, Ben Hogan won the Los Angeles Open and the U.S. Open at Riviera.
Bob Harig covers golf for the St. Petersburg Times and is a frequent contributor to ESPN.com. He can be reached at harig@sptimes.com.
SPONSORED HEADLINES
MORE GOLF HEADLINES
MOST SENT STORIES ON ESPN.COM
EDITORS' PICKS
Tiger's week went from bad to career-worst in Phoenix.
Harig »

Tiger Woods' most dangerous foe is Tiger Woods.
Ian O'Connor »

World No. 1 Rory McIlroy leads by 1 at the Dubai Desert Classic.
Story »