New date might force changes at Nelson in '07
Originally Published:
May 9, 2006
By
Bob Harig
| Special to ESPN.com
Another fine field has assembled in the Dallas suburbs for this week's Byron Nelson Championship. Whether it's to honor Lord Byron himself or because the spot on the schedule simply suits their styles can be debated. But the top players are there again -- most except Tiger Woods and Phil Mickelson, for understandable reasons -- so it's still a tournament others envy.
Record crowds will cram the TPC-Four Seasons, and the tournament most likely will continue its impressive run of charitable giving, annually in the $4 million range, which ranks at the top of the list for regular PGA Tour events.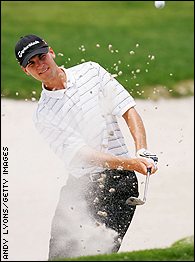 (Photo by Andy Lyons/Getty Images)Sean O'Hair was runner-up at last year's Byron Nelson Championship.
The tournament that started with Nelson winning it in 1944 and took his name in 1968 has been a longtime rock for the PGA Tour, but it is another example of history meaning little when it comes to the future.
The Byron Nelson Championship will get a date change next year as part of the new FedEx Cup schedule unveiled by commissioner Tim Finchem in January. Only then will we see how loyal PGA Tour players are to Nelson because the date certainly is not going to compel them to show up in Dallas.
To accommodate moving The Players Championship to May -- it will be played this weekend next year -- and the Wachovia Championship, which is contractually guaranteed the week before the Players, the Nelson had to take the late April time slot now occupied by New Orleans.
That's two weeks earlier -- and three weeks after The Masters -- still part of golf's slumber time. Will the tournament be so appealing then?
Well, it is hard to imagine it being supported any less by those in the community. For the 10th straight year, the tournament has sold out its sponsorship packages, with just limited number of individual tickets available. The tournament announced sponsorship sales of $11 million, which blows most other events away. It is a phenomenal success story, which helps explain why so much can be given to charity.
The reward? A date that's lukewarm at best.
Will players compete in a Nelson-Wachovia-Players trifecta next year and beyond? Perhaps. But some will find it easy to skip this tournament. No shame there, just reality.
For years, the Nelson and Colonial have gone back-to-back in the middle of May. Now, they will be a month apart, which actually might be better news for the Colonial, as it can distance itself from the powerful triumvirate of tournaments.
But is it fair? Well, nobody is outright complaining, but you couldn't blame people if they did. To be fair to the PGA Tour, there is not much else tour officials could do. If they were intent on moving The Players Championship to May -- and many believe that to be an excellent move for the tour's flagship event -- then somebody was going to have to be displaced.
That tournament was the Nelson, one that goes all the way back to World War II. It might have been fairer to give the Nelson dates preceding the Players, but Wachovia officials shrewdly had that written into their deal, and that tournament has proved to be a popular one. Taking place after the Players would have been worse, so the Nelson took the week before Wachovia. (An extra week was available because Houston is moving to the week before The Masters and New Orleans is moving up a week to take Houston's spot.)
None of this is to suggest that anyone is at fault. It is simply another example of the change that lies ahead in the coming year -- and the possible ramifications.
QUICK TAKE
| | |
| --- | --- |
| | |
| | Payne |
Billy Payne brings many firsts to his chairmanship of Augusta National and The Masters. He is the first lifelong Georgia resident to hold the prestigious position. He is the first to occupy the chair having no direct link to club founders Bobby Jones and Clifford Roberts. And he is the first to talk to the media in a national conference call.

Yes, things are changing at Augusta National, where Payne served as media chairman since 2000 and has a much better understanding of public relations and media accountability than his predecessors did. He did, after all, bring the Olympic Games to Atlanta in 1996, a very high-profile, high-pressure job.

But for all the firsts, Payne will not be inviting the first female member to Augusta National. At least not right now. He made it clear on Monday with national media outlets that the topic would remain a private matter for club discussion. And, by the way, he won't be taking any calls from activist Martha Burk on the subject, either.

Payne, 58, did say, however, that more ways would be explored to take advantage of technology to bring more aspects of the tournament to the public. He did not rule out more television coverage and hinted that PGA Tour winners would get back their automatic spot in the field.

With Payne and former USGA president Fred Ridley, 53, who is taking over chairmanship of the competition committees, Augusta National suddenly has a younger look at the top. Only time will tell what that means.
MAILBAG: ASK BOB HARIG
Got a question about the PGA Tour? Ask ESPN.com golf writer Bob Harig, who will answer your inquiries in his column each week.
Q.Which three active players have the highest number of top-five finishes in majors since 1997? I'm assuming Tiger Woods and Phil Mickelson are at or near the top of the list, but who else is in the top three?
Todd
Princeton, N.J.
A. Since Woods won The Masters in 1997, he has the most top-five finishes in major championships (including ties) with 17. Ernie Els is next with 12, followed by Phil Mickelson with 11. Vijay Singh has seven, and Jose Maria Olazabal, Retief Goosen and Jim Furyk have six apiece.
Q. I know the World Rankings are not easily understood, but how can Tiger Woods continue to gain points when he has not played in several weeks?
Eric
Omaha, Neb.
A. Woods (like all other players) continues to gain points for tournaments he has played in the last two calendar years, but he has lost more points than he has gained, which is why his average number of points has declined since he last played, at The Masters on April 9. That week, his average was 18.13 points. This week it is 17.08, still a healthy bit ahead of Phil Mickelson's 9.71. Points continue to diminish over time.
Q. How many exemptions can a non-PGA Tour member receive each year?
Tyler
Raleigh, N.C.
A. Nonmembers are allowed to receive seven sponsor's exemptions. If they finish in the top 10, however, they earn a spot in the next tournament and do not require an exemption. Also, if they earn enough money in those seven events (and any more they play their way into with top-10s) to surpass the 150th earner from the previous year's money list, they are granted special temporary status, which allows unlimited sponsor exemptions.
Bob Harig covers golf for the St. Petersburg Times and is a frequent contributor to ESPN.com. He can be reached at harig@sptimes.com.
SPONSORED HEADLINES
MORE GOLF HEADLINES
MOST SENT STORIES ON ESPN.COM
EDITORS' PICKS
Might Rory McIlroy's lawsuit affect his golf?
Bob Harig »

Hurley sits two back of Karlberg's CIMB Classic lead.
Story »

One of TPC Sawgrass' most memorable trees looks like it will become a thing of the past.
Blog »