No one should tell Woods how to grieve
Originally Published:
May 30, 2006
By
Bob Harig
| Special to ESPN.com
In the first part of this decade, when Tiger Woods was winning golf tournaments at a record pace, completing the Tiger Slam and garnering every bit of attention in the game, it was easy to forget that his mission was simple: Play golf.
A 20-something bachelor without a care in the world, Woods could devote his entire being to becoming the best in the game. He could eat, drink and sleep golf. It could consume him. And did.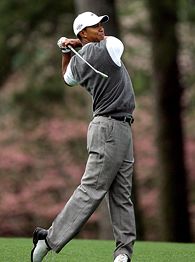 Getty ImagesWoods hasn't competed since a third-place finish at April's Masters.
Now, things have changed. Not only is he a married man, but he recently lost the most important figure in his life. Earl Woods, Tiger's dad, passed away on May 3, and while his death was not unexpected, that certainly does not lessen the impact it is likely to have on Tiger.
That is why this is such an interesting time in Woods' career.
He is 30 now, a man contemplating a future and certainly his own mortality. Amazingly, his 10-year anniversary of turning pro nears and surely, the thought has crossed Woods' mind -- whether it be five or 20 years away -- as to when chasing golf titles might no longer matter to him.
Woods surprised some by deciding to skip this week's Memorial Tournament, an event he has not missed as a pro. It figured to be the perfect time to ease back into competitive golf, a month removed from his father's death, two weeks before the U.S. Open.
It would be an opportunity to answer the obligatory questions about his dad, how he has coped, how he will move on. It would also give him the chance to get some competition, his first since tying for third at The Masters in April.
But Woods elected to skip the Memorial, certainly his right. Nobody should be able to tell someone how to grieve, and if Tiger is not ready ... well, let him take his time.
"Obviously Tiger is going to be in the same boat as me every time he goes out to play golf," said Davis Love III, who lost his father in a 1988 airplane crash and won the 1997 PGA at Winged Foot, site of the U.S. Open in two weeks. "He'll think of his father. That's not going to change. It'll be hard for a while, but it will also be a positive for him down the road."
Signs point to Woods' playing in the U.S. Open. He showed up for a practice round at Winged Foot on Saturday after attending a Yankees game on Friday night, his first public appearance since his father's passing.
And while it might not seem like such a great idea to go two months without playing a tournament, these circumstances certainly warrant a free pass. And, if you need any evidence of Woods' ability to bounce back from a lengthy layoff, recall 2003, when Woods returned from a two-month layoff following knee surgery to win his next tournament.
Yes, this situation is completely different. There is a mental component that is unknown at the moment. But it is likely Woods will be ready the first time he puts a tee in the ground.
Nonetheless, it will be fascinating to see what transpires.
QUICK TAKE
| | |
| --- | --- |
| | |
| | Wie |
Even the biggest Michelle Wie detractors have to admit that what she will endure on Monday in U.S. Open qualifying is fascinating stuff.

Wie has been part of the golf scene for so long, her skills taken for granted, that it is easy to forget that she is just 16. If a 16-year-old boy were in her position, wouldn't we be applauding?

As it is, Wie's motives get questioned. Admittedly, there is good reason to wonder if she would not be better served by focusing her attention on women's golf, racking up several victories, and then -- if she chooses -- branching out into the men's game.

But you do have to give her credit in this instance. She was not given a free pass. Wie endured a local qualifier, capturing medalist honors in her home state of Hawaii. Now she will go up against dozens of PGA Tour pros on Monday in Summit, N.J. for a chance to get into the U.S. Open.

Her odds are not good, but you can bet many will be watching.
MAILBAG: ASK BOB HARIG
Got a question about the PGA Tour? Ask ESPN.com golf writer Bob Harig, who will answer your inquiries in his column each week.
Q.In pictures of the 1978 British Open, Jack Nicklaus is seen grasping the Claret Jug as if it is broken in some way. Is this how the trophy is designed, or did something happen to the trophy?
Michael Ayres
Seattle, Wash.
A. The trophy awarded to the British Open champion was not, nor is it, broken. It is made in the style of silver jugs used to serve claret, a dry red wine. Although the British Open dates to 1860, the first Claret Jug was not awarded until 1873, when Tom Kidd was the winner. (They used to give a belt.) The original Claret Jug has been with the Royal & Ancient Golf Club of St. Andrews since 1927. A replica has been given to the winner to keep for a year before being returned.
Q. Typically, how much do players practice during a week when they are playing in a tournament as opposed to when they have an off week? Do they have practice routines or do they concentrate on problem areas? Is there a general practice format?
Adam
St. Louis
A. The answer varies greatly by the player. Some hardly practice at all the week of a tournament as they simply hope to warm up for the event. Others practice from dawn until dusk, taking advantage of the facilities at a particular venue. It is safe to say, however, that most tour pros have a routine of some kind, whether it be a certain amount of time on the range before a practice round, and then work on particular areas of their game.
Q. How many golf balls are tour players allowed to have in their bag prior to the start of a round?
Jeff
Los Angeles
A. They can have as many as they want, but since the tour has a one-ball rule, it won't do them any good to carry anything but the same brand and make of golf ball. A player is disqualified if he does not stick to the same ball throughout a round.
Bob Harig covers golf for the St. Petersburg Times and is a frequent contributor to ESPN.com. He can be reached at harig@sptimes.com.
EDITORS' PICKS
How fast can Rory turn things around at Doral?
Four-Ball »

Harrington counts his blessings after Honda win.
Harig »

Scott Van Pelt updates the old caddie credo.
Listen
MOST SENT STORIES ON ESPN.COM