Wie revels in her independence days
Originally Published:
July 11, 2006
By
Bob Harig
| Special to ESPN.com
For all of her amazing ability, Michelle Wie does at times operate in an aura of myth. She hits the ball a long way, but it's not that long when compared to the male professionals she will face this week at the John Deere Classic, where she was given a sponsor's exemption for the second straight year.
It is often said that Wie hits the ball as far as the men, which simply is not true. For most of the 36-hole U.S. Open sectional qualifier last month, she was behind her playing partners, one of whom was a club pro. Even on the LPGA Tour, where Wie plays a limited schedule, she is long, but not the longest.
SportsNation on Michelle Wie
Should Michelle Wie be competing in PGA Tour events? Vote Now!
A case in point came Saturday in the HSBC Women's World Match Play Championship, where Wie was defeated in the quarterfinals by 20-year-old Brittany Lincicome, who led the tour in driving distance last year and is second this year. Lincicome routinely knocked it by Wie, to the surprise of many.
"I think they got a reality check," Lincicome said. "She doesn't drive it as far as people think she does."
Lincicome defeated Wie 4 and 3, so she has the right to talk. And she made it clear the idea of competing in a men's event is not necessarily what Wie should be doing.
"If you can't beat Annika [Sorenstam], you don't need to go play on another tour," said Lincicome, who captured her first LPGA title at the Match Play. "If you're not No. 1 on this tour, you don't need to go to another tour."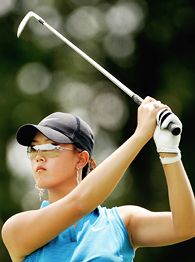 Andrew Redington/Getty ImagesWie is competing in her fifth career PGA Tour event this week.
Ouch.
This will always be the argument against Wie's path to professional golf, so long as there is a goose egg in the victory column.
But unlike a few years ago, when playing in men's tournaments seemed so much like a gimmick, it really no longer is. Of course, she is maximizing exposure for the various sponsors who are now paying her millions, but Wie is a legitimate attraction for a tournament such as the John Deere, which last year had more buzz than it could have ever dreamed possible, considering its role as the final event before the British Open.
Given Wie's non-member status on the LPGA, it is the perfect opportunity to step out and test her game against the best. Sure, it would be nice if she were dominating LPGA events and supporting that tour on a full-time basis, but she is not a member. If she applied, the tour would be faced with an interesting dilemma: the minimum age requirement is 18, and Wie is just 16. It took a special waiver to allow Morgan Pressel to play just a few months before her 18th birthday. How could they change the rules for Wie?
Actually, the situation has played to her advantage. It allows her the opportunity to be independent.
As a non-member, she can take just six sponsor exemptions, along with spots she got in the U.S. Women's Open as a special invitee and in the Women's British Open based on her performance last year. Bad for the tour, good for Wie, because it allows her opportunities such as this week.
Long ago, Wie chose this path and shunned her peers as an amateur. Many questioned that move, saying she needed to learn how to win tournaments she was supposed to win, that the pressure would bode well in the future. Perhaps she would have won by now had she chosen another method, but since she didn't, it is difficult to argue with her close calls. Plenty of LPGA veterans would kill for her majors record to this point.
No, she has not won. But Wie's tie for third at the U.S. Women's Open was her third top-5 in a women's major this year and sixth in 11 tries. That is remarkable for a 16-year-old.
Imagine what will happen when she hones the parts of her game that need work, such as putting and chipping, or eliminating the ill-timed errant shot.
Heading into the Women's Open, there was plenty of conjecture about Wie's putting -- and rightly so. It cost her at the U.S. Open qualifier, and again at the LPGA Championship. But at the Women's Open, she needed only 27 putts in the final round, the fourth-best of the day.
She was unable to win that tournament, but it was hardly anything to hang her head over. Wie shot 71-73 in the 36-hole final, finishing just two strokes out of a playoff won by Sorenstam. And she did lead the field in driving distance, even if the figure of 264.9 yards would put her well behind most of the men she'll compete against this week.
Wie is going to play a busy schedule in the summer, when she is out of school, and playing a men's event once in a while certainly is not going to hurt her. If nothing else, it brings enormous attention to a tournament that otherwise would get a fraction.
Meanwhile, Wie will continue to hear criticism until she wins ... which doesn't seem all that far off.
QUICK TAKE
Don't feel bad if you didn't notice, but the British Open conducted local qualifying this week. An era has passed, and it is too bad.

One of the highlights of British Open week had always been the local 36-hole qualifying that was conducted at four links courses near the Open venue. It was quite common to find an unknown dreamer playing alongside an established tour pro. Just seven years ago, both Paul Lawrie and Jean Van de Velde came out of local qualifying before competing in a playoff won by Lawrie at Carnoustie.

Then tournament officials started messing with the qualification system. They felt too many "name" players were denied a place because they didn't want to travel all the way to Britain for qualifying. So in addition to all the various money list and world ranking criteria, they set up International qualifying tournaments, ones in Asia, Africa and the U.S. -- as if qualifying in those places is anything akin to the conditions of a seaside links.

But at least there were still the four local qualifiers, with three spots at stake in each, a total of 12 to get into the Open. Brad Faxon was one of the feel-good stories of last year's Open, where he was the biggest-name American to try it the hard way. He succeeded, then contended until the final day.

And now even that is gone. Oh, there is still local qualifying. It took place on Monday and Tuesday of this week -- a week prior to the championship. The idea was to not have it conflict with this weekend's Scottish Open, which offers spots in the Open, but the charm of local qualifying is gone.
MAILBAG: ASK BOB HARIG
Got a question about the PGA Tour? Ask ESPN.com golf writer Bob Harig, who will answer some inquiries in his column each week.
Q. How in the world does the PGA Tour ever allow "lift, clean and place" during a golf tournament? Isn't that against all of the Rules of Golf?
Tim
Hartford, Conn.
A. It is not against the rules, but usually not the way a purist would interpret them. There is a section in the appendix of the rule book that deals with this issue, although you'll never see it used in a major championship. The PGA Tour often employs it in order to expedite its tournaments. Sometimes, the ground may be so wet that a player could not find proper relief from casual water. In that case, a round would have to be delayed, and they would often have trouble completing events. It is not ideal, but sometimes necessary.
Q. Which player won the most money on the PGA Tour in the 1980s?
Brooks Watson
Gulfport, Miss.
A. It was very close, with Curtis Strange ($4,819,861) edging Tom Kite ($4,809,132) by just over $10,000 from the period of 1980 through 1989. Strange won three PGA Tour money titles in that period while Kite won two.
Q. Do you think we will ever see a major tournament played on an 8,000 yard course?
David
Cary, N.C.
A. It is inevitable. With some courses stretching to 7,600 yards now, we're not that far away, whether it be out of necessity or simply a novelty.
Bob Harig covers golf for the St. Petersburg Times and is a frequent contributor to ESPN.com. He can be reached at harig@sptimes.com.
SPONSORED HEADLINES
MORE GOLF HEADLINES
MOST SENT STORIES ON ESPN.COM
EDITORS' PICKS
Whaley's election puts her in line to influence much in golf.
Fields »

Tiger Woods opened his first golf course design Tuesday.
Harig »

The Bryan Brothers turned their artistry with golf clubs into a charitable cause.
Story »