Ochoa stays true to Mexican roots
Originally Published:
September 12, 2006
By
Bob Harig
| Special to ESPN.com
There is a reason Lorena Ochoa's photo adorns nearly all of the promotional material for this week's Corona Morelia Championship on the LPGA Tour, just as it did earlier this year for the MasterCard Classic.
Ochoa is the face of golf in her native Mexico, which has two tournaments on the LPGA schedule almost solely because of her.
It is a pretty big honor -- and quite a bit of pressure -- for someone who won't even celebrate her 25th birthday until next month. But it is a role she embraces, even at tournaments in the United States, where she seeks out Mexican fans at every event she plays.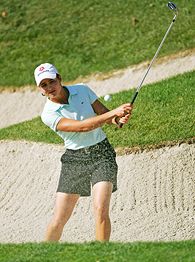 Robert Laberge/Getty ImagesOchoa has won three LPGA events this season, doubling her career total to six.
"That's what I most enjoy about golf, being Mexican and representing my country, I'm very proud to represent my country," said Ochoa, who leads the LPGA Tour money list. "I share all I do with my people, and every time I go back home, they are waiting for me; and the newspapers and the media, they are always paying attention. I appreciate the support very much, and, you know, when I win, it's for all of them."
Ochoa has done her homeland proud this season, winning three times and earning more than $1.9 million. With six tournaments left, she is in a tight race with veterans Karrie Webb, Annika Sorenstam and Cristie Kerr for all of the tour's top honors. She's done it by adhering to a goal of consistency. Ochoa has 16 top-10 finishes, 14 of which have been in the top five. You can argue that perhaps she should have won even more, something she has chalked up to "a learning experience." But she has not missed a cut, and has emerged as a force.
All the while, she pays homage to her homeland.
Ochoa will often stop by the maintenance building at golf tournaments throughout the tour to meet and greet workers of Mexican descent.
"I like to pay them back a little bit and go talk to them," Ochoa said. "I like to thank them for all their hard work."
For this, Ochoa is revered, although golf is still a work in progress in Mexico.
"Golf is all the way to the bottom, yes," she said. "It's a country where soccer is everything, but we are changing, a little bit of progress, and the future hopefully it will get more time on TV and in the media and have more respect. I think we will have more players in the future; that will help, too, and we are trying to grow all the time.
"Every time I play a tournament in the States, there are always some Mexicans who come and cheer for me with a Mexican flag, and there are a lot of Hispanic people out here. I always represent them and I always want to say thank you to them for the support and hopefully we'll work together and just make it a bigger sport."
Ochoa began playing golf at age 5, winning her first national tournament when she was 7. She then captured five consecutive junior world championships between the ages of 8 and 13, while also competing in such other sports as tennis, swimming and running.
"When I was about 12, my dad came to me and said you should pick only one sport so you can do it well," she said. "Just because of what I did with golf, I didn't have a hard time picking that I wanted to play golf."
Ochoa, who is from Guadalajara and still makes that her home, moved to the United States so that she could play college golf, where she won 12 of her 20 starts while playing at the University of Arizona. She turned pro after two seasons, and was rookie of the year and No. 1 money winner on the Futures Tour in 2002.
She has been on the LPGA Tour ever since, doubling her victory total during this current breakthrough campaign.
"I think this has been for me a great year because I've played consistent golf," she said. "For me, that was the goal at the beginning of the year, just to be consistent. It really helped me, just my mind-set, to be motivated every week."
QUICK TAKE
| | |
| --- | --- |
| | |
| | Woods |
The World Golf Championship events have been around now for seven years, and while they have been extremely good to Tiger Woods, the 60 or so players who qualify for a guaranteed paycheck and the PGA Tour, which manages and runs -- and profits -- the tournaments, they are not so good for the rest of golf.

The reason? These tournaments give the top players three fewer reasons to play someplace else.

If they were regular tournaments with 36-hole cuts and smaller purses, not all of the players would sign up. And that means maybe this week's Greensboro event or next week's tournament in Las Vegas would attract a few more top-ranked players.

The same will be true next year, when the first two world events will be played four weeks apart. The three tournaments in between -- all in Florida -- can't help but suffer.

As it stands now, a top player on the PGA Tour next year can sign up for the Mercedes Benz Championship, the three WGC events, the four major championships, the Players Championship, the three FedEx playoff events and the Tour Championship and hardly have to tee it up anywhere else. Add some other marquee tournaments such as Pebble Beach, Bay Hill, the Memorial, the Colonial ... and a player's schedule is set.

And that's not so good for everybody else, who count on seeing some of the top players once in awhile.
MAILBAG: ASK BOB HARIG
Got a question about the PGA Tour? Ask ESPN.com golf writer Bob Harig, who will answer some inquiries in his column each week.
Q. Other than the Ryder Cup, has Sergio Garcia ever won an event when Tiger was also playing?
Nils
Blacksburg, Va.
A. Garcia has won six times on the PGA Tour, and three times he has done so with Woods in the field: the 2001 Buick Classic (Woods tied for 16th), the 2002 Mercedes Championships (tied for 10th) and the 2004 Byron Nelson Championship (tied for fourth). Garcia has also won six times on the European Tour, but Woods was in none of those events.
Q. How is Tim Mickelson able to coach at a major college and still be an amateur?
Otis
Merced, Calif.
A. The rules of amateur status allow an employee of an educational institution to coach or teach golf and remain an amateur, as long as teaching is less than 50 percent of his total time as an employee.
Bob Harig covers golf for the St. Petersburg Times and is a frequent contributor to ESPN.com. He can be reached at harig@sptimes.com.
Hispanic Heritage Month
ESPN.com celebrates Hispanic Heritage Month with a series of stories that reflects on the contributions to the world of sports by Latino athletes and executives.
• Schwarb: Montoya brings star power to NASCAR
• Drehs: Ohio State's Gonzalez cooks up Cuban culture
• Schwarb: Almirola's rise through Craftsman Truck ranks
• Drehs: Melting pot strength of Iowa high schools
• Harig: The face of golf in Mexico
• Avila paved the way for Dominican baseball talent.
• Puerto Rican fans adore Arroyo in Orlando
• Roberto Duran doesn't pull punches, even at 55
• Rojas: Forgotten history of a Dominican pioneer
• Baxter: The pitch, and the pitchers, from Venezuela
• Lapchick: Latin participation good for business
• The 'other' A-Rod is kickin' it at USC
• Neyer: A Latin American dream team

• Baxter: Breaking down barriers
• Fish: Latinos are reinvigorating the game
• Crasnick: Agents of change

MOST SENT STORIES ON ESPN.COM