Now 36, Sorenstam remains self-motivated
Originally Published:
October 10, 2006
By
Bob Harig
| Special to ESPN.com
A birthday celebration is as good a time as any for reflection, and for Annika Sorenstam, you can bet there are forces pulling her in every direction. Enjoy the spoils of success? Strive for more history? Try to mix them both?
Sorenstam turned 36 on Monday and defends her title this week at the Samsung World Championship. How she proceeds from here is good fodder. Sorenstam checks off things from her "to-do" list in golf as if they were chores around the house. And she has accomplished them at such an awe-inspiring rate, nobody would blame her for plopping down in the living room to relax and unwind.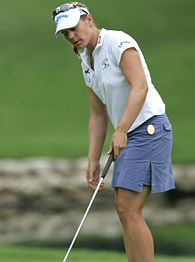 AP PhotoSorenstam owns three LPGA victories this season.
For five straight years, she has led the LPGA Tour money list and won Player of the Year honors. She's run her victory total to 69, her major championship haul to 10. Finding motivation after such success might have been her greatest accomplishment. So, how does she keep going?
"I have to admit, it's been tough for the last two or three years," Sorenstam said during a recent conference call. "I mean, I have achieved so much more than I ever thought I could, and every year I set up new goals and I push myself, what do I want to achieve and so forth.
"What is really driving me is the love for the game, obviously, but the belief that I can be better. I can become a better golfer. That is what keeps me going."
Sorenstam has something else to keep her going this year -- competition.
For the first time since Karrie Webb won the LPGA money title in 2000, Sorenstam is not a lock to capture the top spot so late in the season. With six tournaments to go, she is third on the money list behind Lorena Ochoa and Webb, with Cristie Kerr close behind.
It should make for an interesting end to the season, which will conclude at next month's ADT Championship in West Palm Beach, Fla. There, for the first time, the season-ending tournament will have a new format that greatly will skew the money list.
There are 32 players who will qualify in various ways, with a cut after 36 holes to the top 16. From there, only the top eight qualify for the final day, when they all start over with an 18-hole shootout for $1 million. The runner-up will receive just $100,000, so a lot can happen.
Sorenstam has not been on board with the new format -- she is the defending champion of the event -- but is curious to see how it will play out.
"It is a lot of money to add to the money list in one week," said Sorenstam, who has earned $1,769,408 this year and trails Ochoa by about $350,000 after the star from Mexico won on Sunday.
None of it would have mattered in recent years, when Sorenstam cruised to all the top honors. Starting in 2000, she has won a minimum of five events each season, including 11 wins in 2002 and 10 victories last year.
This year, she has just three victories, one of them the U.S. Women's Open in July. She has 14 top-10 finishes, including runner-up in her last two starts. Certainly a productive season, but by her standards …
"I have asked myself a lot of questions," she said. "I think it just kind of puts the last few seasons in perspective. This year I have struggled a little bit with my swing, and in the past, I would just go up and I would hit a shot and I would not really think about it, I would not wonder where it was going. This year has been totally opposite.
"It has been where am I going and what am I doing. I have had some great tournaments and some not so great ones and it has been a little frustrating in that sense because I just feel like I not have played up to my normal standard."
And not being one to remain satisfied, Sorenstam decided to go back to basics. In August, she approached her coach, Henry Reis, and said she simply needed to work on her grip, her setup, everything.
"I cannot play with a swing that only works for 14, 15 holes," said Sorenstam. "And if you look at the stats, it is probably the worst year that I have had when it comes to greens in regulation, fairways hit … you name it."
And yet, Sorenstam has those three victories this year, surpassed only by Ochoa's and Webb's four. That gives her 51 wins since the start of the 2000 season -- a number that would rank seventh all time, ahead of Hall of Famers such as Nancy Lopez and JoAnne Carner.
"The golf Annika has played over the last five or six years has been really undervalued," said Webb, who has 34 career wins. "I don't think it's been appreciated nearly as much as it should have. She set such high standards … I find it hard to believe I could sustain that sort of golf over five or six years. But I don't think her golf is unappreciated by the players out here."
And nobody expects Sorenstam to back down.
Yet, what is left to achieve? She is five major victories behind the record of 10 held by Patty Berg. And she needs 13 more wins to tie Mickey Wright (82) and 19 more to catch Kathy Whitworth (88), the all-time victory leader.
"Well, I think about them, but I question [whether] that something I can do. … Eighty-eight wins is just so difficult," she said. "I just wonder how much longer can I play and how much longer do I want to push myself. I have been on tour for 12 years and there are a lot of other interests, projects I want to pursue.
"So now I am just focusing on my own game, trying to get better, and hopefully that keeps me going."
QUICK TAKE
| | |
| --- | --- |
| | |
| | Love |
Davis Love and Padraig Harrington have more in common than you'd think. They both won golf tournaments on Sunday, welcome victories that brought into focus why they don't do so more often.

Love, 42, won for the first time in three years, capturing the Chrysler Classic of Greensboro, the 19th victory of his PGA Tour. Harrington, 35, won for the first time in two years on the European Tour (he did win twice last year on the PGA Tour), capturing the Dunhill Links Championship in Scotland, the 10th victory of his European career.

And both, basically, said it's about time.

"It's a big relief and hopefully the start of bigger things to come," said Love, who had not won since the 2003 International, the last of four victories that season.

"You don't want to go a year without winning at least once," said Harrington, who is from Ireland but is also a member of the PGA Tour. ""You know, it's 15 months since I've won. But now I can just put it down. I won in 2005. I won in 2006. It's always nice."

Love leads all active PGA Tour players with 29 second-place finishes in his career. Harrington has 23 seconds in Europe and another three on the PGA Tour. Both made moves in the world ranking, with Harrington jumping to 12th and Love to 19th.
MAILBAG: ASK BOB HARIG
Got a question about the PGA Tour? Ask ESPN.com golf writer Bob Harig, who will answer some inquiries in his column each week.
Q. Unless John Daly has a miraculous finish this year on the money list (he's currently 190th), will he have any playing status next year on the PGA Tour without going thru Q School?
Darin Bunkers
Milwaukee
A. Yes, but barely. As a past champion, Daly will be able to get into a handful of tournaments in which fields are not full through the 29 other exemptions that precede the Past Champion category. What he really needs to do is at least finish among the top 150, where he could accept unlimited sponsor exemptions. Outside of the top 150 -- barring a return to Q school -- Daly would be allowed to take just seven exemptions. He could get into other tournaments by finishing among the top 10. But it is not an easy way to set a schedule.
Q. I recently heard that Padraig Harrington is practicing with one shoe off in order to improve his swing. Two questions: One, how does this help? And two, would it be legal to compete that way?
Jim
New York
A. The only possible explanation here is that perhaps it makes him more aware of his foot movement, which he might be trying to control. And there is no rule prohibiting a player from competing without a shoe.
Q. What does the term "flag high" mean?
William
Virginia Beach, Va.
A. Announcers often use the term "flag high" or "pin high" to describe a shot that travels the same distance onto a green or around it as where the pin is located -- as opposed to be short of the pin or beyond the pin.
Bob Harig covers golf for the St. Petersburg Times and is a frequent contributor to ESPN.com. He can be reached at harig@sptimes.com.
MOST SENT STORIES ON ESPN.COM