Pressure mounting for less distinguished players
Originally Published:
October 17, 2006
By
Bob Harig
| Special to ESPN.com
LAKE BUENA VISTA, Fla. -- This hardly seems like the place for so much tension, the land of Mickey Mouse and the monorail, the place of dreams. The Magic Kingdom beckons, but first there is work to be done.
For more than two dozen players in this week's Funai Classic at Walt Disney World, a year's worth of unsatisfactory performances has come into sharp focus. Only two full-field events remain on the PGA Tour schedule, and it is crunch time.
Without a good week here or at next week's Chrysler Championship, worlds can change. Without hitting a bunch of greens and making a lot of putts, the 2007 golf season might play out quite differently for many players.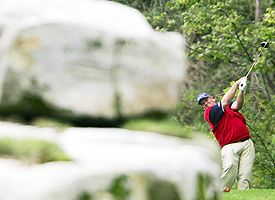 Chris McGrath/Getty ImagesThough he's currently 192nd on the money list, John Daly isn't too concerned about his status for next season.
By now, any self-respecting golf fans understands the situation.
A player has all year to earn enough money to finish among the top 125 money winners. By doing so, he is fully exempt for next year, meaning he can tee it up in just about any full field event he wants, save for the major championships.
Finish outside of the top 125, however, and things can be much different.
A player from Nos. 126 to 150 is only partially exempt. He can get into some tournaments, but his status falls below that of the top 125 as well as the top 20 from the Nationwide Tour and the top 30 (and those tied at No. 30) from the PGA Tour Qualifying Tournament.
In other words, a lot of players move ahead of them, putting their scheduling ability in peril, leaving them to play less desirable events. Or few at all.
One wild card in all of this is the new FedEx Cup schedule to begin in 2007. Six tournaments have been cut from the main portion -- along with the three playoff events -- meaning fewer playing opportunities heading into the season-ending, four-tournament playoffs. With those four big money events and a potential $10 million bonus awaiting the winner of the FedEx Cup, it is believed that more rank-and-file players will commit to tournaments.
All of which makes finishing in the top 125 a growing priority.
"It's hard not to look at what guys are doing around you, because they are thinking the same thing you are," said Brian Bateman, 33, who is 125th on the money list, just $648 ahead of John Cook. "I don't pull against anyone. I think all of us out here realize if we play the way we're supposed to play, your golf should take care of that. I just haven't played well the last five weeks."
Then again, there are the loopholes. Numerous loopholes. And that makes magic No. 125 not so magic.
For one, players who finish outside of the top 125 and but no worse than 150th can take unlimited sponsor exemptions. Briny Baird, who was 126th last year, has played more tournaments than Bateman, who got his card at Q School.
Then there are the all-time money list loophole. David Duval is among the top 25 money winners all-time. He can take a one-time exemption for players in this category. There is also an exemption for top 50 all-time, which Duval could use in 2008 if necessary. Nick Price and Bob Tway are also looking at finishing outside of the top 125, but they, too, can use that exemption.
Past major winners Paul Azinger, Mark Brooks, John Daly, Steve Elkington, Lee Janzen and Bernhard Langer are also flirting with full exempt status, but because they are past tournament winners, they are considered PGA Tour members. And PGA Tour members can accept unlimited exemptions.
So there is pressure ... but not the kind of pressure that would leave any of these guys looking for another line of work.
No, the real pressure rests with players you have never heard of, who have toiled week after week, barely making cuts or finishing well down the list. A guy like Bateman, who is needing just one good week to secure his future.
"A lot can change," Bateman said. "And if I can play like I'm supposed to play, I don't have any problem next week. But I've been telling myself that for five weeks."
QUICK TAKE
| | |
| --- | --- |
| | |
| | PGA Tour |
The crowds were sparse in Las Vegas at last week's Frys.com Open, and that was with one of the best players in the world in the field, Jim Furyk. What will it be like next year when the tournament is unlikely to attract the same caliber of players?

For a tournament such as Las Vegas or this week's event at Disney World, it has to be an uneasy time. These tournaments will be part of the Fall Series next year, to be played in the weeks following the Tour Championship. They will basically be for players hoping to secure their tour cards for 2008 and perhaps a smattering of bigger-name players who want a place to play.

Otherwise, these tournaments will be all but irrelevant. Disney, at least, gets to go last, so it can purport to have some drama in regards to being the last chance for players to finish among the top 125. But that appears to be of interest to friends, family and only the most ardent of golf fans.

The PGA Tour decided it had to have a snappier end to its season without going so deep in the football season. Hence, the FedEx Cup and the Tour Championship in September. So what does it say for these tournaments that have less importance and must still go up against football?
MAILBAG: ASK BOB HARIG
Got a question about the PGA Tour? Ask ESPN.com golf writer Bob Harig, who will answer some inquiries in his column each week.
Q. Natalie Gulbis was recently disqualified from the Corona Morelia Championship. What happened? Also, when viewers report an infraction, whom do they contact?
Frank Yang
Madison, Wis.
A. Gulbis was disqualified because she failed to sign her scorecard. On her Web site, Gulbis said that her caddie was in the scoring tent with her to double check the scores and what he thought was her signature. Apparently, she never signed the card, which is an automatic disqualification. "Two rules officials said my card was fine and complete," Gulbis said. "It was only after I finished that I got a call that there were no signature on my card." As for viewers reporting an infraction ... this remains a rather amusing exercise. It is not as if tournament officials have a public number for people to call. Those who do typically try to call the network televising the event or the club where the tournament is played. How they manage to get through to who they need to speak to remains a mystery.
Q. I want to know if Tiger Woods committed a rule violation when his caddie lost his 9-iron during the Ryder Cup. Don't you have to have 14 clubs in your bag?
Kim Rettig
Hiddenite, N.C.
A. The rules only require that you have no more than 14 clubs in your bag. A player can carry fewer if he chooses.
Q. I recently noticed that Vijay Singh had a new caddie on his bag at the Dunhill Links. Has he parted ways with Paul Tesori?
Devesh Purohit
A. Singh has been prone to change caddies from time to time, and it is not always permanent. He is using Tom Pernice's caddie -- Singh and Pernice are friends -- until the end of the year. Singh also has used his personal trainer, Joe Diovisalvi, from time to time.
Bob Harig covers golf for the St. Petersburg Times and is a frequent contributor to ESPN.com. He can be reached at harig@sptimes.com.
SPONSORED HEADLINES
MORE GOLF HEADLINES
MOST SENT STORIES ON ESPN.COM
EDITORS' PICKS
No caddies in the HOF? That's appalling.
Michael Collins »

As far as the course design business, Tiger and Jack are on different paths.
Bob Harig »

Need help finding a present for that golfer you know?
Gift Guide »