Woods' annual schedule excludes several events
Originally Published:
October 24, 2006
By
Bob Harig
| Special to ESPN.com
PALM HARBOR, Fla. -- The results are impossible to ignore, making the path taken difficult to dispute. Tiger Woods has won 12 major championships and 54 PGA Tour events playing a schedule that rarely deviates.
For 10 years, less has been more, with careful planning to be ready for the major championships while rarely stringing too many tournaments in a row in order to stay fresh.
Woods has accomplished so much by finding the courses and events he likes and continuing to play those tournaments -- and those tournaments only.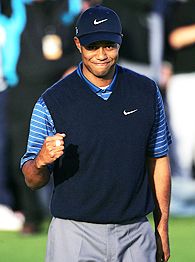 Warren Little/Getty ImagesThere are 11 tournaments on this year's PGA Tour schedule that have never played host to Woods..
All of which makes it rather frustrating for the tournaments that have never seen the world's best player.
This week's event is yet another example. Woods lives just 100 miles away from the Copperhead course at the Westin Innisbrook Golf Resort, a venue that has received high praise from other players. But he has never entered.
"Am I surprised? Yes and no," said tournament director Gerald Goodman. "When we first got the date being the week before the Tour Championship, he had played that date before when Disney was the last week. But, traditionally, he has taken the week off before a large tournament. And I think some circumstances affected him coming here ... [but] I would have thought with the strength of our field and the toughness of our golf course and the way he says he doesn't enjoy [tournaments that are] birdie-fests, that he would have come at least two of the four years."
The Chrysler Championship is hardly alone. It is one of 11 official events on the 2006 schedule that have never had Woods in the field. Seven more have had him just once -- and each of those instances came before 2000.
The four major championships, the three World Golf Championship events and the Players Championship are the absolutes on Woods' schedule.
Others that are all but sure bets are the Mercedes-Benz Championships, the Buick Invitational in San Diego and the Nissan Open near Los Angeles. He is also all but a lock to play the Arnold Palmer Invitational (formerly Bay Hill), near where he lives in Windermere, Fla., and where he has won four times; Jack Nicklaus' Memorial Tournament; the Buick Open; and the Byron Nelson Championship.
Next year, when the FexEx Cup schedule puts playoff events at the end of the year, he will likely play the Barclays Championship, Deutsche Bank Championship and BMW Championship (formerly Western Open) preceding the Tour Championship.
That's 19 tournaments. This year, Woods will likely play just 16, but he rarely plays more than 20.
It doesn't leave much room for other events.
"I think I speak for all of those non-Tiger tournaments -- we would love to see Tiger play not only more events but to vary his schedule," said Phil Canon, tournament director of the FedEx-St. Jude Classic in Memphis, Tenn., which has never had Woods. "It can be frustrating at times. We also understand the game of golf from an insiders' perspective. It is not like baseball where you can play 162 games in 180 days. There needs to be some off time. We're very conscious of Tiger's schedule, Phil Mickelson's schedule ... Ernie [Els'], Vijay [Singh's]. Those guys move the needle."
Canon said he tries to actively recruit Woods -- and other players -- by simply trying to say hello to him at various tournaments throughout the year.
Steve Timms, the tournament director for the Shell Houston Open -- which also has never had Woods -- takes a different approach. "We've kind of become accustomed to Tiger's schedule over the past few years," Timms said. "He's had a tremendous amount of success with that formula. Tiger knows that everyone would like to have him in the field. To say we'd like to have him play is overstating the obvious. He can't play every event.
"You have to be somewhat accepting of the fact that he is going to play a certain schedule. As the schedule changes from this year to next, maybe that brings some events into play. Only time will tell. You hope he decides to play your event eventually. You realize he can't play them all. But Tiger Woods knows that his presence at a PGA Tour event or any event elevates that event. He knows we'd all love to have him."
Goodman said the idea of adopting the LPGA rule of requiring players to put every tournament on their schedule once in four years would help, but he does not see it being implemented.
"As a tournament director and a golf fan, I wish we had that," Goodman said. "But realistically, that should have been put in years ago, maybe 20 or 30 years ago. Then, every player coming out now would know it is part of the rules and they could have figured out how to implement it. But PGA Tour players are independent contractors. They have the right to pick and choose their schedules."
And so tournaments that have yet to have the world's No. 1 player keep waiting until next year -- with their fingers crossed.
QUICK TAKE
He didn't win on Sunday at the Chrysler Championship, but Paul Goydos still felt like a winner afterward.

A PGA Tour veteran whose lone victory came at the 1996 Bay Hill Invitational, Goydos, 42, was facing a return to the PGA Tour Qualifying Tournament. He came into the week 160th on the money list. He had missed the cut by "a billion'' at Disney. And when you've played poorly most of the year, it is difficult to think you are going to put it all together in one week.

But that's what Goydos did. He put himself in position to win the tournament, entering the final round one shot behind eventual winner K.J. Choi. He eventually finished four back, but the tie for second earned him $486,400 and vaulted him all the way to 97th on the money list. No Q School.

"Considering how I played all year, obviously this is a pretty good week,'' Goydos said.
MAILBAG: ASK BOB HARIG
Got a question about the PGA Tour? Ask ESPN.com golf writer Bob Harig, who will answer some inquiries in his column each week.
Q. Will the $10 million prize for next year's FedEx Cup be counted as official money?
Paul
Sylvania, Ohio
A. No, that is simply bonus money. Each of the playoff events, however, will offer prize money that will count toward the money title.
Q. What happened to Beth Bauer? I remember when she came out of Duke early, she was supposed to be the next big thing on the LPGA Tour.
Dave
Fayetteville, N.C.
A. Bauer was the LPGA Tour rookie of the year in 2002 but it's been one problem after another since. She has gone through equipment changes, swing changes and coaches trying to get back on track. Bauer, 26, made just two cuts in 17 starts and earned just over $24,000. She missed the cut in her last six events and did not shoot better than 74 in any of them. For the year, Bauer shot just two rounds in the 60s. She is expected to return to the LPGA Tour's qualifying tournament.
Q. I keep hearing that the courses in Bandon, Ore., stack up with any in the country. Will there ever be a PGA Tour event at any of these venues?
Jim
Battleground, Wash.
A. Not anytime soon. The PGA Tour's new television contract, which begins with the 2007 season, is for six years, meaning most of the events are locked into the schedule through 2012. There is a possibility new events could crop up in the Fall Series portion of the schedule. Or, if a sponsor bails out, anything could happen. The tour has long neglected the Northwest, as Seattle is also without a tour event. As far as Bandon Dunes, there would also be logistical issues to consider that go beyond the worthiness of the venues from a playing standpoint.
Bob Harig covers golf for the St. Petersburg Times and is a frequent contributor to ESPN.com. He can be reached at harig@sptimes.com.
EDITORS' PICKS
Don't read too much into Rory McIlroy's missed cut.
Bob Harig »

Vikings WR Greg Jennings tries to squeeze a little golf into an otherwise crowded schedule.
Nicole Elliott »

What was up with Sergio's reaction at Riviera?
#AskESPNCaddie »
MOST SENT STORIES ON ESPN.COM