It's winner take all (well, most) at ADT
Originally Published:
November 14, 2006
By
Bob Harig
| Special to ESPN.com
The fact that several players in the field are uncomfortable with the new format at this week's ADT Championship probably suggests it will be fun to watch.
The reason? Players actually are going to have to sweat in order to win a good chunk of money at the season-ending event on the LPGA Tour.
At professional golf tournaments across the land, the pain of losing is often offset by a very nice consolation prize, a sum of money that would make most people blush.
Not at the ADT. This week, $1 million goes to the winner, the biggest first-prize in women's golf.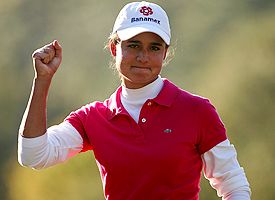 Scott Halleran/Getty ImagesWith six titles this season, Ochoa leads the LPGA money list.
The big difference, however, is what goes to second: a relatively paltry $100,000. And it gets worse (or better, depending on your perspective). Third place receives just $20,500.
The intriguing aspect to the tournament is that all eight players who make it to Sunday's final round will have a shot at winning the $1 million. The last-place finisher out of the eight will get just $16,250.
"The winner takes it all," said defending champion Annika Sorenstam, who received $215,000 for winning the tournament at Trump International in West Palm Beach, Fla., last year. "You will be out there for four days … you play as many holes. So it's a big difference."
Sorenstam has been among those who delicately have questioned that idea behind the new format, which brings 32 players to the tournament through various qualification criteria.
What has Sorenstam wondering is the huge disparity $1 million can mean to the season-ending money list.
"Especially when you play between 20 and 30 tournaments a year and other ones are worth between $150,000 and $500,000," she said. "It makes for a big change. Anything can really happen. … It is obviously going to be very exciting for everyone."
Sorenstam, ironically, can benefit from the change. She can catch Lorena Ochoa on the money list if she were to win the tournament, despite trailing by more than $500,000. Karrie Webb could also finish No. 1 with a victory. Cristie Kerr is the only other player who has a chance to catch Ochoa, who could finish no better than third if Kerr wins the money title.
"I suggested that maybe half of it should count, and then you get the rest as a bonus," Sorenstam said. "So the winner still gets $1 million. Anybody who knows the game knows that anything can happen in 18 holes. It puts a little less value on the money list."
Another controversial aspect is the format. After the first two days, the field is cut to just 16 players. Those eight who go home will leave with $8,000. Then, after the third round, the field is cut to eight players. The eight who go home after Saturday receive just $14,000. What if a player is in 16th place going into Saturday and feels she has no chance to make the top eight? There's not exactly a lot of incentive, as she will get paid the same regardless.
And then there is the big one: starting Sunday, everyone starts over, with the lowest score winning the $1 million. So a player could have built a 10-shot lead through 54 holes and it won't matter.
Good or bad?
What will be very good if the tournament can come down to the final hole with that big prize at stake.
That will be something to get excited about.
QUICK TAKE
A long season on the Nationwide Tour just concluded, with 22 players earning their PGA Tour cards for the 2007 season. There has been talk about expanding the number in the future to 25, given the fact that a full season of competitive golf is a good gauge for future success.

Here's an idea that would add some spark to both tours. Make the top 25 from the Nationwide Tour eligible for full exempt status on the PGA Tour by replacing those who finished 101st to 125th on the PGA Tour money list. That would create huge excitement on both tours.

Why? First, only the leading money winner on the Nationwide Tour is fully exempt on the PGA Tour. The next 21 finishers are slotted based on their finish along with the finishers at the PGA Tour Qualifying Tournament. They only get into events based on available spots. This way, they would truly be rewarded for their high finish.

As for those who finish 101st to 125th on the PGA Tour, it would make the bottom players all that more competitive. They would have to fight harder to stay exempt. But if they fall out, they could attempt to return to the PGA Tour Qualifying Tournament to improve their position, or they could elect to play a fully exempt season on the Nationwide Tour.
MAILBAG: ASK BOB HARIG
Got a question about the PGA Tour? ESPN.com golf writer Bob Harig will answer your questions in his column each week.
Q. How in the world is Phil Mickelson not ranked in the top 25 on the current U.S. Ryder Cup points standings? Is this a misprint?
Lindsay Hedin
Arlington, Tenn.
A. No, Mickleson has not earned any points for the 2008 Ryder Cup. He played in just one event, the Bridgestone Invitational, after the points process began. He tied for 54th. In the new points system, a player had to finish among the top 10 in any of the remaining events on the 2006 schedule, and then was given just one-quarter of the points for every dollar earned. In the old system, Mickelson would have earned no points for that finish.
Q. David Song
Los Angeles

A. Yes. Players can step away from a ball they have addressed and can even stop in mid-swing and start over.

Q. What is the status of golfer Carl Paulson? He did not play on the PGA Tour this season and missed the end of 2005.
Norm
Chesapeake, Va.

A. Paulson had a back injury that gave him a medical extension for 2006, although he never played in an event. His agent did not immediately return a call seeking clarification on his status.
Bob Harig covers golf for the St. Petersburg Times and is a frequent contributor to ESPN.com. He can be reached at harig@sptimes.com.
EDITORS' PICKS
Ryder fallout

What did we learn at the 40th Ryder Cup?
Maguire »

One idea for the next U.S. captain might ruffle a few feathers.
Evans »