King of Kapalua seeks to retain throne
Originally Published:
January 2, 2007
By
Bob Harig
| Special to ESPN.com
Stuart Appleby, the King of Kapalua, has a sense of humor that fits in nicely with the laid-back tropical atmosphere where his threepeat of Mercedes-Benz Championship victories makes him the envy of just about every PGA Tour player -- save for perhaps the two high-profile players who qualified for the season-opening event but are no shows in Hawaii.
Appleby has won the last three Mercedes and is running out of room at his Florida home for the cars that come with the trophy.
"I'd say my accidental selection of winning [this] event numerous times has been quite handy," he quipped. "I can take one more car, but I need a car lift or hoist. I built the garage based on that potential problem."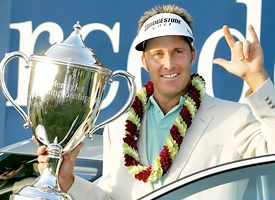 AP Photo/Jeff ChiuAppleby won his third consecutive Mercedes title in '06.
Yes, some problem for Appleby -- who also drives a Lamborghini.
One problem he won't face as the 2007 season kicks off is the prospect of having to defeat Tiger Woods or Phil Mickelson, again a story despite their not even being in the tournament.
Woods and Mickelson both elected to prolong their offseason and stay away from this winners-only event, once again leading to questions about their absence. Appleby has that figured out, too, at least in the case of Woods.
"I'd like to think I've got some intimidation factor and he wasn't interested in coming over," Appleby said. "He's going for his seventh victory in a row and he didn't want me to break his streak. I guess I have some psychic power over him."
Appleby certainly has something going for him at Kapalua, where last year he defeated Vijay Singh in a playoff, winning for the third straight time and setting up the best of his 11 seasons on the PGA Tour.
He added another victory at the Shell Houston Open -- the first time he won twice in a calendar year -- and finished eighth on the money list with more than $3.4 million. Appleby, one of five Australians in the Mercedes field, begins the 2007 season ranked 21st in the Official World Golf Ranking, trailing two other Aussies: Adam Scott (fourth) and Geoff Ogilvy (10th).
Appleby, 35, has quite the story. He grew up on an Australian dairy farm and learned golf by hitting shots from paddock to paddock. He didn't have the formal training of many of today's stars but has managed to earn nearly $19 million so far.
He showed signs of stardom early in his career when he won the 1997 Honda Classic and the 1998 Kemper Open. But it was that summer when his life took a tragic turn. Having just played in the British Open, Appleby and his wife, Renay, were preparing for a vacation to Paris when a freak accident occurred at a London airport. Renay Appleby was crushed between two cars as she attempted to unload luggage. Just 25, she died of internal injuries.
Appleby admitted being in a daze, but somehow he managed an emotional victory the following year in Houston. He went four years before his next victory, losing in a playoff at the 2002 British Open, but has now won in four successive years.
And there is nothing like being back at Kapalua, where Appleby is going for four straight wins. Woods is the only player to win the same event four straight times (Bay Hill from 2000-03), so Appleby is trying to join Woods' company.
Appleby likes the area so much that he has decided to buy property in Hawaii.
"I just feel comfortable here and very relaxed," he said. "When I get on the first tee, I don't feel nervous like I do at a lot of tournaments. I have that relaxed feeling that I can play well here and that I have played well here. And I am usually playing well when I come here.
"The rest of the players take a long break, maybe they're a little rusty. I've been playing up until early December. I'm not that out of form and still have momentum of tournament playing."
QUICK TAKE
It's déjà vu all over again. Another PGA Tour event, and there's more talk about the players who are not competing than the ones who are playing. Tiger Woods and Phil Mickelson are not at the season-opening Mercedes-Benz Championship ... just as they were not as the season-ending Tour Championship. Both guys lobbied for a shorter, condensed season and got their wish. And both chose to prolong their vacations.

In one way, it's hard to blame them. They have plenty of money, can set their schedules any way they want, and prefer to prepare for the major championships in the best way possible.

But another argument says they should do better by the organization that has helped enrich them. Sure, Woods and Mickelson help make the PGA Tour. But it, in turn, has helped make them. It is the arena in which their greatness is measured. Their records are what set them apart, and the PGA Tour is where they have made their mark.

So what can be done? Other than pushing for rules that require players to compete more or require them to play in specialty events for which they qualify, not much. And such moves would probably not be wise.

That means we're stuck with a season-opening tournament that is missing two of the game's best players.
MAILBAG: ASK BOB HARIG
Got a question about the PGA Tour? Ask ESPN.com golf writer Bob Harig, who will answer some inquiries in his column each week.
Q. Can anyone enter Q school or is it just limited to professionals?
Patrick Yocum
Hanover, Pa.
A. Amateurs can enter Q school and retain their amateur status as long as they do not accept prize money from the event. College players will often test the waters this way, and if they fail they can keep their eligibility.
Q. Bob, there was a rumor about the BMW rotating among courses in Illinois, Wisconsin and Michigan in order to bring the atmosphere to a different fan base every third year. Being a Michigander, I'd love to see this, but do you think that it would really happen?
Jim Kelly
Harrisville, Mich.
A. It is going to happen in the short term, but not exactly the way you have it outlined. The BMW Championship -- formerly the Western Open -- will be played in Chicago this year before moving to Bellerive Country Club in St. Louis in 2008, back to Chicago in 2009 at Cog Hill Golf & Country Club, then to Crooked Stick Golf Club in Indianapolis in 2010. It goes back to Chicago in 2011, and then is scheduled to go to another Midwest location in 2012. But PGA Tour commissioner Tim Finchem admitted over the summer that the outcry for leaving Chicago every other year has been great, and that the tour is rethinking the idea beyond 2011. The BMW, which moves to the fall as part of the FedEx Cup playoffs, has been played in Chicago every year since 1962.
Q. Nicklaus, Palmer, Vardon, Nelson ... they all have a year-end trophy or award named after them. It's not too soon to imagine that Tiger will someday have a year-end award named after him, but are there any left? What might it be? Maybe the "Tiger Woods Worldwide Play"? Is it too soon to start lobbying for it? That way he can win his own award 10 or 12 times before retiring.
Mark Limbaugh
Columbia, S.C.
A. There is not much left. Perhaps the tour would consider putting Woods' name on the trophy that goes to the winner of the FedEx Cup.
Bob Harig covers golf for the St. Petersburg Times and is a frequent contributor to ESPN.com. He can be reached at harig@sptimes.com.
SPONSORED HEADLINES
MORE GOLF HEADLINES
MOST SENT STORIES ON ESPN.COM
EDITORS' PICKS
Bill Haas nabbed PGA Tour win No. 6 at the Humana Challenge.
Story »

Could Walker's early-season success continue?
#AskESPNCaddie »

Jason Dufner "didn't really have a choice" to change.
Bob Harig »