Commentary
Pride is playing for pride -- and a job -- in year's final event
Updated:
November 1, 2007, 6:34 PM ET
By
Bob Harig
| Special to ESPN.com
LAKE BUENA VISTA, Fla. -- The lows have been so numerous, both personal and professional, that you wonder how a guy like Dicky Pride even has a chance in a game that beats you up far more often than it pats you on the back.
To find a recent example, Pride didn't have to think back too far. It was just two weeks ago at the Fry's Open in Scottsdale, where the 15-year PGA Tour veteran was on his way to a seventh consecutive missed cut. Adding to the inglorious reality was the fact that on one green he four-putted from 3½ feet. "And the worst part was having to spot the fourth one," said Pride, who was afraid he'd miss the 1-footer while trying to straddle another player's line. And so it goes for the stomach-churning crowd in the last event on the 2007 PGA Tour schedule.
[+] Enlarge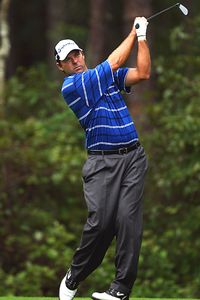 David Cannon/Getty ImagesPride opened with a 5-under 67 on Thursday.
That Pride, 38, came to the Children's Miracle Network Classic at Walt Disney World with any hope of securing his full playing privileges for 2008 says something about his resiliency. Just a week after the embarrassing four-putt and another missed cut, there was Pride shooting a final-round 64 -- including four straight birdies to close -- at last week's Ginn sur Mer Classic to finish fourth, his only top-20 finish of the year.
The $216,000 that Pride earned was the second-biggest check of his career and offered him some hope this week. At 159th on the money list, he has a chance to finish among the top 125 money winners by finishing solo second. A 5-under-par 67 during the first round on Disney's Palm course Thursday kept the dream alive. And let's face it, for a majority of the players in the field this week, it isn't so much about winning as it is trying to finish high enough to achieve some monetary goal. Of course, focusing on dollar signs can defeat the purpose. "When you do start thinking about that, you have to remember it's not going to help you to think about that," Pride said. "You just have to think about what you need to do rather than what you want at the end. So it's just one of those battles, you've just got to do it. "I've been through this before, though, so there's experience there. So I know that if I start worrying about that other stuff, it's not going to work. So I guess I'll try something else." Yes, he does have plenty of experience from which to draw, although he does so at his own peril. Not much has come easy to Pride, who didn't even play on the golf team as a freshman at Alabama. His lone victory on the PGA Tour came in 1994 at the Memphis tournament and it helped him to his best finish, 57th on the money list. Since then, professional golf has been a constant struggle for survival. Pride finished 125th on the money list in 1996 and 109th in 1999, and has only twice been fully exempt since then. Part of his troubles stemmed from a bout with pancreatis in 2002 that caused him to miss four months of the season and had him worrying about far more than his golf career. The condition, for a time, was life threatening. Pride had his gallbladder removed and needed to be fed through a tube for 10 weeks. "If that doesn't change your perspective," he said, "nothing will." The following year, he barely missed his card, finishing 127th on the money list in 2003. He has failed to rank among the top 150 in any of three years since. And truth be told, the 150 number might be just as important as 125. Yes, being among the top 125 assures fully exempt status. But if you are 151st, you might as well be 500th. Finishing outside the top 150 means a player owns no status on the tour and is required to compete in the second stage of the PGA Tour's Qualifying Tournament. At least being among the top 150 clinches a spot in the final stage. And it does afford some playing opportunities. Pride knows all about it. He's bounced around the Nationwide Tour the past few years and managed to get a smattering of PGA Tour starts because he is a past champion. And if he has to return to Q School? Well, he's done that ,too, successfully making it through five times, including last year when he tied for 29th to earn his card for 2007. "Q School is one of those things if you want to play against the best in the world, that's what you have to do," he said. "That' s it. If you don't want to play against the best in the world, then don't do it. And if you have to do that to play against the best in the world, then don't bitch about it." Pride must really want to do this. He started the year missing three straight cuts. Then after a stretch of making four straight, including his top finishes of the year to that point (a pair of T-22 results) through the Canadian Open, Pride could not find his way to the weekend. For seven straight tournaments and 14 rounds, he failed to break 70 or make a penny. Despite the lack of success, Pride felt good about his game. He had used the four-week break during the FedEx Cup playoffs to work with his instructor, Brian Mogg. "It was very frustrating because I was playing really good, but not scoring, putting poorly," he said. "I had to take the big view of it. Are you playing better? Yes. Do you have more confidence in your golf game? Yes. Well, then get your butt out there and score better. "You have to stay patient. It's such a crazy game. You can feel like you have nothing, and then the next day you feel like you're a world beater." Pride got the boost he needed when he was in Arizona and ran into one of his previous instructors, Todd Anderson, who helped with his "atrocious" putting. After some work back home with Mogg, Pride had the fourth-place finish last week that seemingly came out of nowhere. After one round at Disney, he's tied for fifth, and you can start doing all the math to figure out what needs to happen for Pride to finish among the top 150 or the top 125. Then again, he could just go ahead and win the tournament. That would give him a two-year exemption and eliminate all the guesswork.
Bob Harig is a frequent contributor to ESPN.com. He can be reached at BobHarig@gmail.com.
SPONSORED HEADLINES
MORE GOLF HEADLINES
MOST SENT STORIES ON ESPN.COM
EDITORS' PICKS
Rory McIlroy sealed his place in golf's elite with PGA win.
Harig »

Rory's Open win set him on course for a great stretch of golf.
Harig »

A Pinehurst No. 2 win landed Kaymer his second major.
Bob Harig »