Commentary
In 10th year of five-year plan, Parel hopes to hit it big
Updated:
November 29, 2007, 5:14 PM ET
By
Bob Harig
| Special to ESPN.com
WINTER GARDEN, Fla. -- The years start to run together, as do the venues. Throw in the various stages of the PGA Tour Qualifying Tournament that he has attended, the thousands of shots he's hit in these events, and you could understand if Scott Parel was beginning to question his long-time goal of making it to the PGA Tour.
Parel, who is among the 166 players in the Q-school final stage field at Orange County National this week, is not your typical professional golfer. He went to college at the University of Georgia -- where he did not play on the golf team. He got a "real job" as a computer programmer and didn't turn pro for another 10 years. He's 42 now and at Q-school for the 12th straight year. And he's never made it to the PGA Tour.
How they fared
Throughout all six rounds of the PGA Tour Qualifying Tournament, ESPN.com will follow the journeys of three players -- former champion Chris Riley, journeyman Scott Parel and up-and-comer Spencer Levin. Here's how each player has fared so far:

Chris Riley
Score: 72-70 (-2)
Current place: T-89
Two birdies in his last five holes didn't do much to brighten Riley's spirits. The former U.S. Ryder Cup team member has a long way to go in order to regain his PGA Tour card. "I'm just kind of treading water. I've got a lot of work to do. ... [I'm] not putting well, not hitting it close enough, kind of all of the above. There's a lot of time left, we've still got four rounds left, there's a lot of golf. Still keep plugging away. We're not even halfway."
---

Scott Parel
Score: 71-70 (-3)
Current place: T-72
A bogey is never a good thing, but Parel thought it might have helped him when he bogeyed the 10th hole. He had not made a bogey through 27 holes of the tournament to that point but started thinking about it, which he didn't want to do. He followed with a 60-foot birdie putt on the next hole and added a 12-foot eagle putt at the 17th to get under par. "I'm glad I'm hanging in there. I hit my driver really well today and my short iron play was not very good. I probably had four or five 8-irons today which is normally a great club for me, but I was spraying them all over the place. ... Then I hit putts like the one on the last hole where I don't know how they don't go in. I'm sure everybody is having that. Being that I was even with two holes to play and to get to 2-under, I'm pretty happy with that."
---

Spencer Levin
Score: 72-68 (-4)
Current place: T-60
Levin was in a much better mood following Thursday's round, especially after a birdie at the last hole gave him a 68. A day earlier he squandered a good round with a triple-bogey 8 on a par-5 that included a penalty stroke. "I was thinking about it last night and I was actually talking to my girlfriend and she said, 'What can you do about it?' It's pretty simple, but when you think about it, there's nothing you can do. So I started out today and hit the ball better. If I can hit it the way I did today the rest of the tournament, it will be will nice."
-- Bob Harig
This is the fifth time Parel has made it to the finals of Q-school. Along the way, he's played on various mini-tours and the Nationwide Tour, all with the hope of improving enough to get to the big leagues.
"It's been a struggle," said Parel, who shot 70 in Thursday's second round and is at 3-under 141. "I've had to do a lot of traveling, been away from home for a long period of time. When I played the mini-tours, I would leave on a Sunday and I'd be home Thursday, sort of like a traveling salesman. But when I started doing it on the Nationwide Tour, I'd be gone three or four weeks straight. I had never done anything like that before and it was a big adjustment. It's been difficult. "It's just not all the glamour that people see when they look at
Tiger Woods
or
Phil Mickelson
or
Ernie Els
. They had to work really hard to get where they are. But it's a whole different perspective coming through the mini-tour ranks, trying to make it." Parel, who lives in Augusta, Ga., with his wife, Mary, and two children, began his first career after graduating from college. His work schedule allowed him to play competitive amateur golf. He worked on his game, excelled at amateur tournaments in and around Augusta, and got serious about the game in 1994 when he tried to qualify for the U.S. Amateur. Not only did he make the field at the TPC-Sawgrass, but Parel advanced to match play, where he came up one match short of getting to play Woods. "I lost to [former Amateur champion] Buddy Alexander in the morning, and he played Tiger in the afternoon," Parel said. "At that time, it was just talk about how great Tiger was going to be. It would have been pretty neat to have that on my résumé." Parel continued playing golf, continued having success, continued to win $200 vouchers for golf balls in the pro shop. He had such a strong summer in 1995 that several of his friends asked him if he ever considered trying to go to Q-school.
"I was obviously a big fan of golf, but I had never thought about that," he said. "And I didn't think it was a good idea to spend $3,000 or $4,000 [on an entry fee] to try, knowing that these guys do this for a living."
Those friends decided to put up the fee for Parel in 1996, and he went to Q-school, advancing through the first of three stages -- a pretty good feat for the first try. A back injury curtailed Parel's chances at the second stage, but he definitely had the bug.
"I was driving my wife crazy," he said of trying to decide whether he wanted to play golf for a living or not. Finally the following year, he and Mary decided to embark on a five-year plan that is now in its 10th year.
"It's been a lot more difficult to get to the level where I felt like I needed to be," he said. "Originally when I did it, we talked and thought I could survive this for three years. I went into fairly decent debt playing the mini-tours and I won a tournament every year. It was very hard in that even if you played well on these mini-tours, you were still losing money. I don't think I anticipated that. I thought if I could win a couple of tournaments and make every cut, we'd be all right. But it didn't really turn out that way." A make-or-break year came in 2002 -- the end of Parel's five-year plan. He was considering giving up pro golf and going back to work. But he ended up qualifying for the U.S. Open. "I think I played the best 36 holes I ever played in my life," he said. He was medalist at an Atlanta sectional and "even though I played horribly at Bethpage, the whole experience gave me a lot of confidence."
[+] Enlarge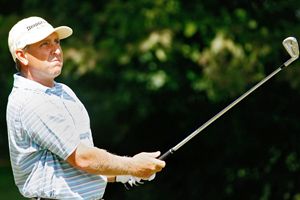 Jim Rogash/WireImageParel finished 68th on the Nationwide Tour money list this past season.
That year, for the first time, he played well enough to get to the finals of Q-school where, he said, "All the pressure I was ever going to have was on me. Either get some status or hang up your clubs."
Parel finished T-94 and has had some kind of conditional status on the Nationwide Tour ever since, ranking 68th on the money list this past season. "It's been a long road," said Mary Parel, who had a day off from work Thursday and was at home trying to follow Scott's progress on the Internet. "There have been some challenges. I went back to work about four years ago, and it's tough having him gone so much. "But I fully support his endeavors. I've encouraged him to pursue this dream as far as it takes him, even to the senior tour. It's what he wants to do." The goal here, of course, is to finish among the top 25 and ties and earn a PGA Tour card. Short of that, the next 50 players earn full status on the Nationwide Tour -- which is better than what Parel has now. "I've got decent status out there for next year no matter what happens, so that helps me relax a little bit. I've had a lot worse than that," he said. "But obviously I'm not content with that. "That's the hard part about this after four or five days. If you're not going to reach your goal of getting your PGA Tour card, it's hard to stay focused on moving up. And it really does make a huge difference. One shot can mean whether you get in four or five tournaments each year or get stuck as an alternate. Mentally, it can be so tough to stay focused on every shot. Every one really matters. "Even more so at this point."
Bob Harig is a frequent contributor to ESPN.com. He can be reached at BobHarig@gmail.com.
PGA TOUR Q-SCHOOL
The annual six-round grindfest officially known as the PGA Tour Qualifying Tournament -- or Q-school for short -- took place this week. The top 26 players earned their PGA Tour cards for the 2008 season.
Scores:
•
PGA Tour Q-school leaderboard
Recaps:
•
Lickliter earns Q-school medalist honors
•
Lickliter up 5 through five rounds
•
Lickliter continues to lead Allred
•
Lickliter stays on top through Round 3
•
Lickliter (62-62) takes nine-stroke lead
•
Lickliter, de Jonge take opening-round lead
Features:
•
Harig: Levin falls short, but hardly fails
•
Sobel: Breaking down the Q-school grads
•
McDaniel: Final-round hits and misses
•
Harig: Disappointment means decision time for Riley
•
McDaniel: Round 5 hits and misses
•
Harig: Q-school shrouded in oblivion
•
McDaniel: Round 4 hits and misses
•
Harig: Levin still hoping for PGA Tour membership
•
Harig: Parel in 10th year of five-year plan
•
Harig: Life of Riley has included many twists and turns
•
Rosaforte: Palmer hoping for more magic
SportsNation:
•
Chat wrap: Sobel
MOST SENT STORIES ON ESPN.COM